In Panama City we boarded a flight for Cartagena, Colombia where we hoped in a few days to be reunited with our home on wheels.
While we waited we checked into a small hotel in the Getsemani neighbourhood of old Cartagena and set out to explore all that the city has to offer.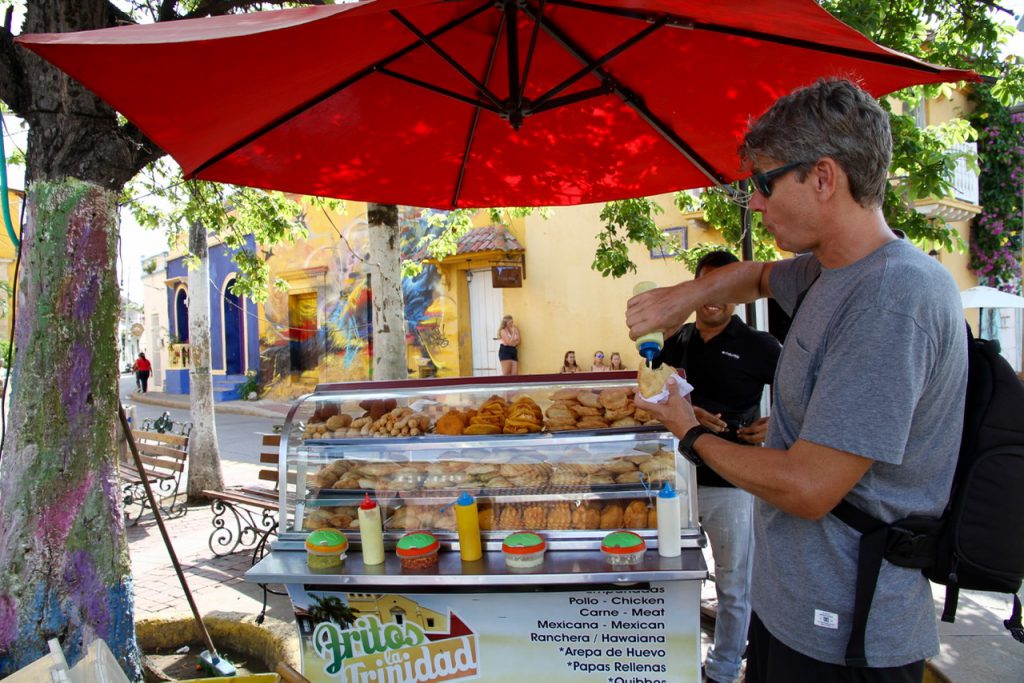 This square is lively at night filled with vendors where you can grab a beer and a snack and sit and watch all the action.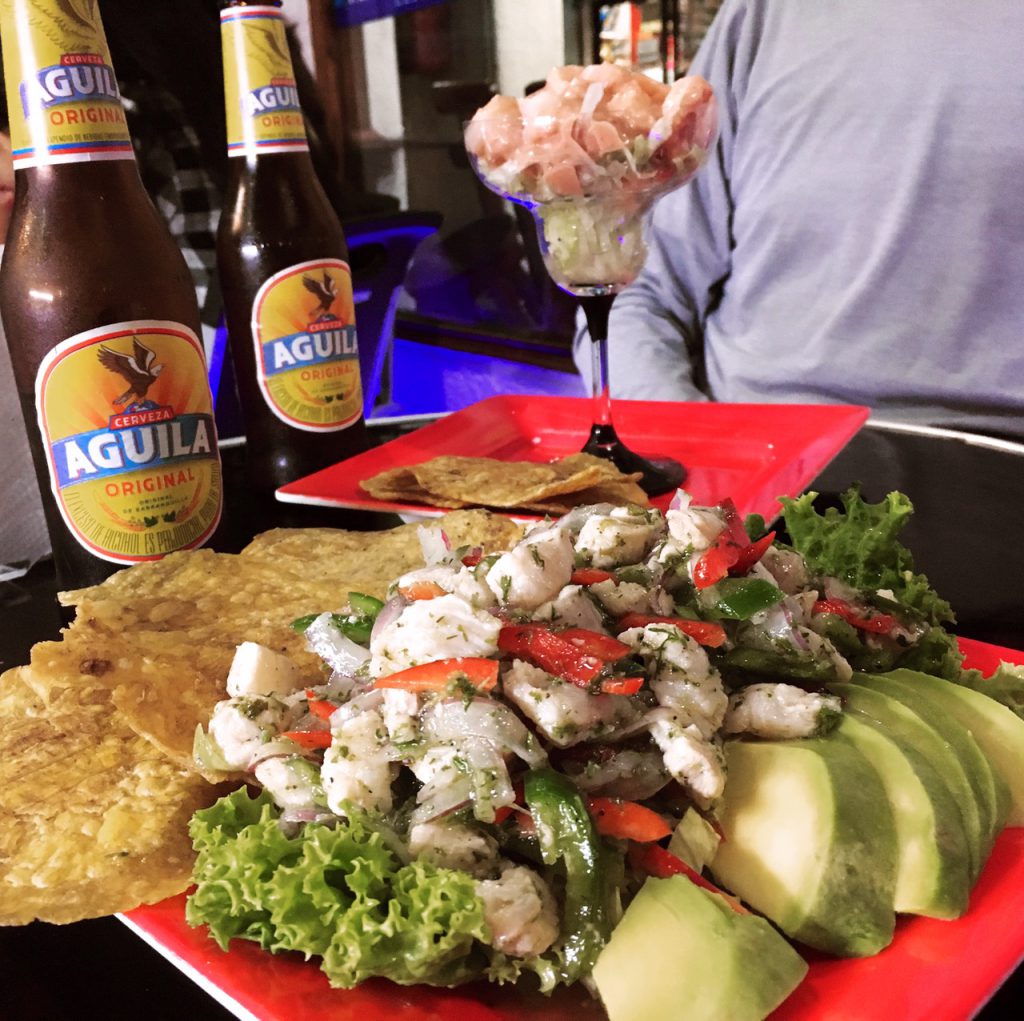 We found a couple of hidden gems in our neighbourhood….the best ceviche in town can be found at Laguna Azul.
Next door, there is a liquor store where you can order either the ceviche from Laguna Azul or ask for the meat and cheese plate.  No menu at this liquor store but the owner has a stash of superb cold cuts, fine cheeses and olives, etc.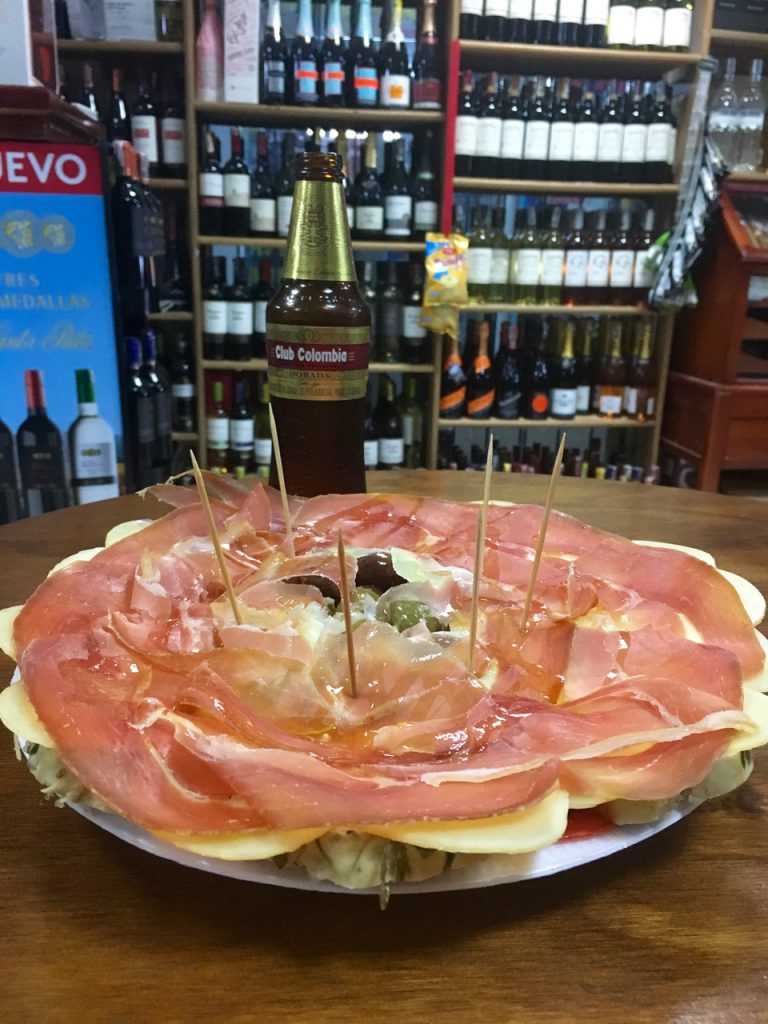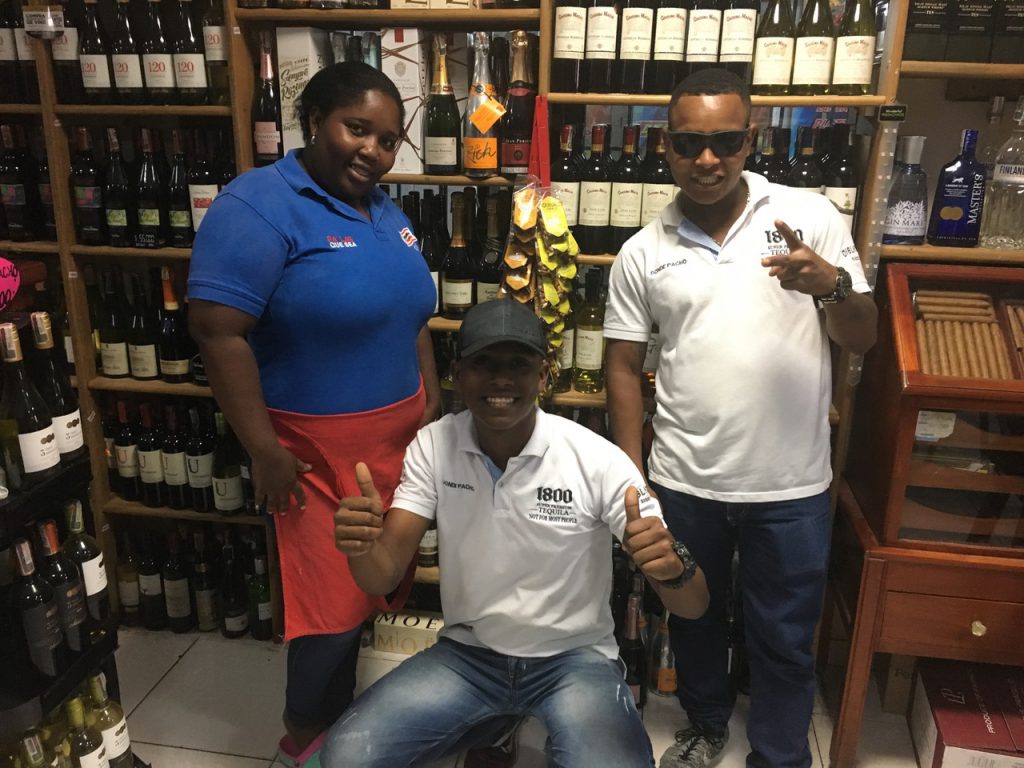 The Colombian Arepa consisting of either yuca, corn or potato stuffed with cheese and coated with more cheese and butter on the outside.  Yep….total heart stopper and they are everywhere.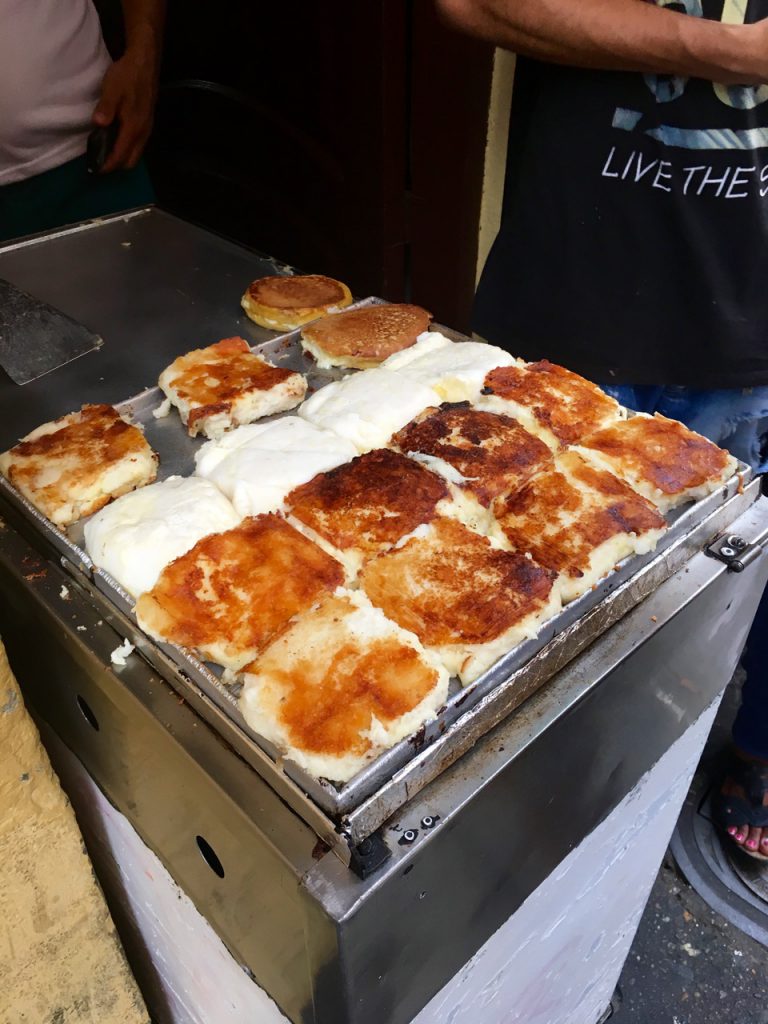 Tasty fried snacks are very popular with the locals….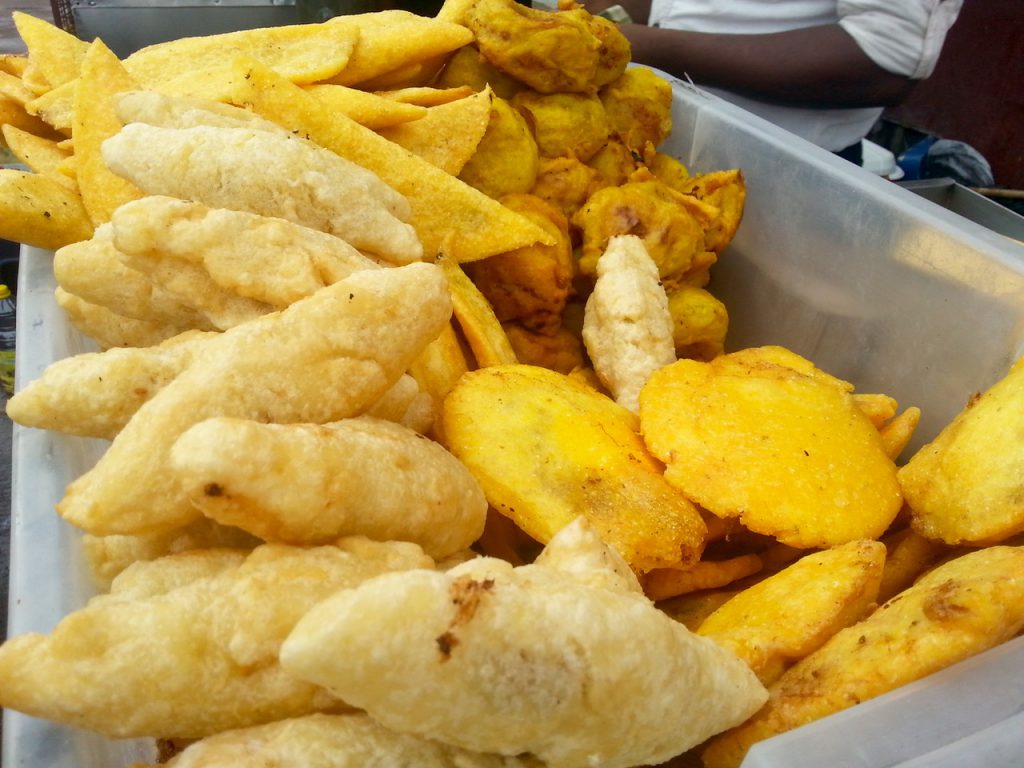 …but there are a lot of fruit carts to offset the fried treats.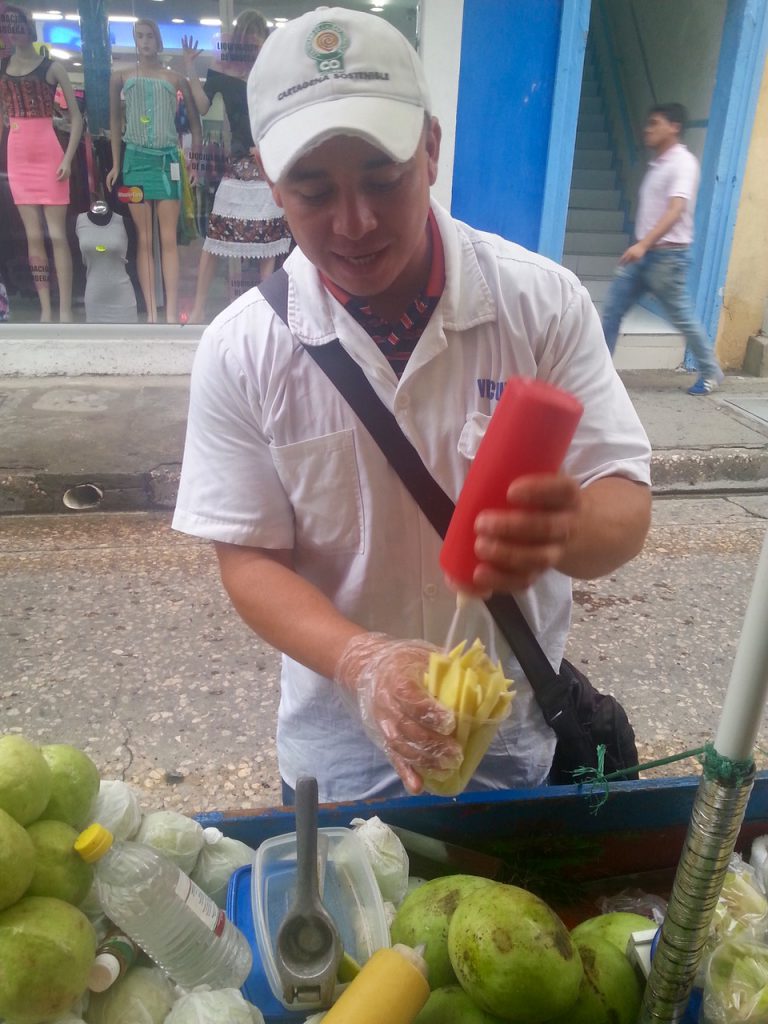 The world famous Cafe Havana.  We stopped in and the live music was fantastic.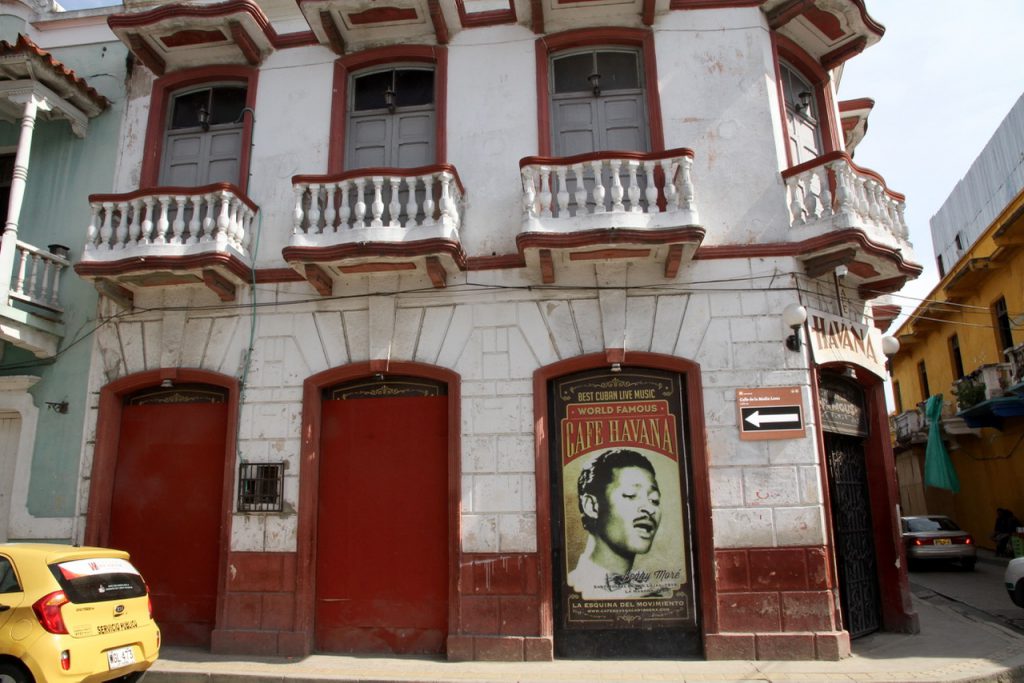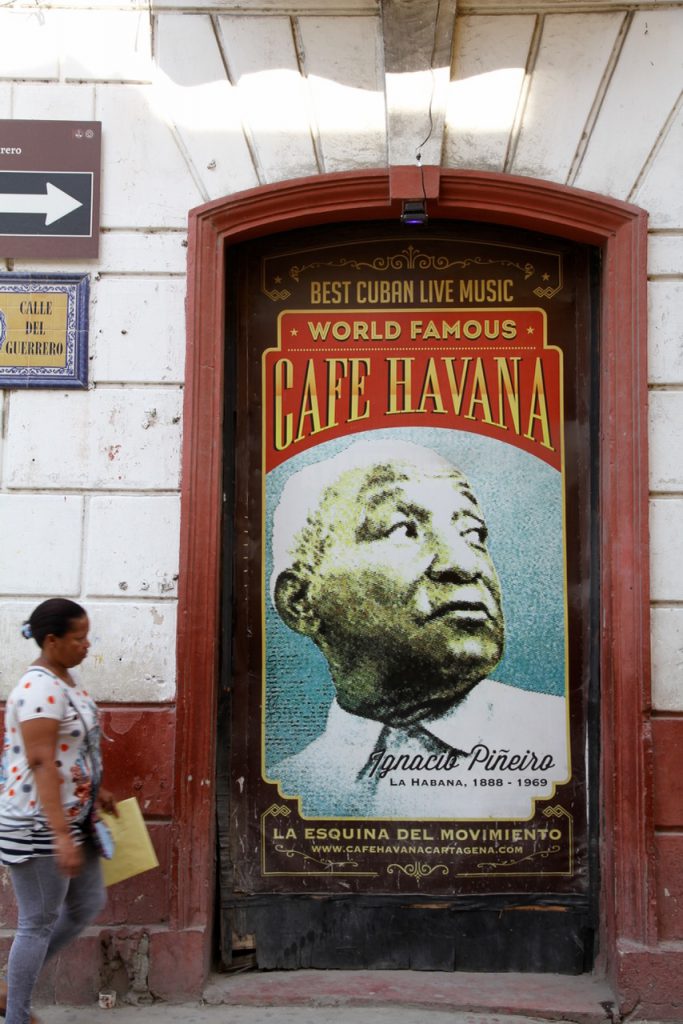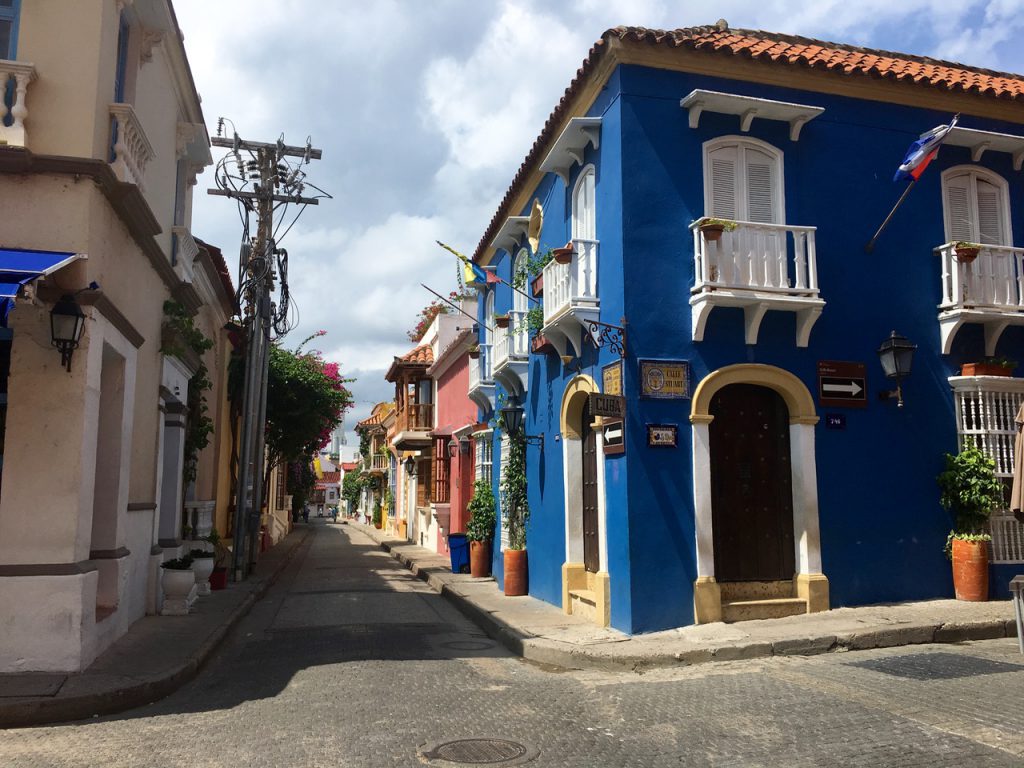 Possibly the best lemonade in the world comes from these carts all over Cartagena.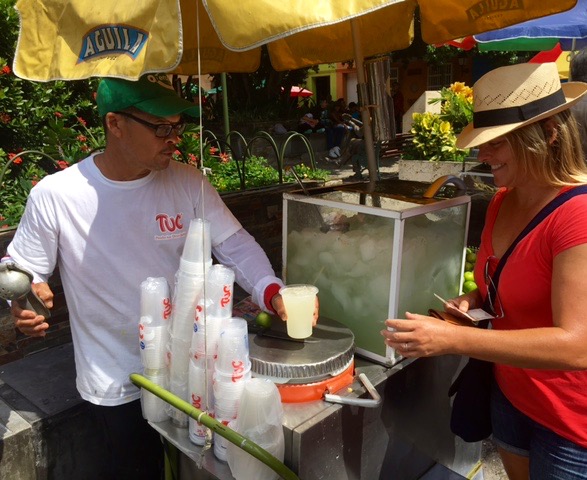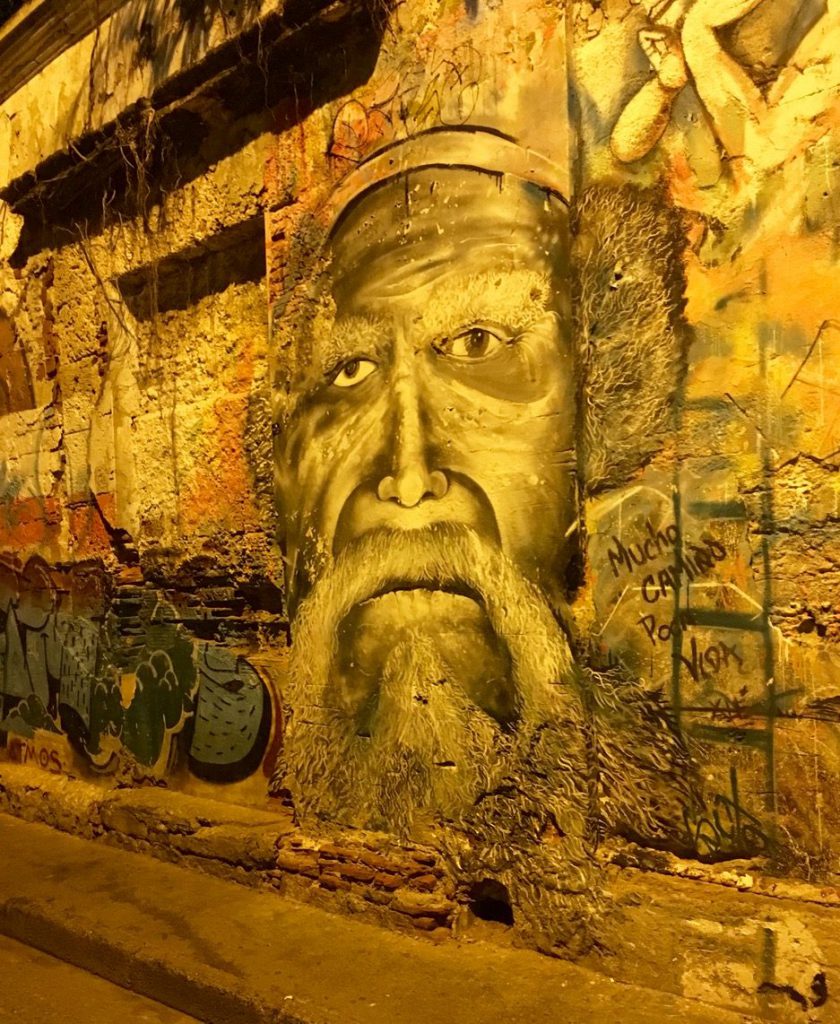 Fantastic street art all over the Getsemani neighbourhood.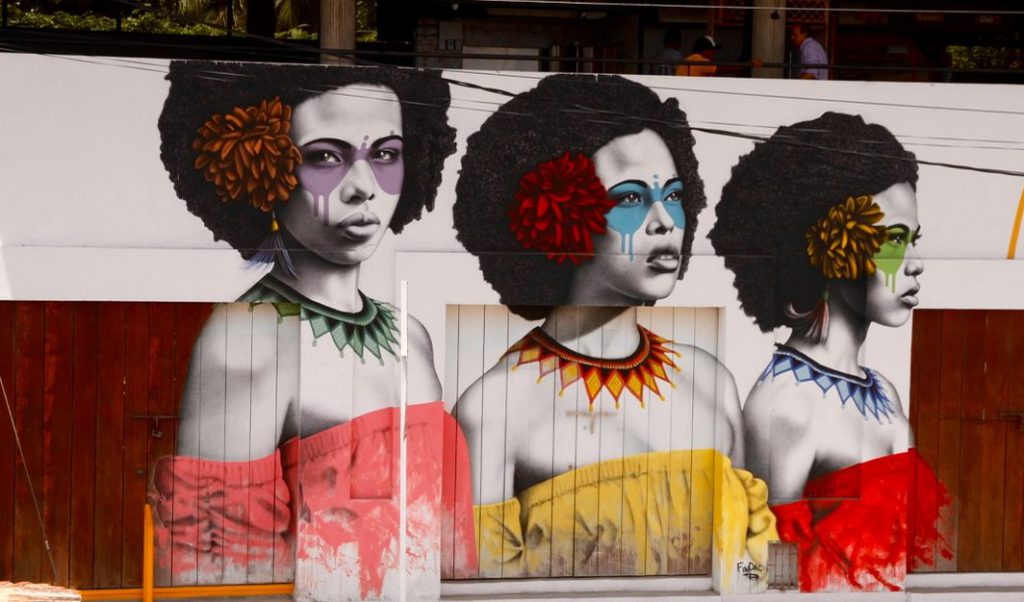 Cartagena is very different than anywhere else in Colombia.
First off it is unbelievably hot! Temperatures with the humidex, regularly reaching 40 degrees Celsius.
It is also the tourist capital of the country which makes it quite a bit more expensive than other Colombian cities.
Unfortunately the locals are some of the poorest in the country.  The tourist dollars aren't making their way to the poor barrios.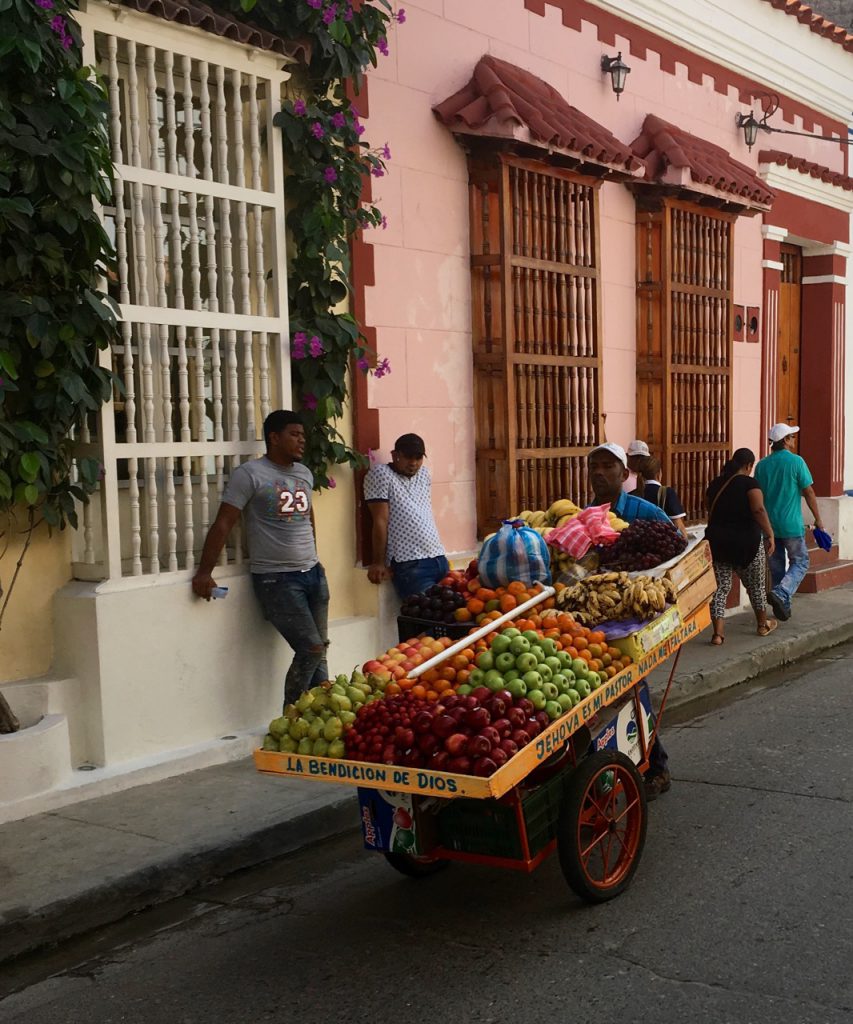 After 3 days we received word that the ship carrying our truck had arrived and we could now start the process of retrieving her.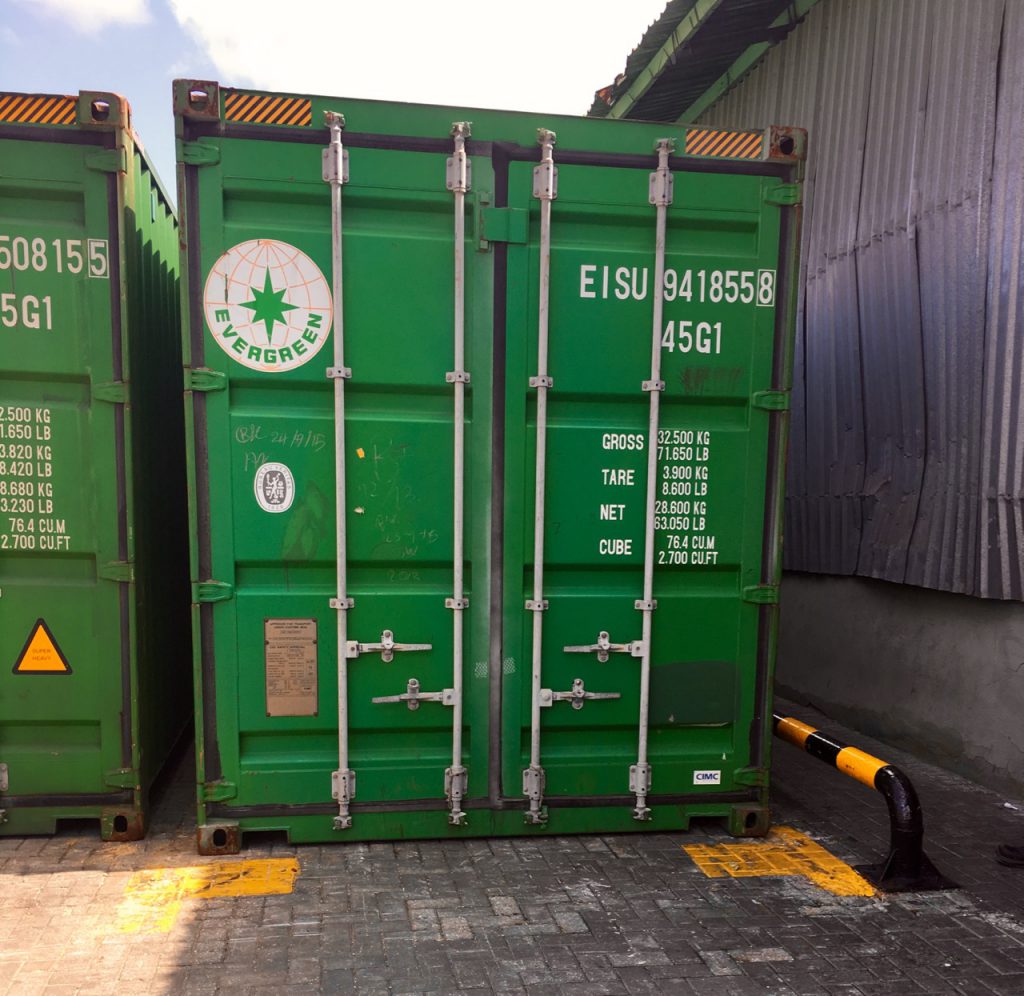 …and what a process it would turn out to be.
Over the next 2 days we would spend a total of 14 hours going from office to office filling out forms, getting stamps and signatures, waiting and waiting some more.
Here is a not so quick breakdown:
Day 1
· We start at the port authority office – sign documents
· We're sent to the shipping company office to get invoice
· We're sent to the bank to pay the official invoice
· To the insurance company to buy mandatory vehicle insurance
· To Customs to get documents approved
· Documents are approved but now we need copies of approved documents
· Across the street to the copy shop
· Back to Customs to hand in copies and receive approval document to continue process
· Back to shipping company to prove invoice payment with bank receipts
· Back to port office to show customs approval
· …but now its lunch – Go away, come back in an hour!
· After lunch, we wait to get a container delivery appointment at which time the customs inspector will join us.
· 2 hours later…still waiting
· Finally we are given an appointment for 9 am the next morning
Day 2
·We arrive at 8:30, ready for our 9am appointment.
· 10:30 am the the customs inspector arrives to take us to the container
· the container is opened, everything looks good
· back over the roof of the truck I go, into the stifling, hot darkness of the container (It must be 50 degrees Celsius in here) and over the hood to reconnect the truck's battery
· I'm sweating so much I can't hold on to the wrench or my nuts and drop them twice into the darkness
· Finally the battery is reconnected, back into the driver's seat I climb and without mirrors i'm verbally guided in reverse out of the container.
· The inspector (pissed at how long this has taken me) doesn't look at the truck, barely looks at the VIN number and walks off.
· I'm directed to a parking lot where the truck can wait while we head off to finish the paperwork
· Back to Shipping Company with Inspectors "Report" to receive Original Bill of Lading
· Back to Port office with Original Bill of Lading
· Guess What???
· ITS LUNCH!
· After lunch all we need is an exit appointment.
· 2 hours later we have it
· Walk with exit appointment documentation through two gates, waiting for approval stamp at each (half an hour)
· Receive exit document.
· Get back to truck …almost free to go
· Just drive truck into the line of big rigs and wait our turn on the weigh scale.
· One hour later…
· …We're free!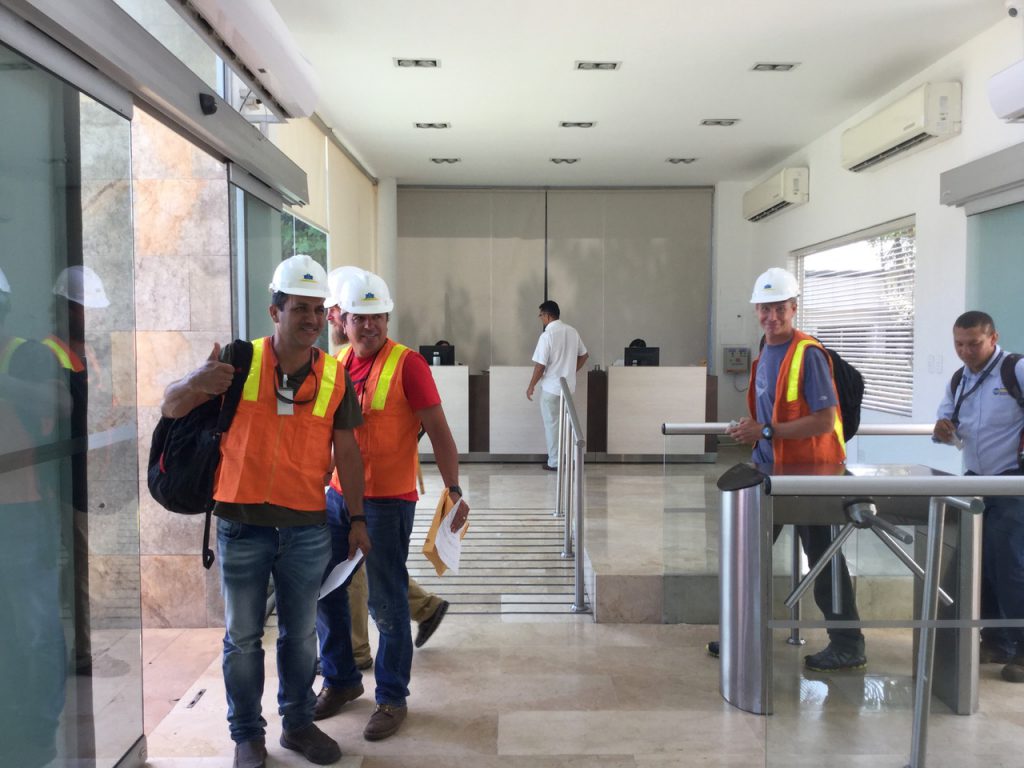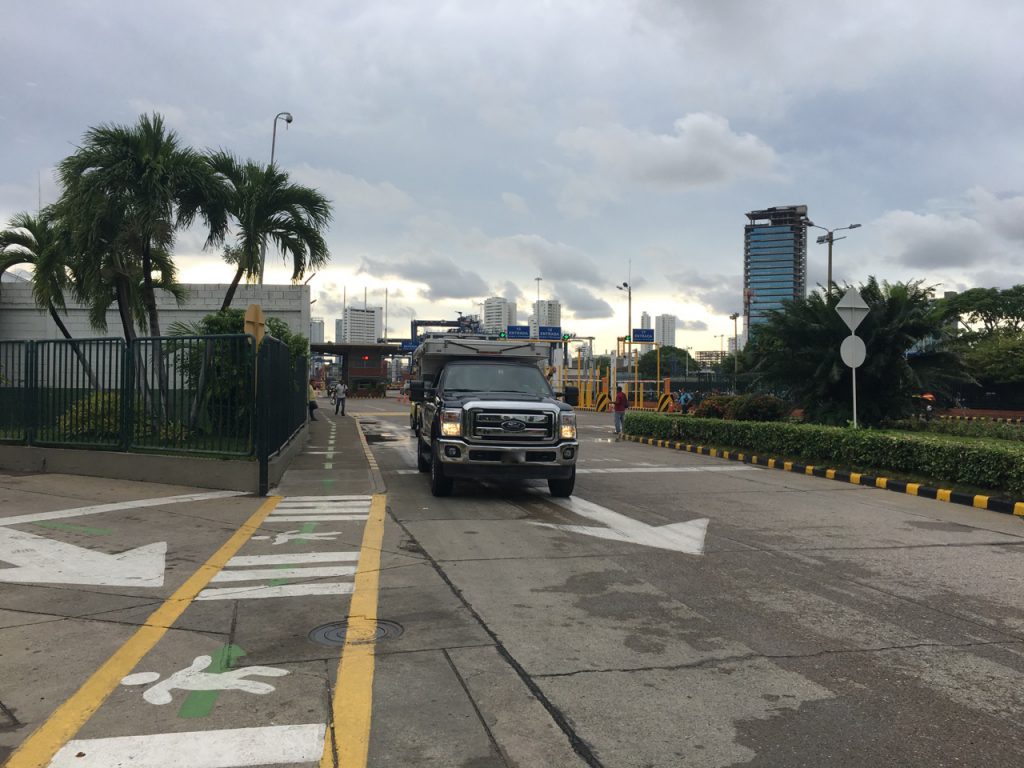 Once we have a our baby back, we head an hour outside Cartagena to camp and wait for mom to join us for another visit.
We will fly to Bogota to meet my mom (Don's mom) for a week of exploring before we bring her back to the heat of Cartagena.
Bogota
Not everyone we met in Colombia loved Bogota but we thought it was great. One of our favorite cities of the trip.
Before Mom comes, we check out a local food tour.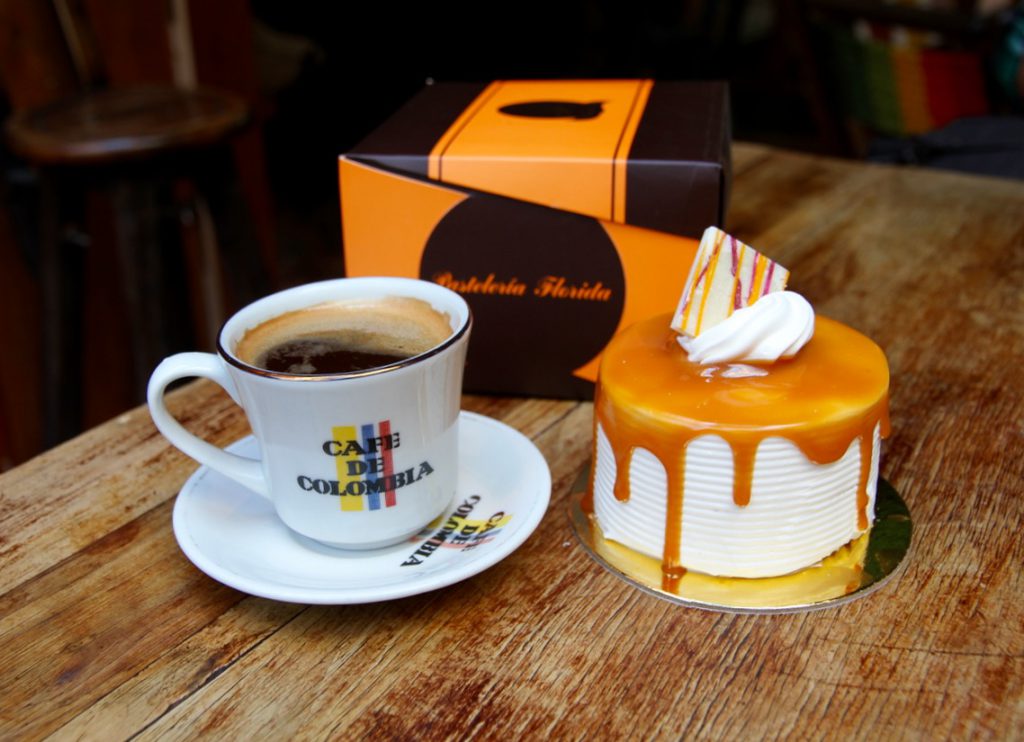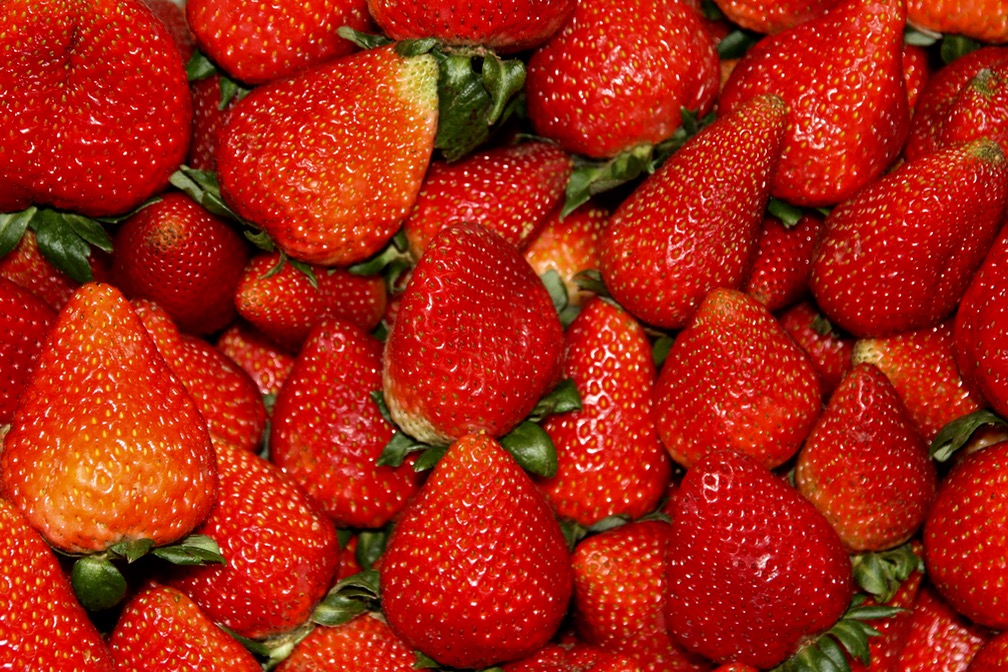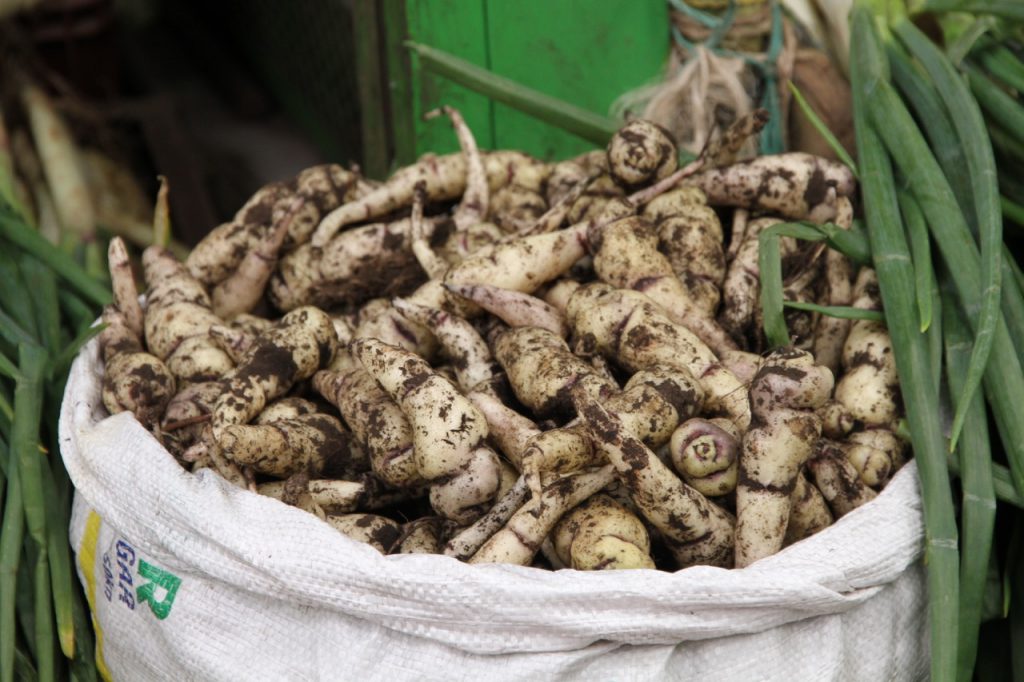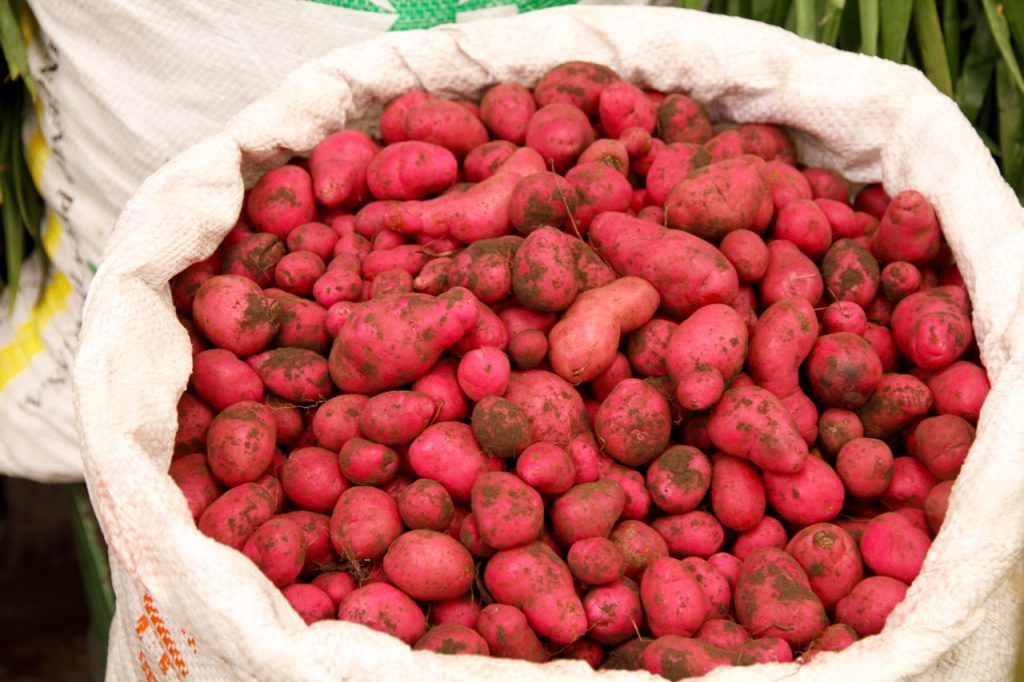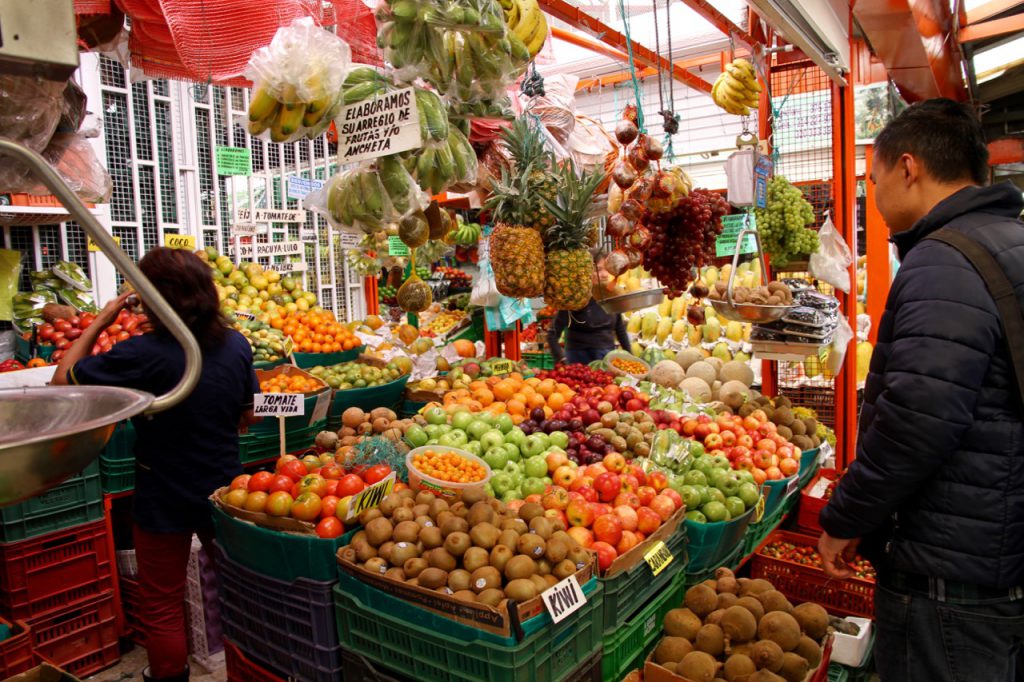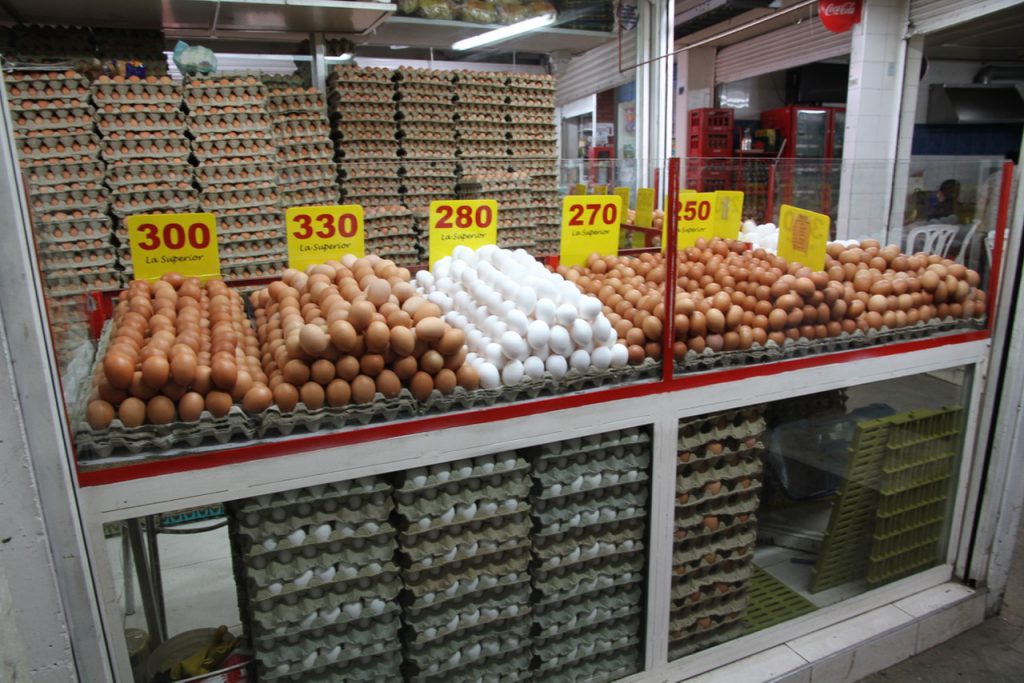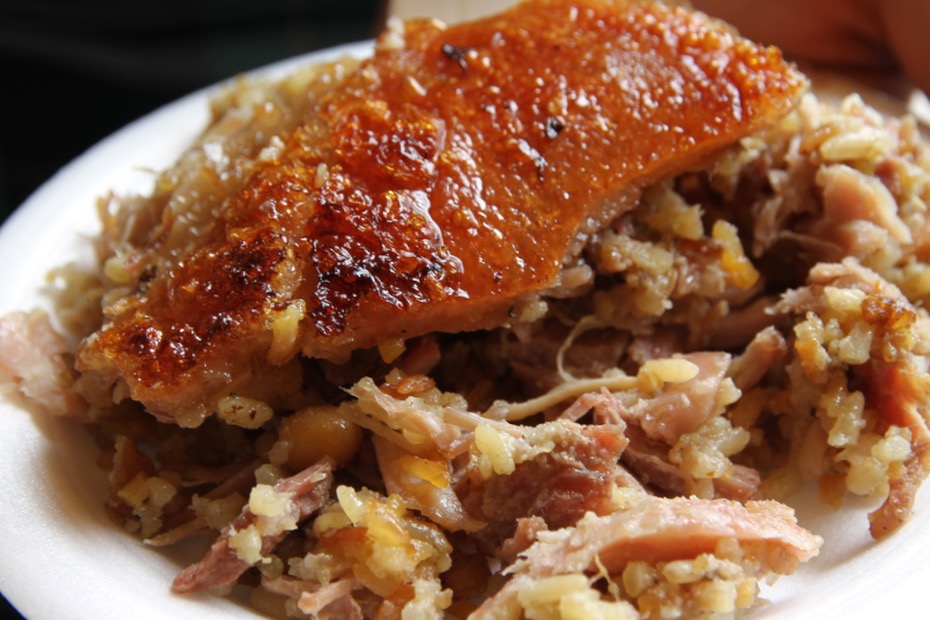 Colombian Lechona is a whole roast pig stuffed with rice, onions, potatoes, peas, and spices served with a big chunk of delicious pork crackling.
Mom arrives in Bogota and our days are filled with museums, shopping and restaurants.  We have a great time exploring this city.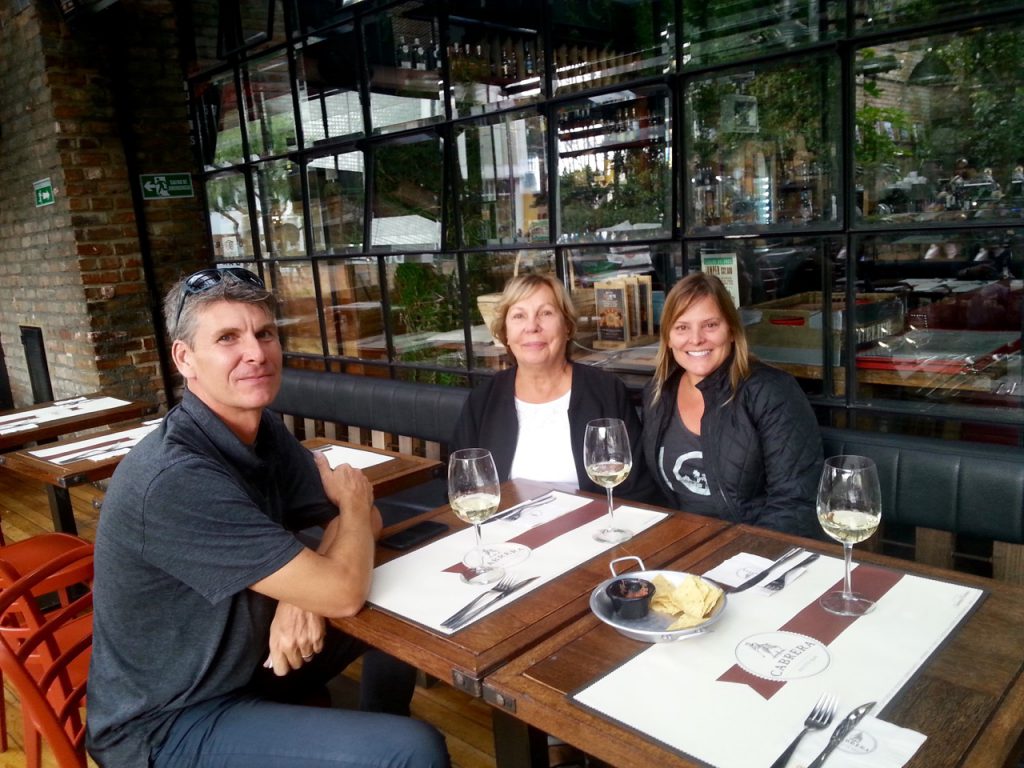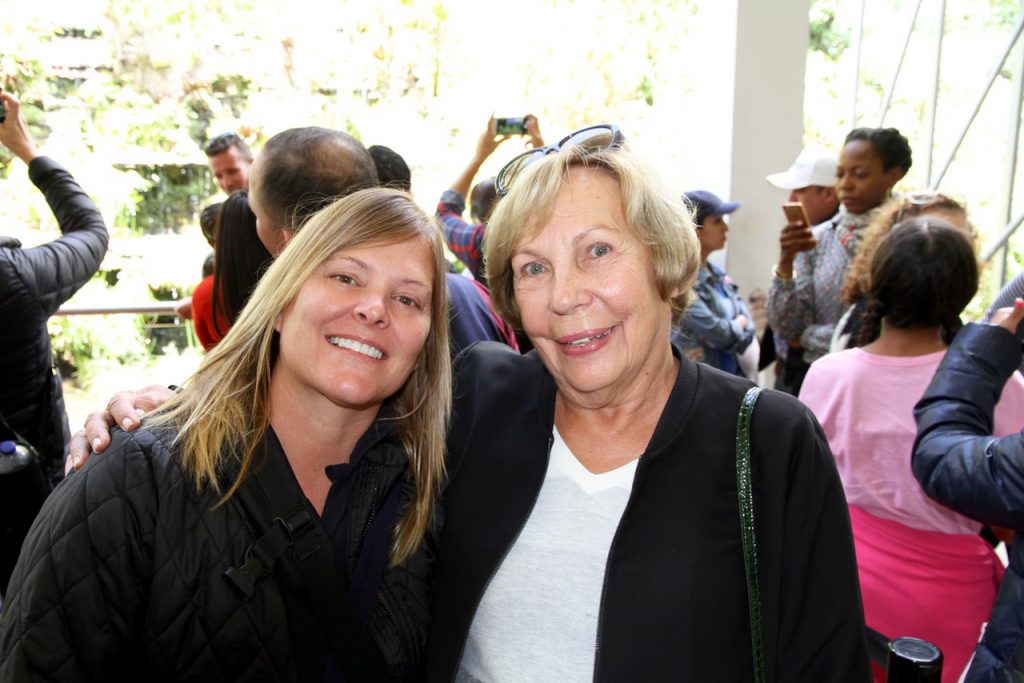 The museum of our favourite artist, Fernando Botero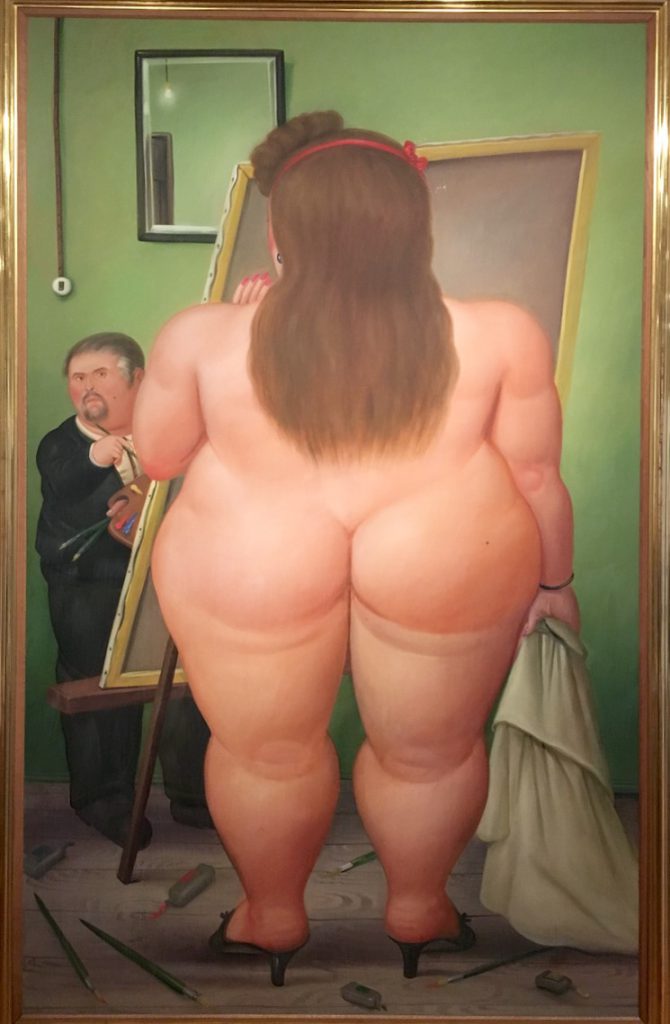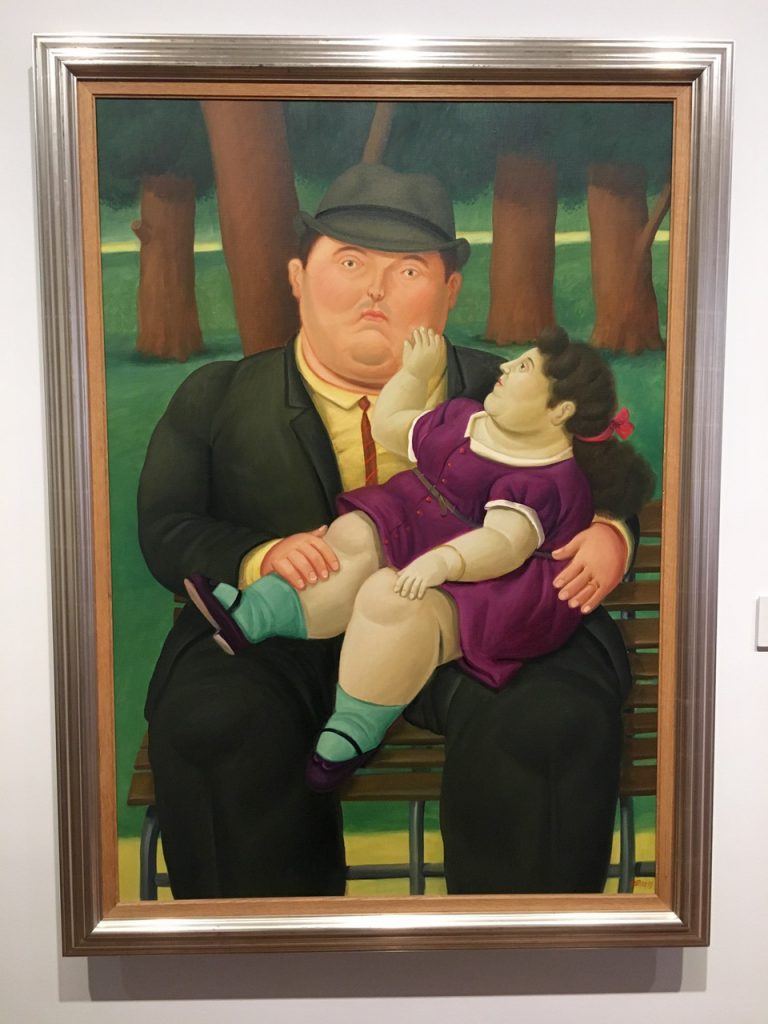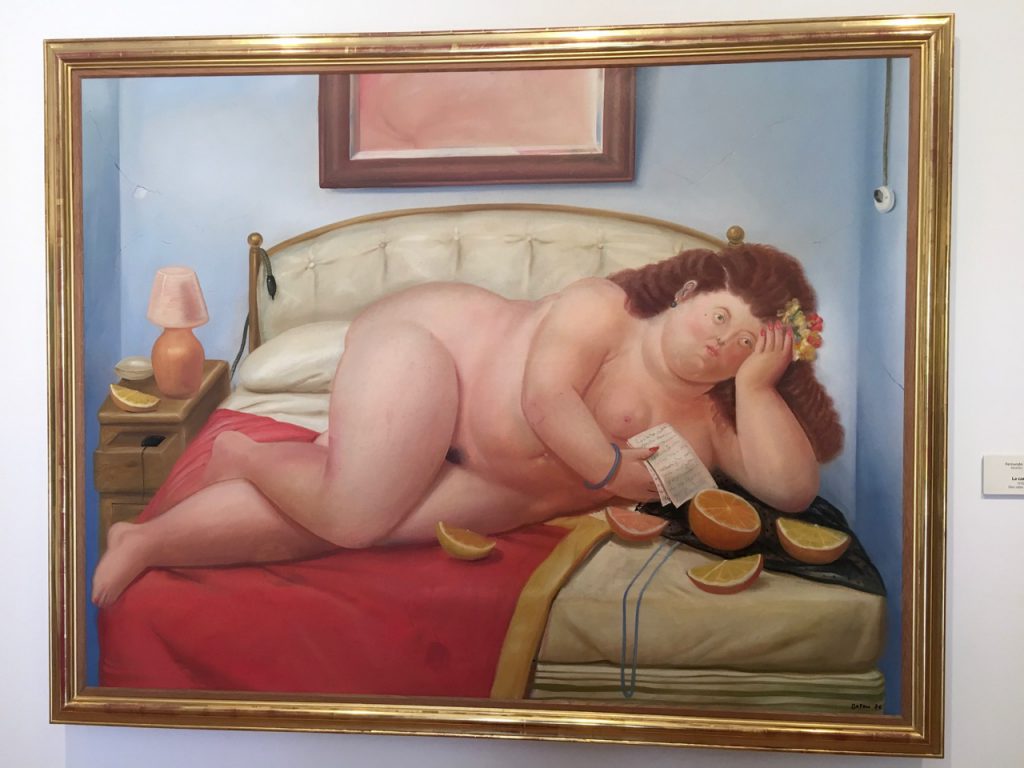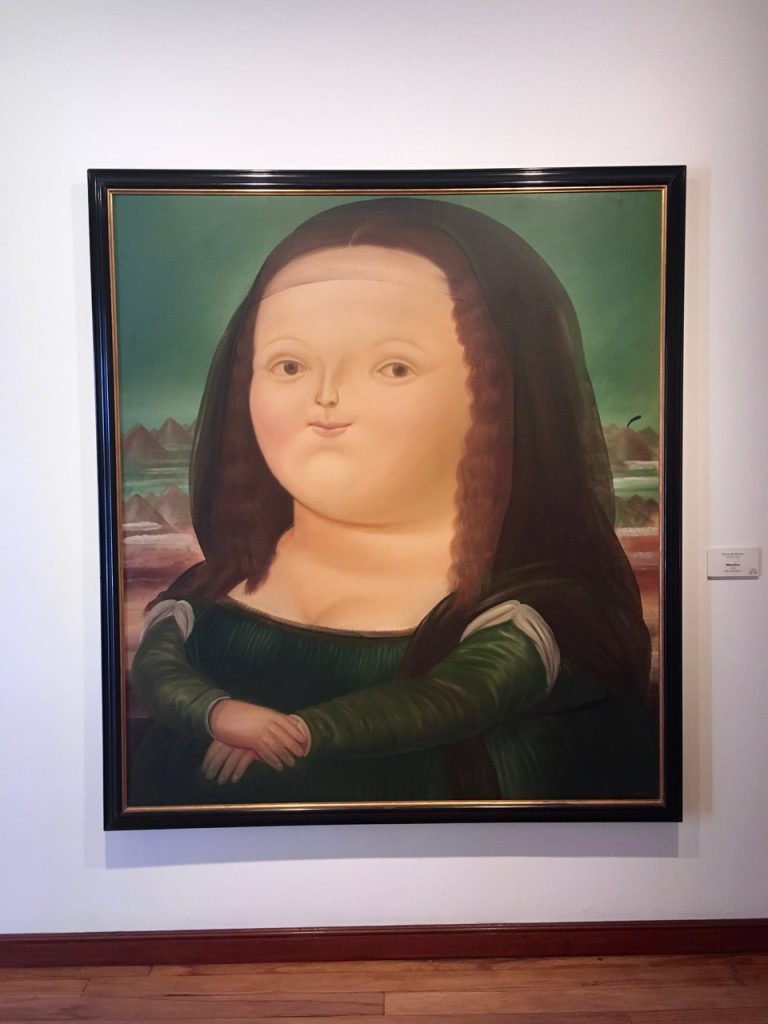 Salvador Dali Sculpture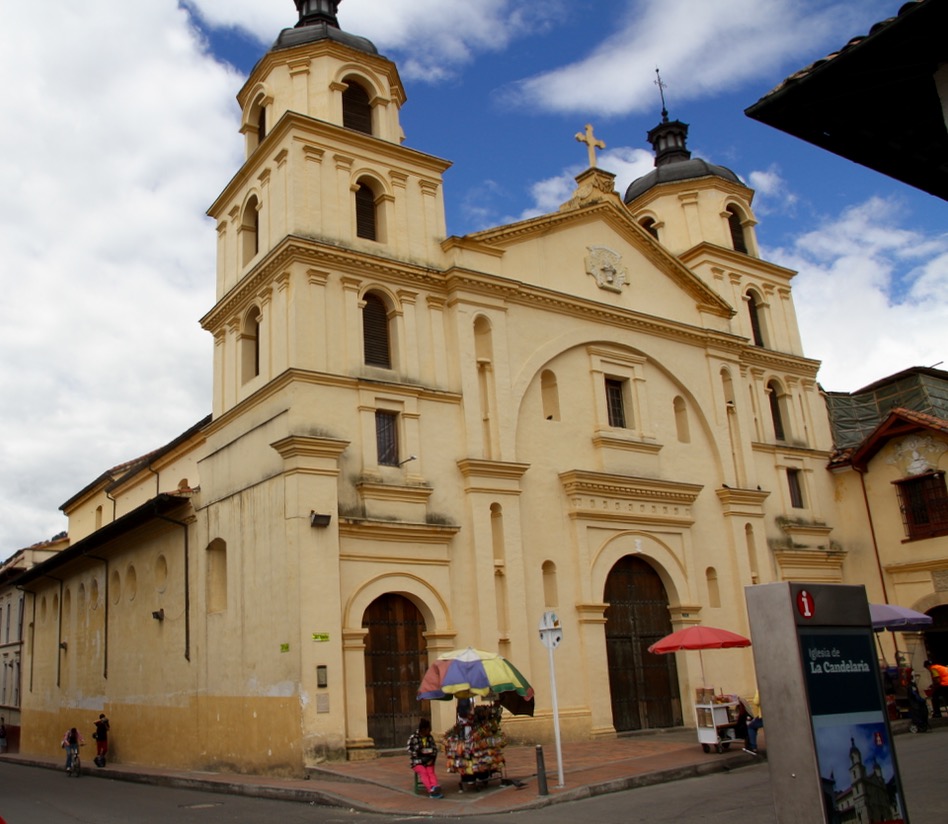 We are in Bogota when the Pope arrives and its chaos in the city.  Thankfully we stayed in the outskirts of town in a neighbourhood called Usaquen.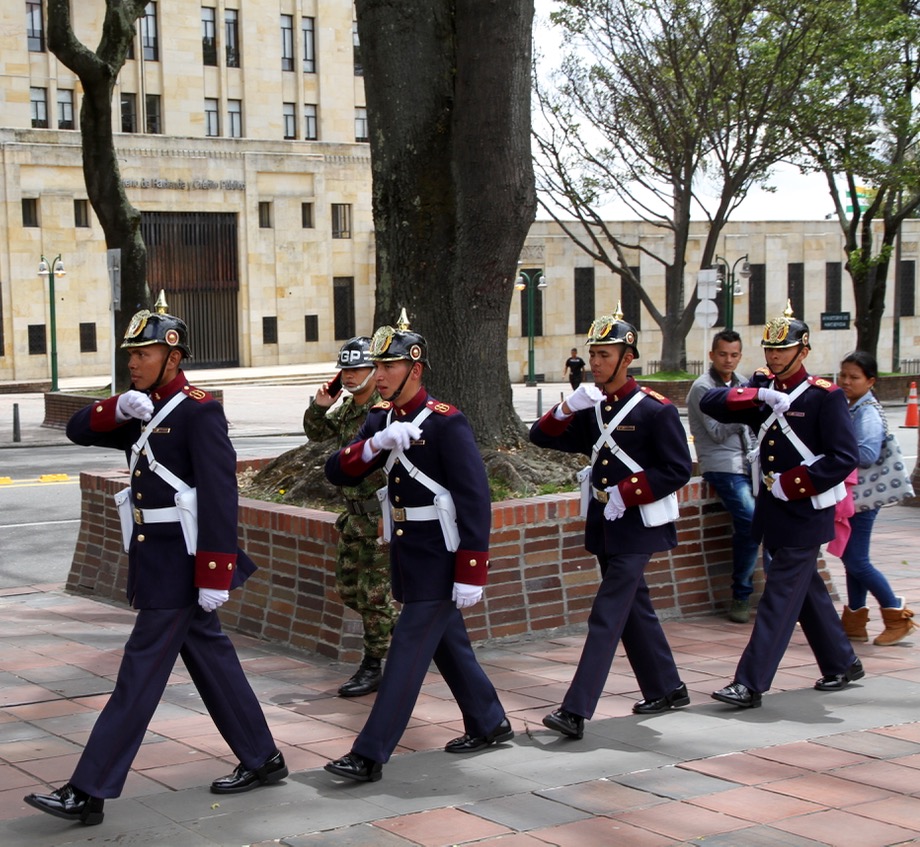 Preparing for the Pope.
Taking the tram to Monserrate mountain that overlooks Bogota at almost 10,000 feet. Georgeous views of Bogota.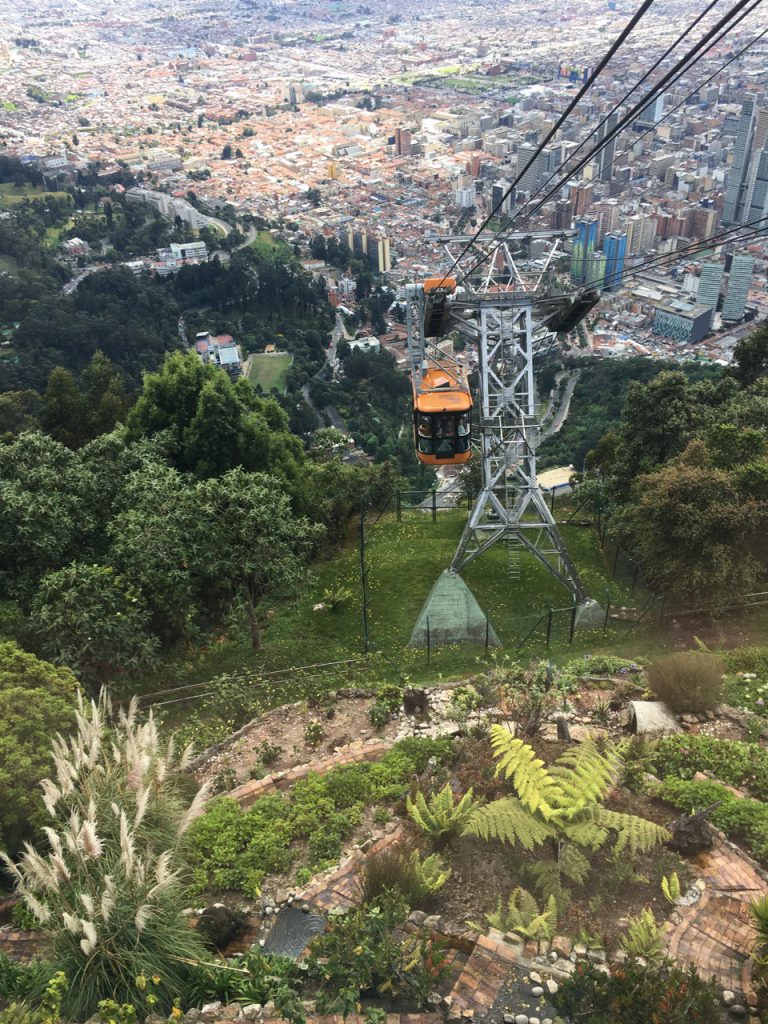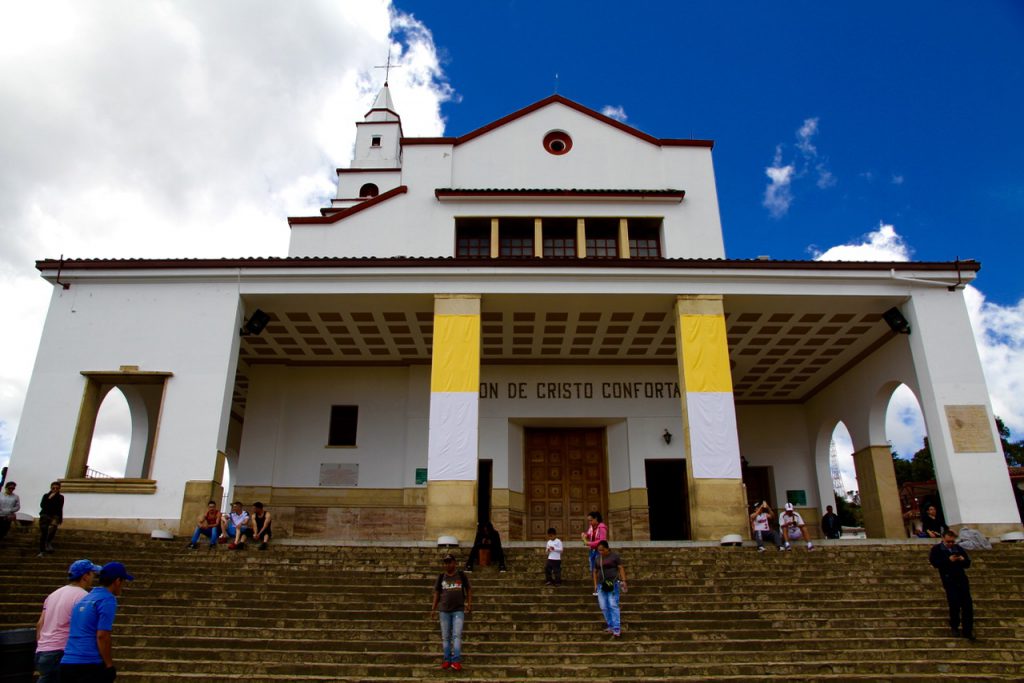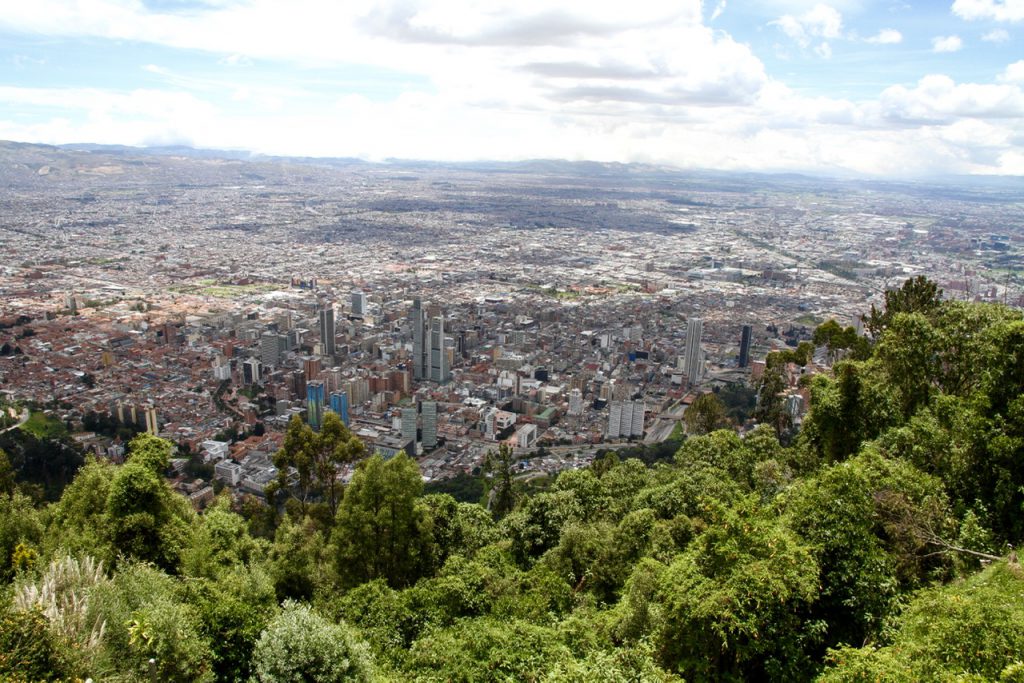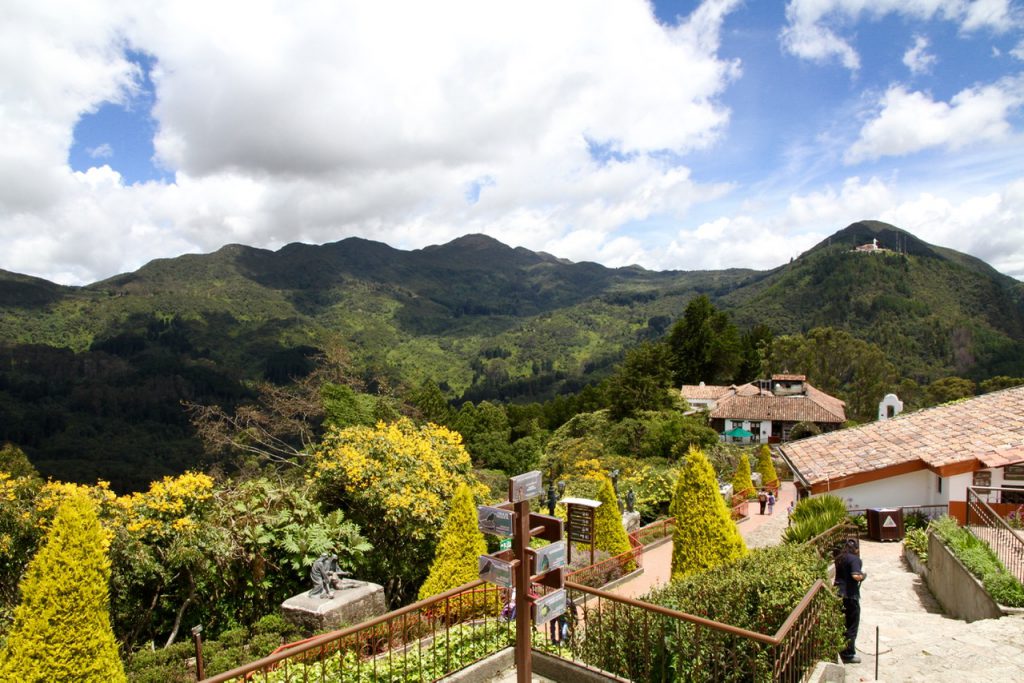 We visit a great little lunch spot called El Tambor in the nearby hilltop town La Calera.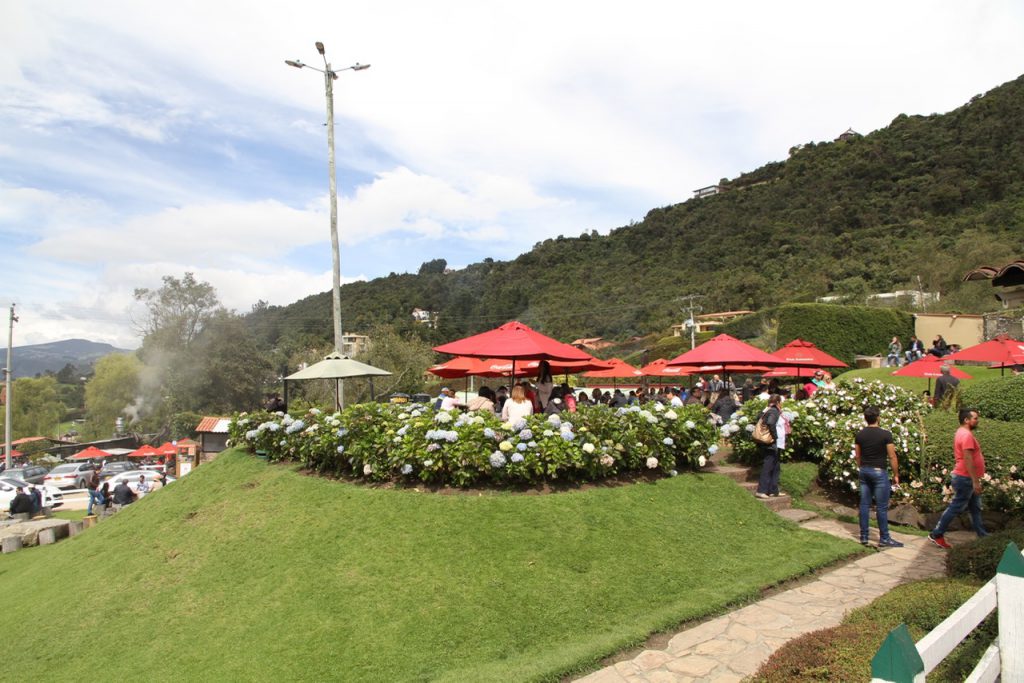 Platters of grilled meat!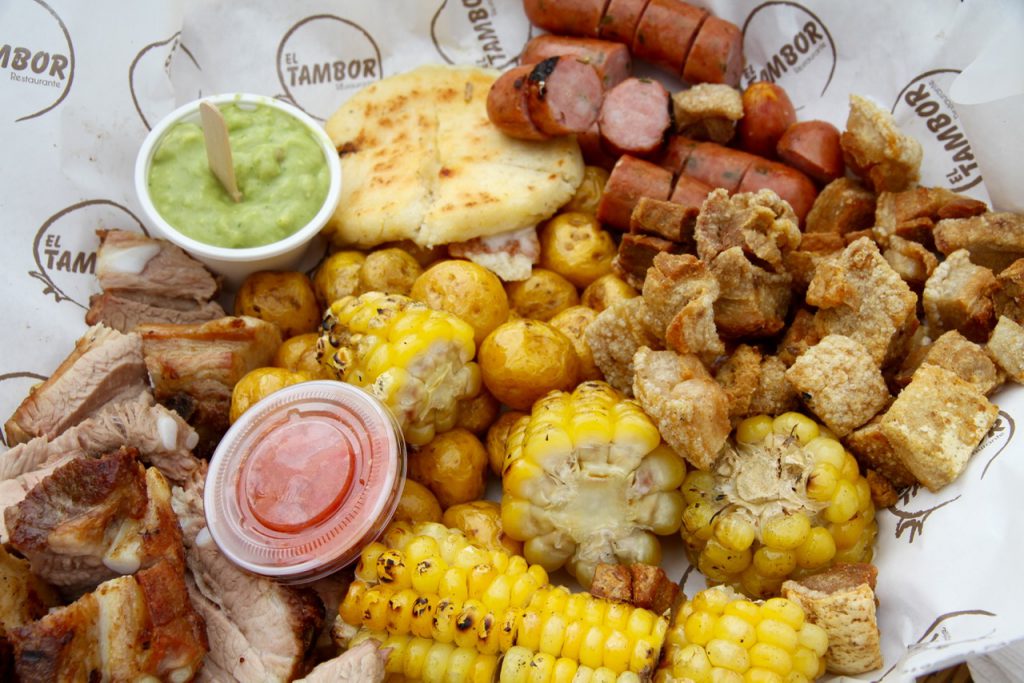 After a great week in Bogota we fly back to Cartagena to see how fast Mom can melt.
We spend most of our time exploring Cartagena's old town and walled city.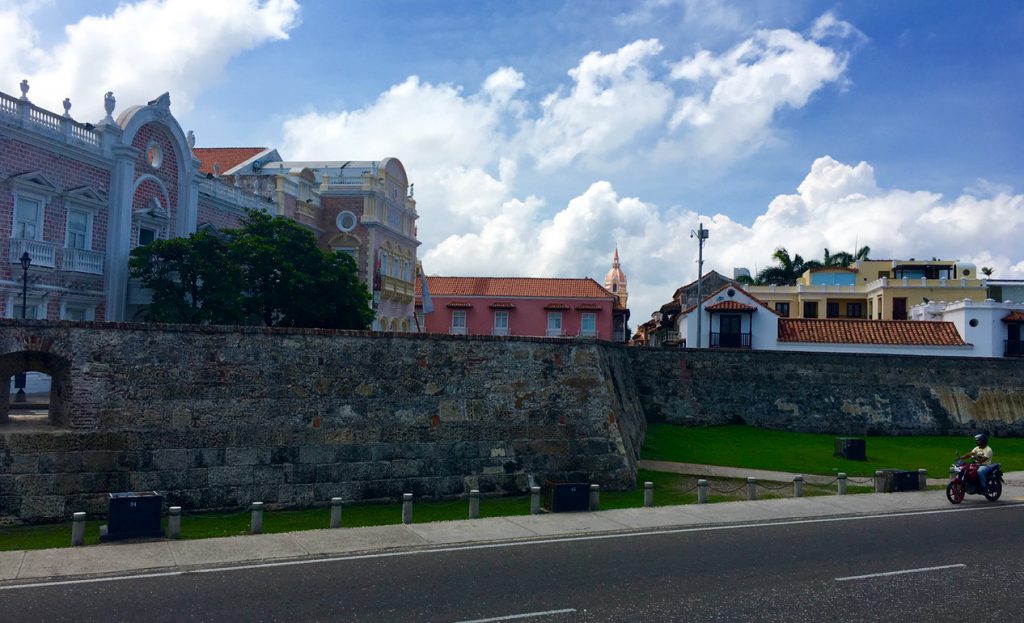 Founded in 1533 Cartagena was the main port for Spanish trade between Spain and it's overseas empires.
Peruvian Silver passed through Cartagena on its way back to Spain.
The walled city was built to defend this very important port from pirate attack.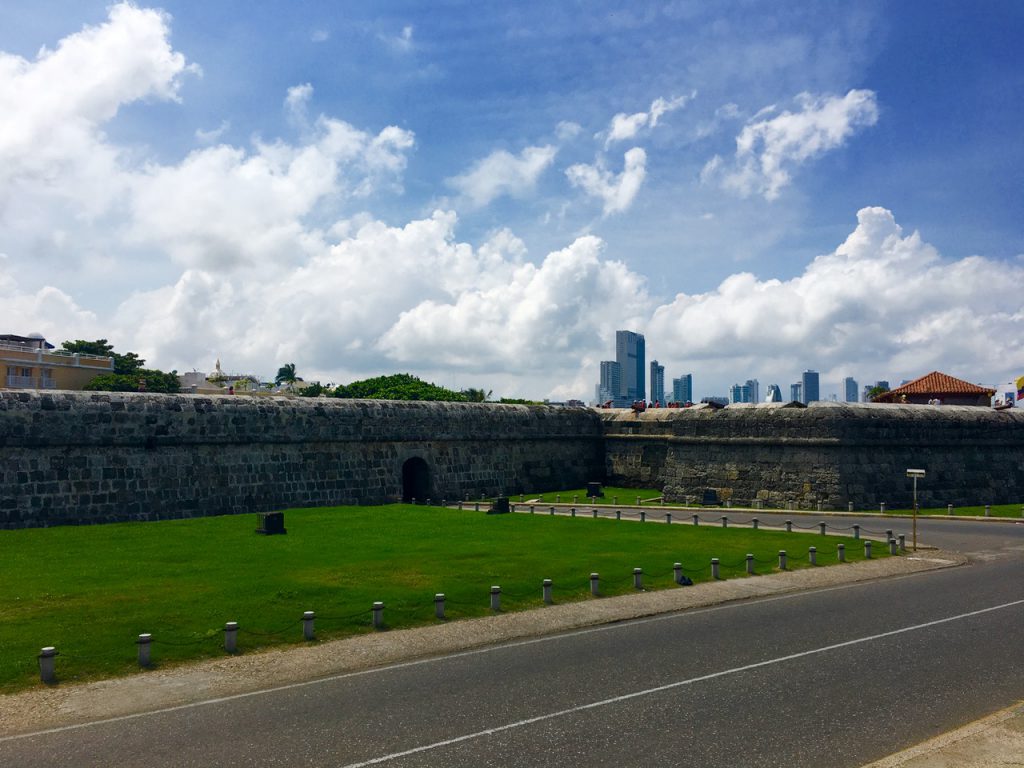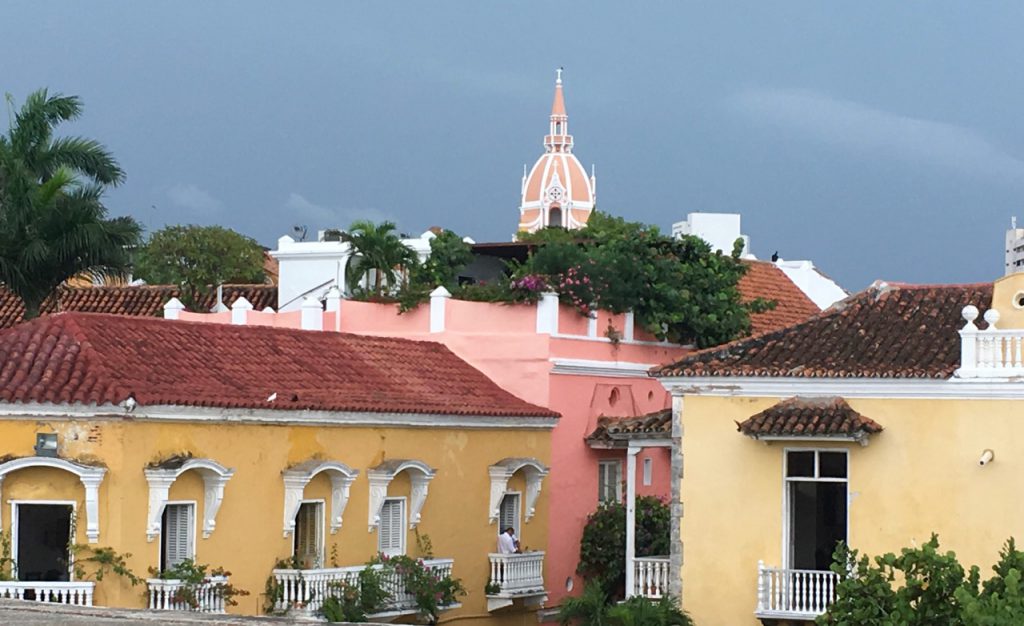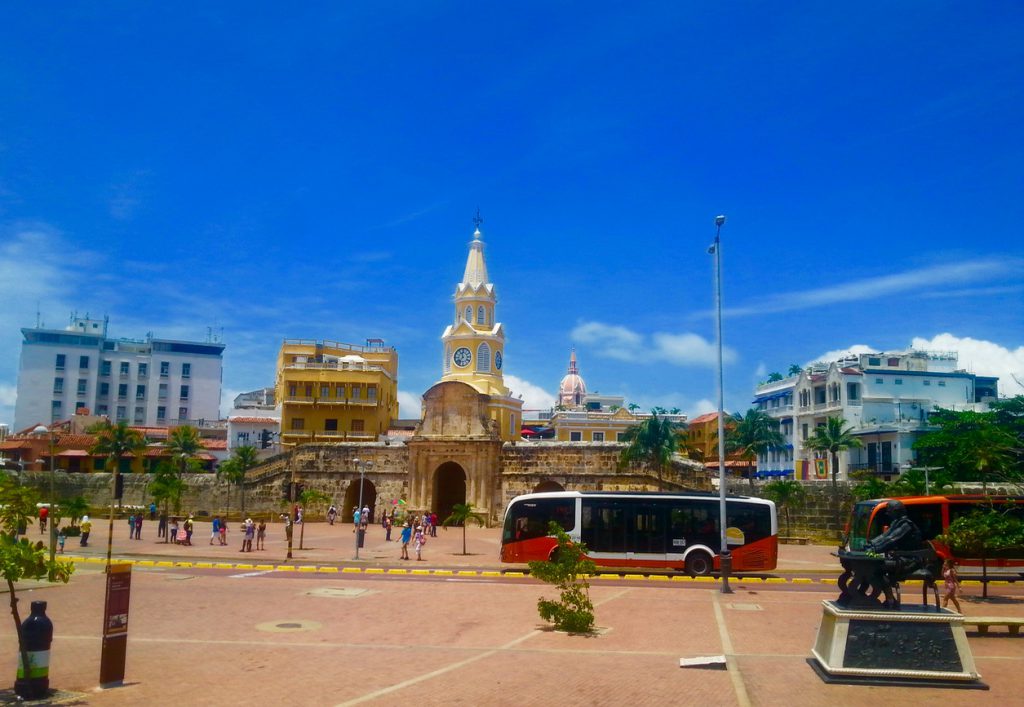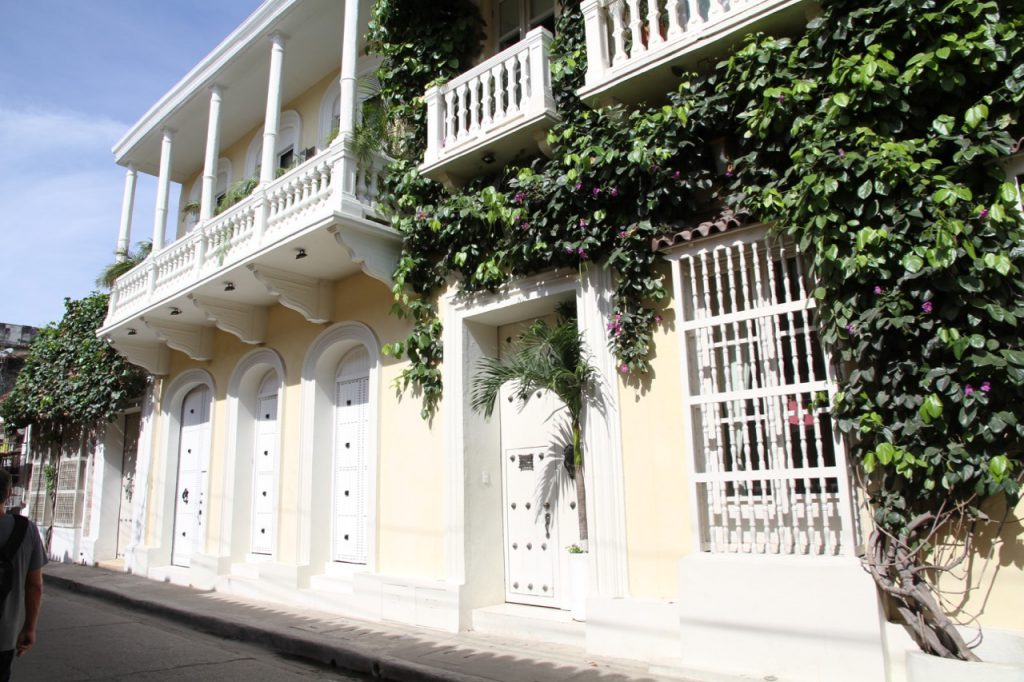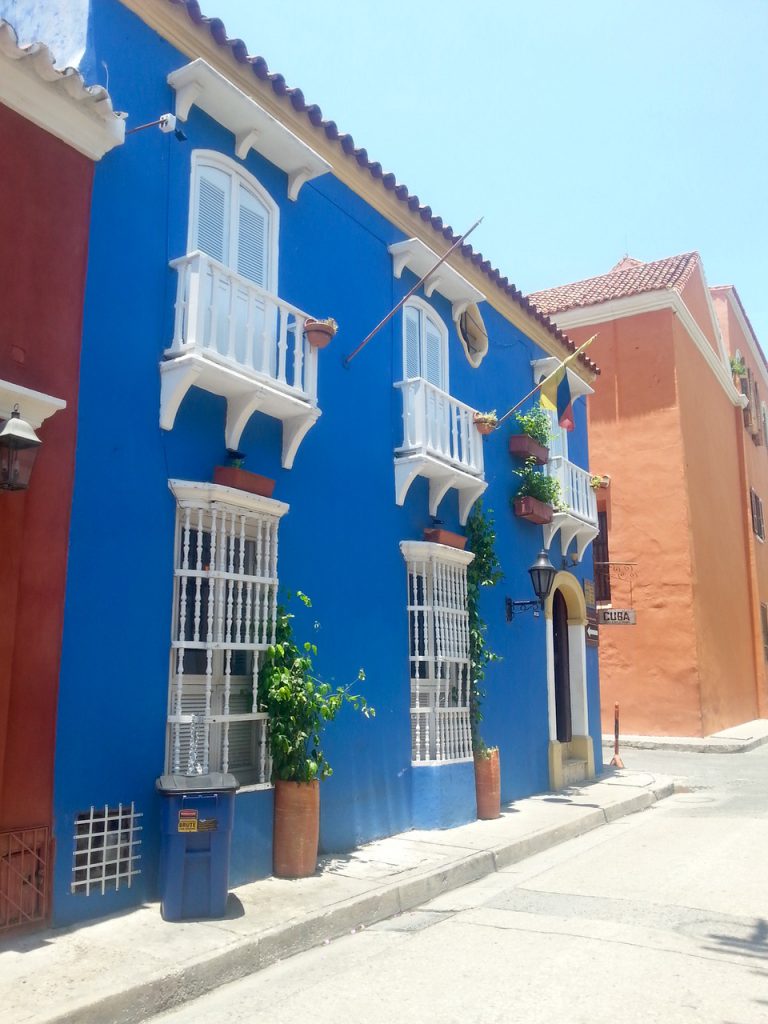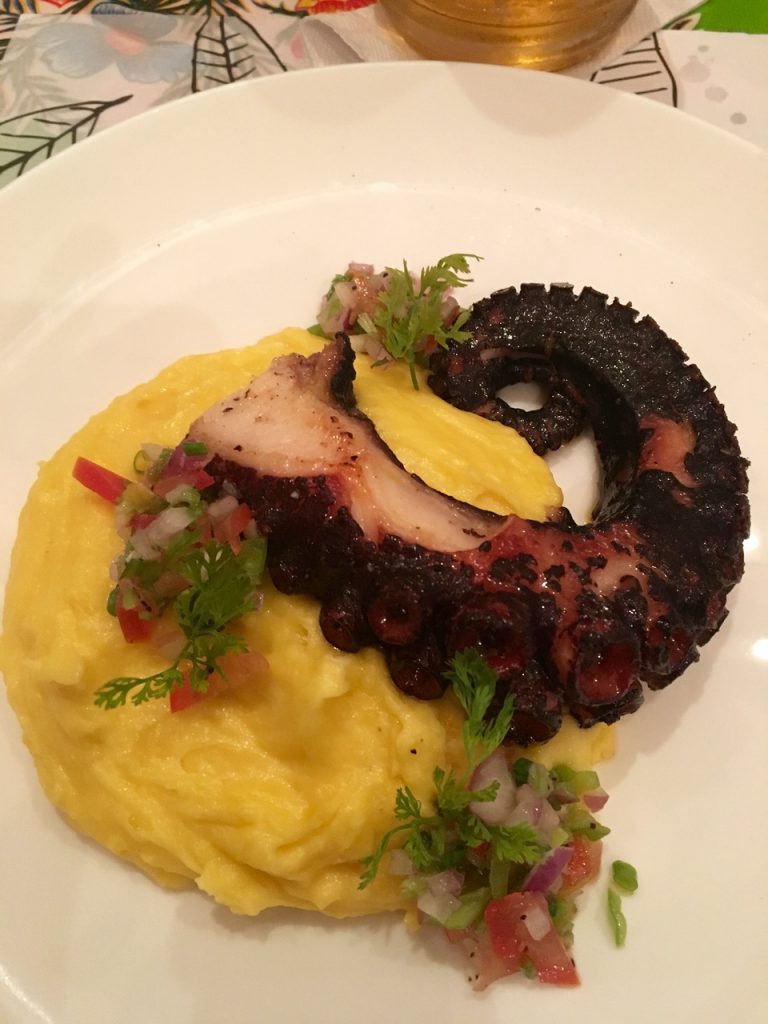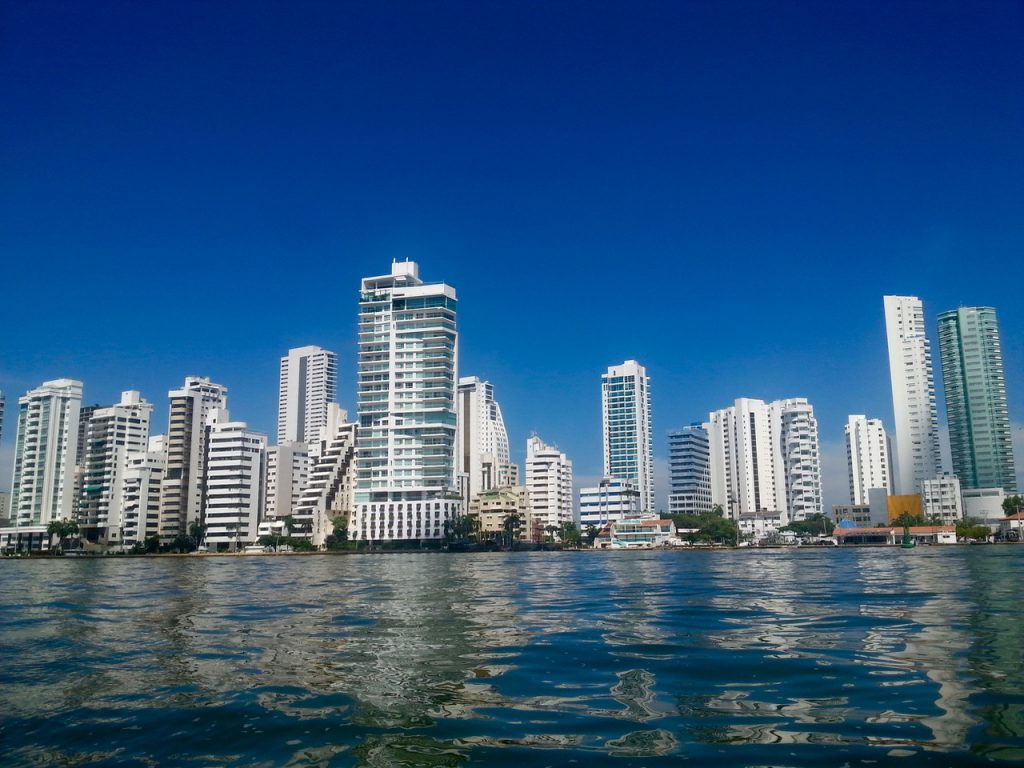 When the heat got too much, we did head to the New Town one afternoon to find some air conditioning in the mall.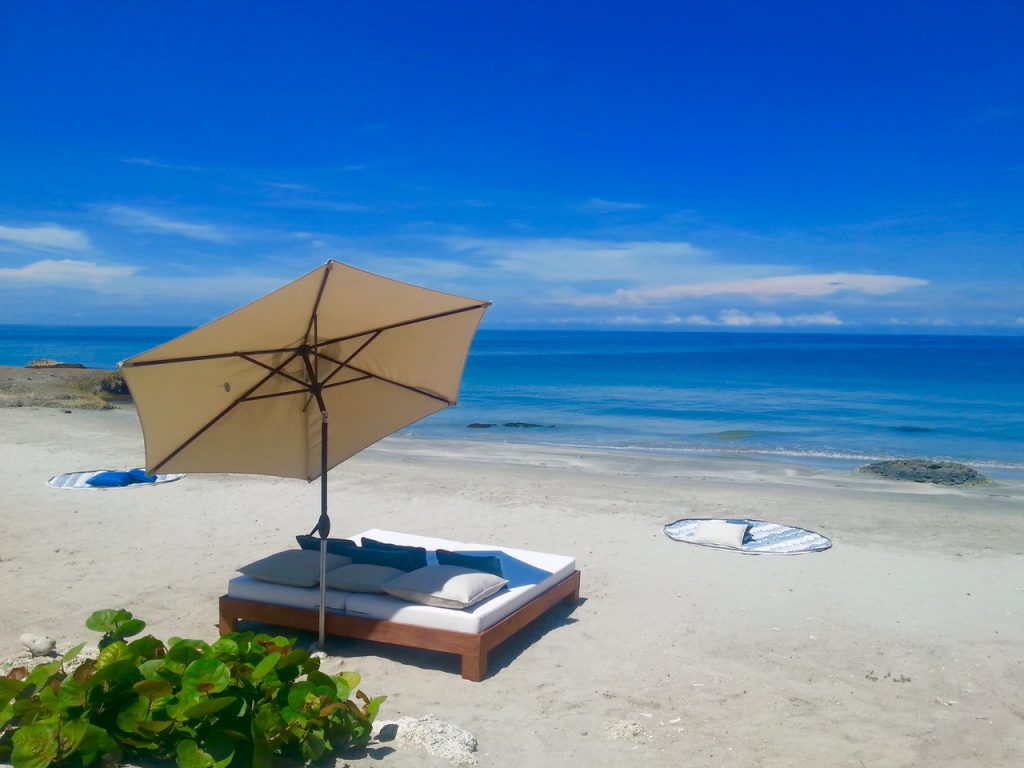 Cartagena city beaches aren't great, so we searched out a fantastic little beach to cool off about a half hour boat ride from Cartagena called the Blue Apple Beach Hotel. Super little spot with a restaurant and pool.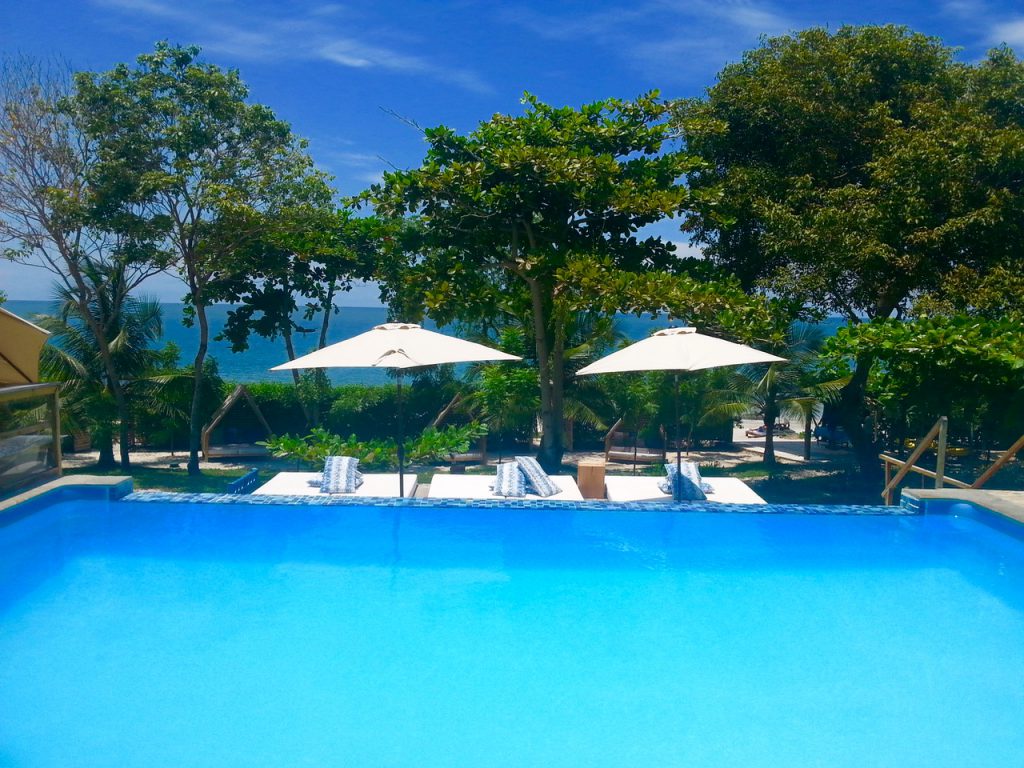 Once it's time to send mom packing again we head back to La Pradera campsite (45 mintues from Cartagena) where our truck has spent a good part of the month to fill up on supplies and get ready for the next leg of our trip.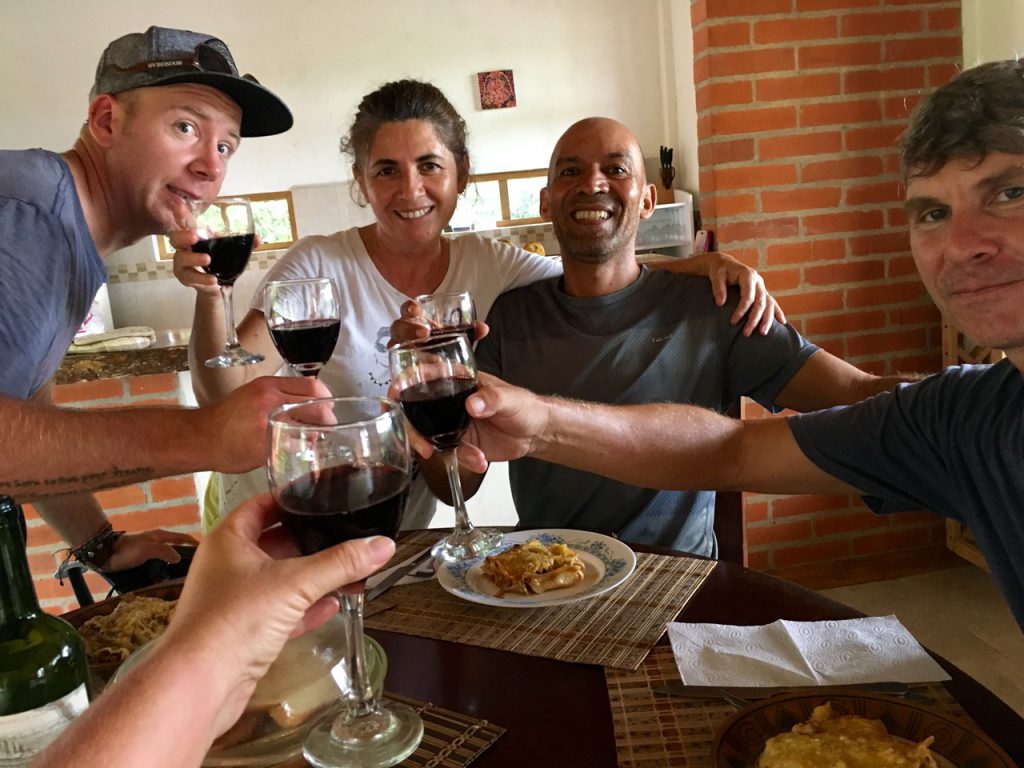 Gloria and Albiero were fantastic hosts and their property is beautiful.   Every day we had Spanish lessons from Gloria and we took tennis lessons from Albiero. This is also where we met fellow Canadian, Kix (riding his motorcylce down from Calgary) who we would continually bump into throughout our time in Colombia.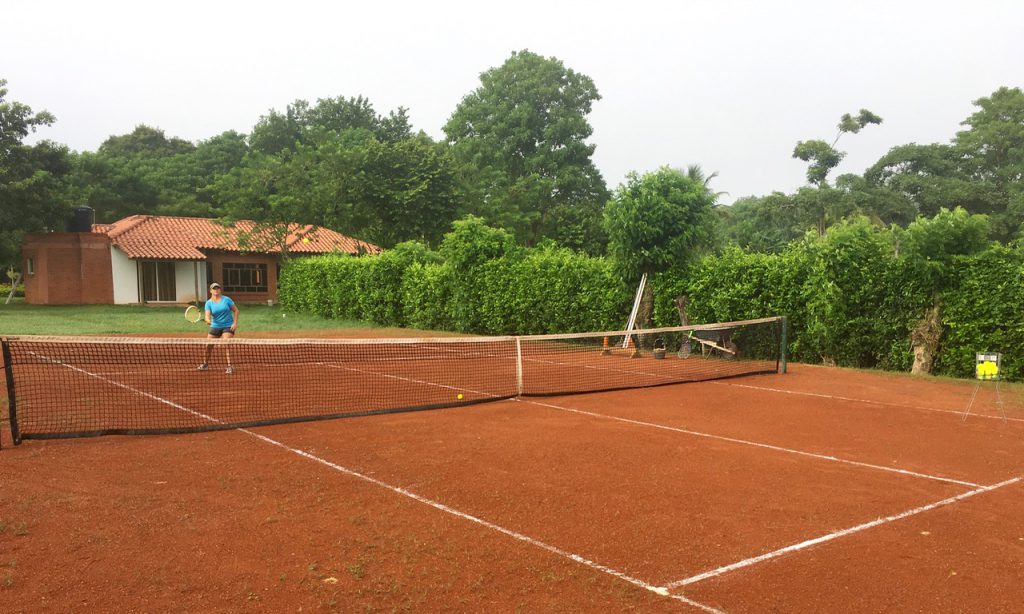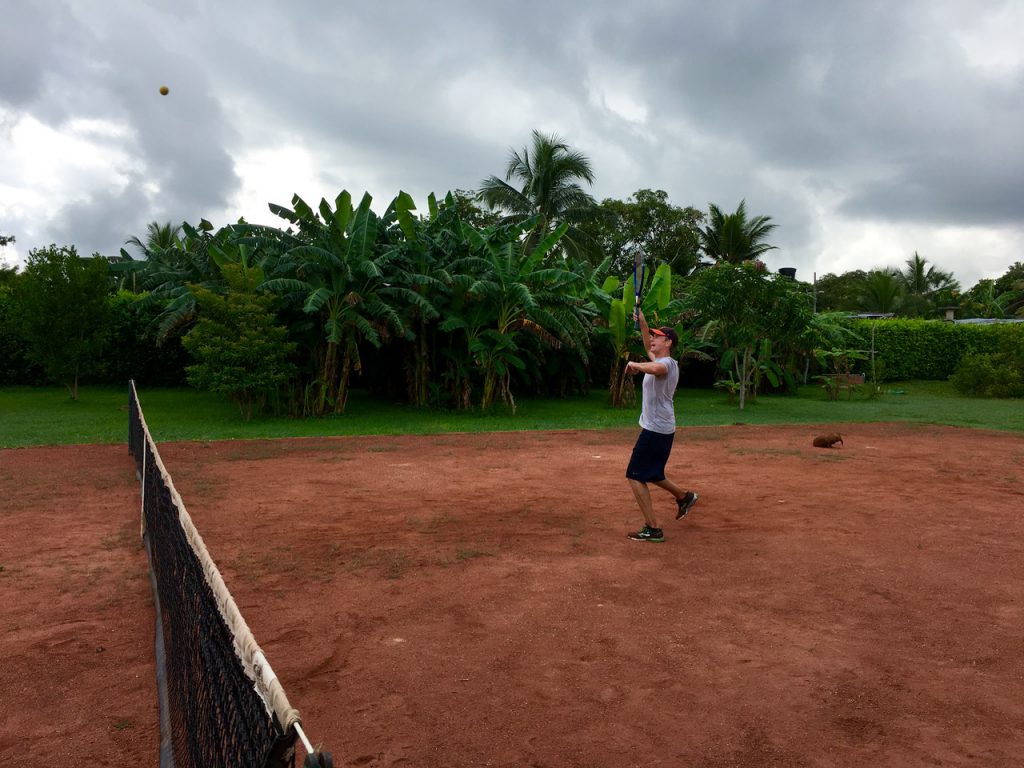 All loaded up with supplies we pack up the truck and head north up the coast visiting the backpacker town of Minca and The Tayrona National Park.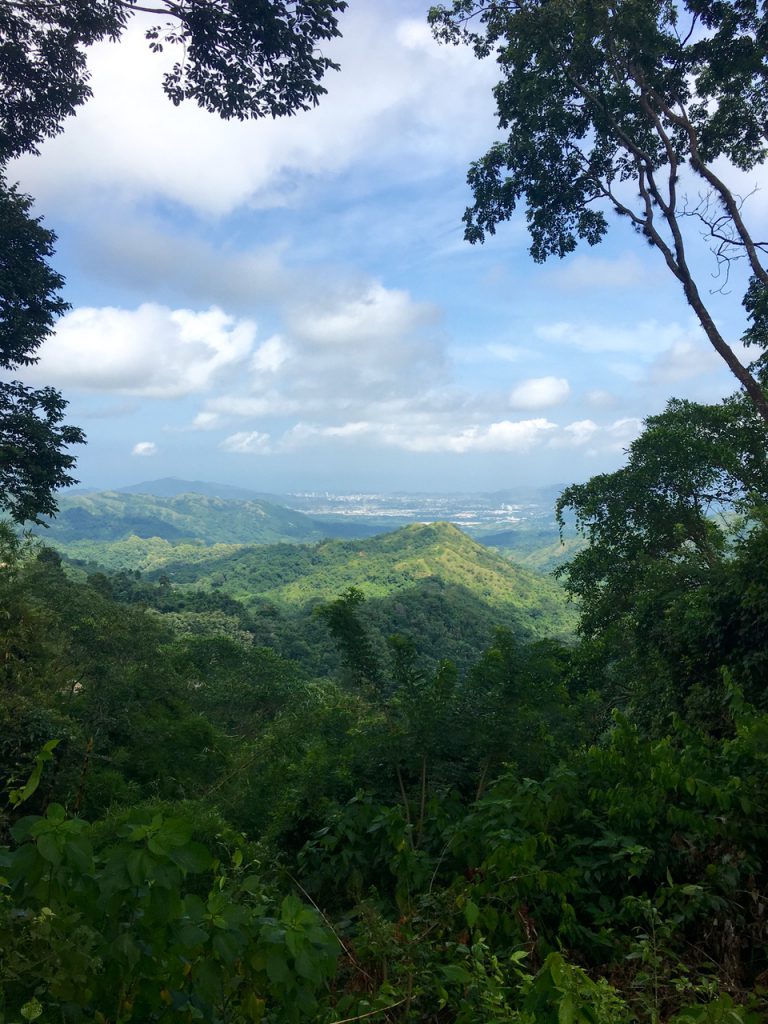 Our first stop is Minca for some hiking.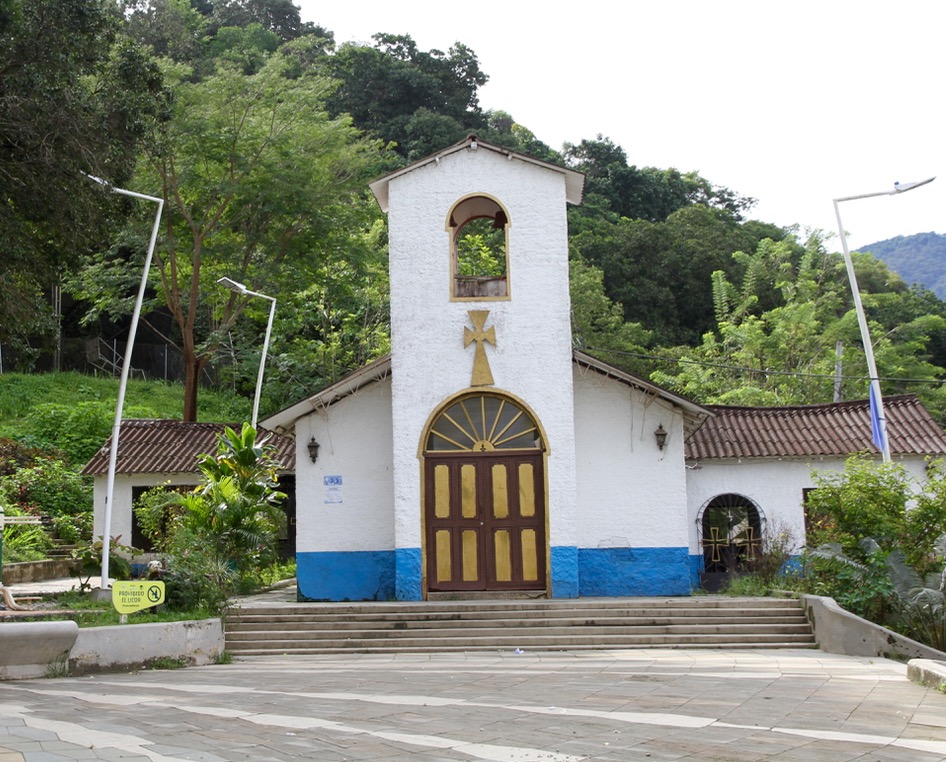 Minca is a special little town only recently opened up to tourism.  At just over 600 metres above sea level it's daily temperatures are a wonderful break from the sweltering coast.
We set out for a hike to Los Pinos.  Its a grueling uphill hike and ends up knocking the stuffing out of us.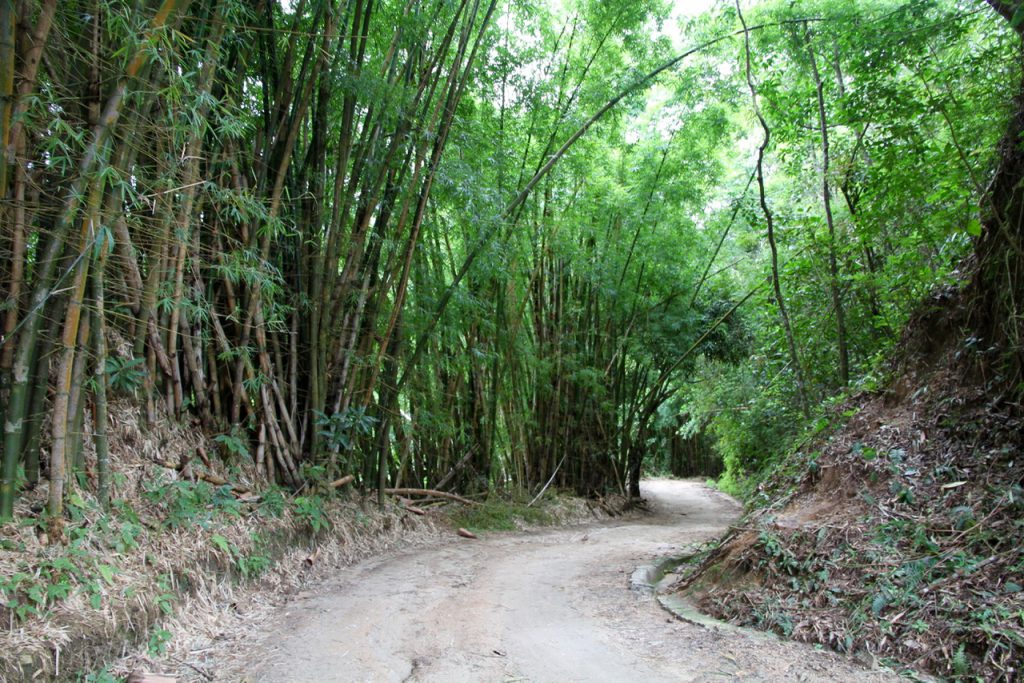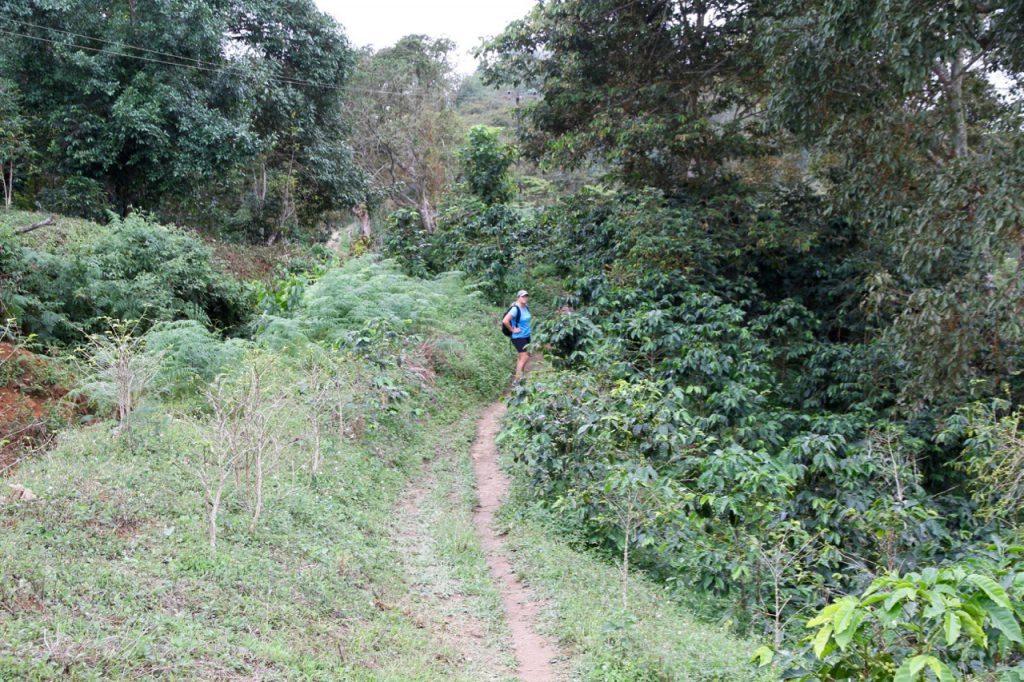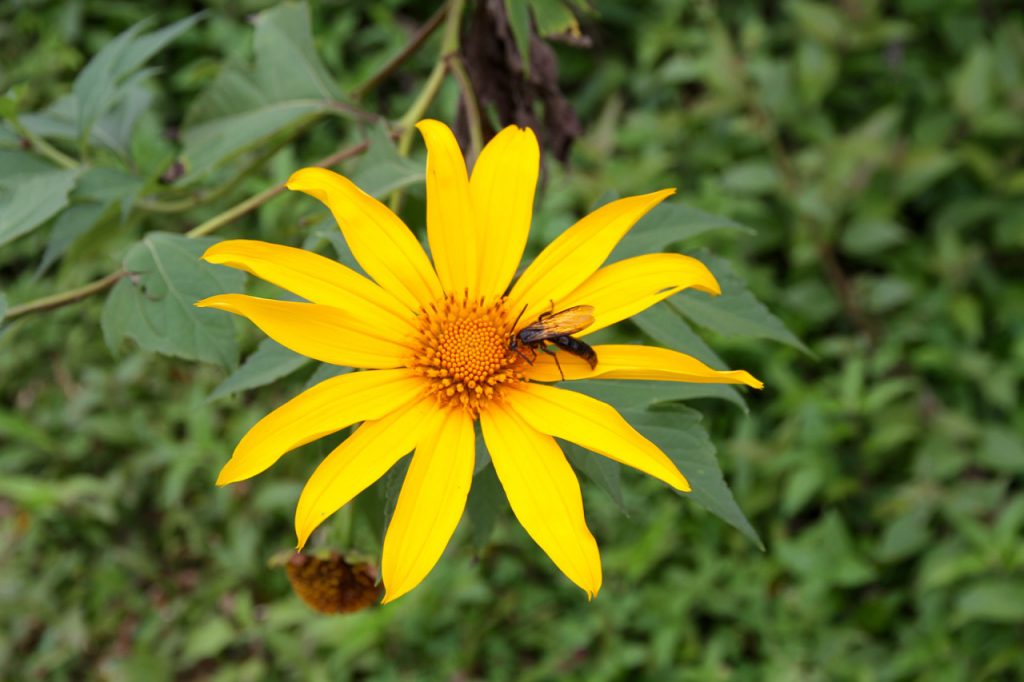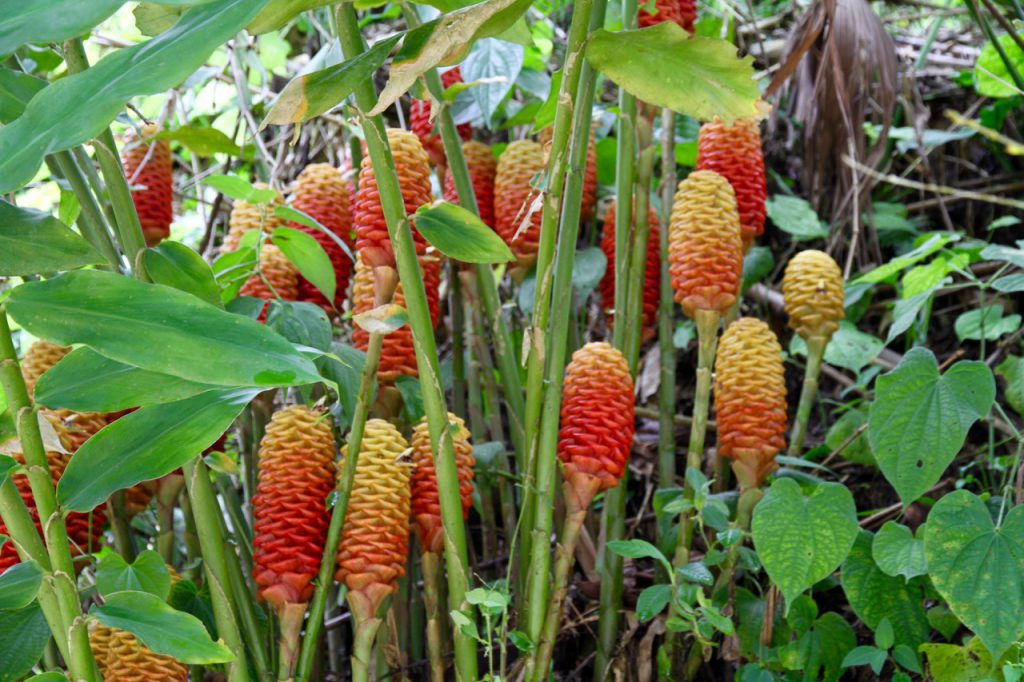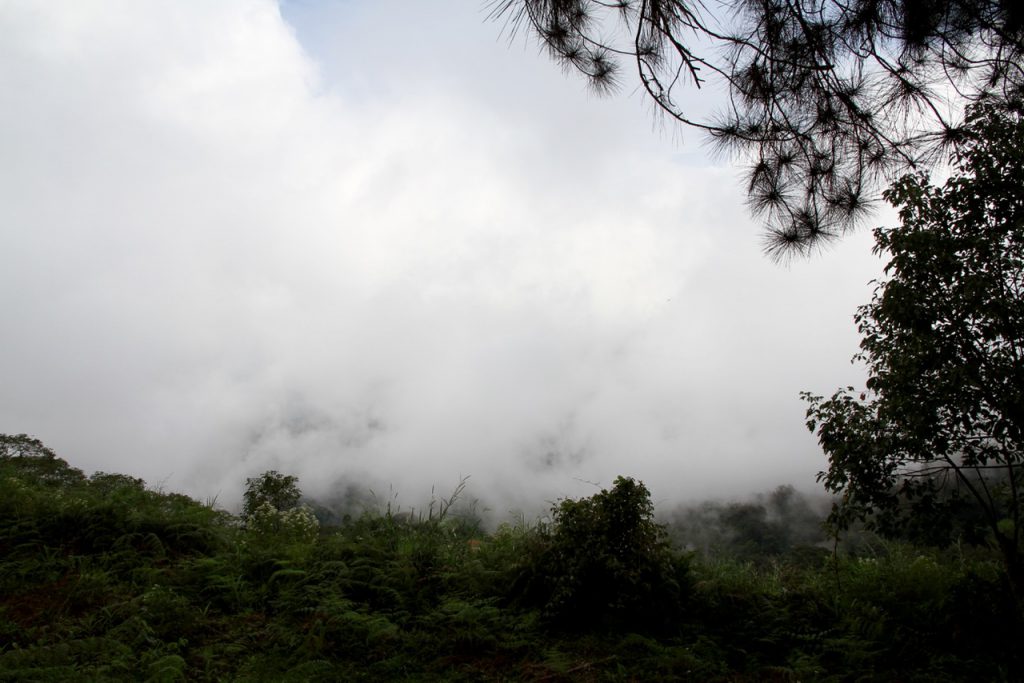 When we reach the famed Los Pinos at the top of the mountain…the clouds had rolled in and the view was gone.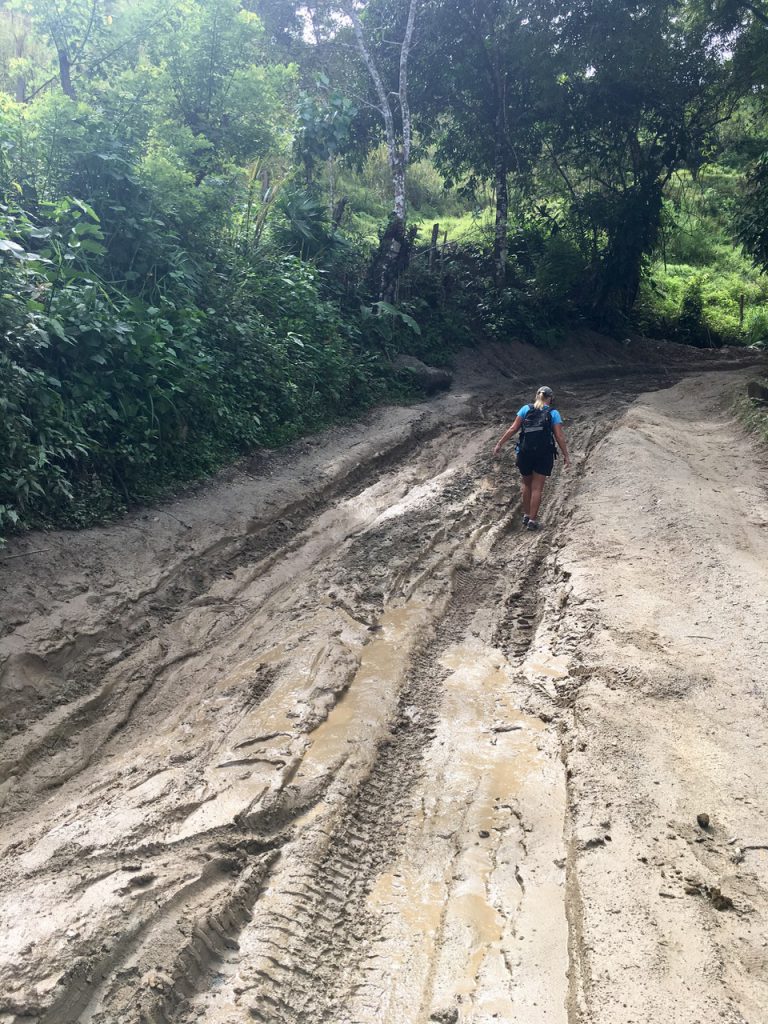 The clouds bring the rain and for 2 hours we slip and slide our way back down the mountain to camp.
Minca is one of the first of many Coffee regions we will visit in Colombia.  La Victoria Coffee Plantation provided another hiking destination up the mountain during our stay.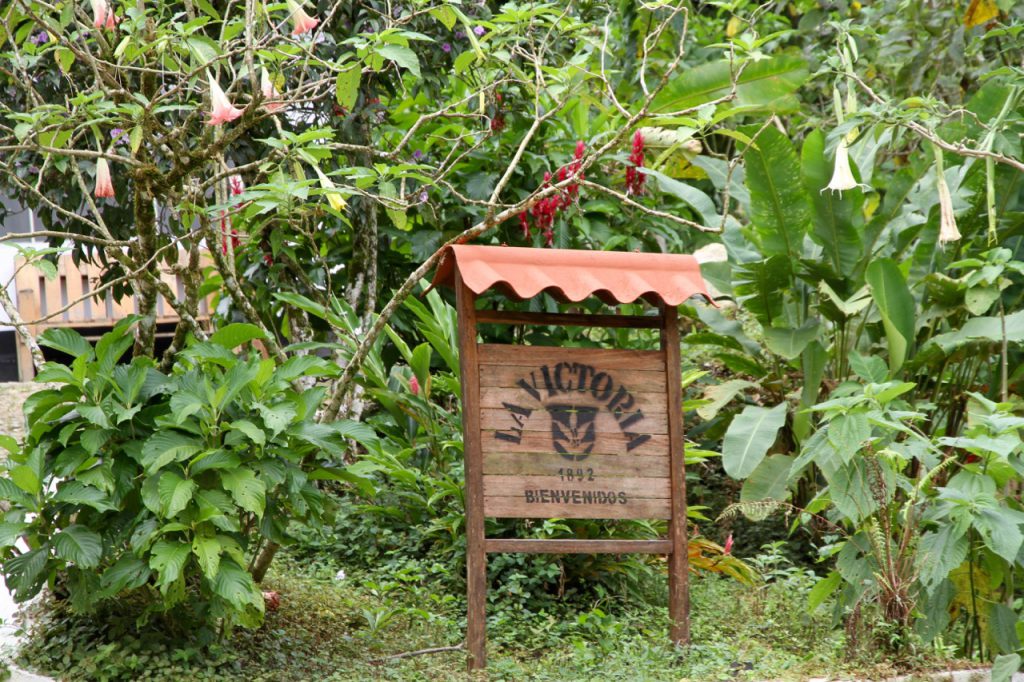 We are soon cooled off sufficiently in Minca and are ready to head back down the hill to the beach and Tayrona National Park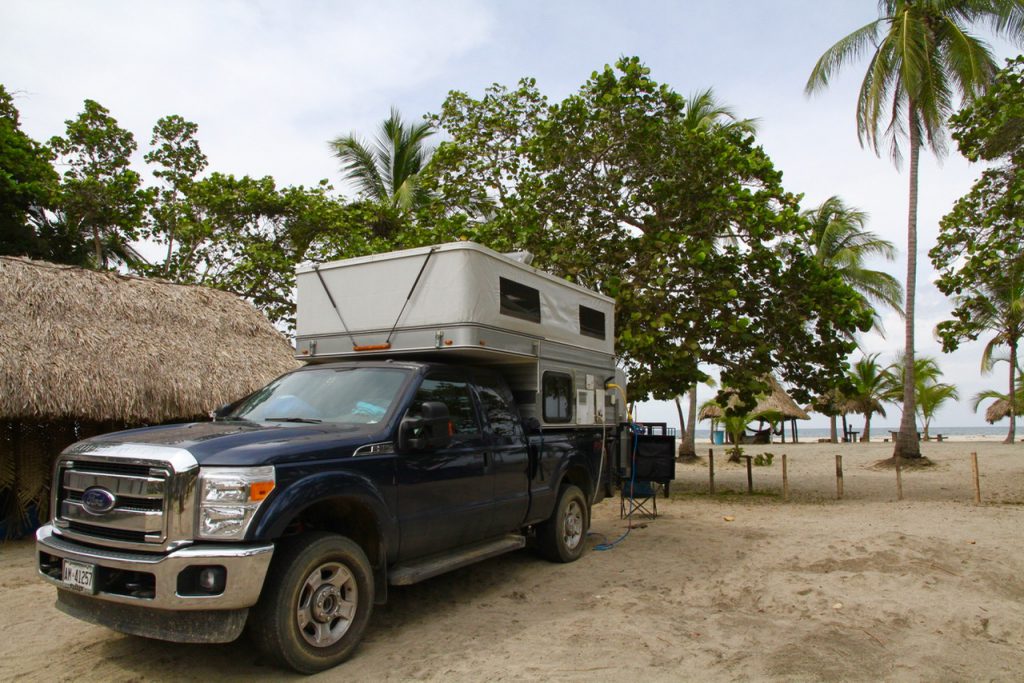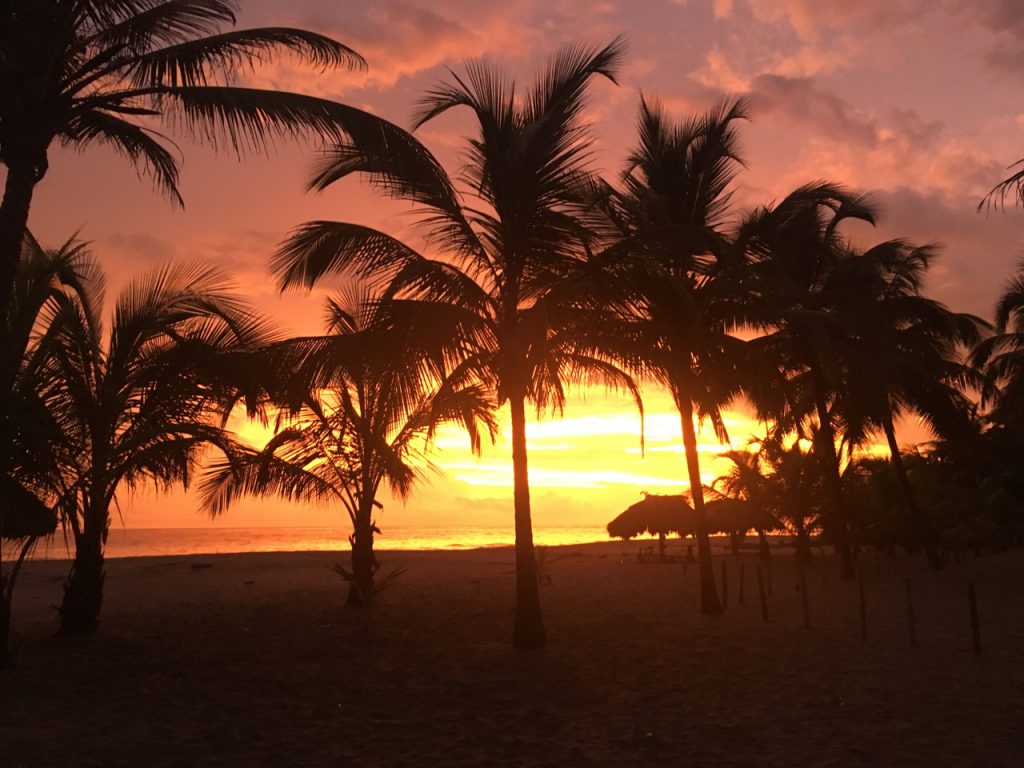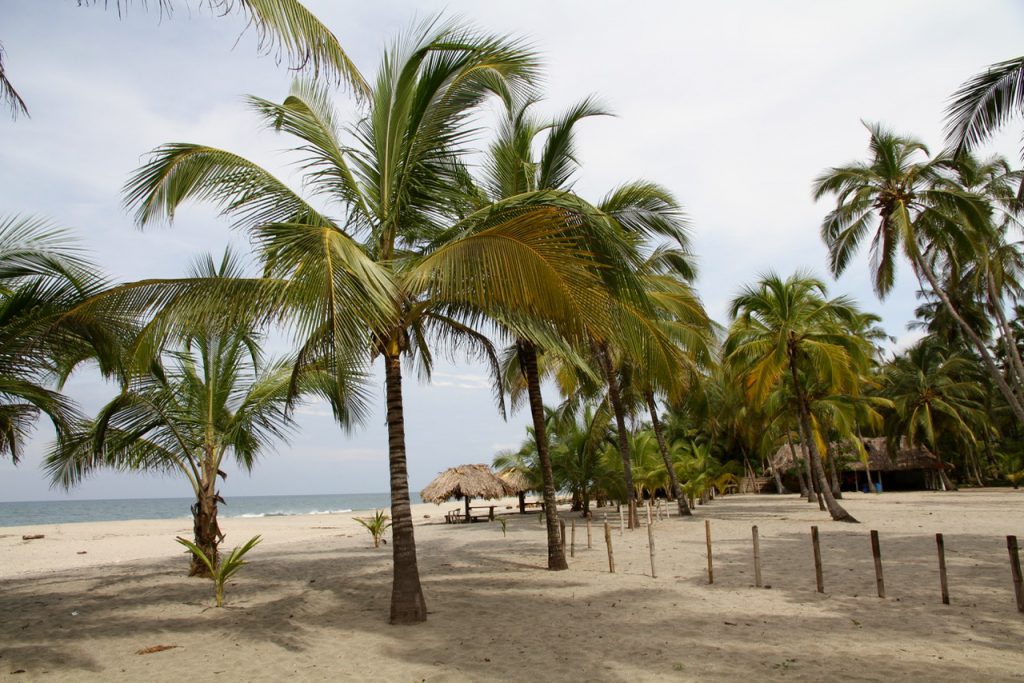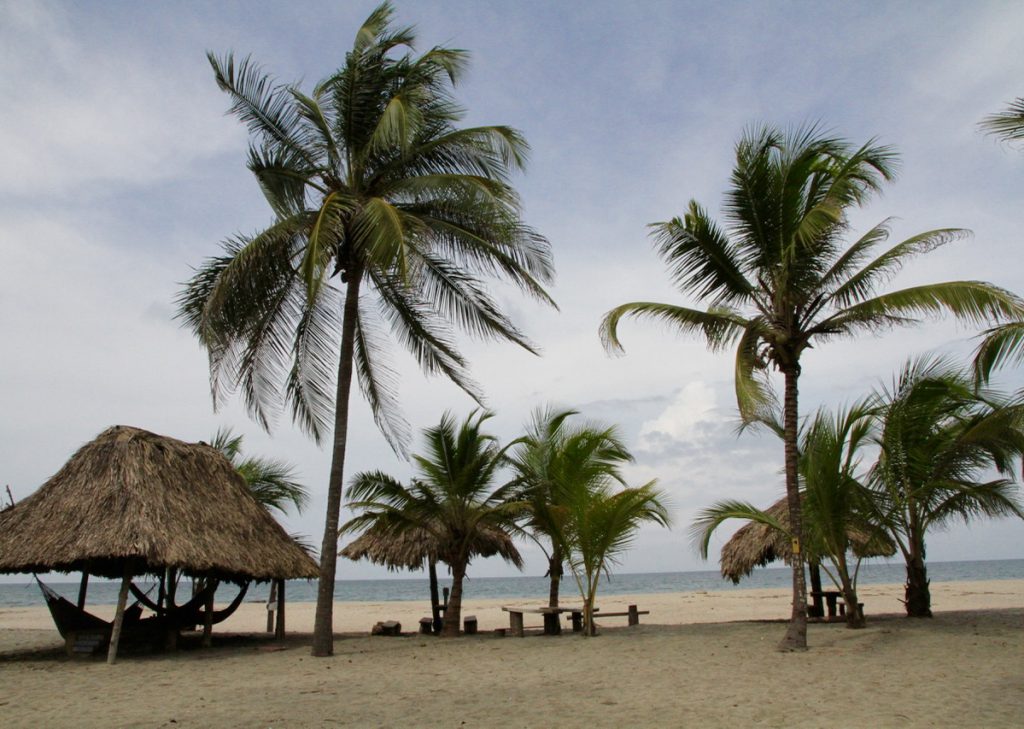 Rainy season has caught up to us again so we cut our time on the coast short and decide to head (south) into the highlands in search of some drier weather.
A long 10 hour drive from the coast brings us first to the town of Bucamaranga and then to the spectacular Chicamoca canyon.
We decide to camp at the Chicamoca canyon for 4 or 5 days and take in the stunning views.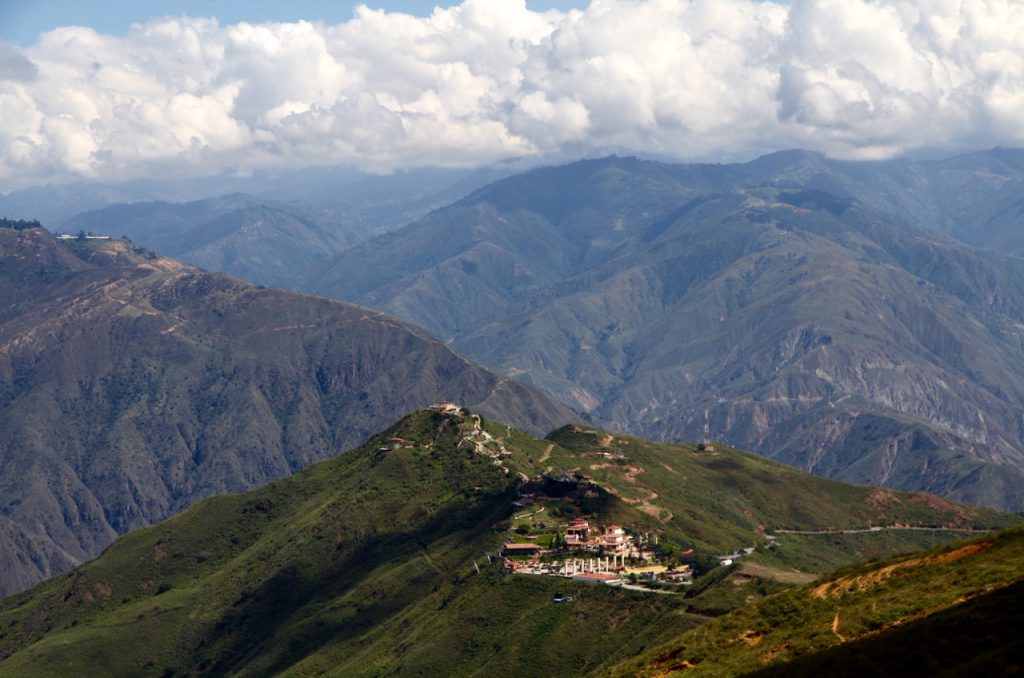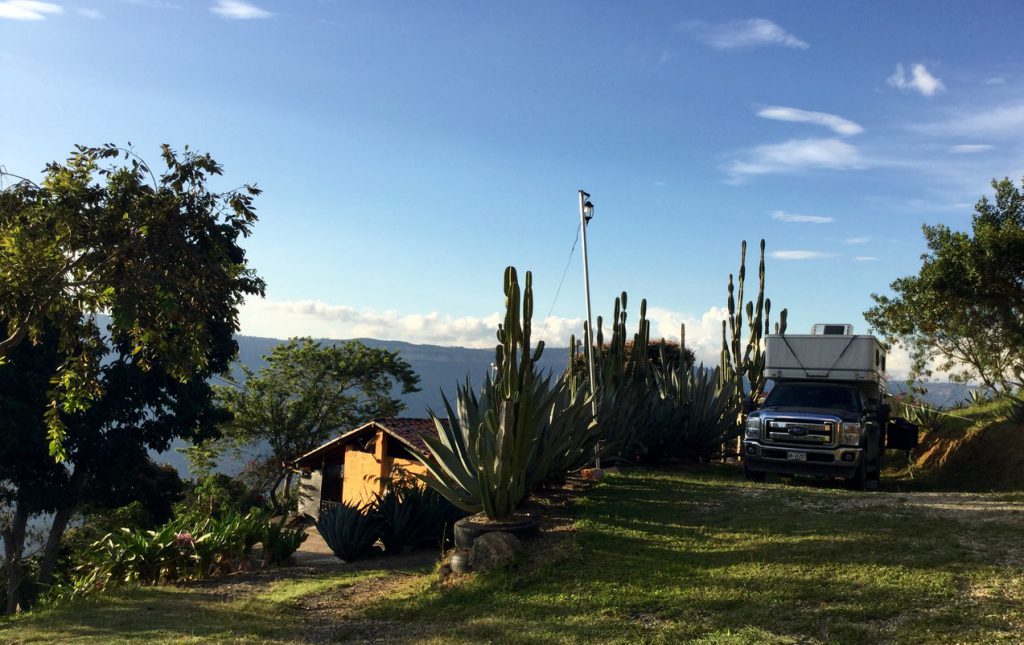 A brilliant camp site…and no rain!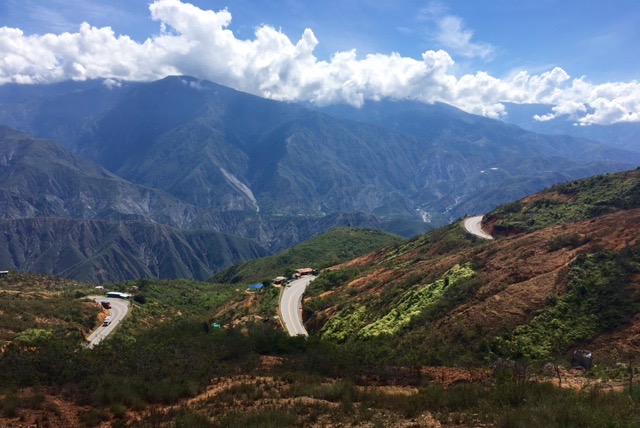 We visit a local theme park and take a tram deep into the canyon.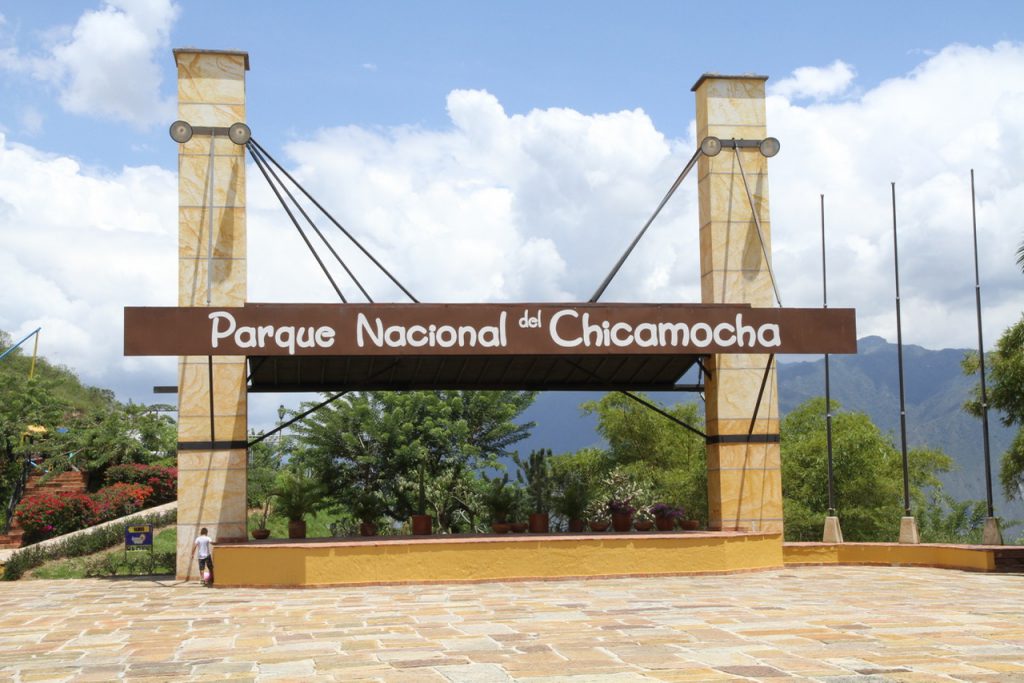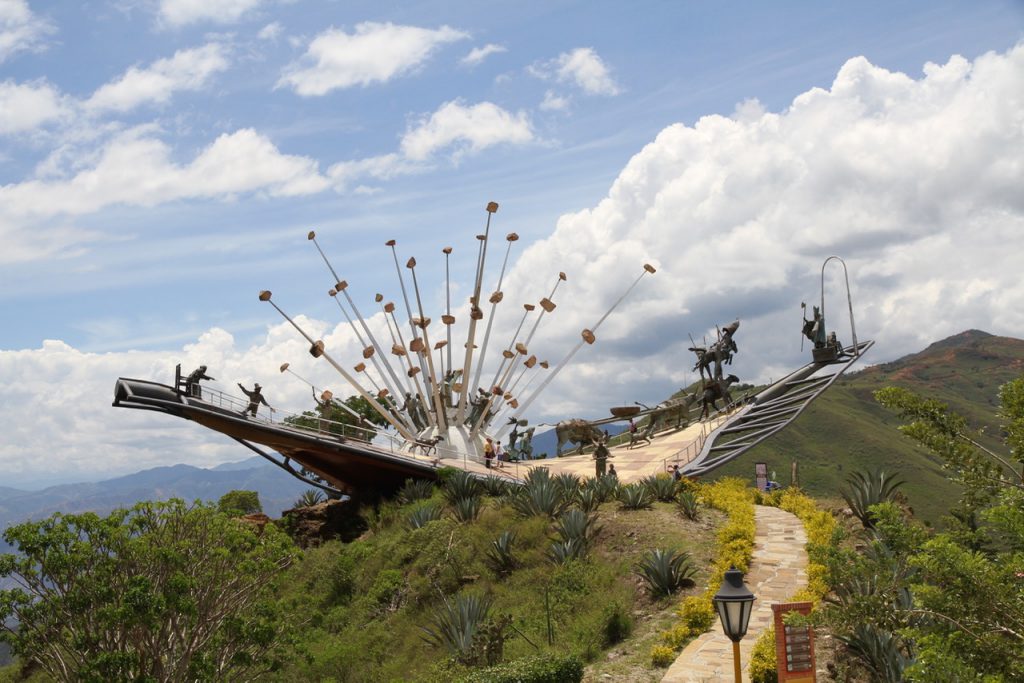 The sculpture representing "the commoners revolution".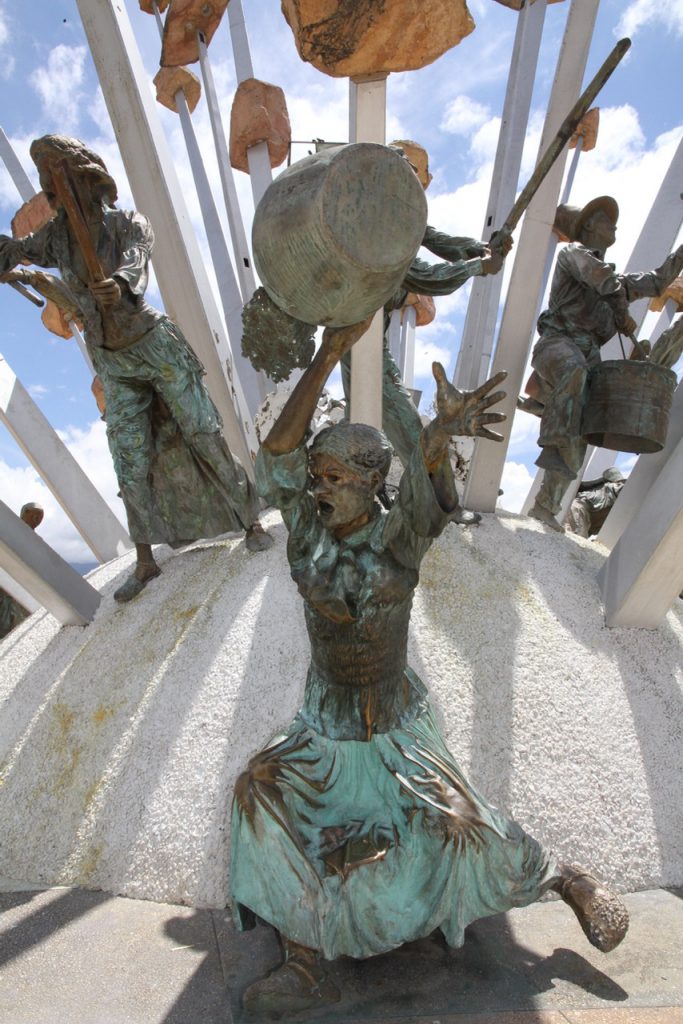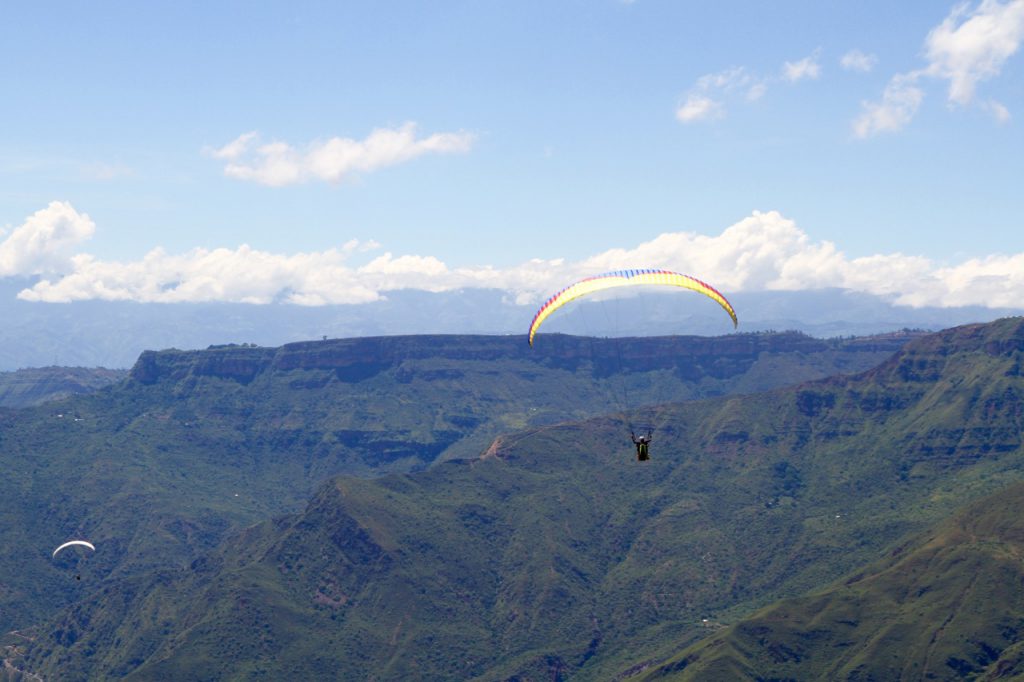 Don goes paragliding and its all I can do to watch…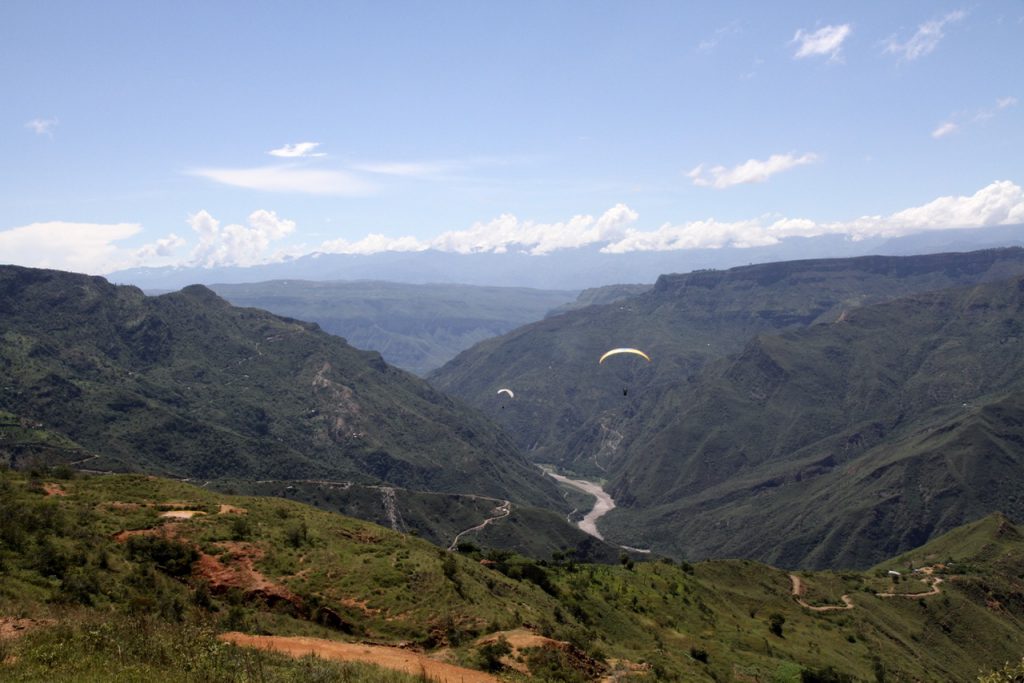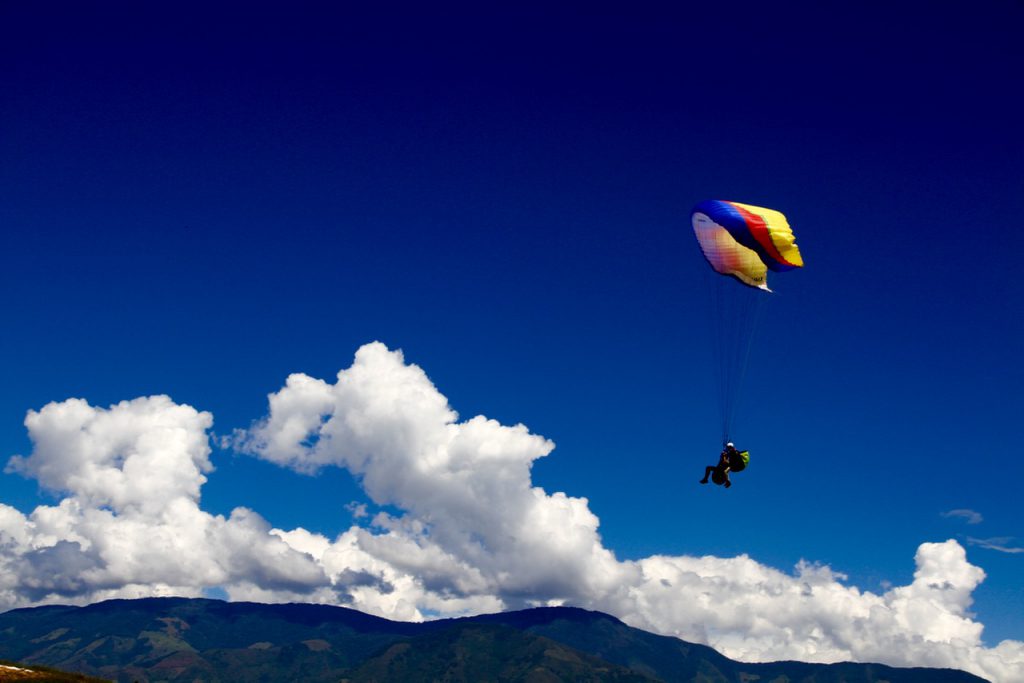 From Chicamoca we head to the quaint town of Baricahara for a few days just hanging out in the pleasant town square and hiking the Camino Real trail that links two historical towns, Barichara and Guane.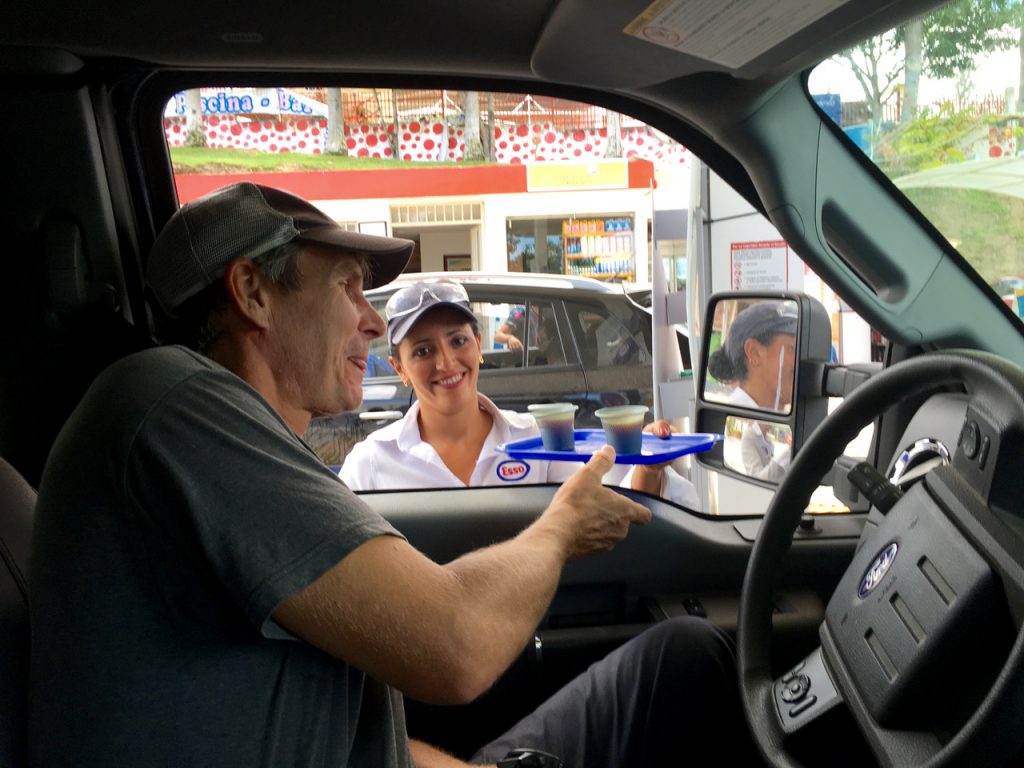 Complimentary Tinto (black coffee with panela) served with a tank of gas at Esso stations in this part of Colombia…very civilized.
Barichara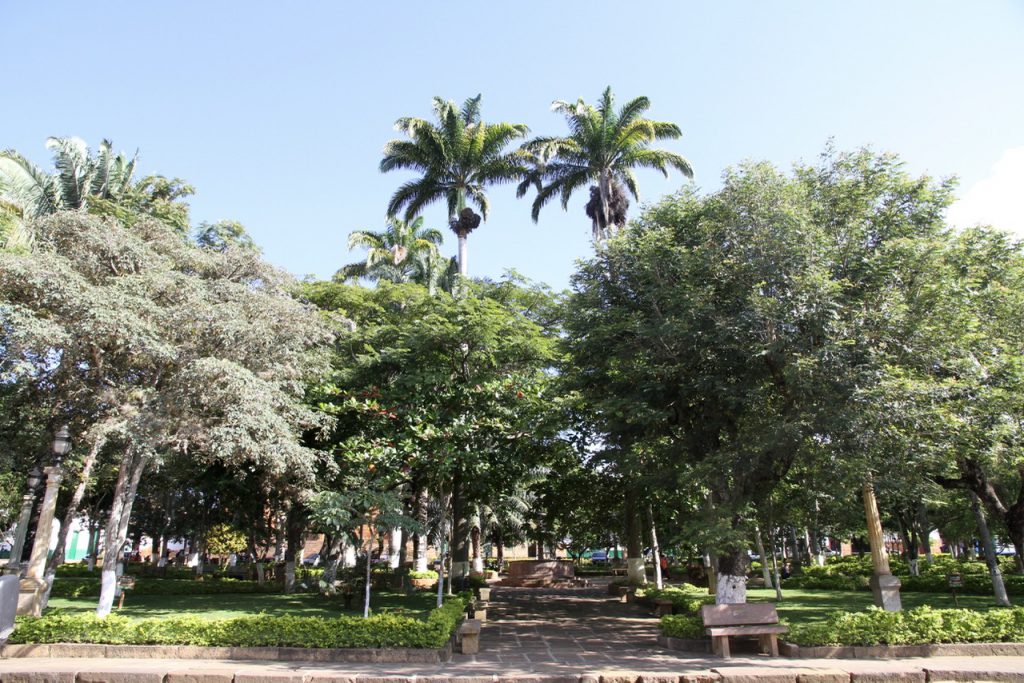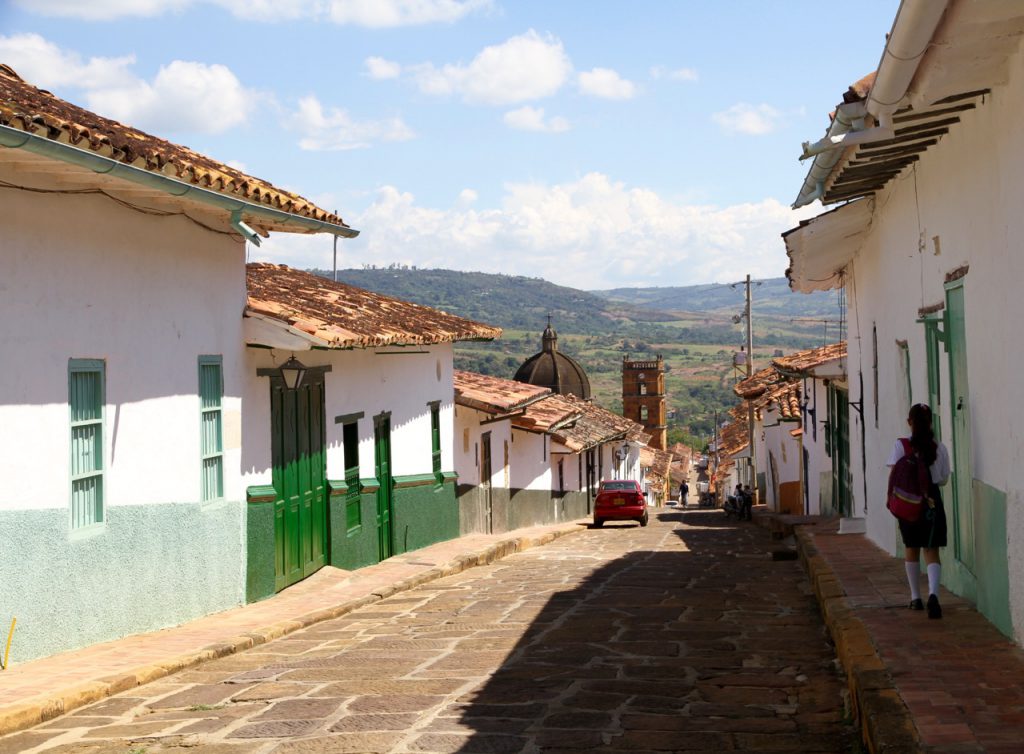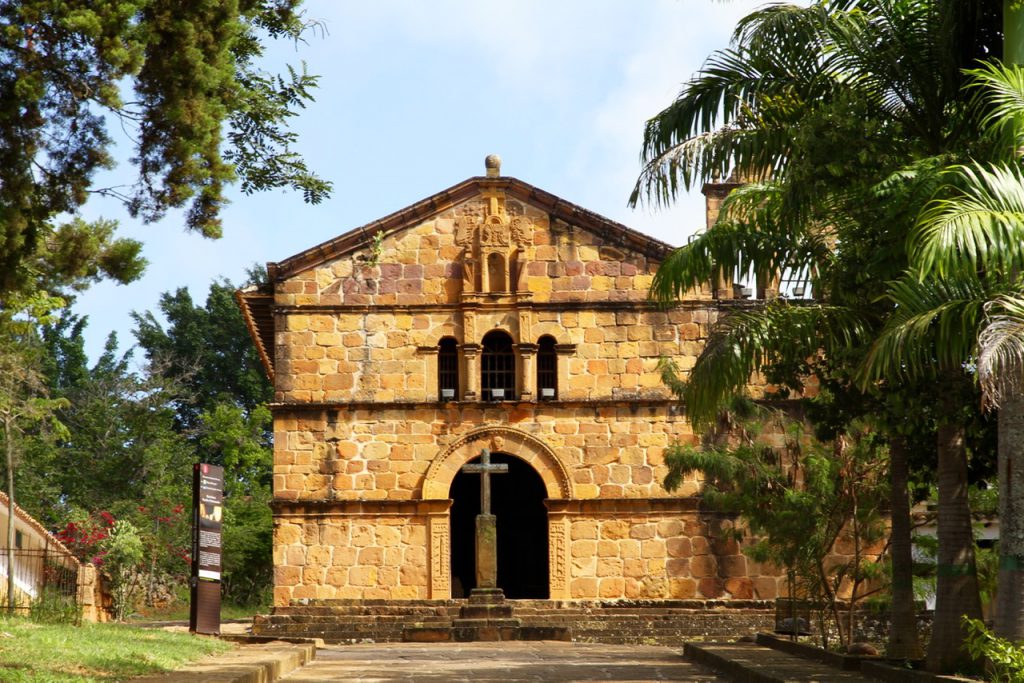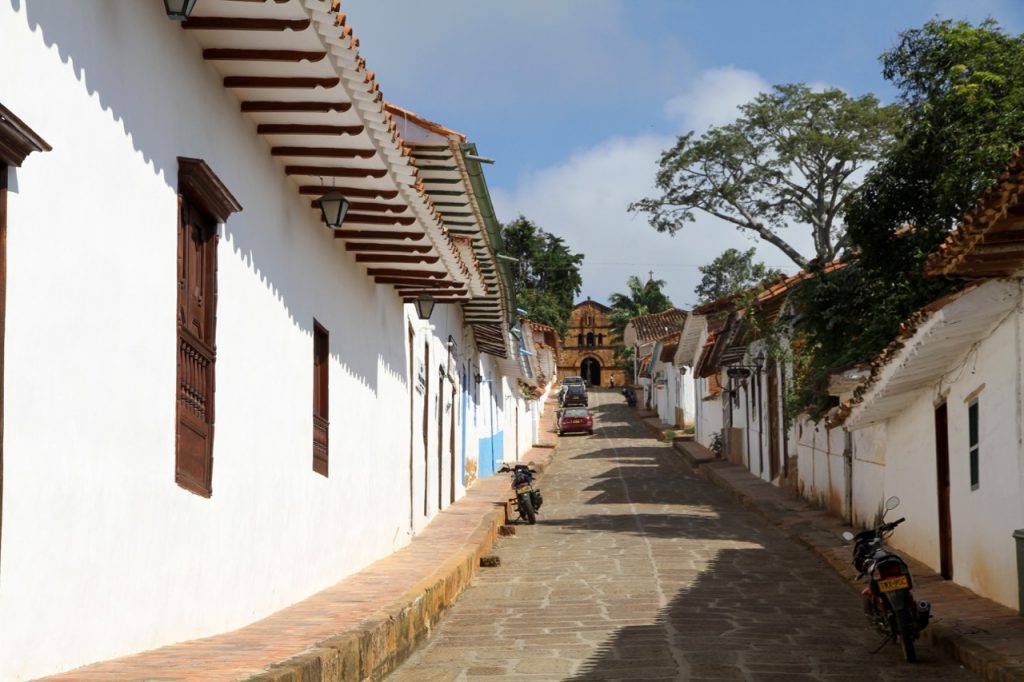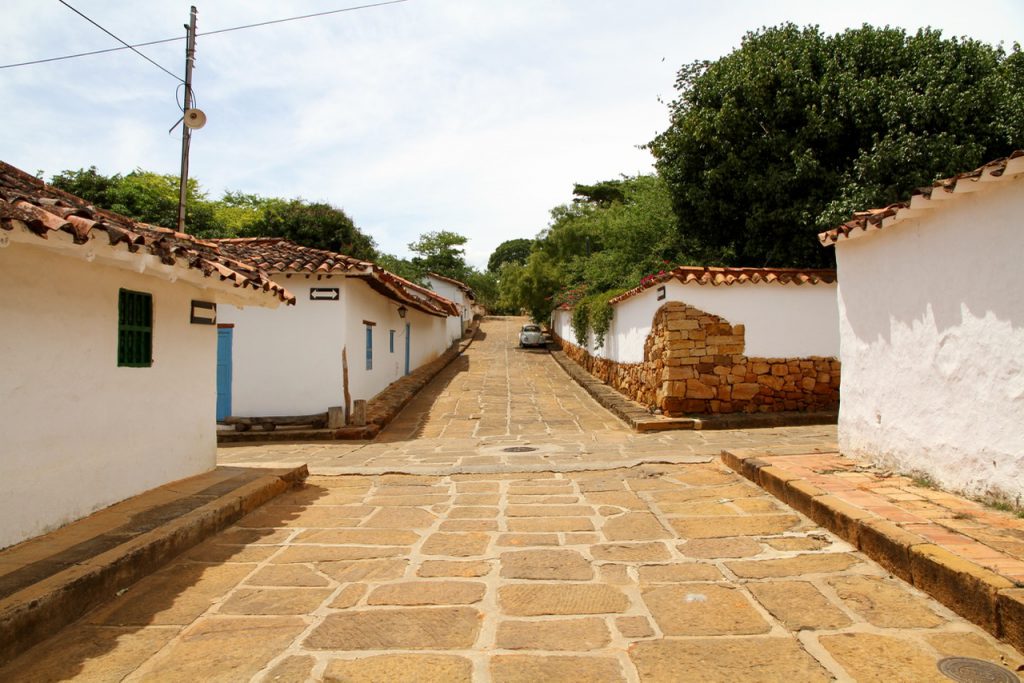 Friends of ours Iwona and Warrick recommend this hostal since you can't camp in town. It was fantastic.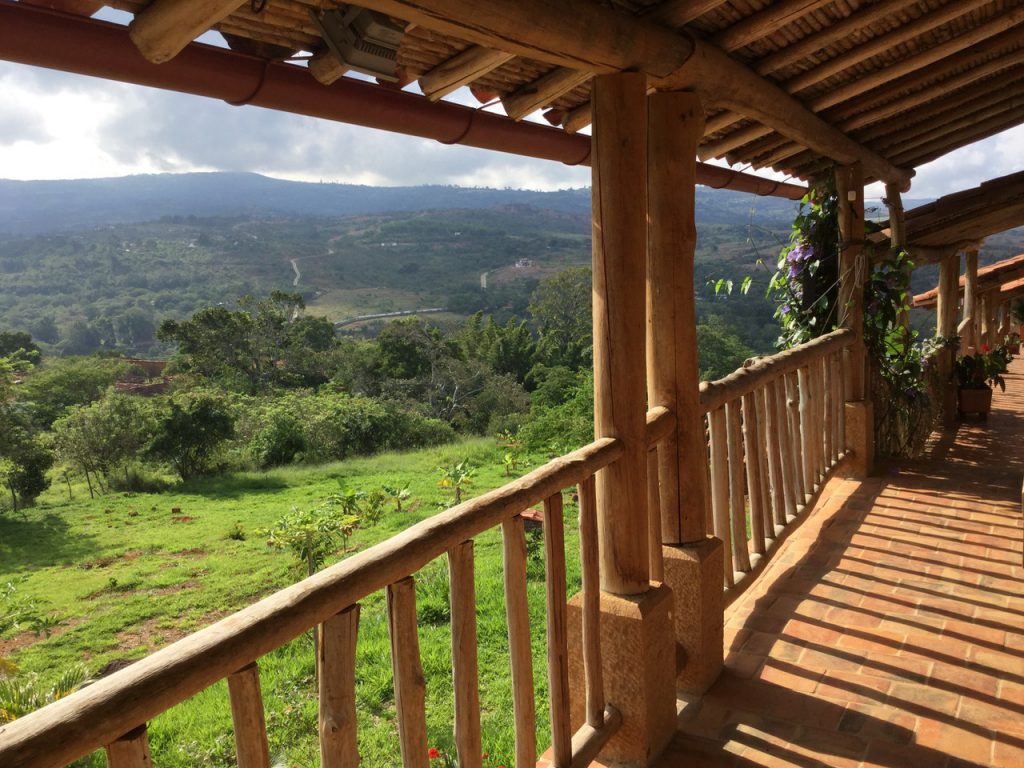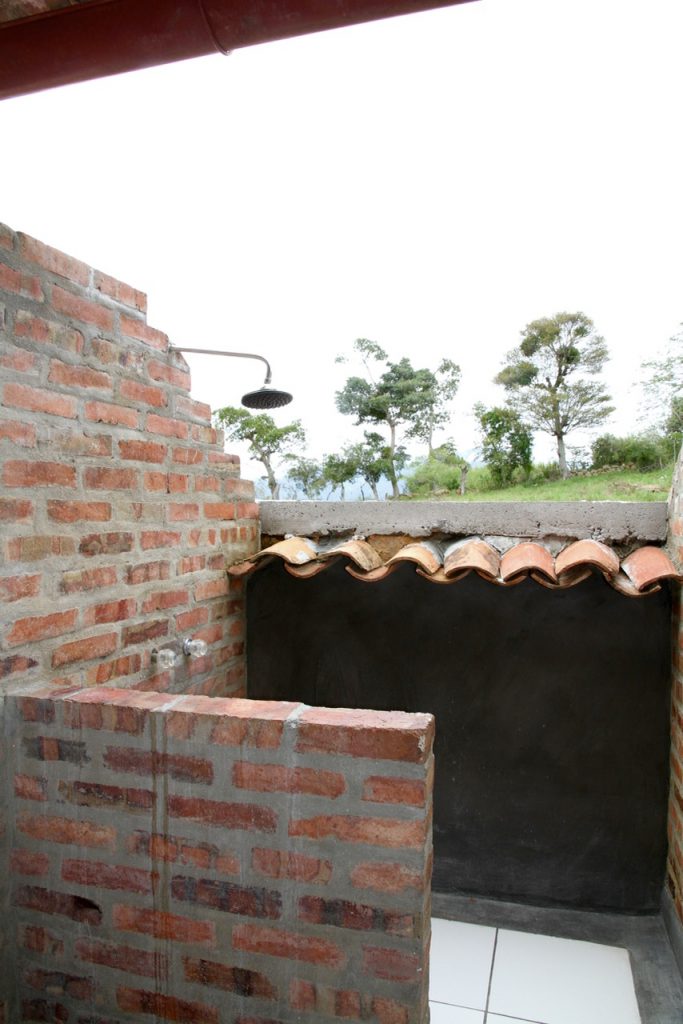 Being in the paper business for a long time, I had to check out the local and historic paper factory in town which makes beautiful crafted paper from natural fibres found in the fique plant and pineapple leaves.
The Fundación San Lorenzo is run by a single mothers cooperative.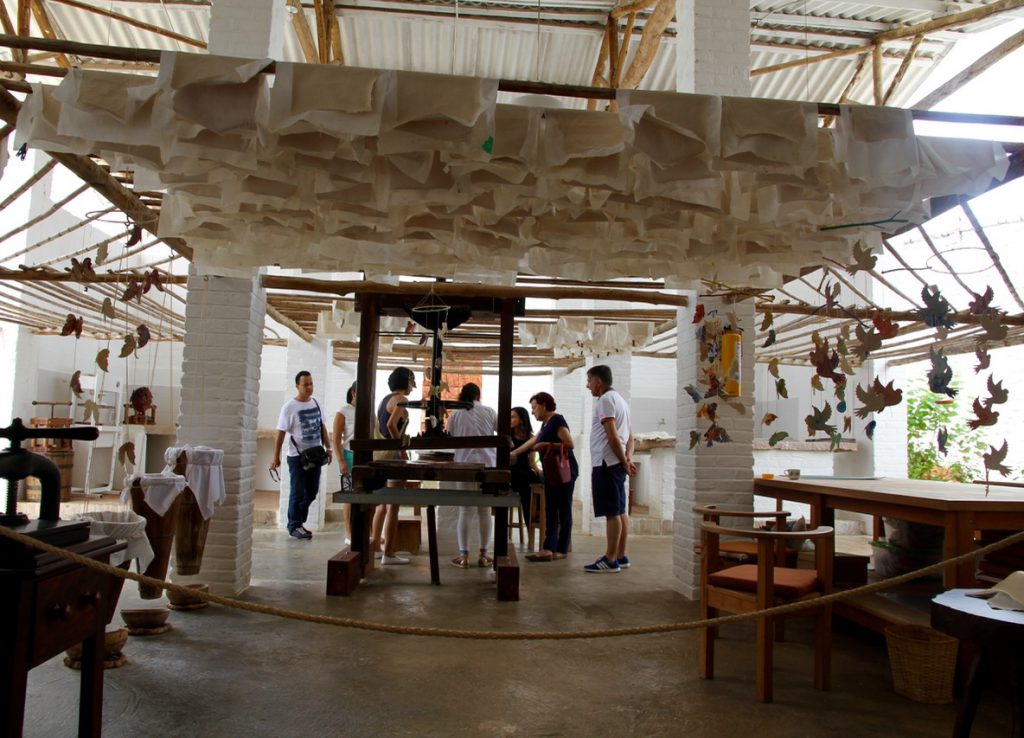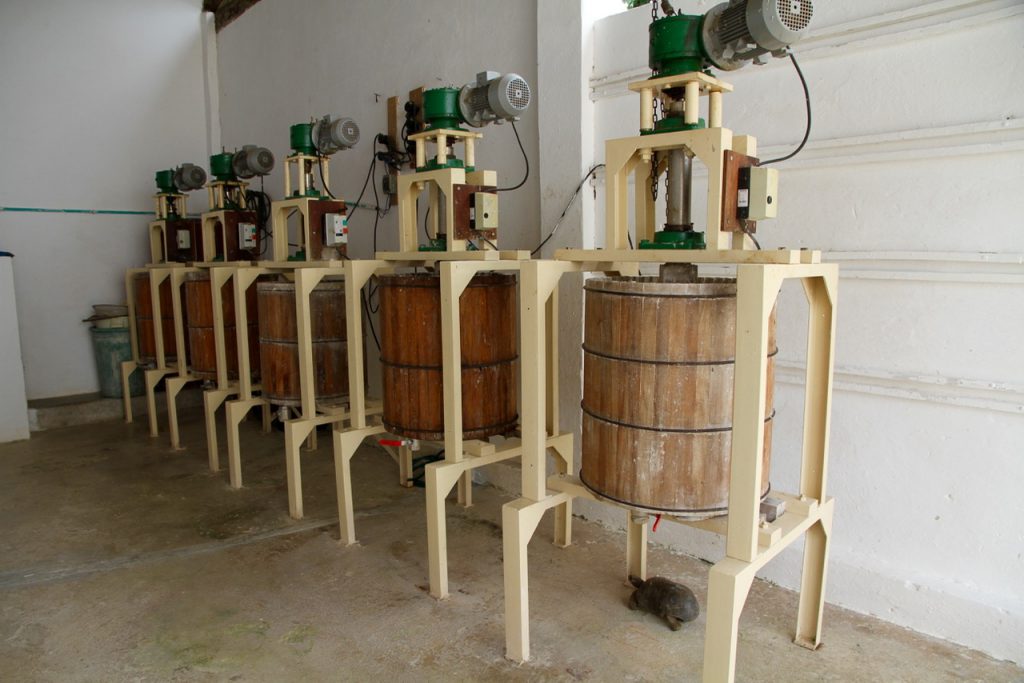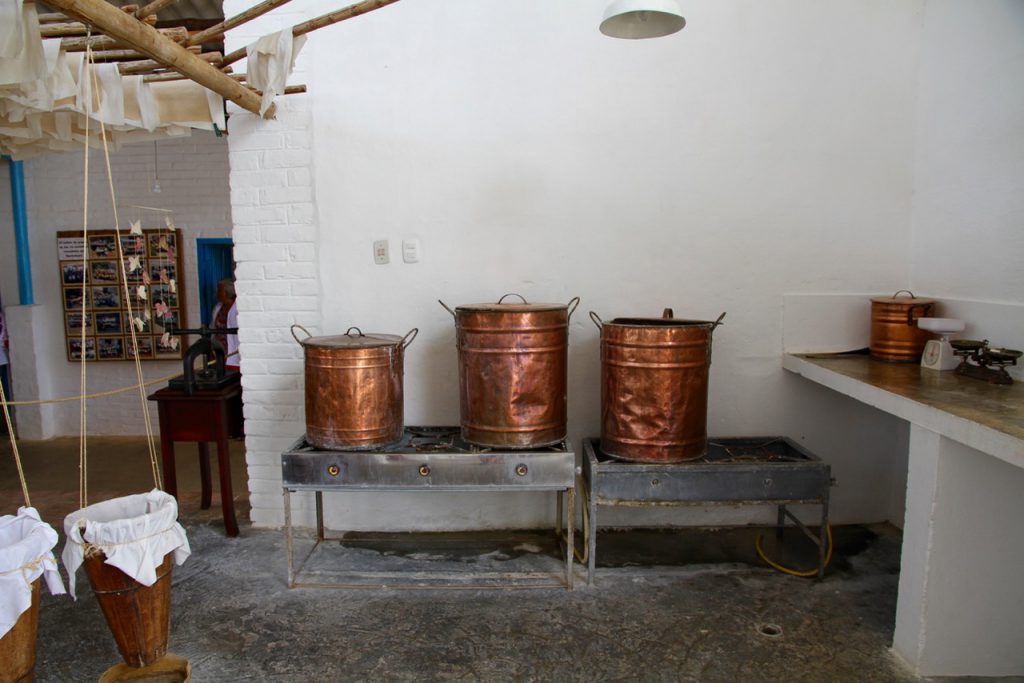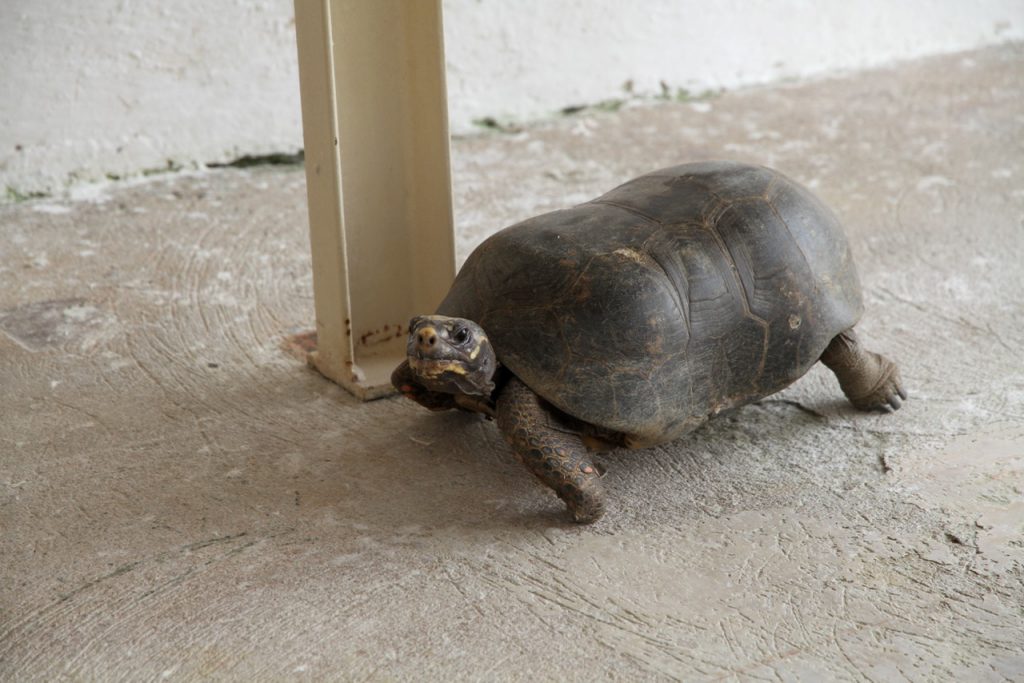 We do the 10km hike from Barichara to Gaune.  It's mostly downhill …which makes for coming back uphill in the heat a bit of a challenge but well worth it. Its a nice hike with beautiful views.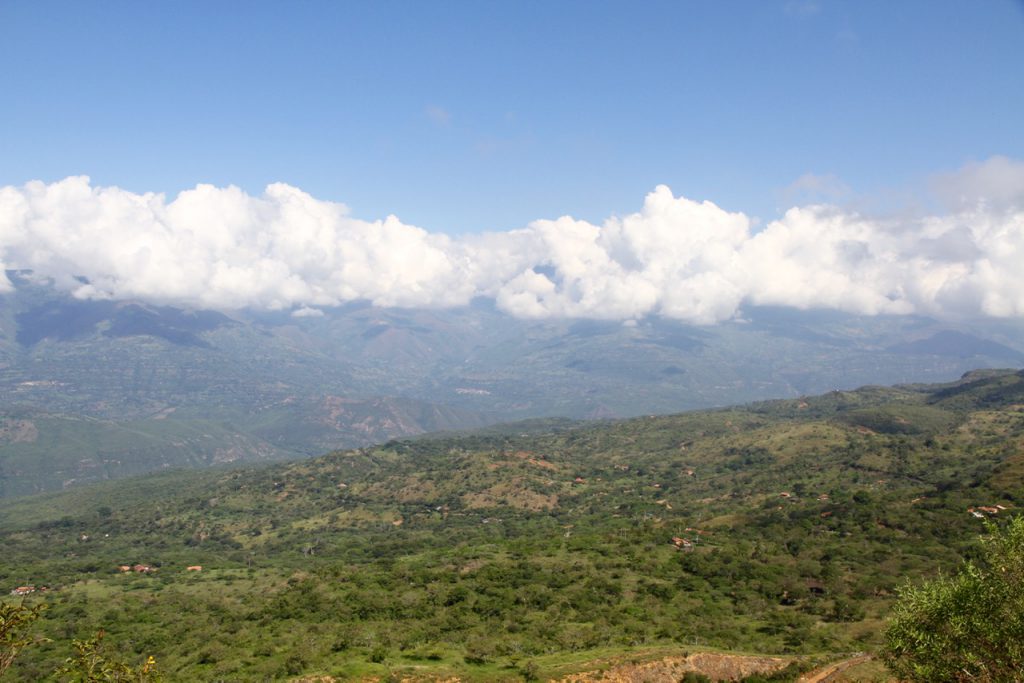 Guane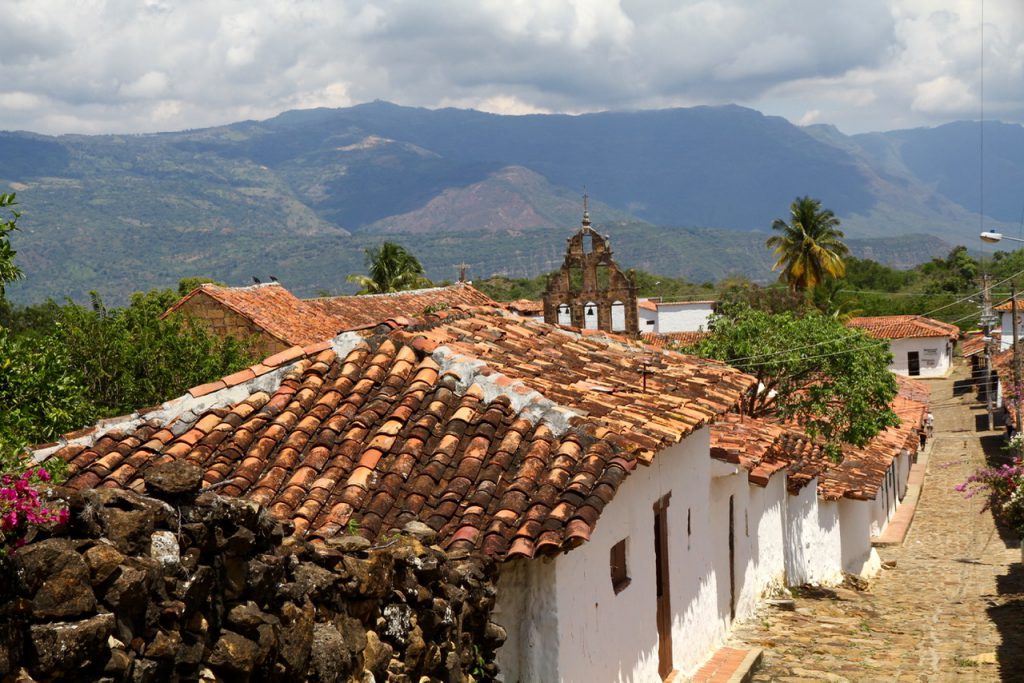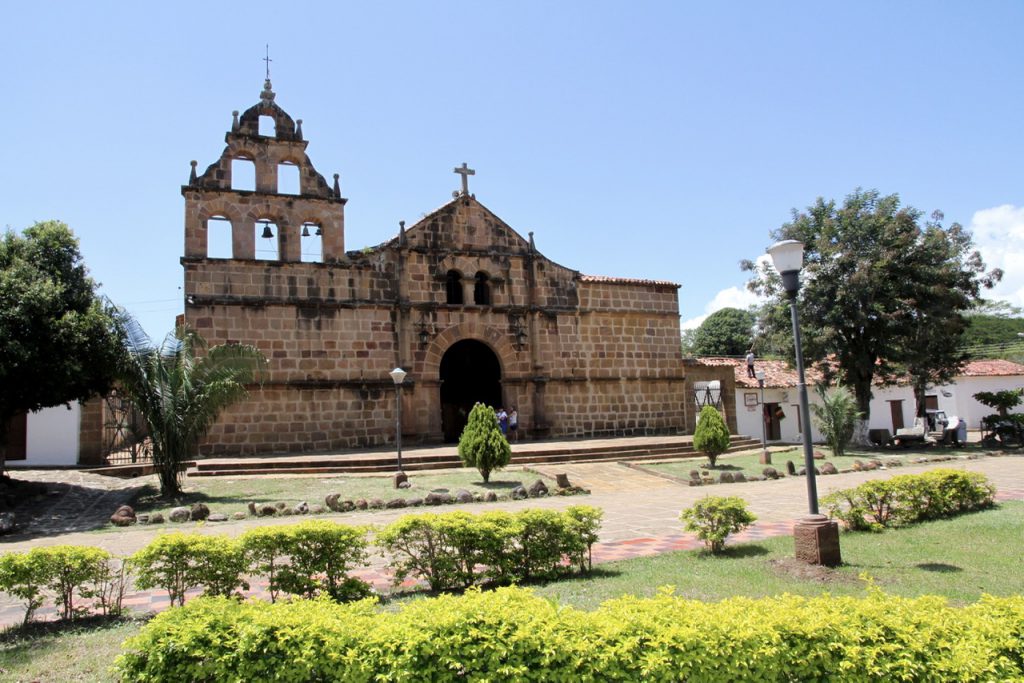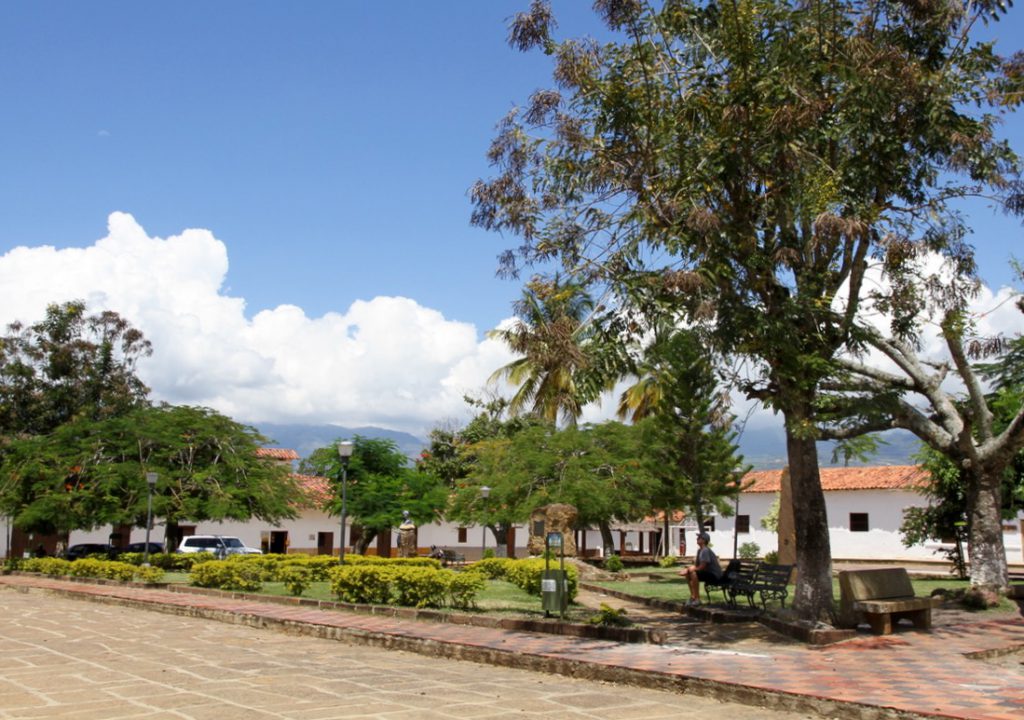 We then head to the river and natural pools of Las Gachas.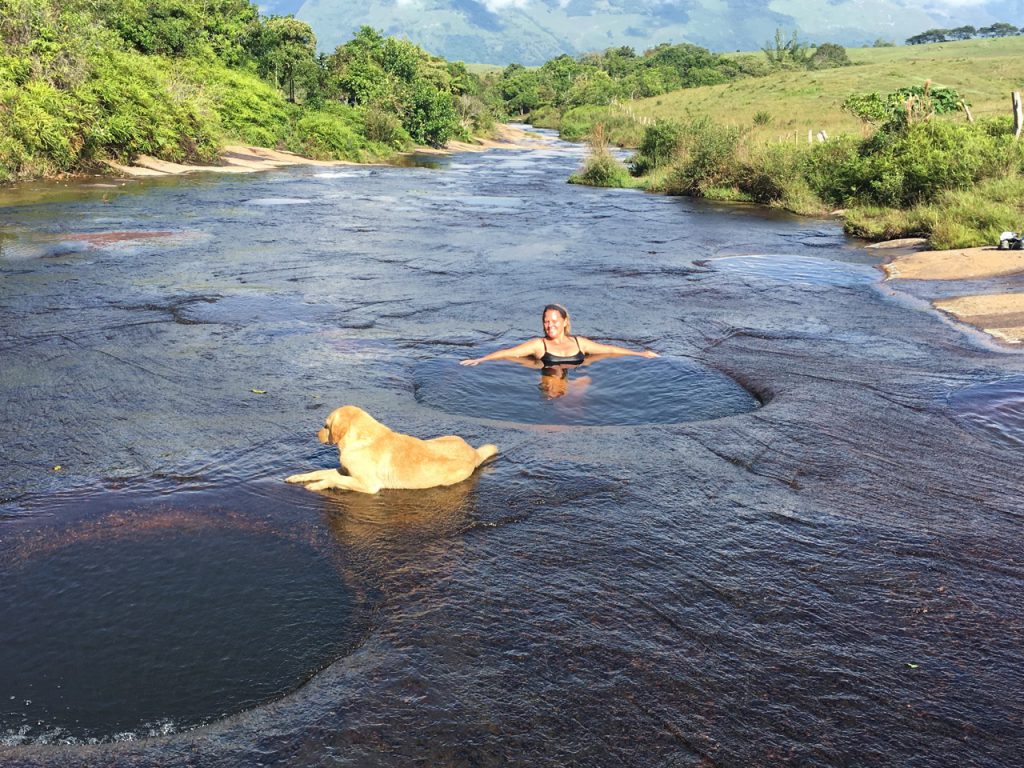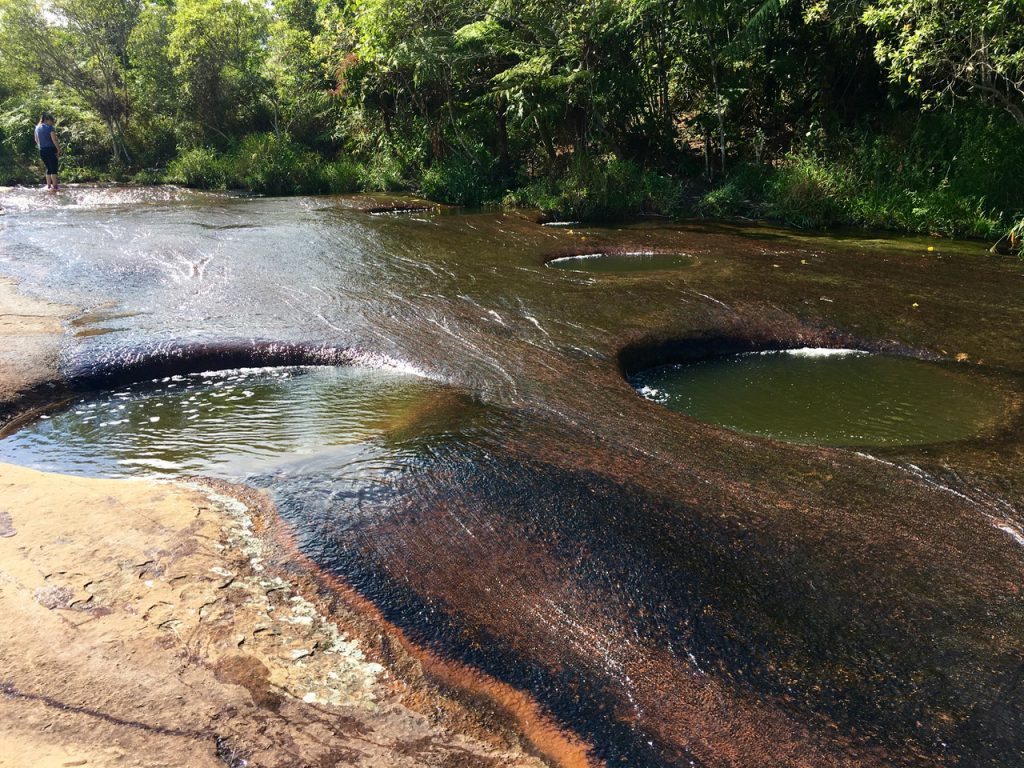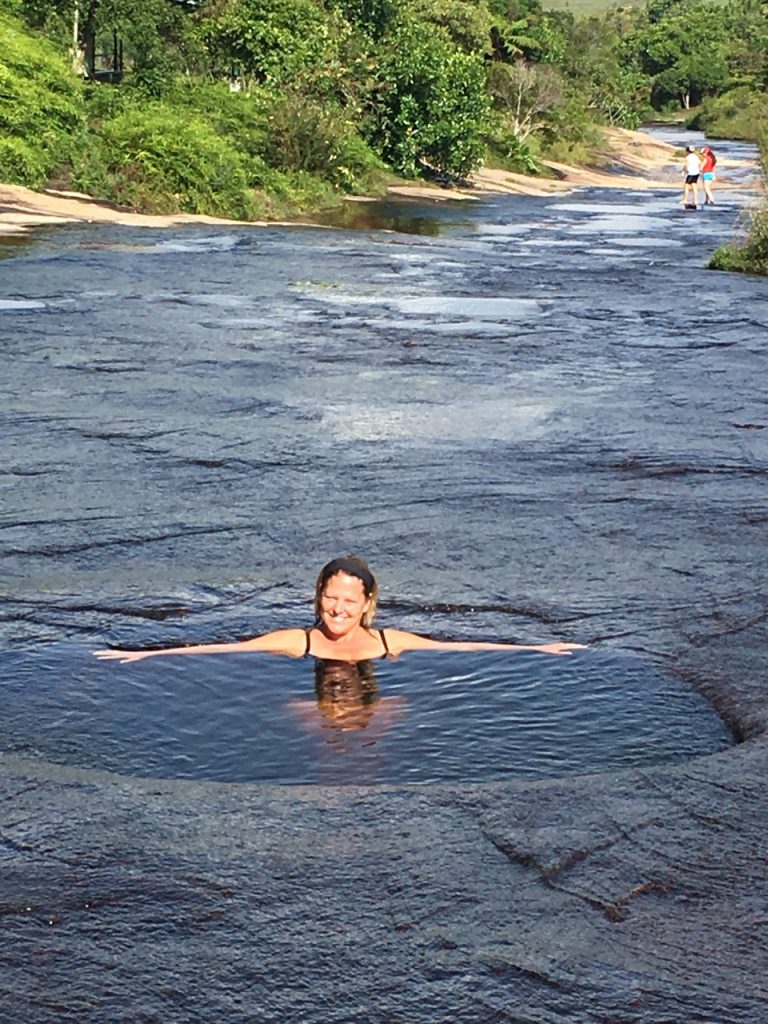 It was then on to the town of Villa de Leyva, a beautiful heritage town that has changed very little in the last 400 years.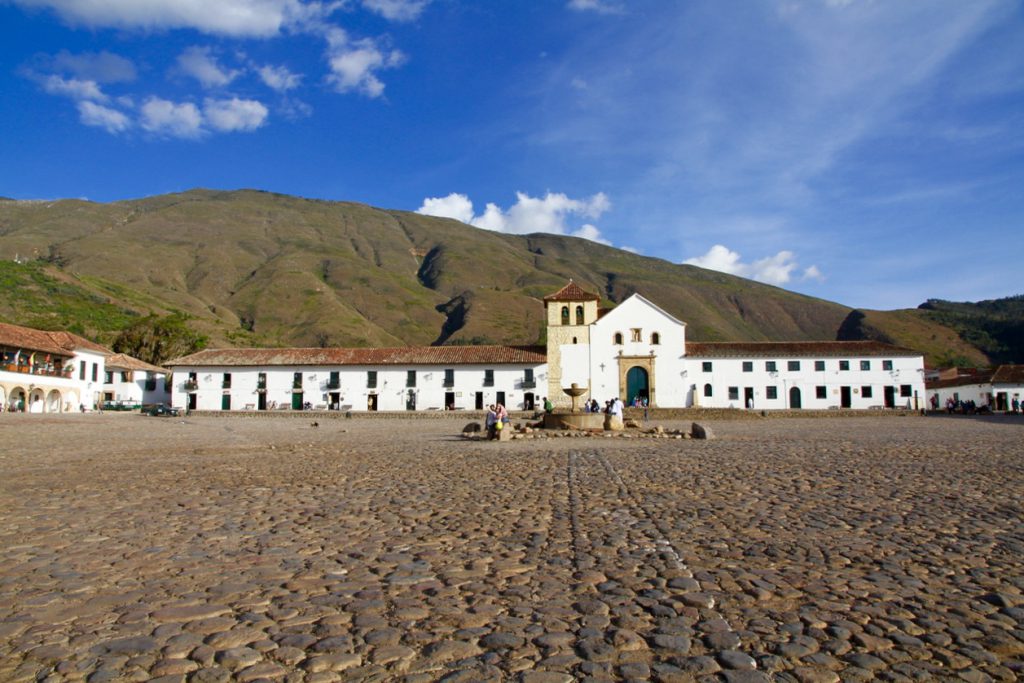 We find another great campsite right in town, Mi Refugio, with great hosts and end up meeting fellow overlanders John and Mandi and Matty and Ingrid.  We also bump into Kix again! We end up staying here a week, hiking, exploring and checking out the local markets.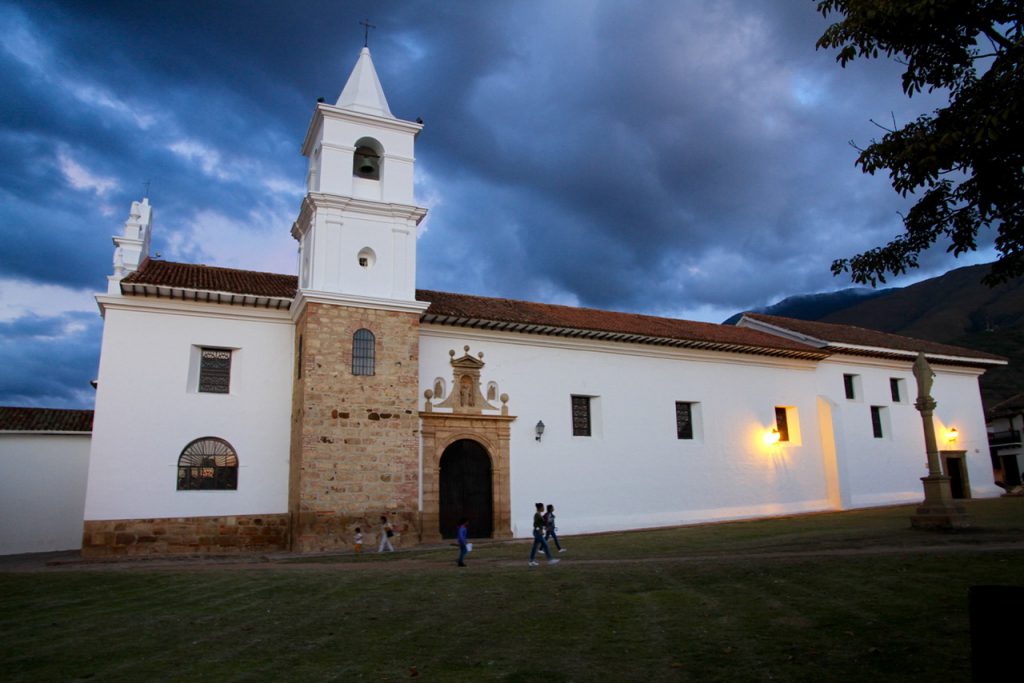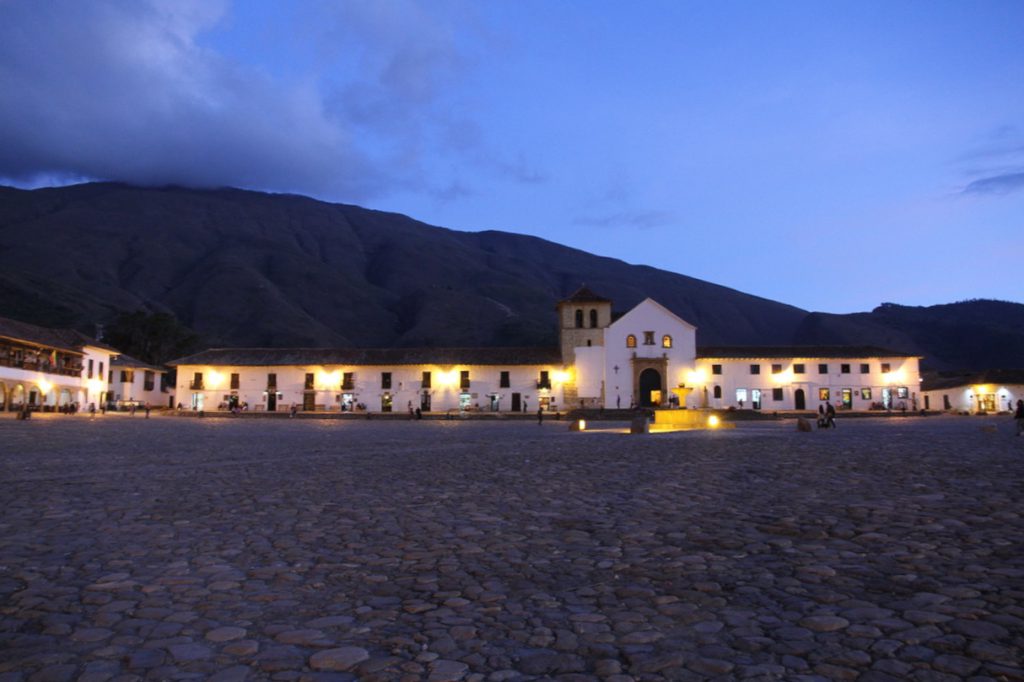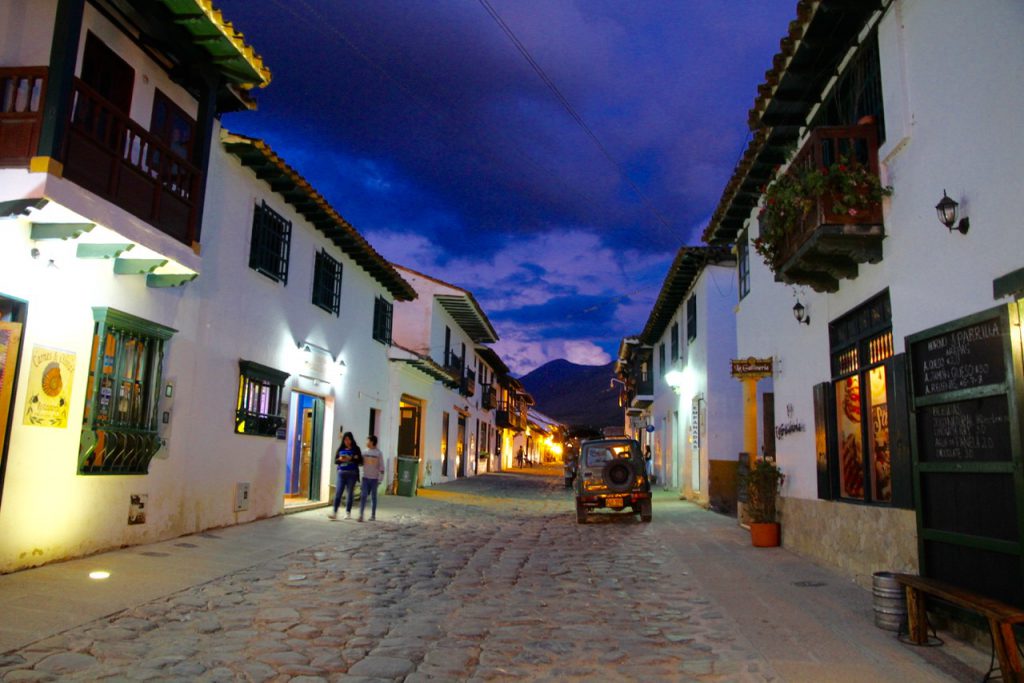 On the outskirts of Villa de Leyva, Casa Terracotta is a home baked like a piece of pottery (the largest piece of pottery in the world) by architect Octavio Mendoza Morales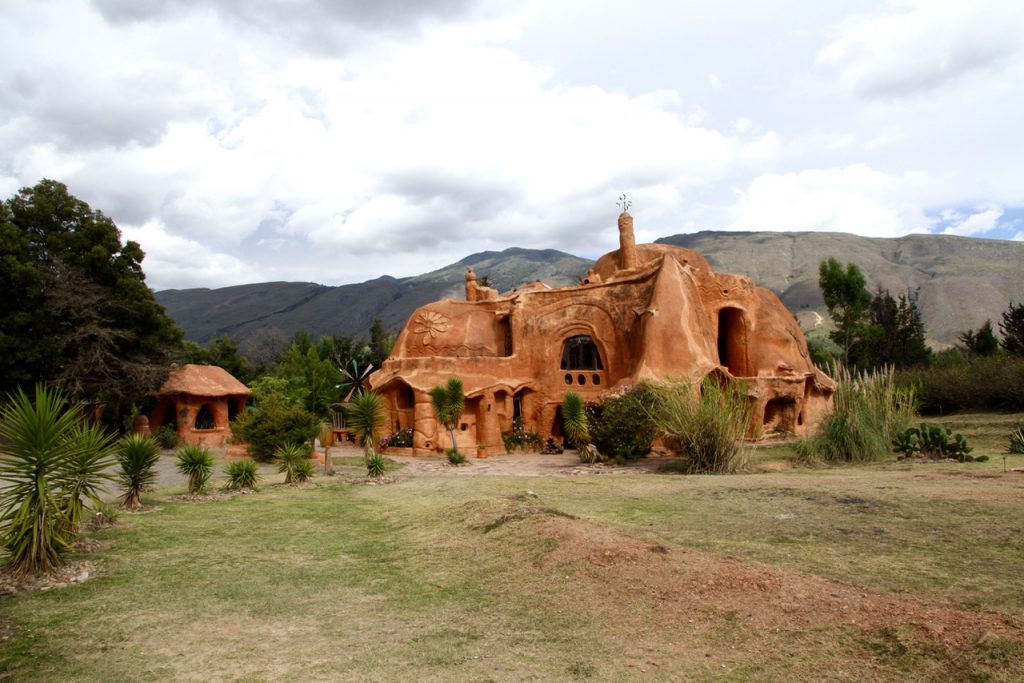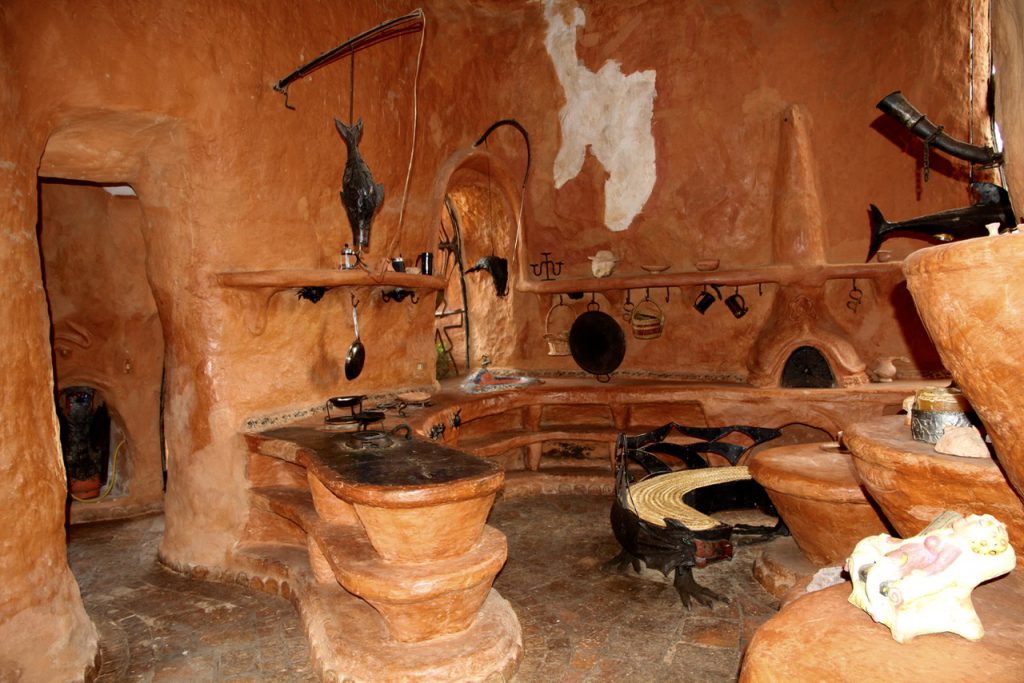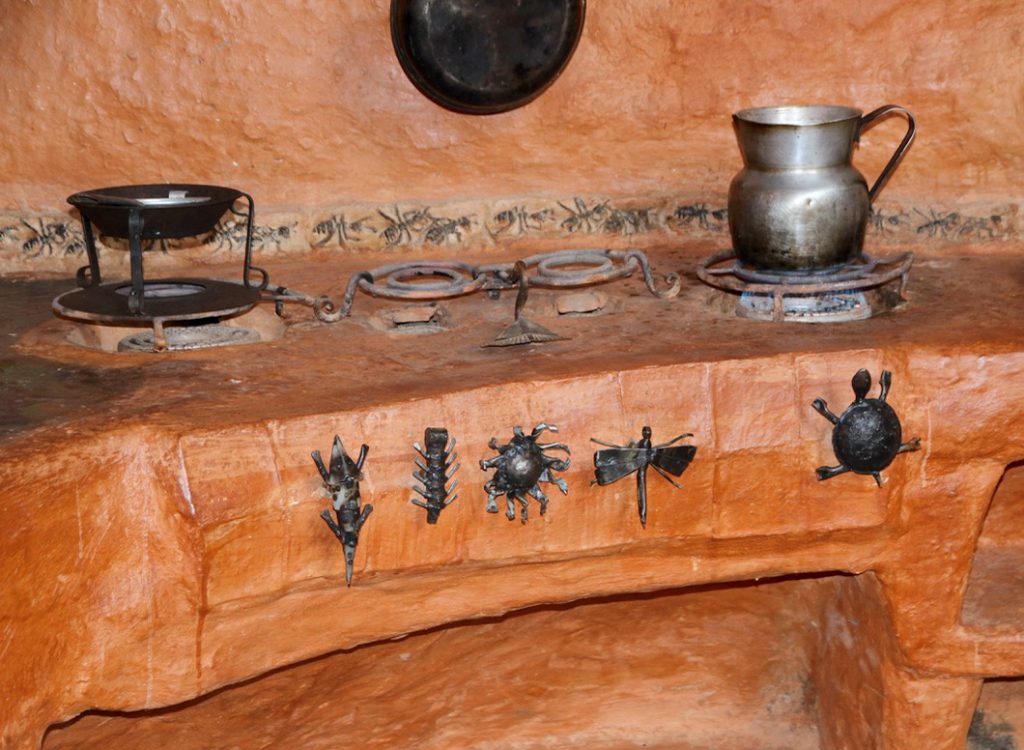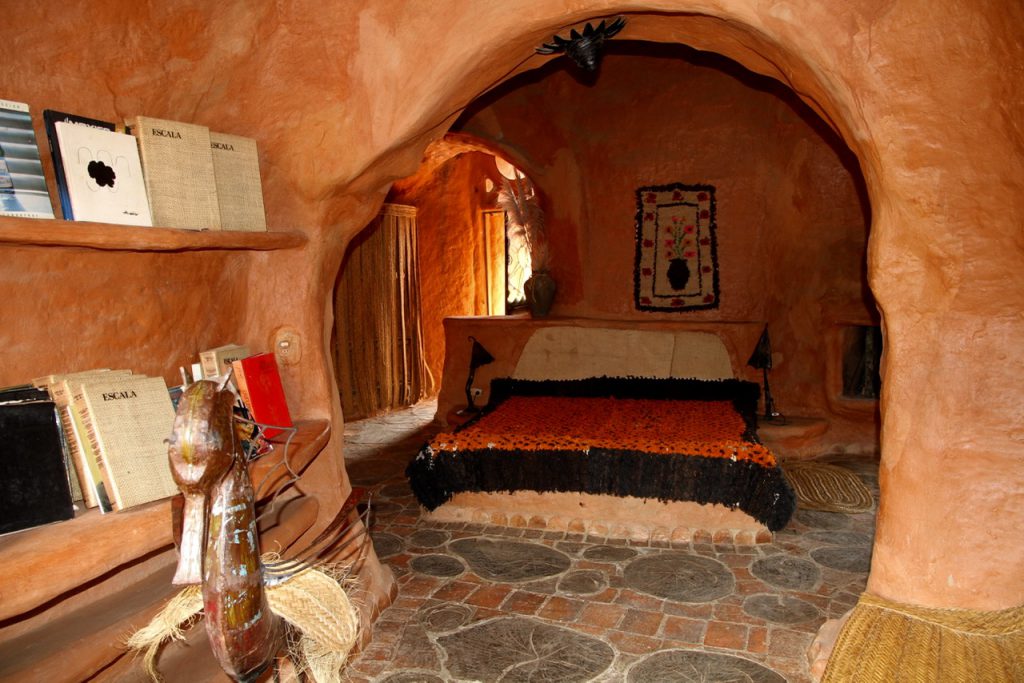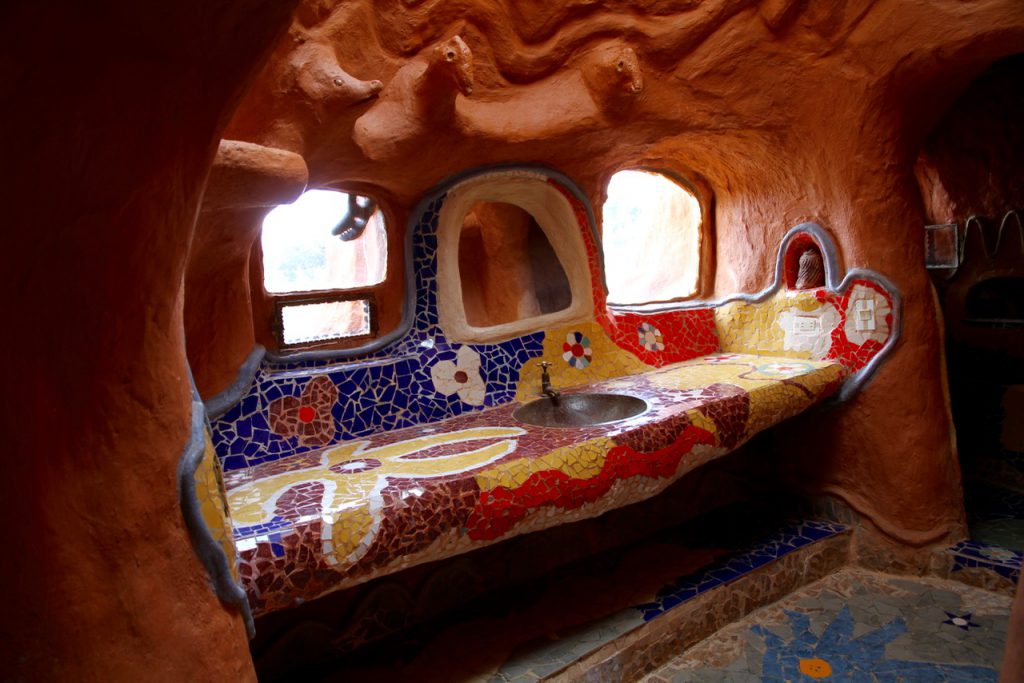 Mercado Campesino Alternativo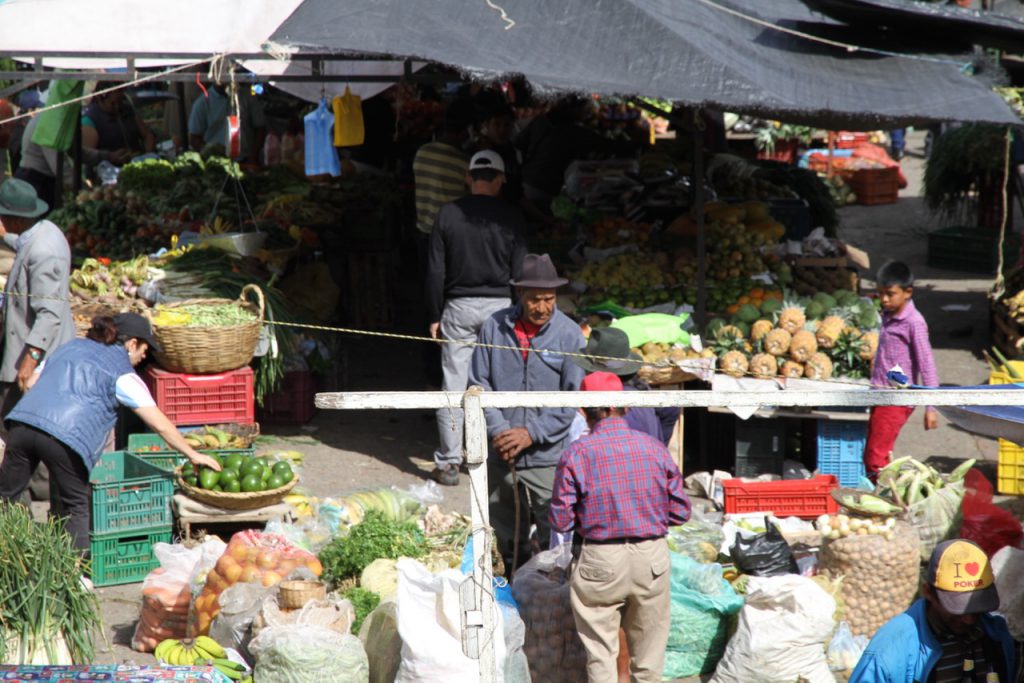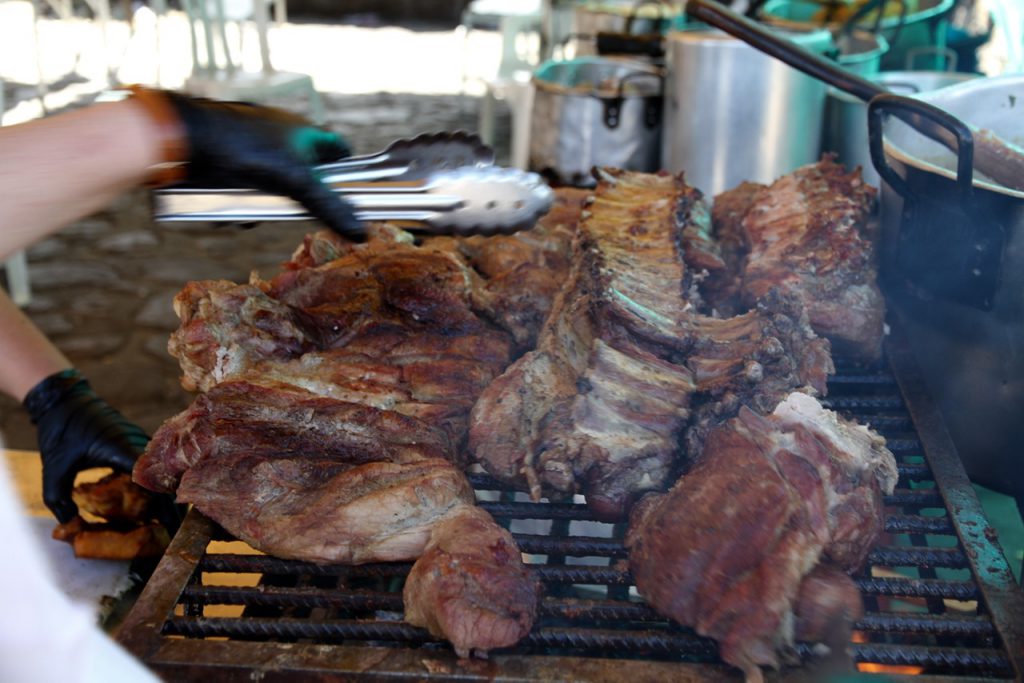 Starting the El Duruelo Hike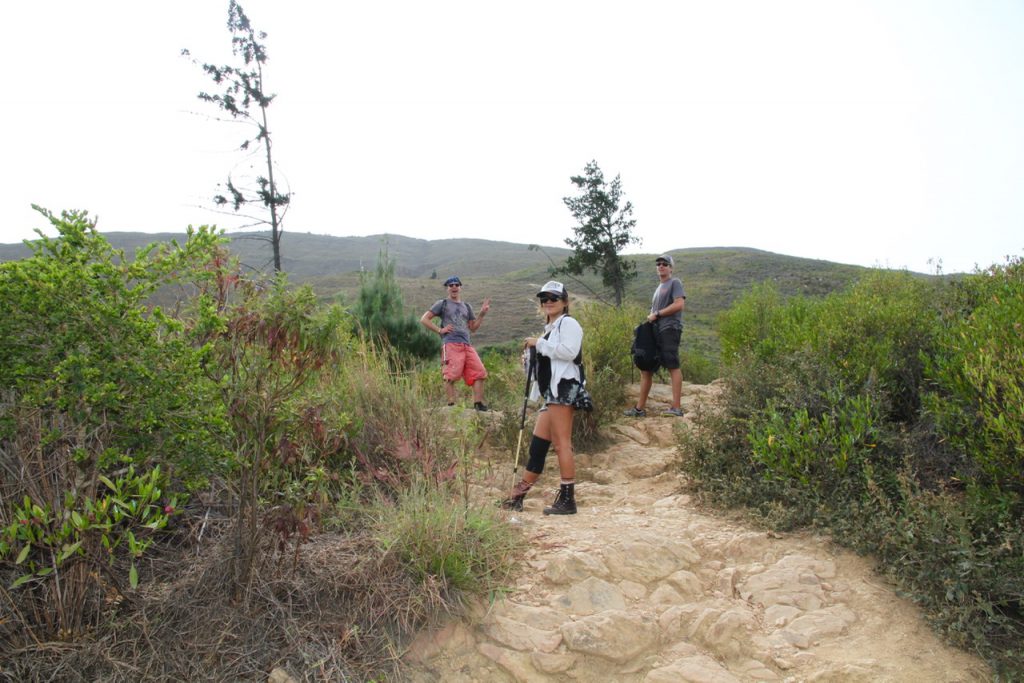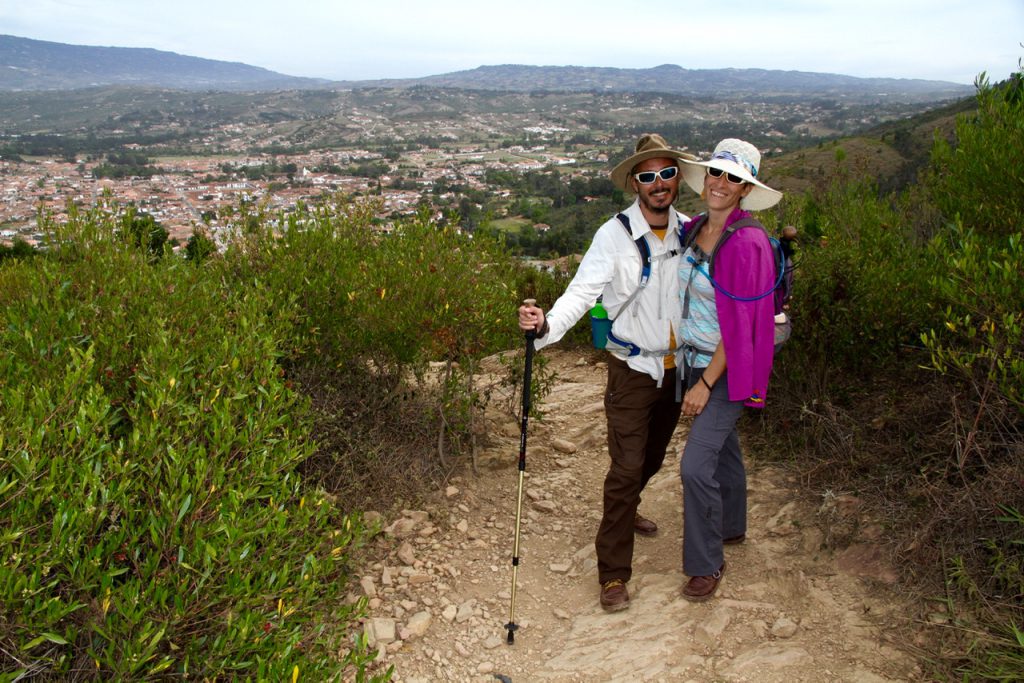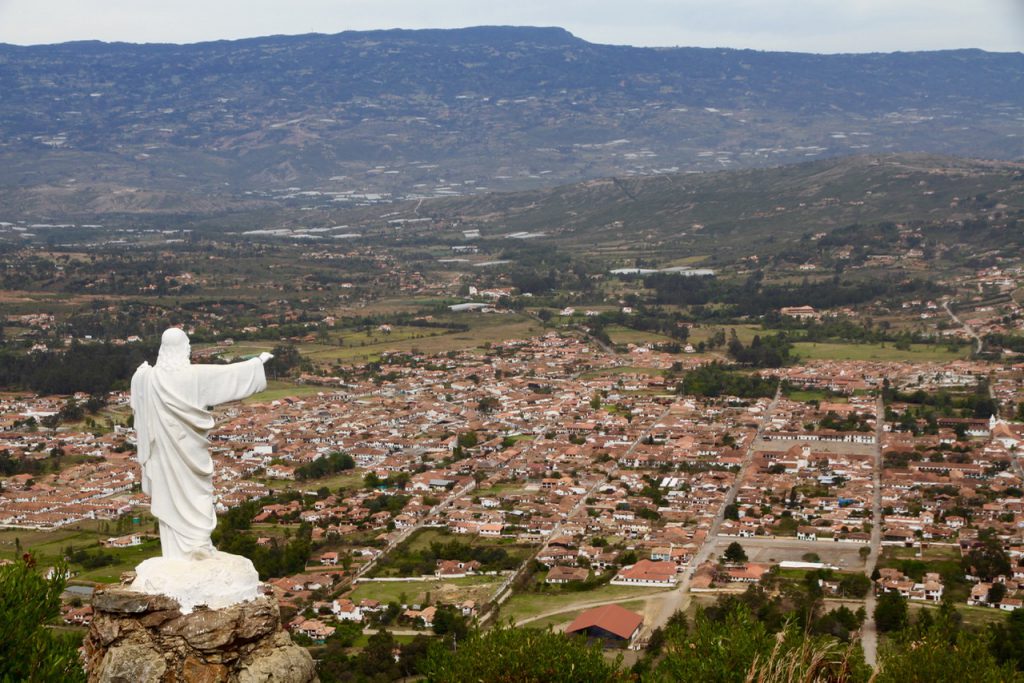 The top of the hike and the view from the Christ statue overlooking town.
From Villa de Leyva we jumped back on the road,  back through Bogota on our way to the town of Guatape to explore the beautiful lakes and climb the "big rock" (El Penol).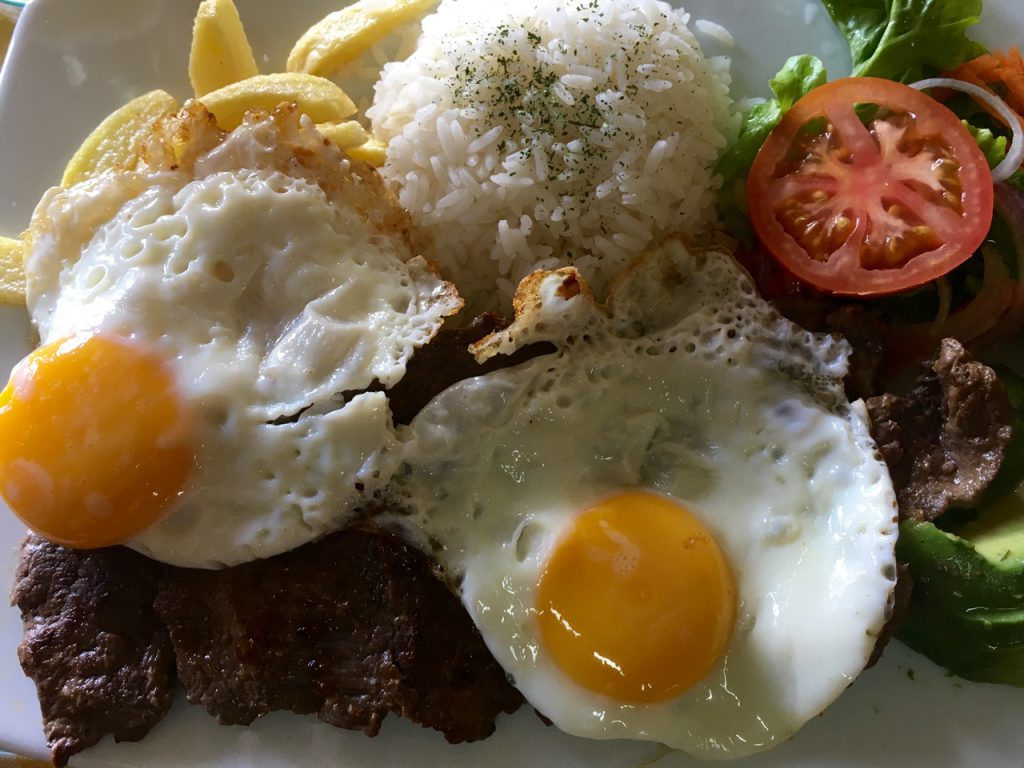 Another great roadside typical meal.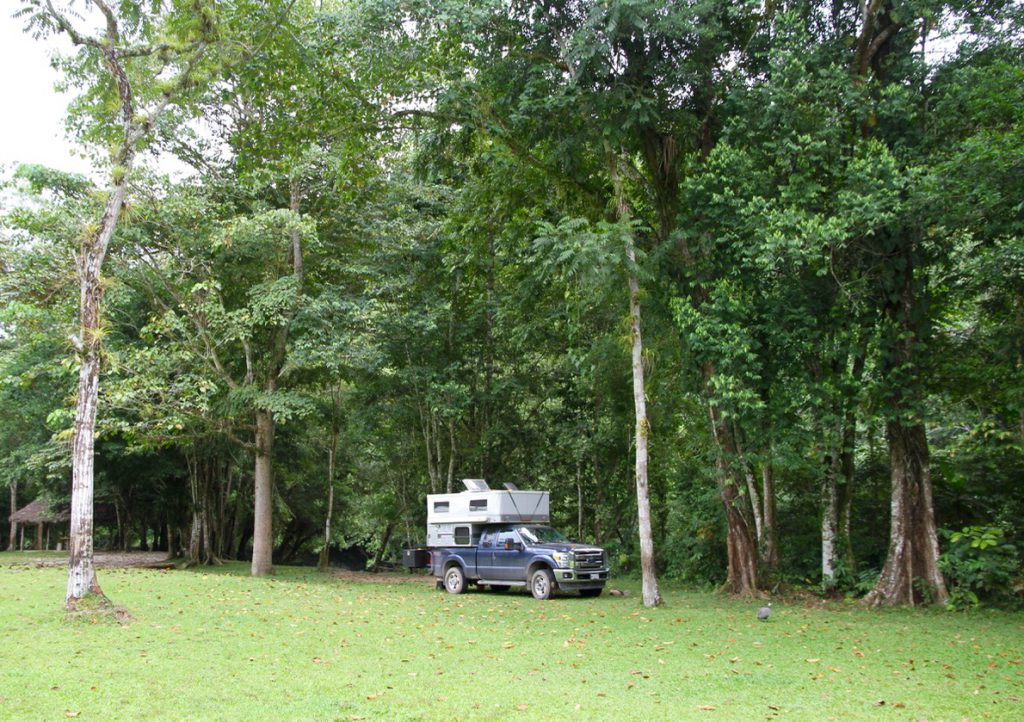 Before reaching Guatape we stop and camp along the Rio Claro.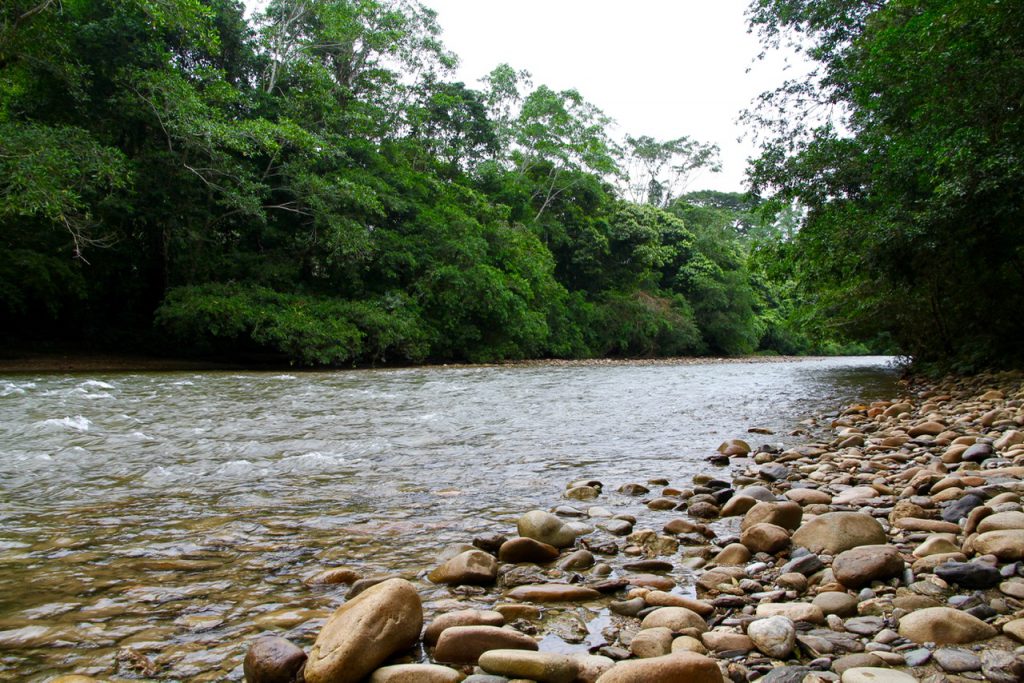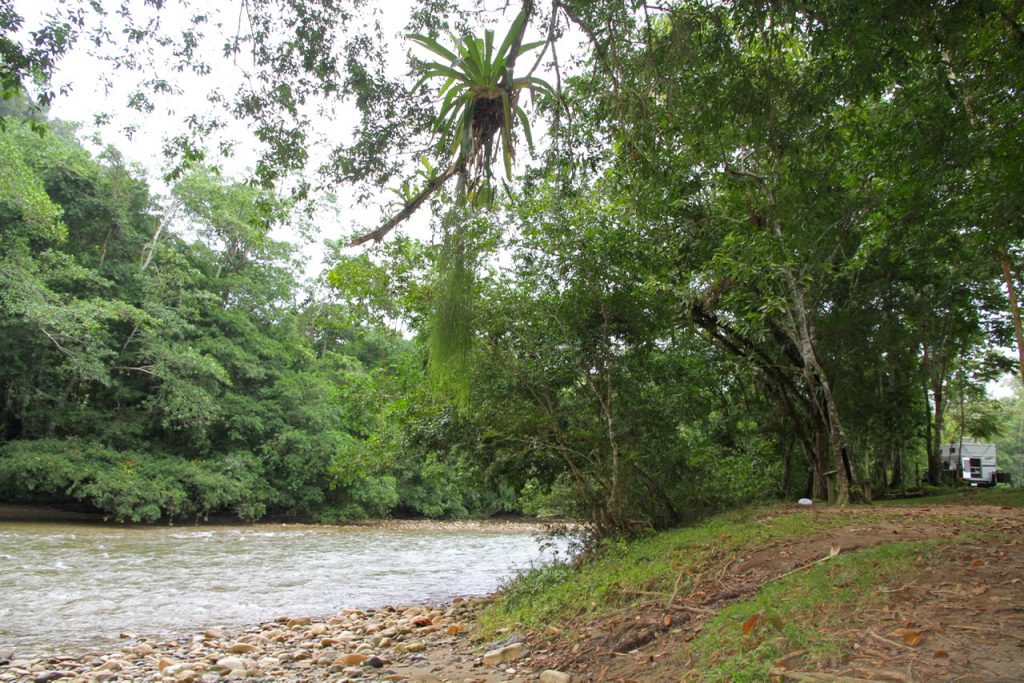 We get to Guatape and climb the massive rock consisting of 700+ steps. You are rewarded at the top with beautiful views.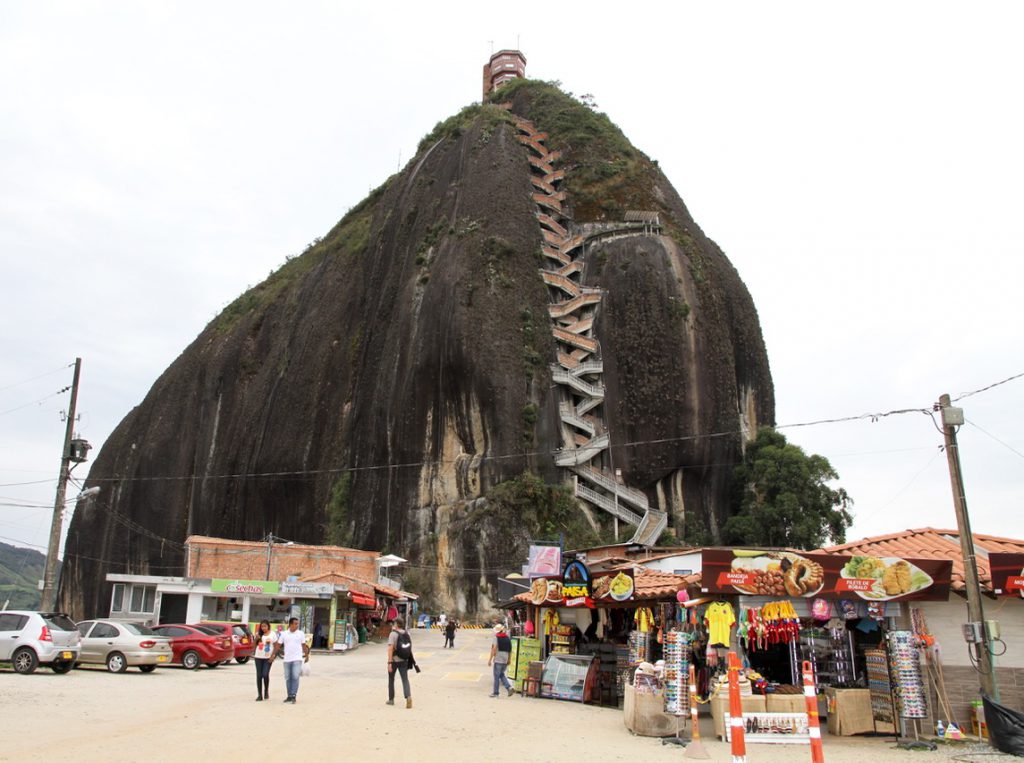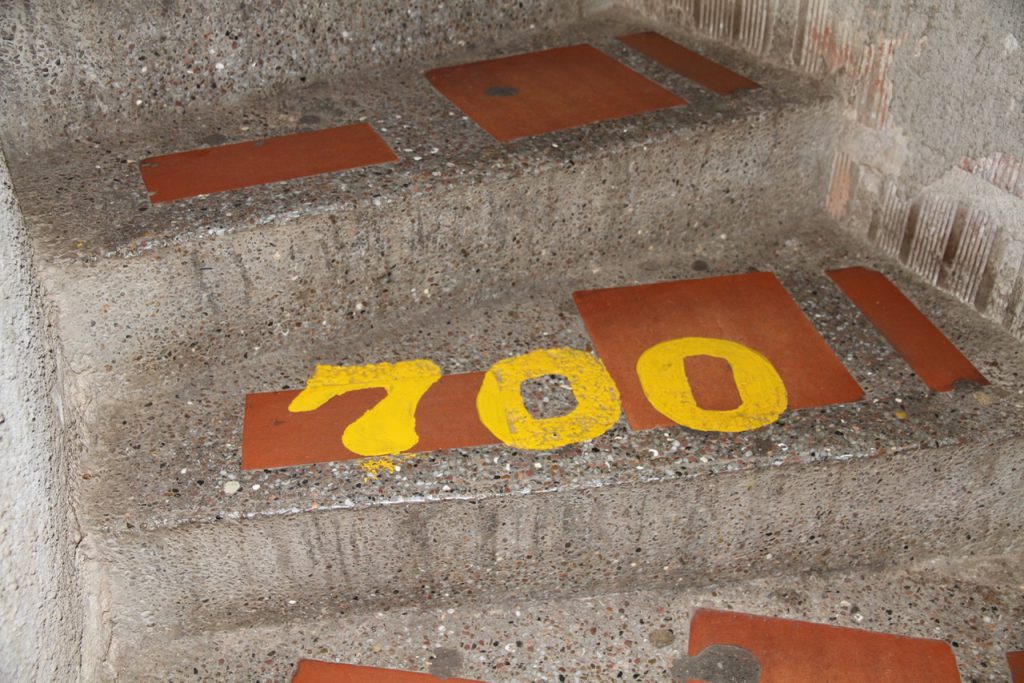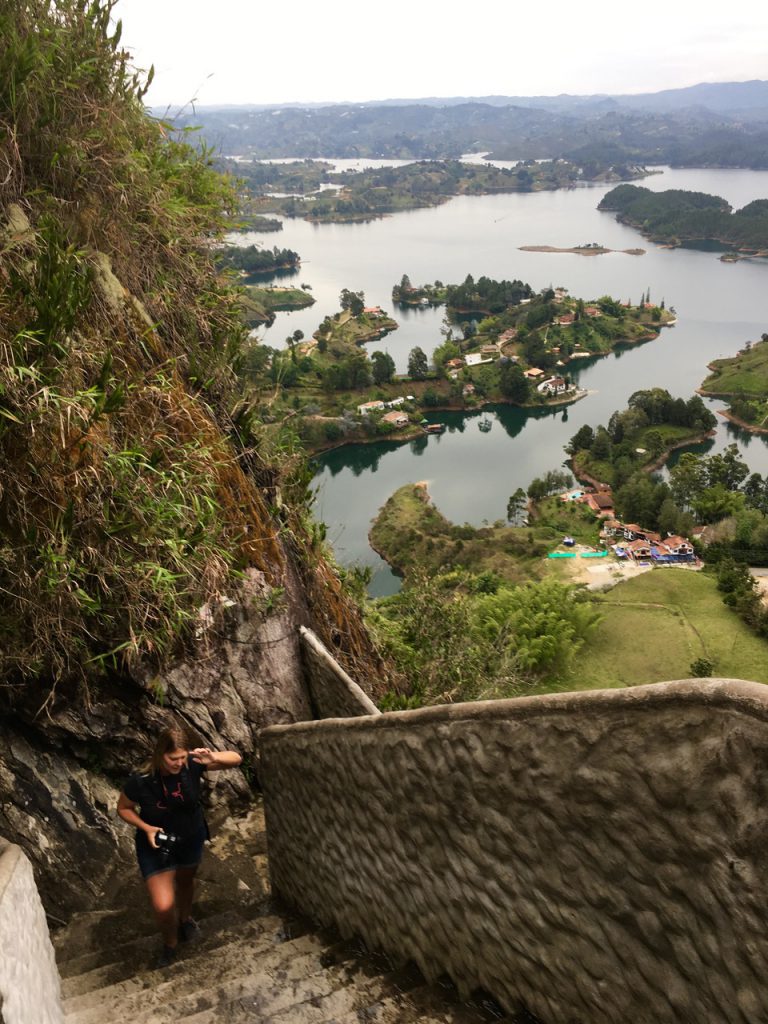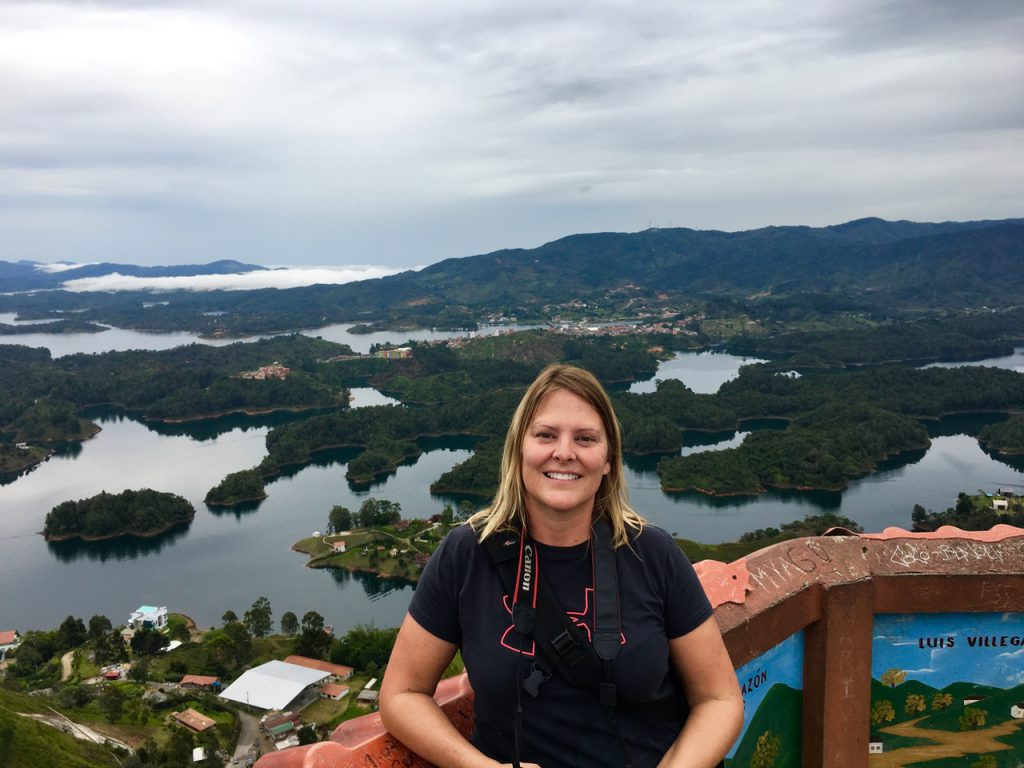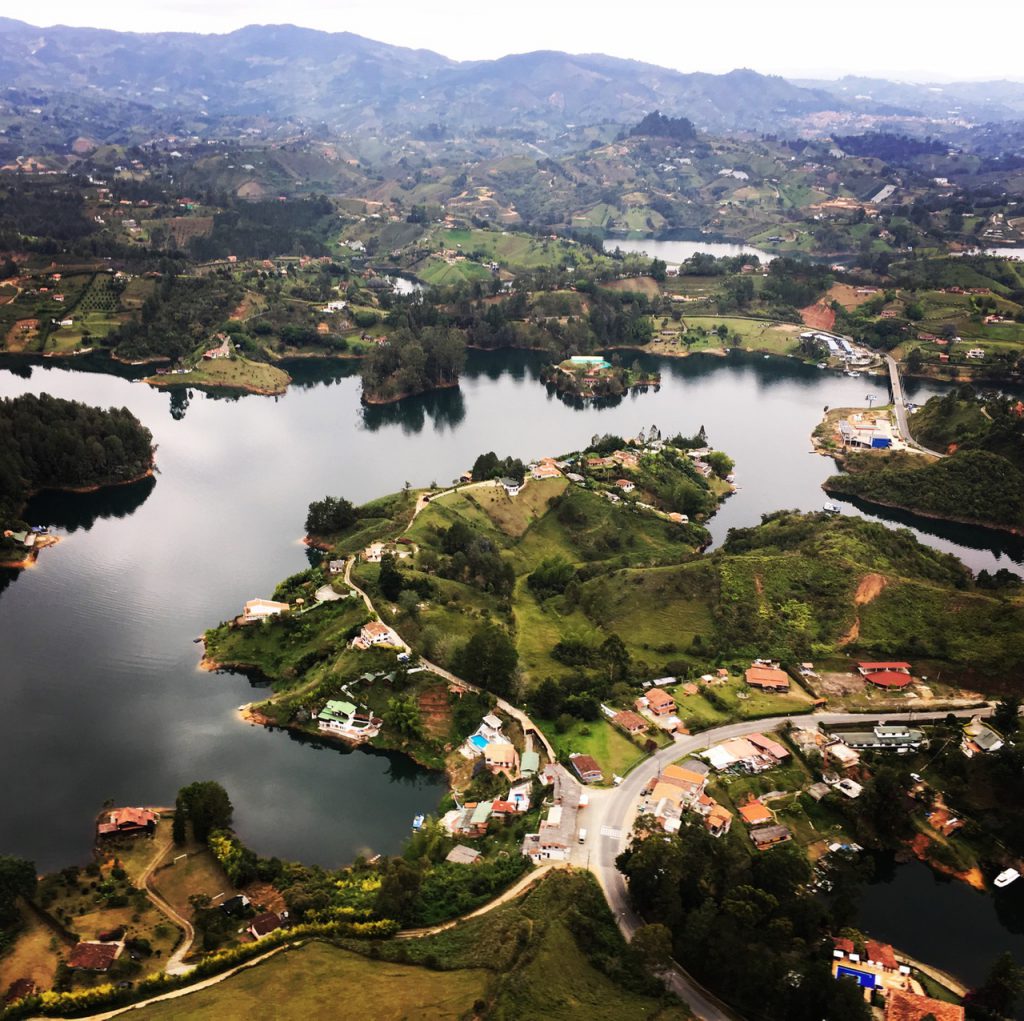 We explore the small town of Guatape.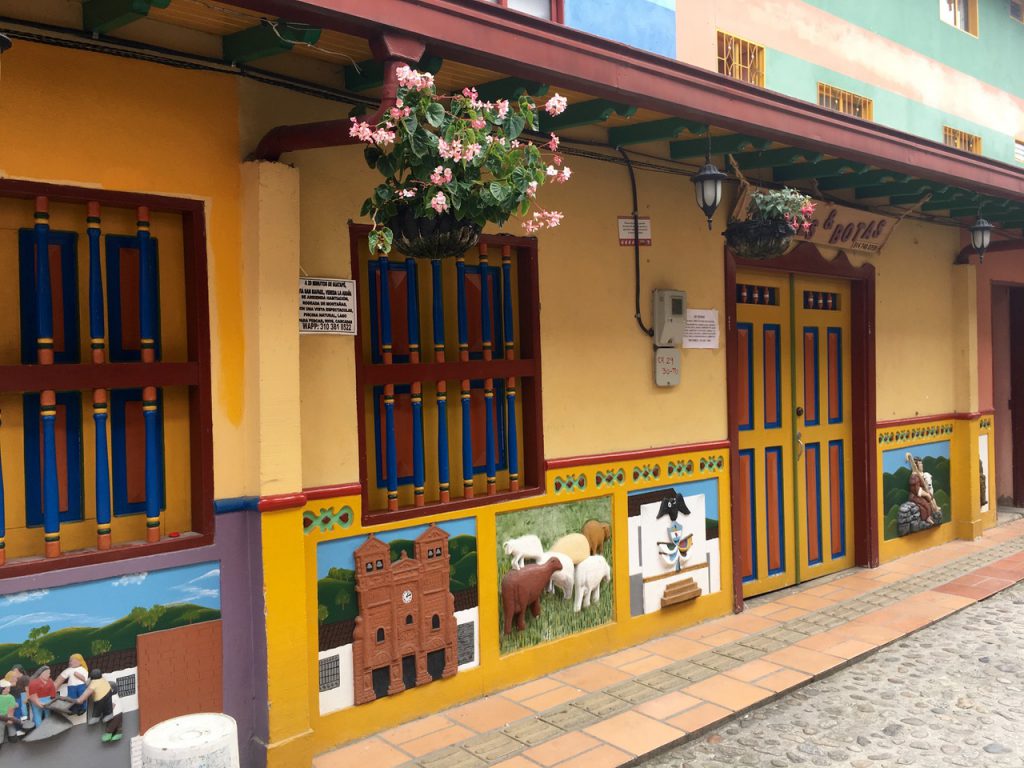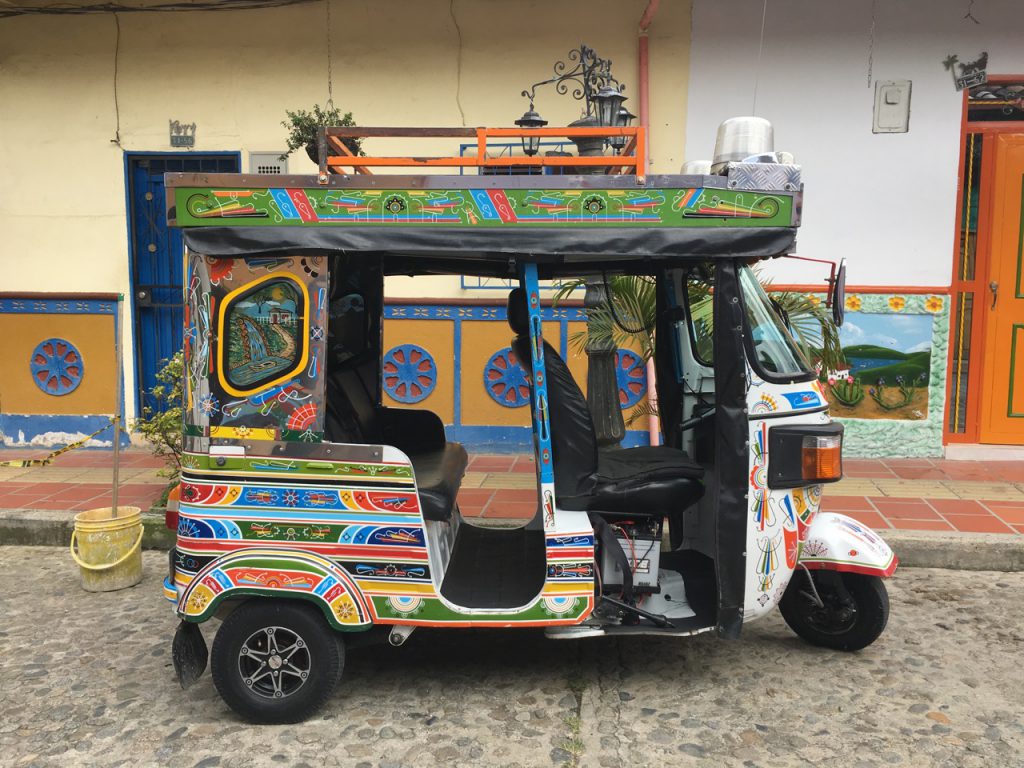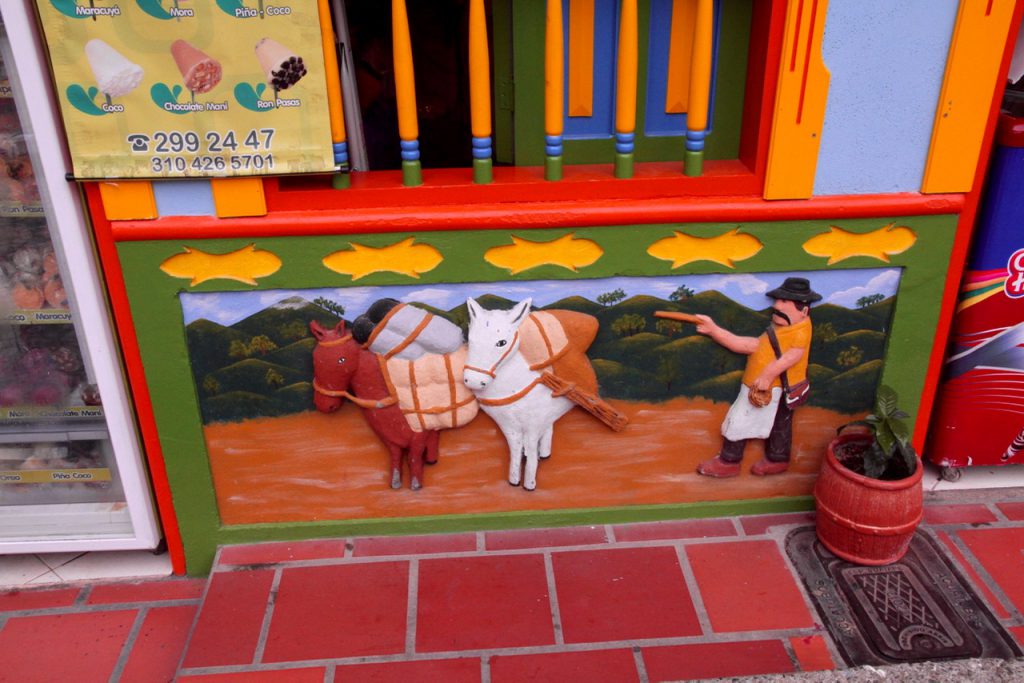 After Guatape it's time for another big city. This time, Medellin.
Medellin is another super bueno town that we couldn't pull ourselves away from. We had lots to do here including getting new brake pads, oil change, etc. and getting Sam's computer into for service.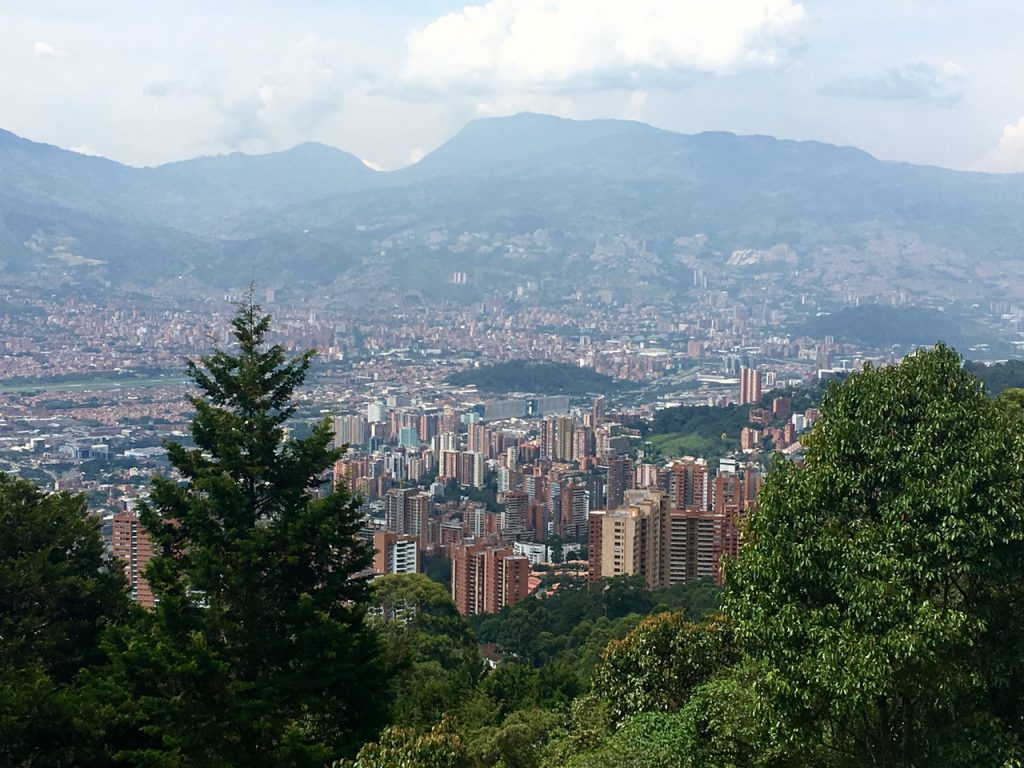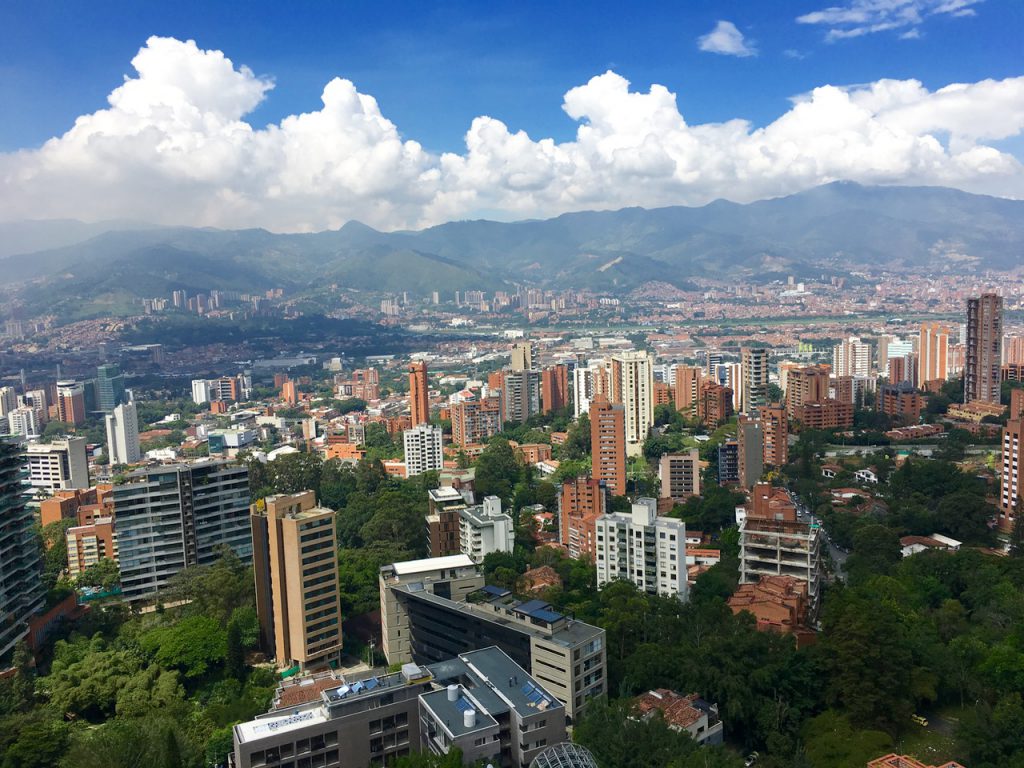 After a few nights at a local Finca in Guarne (Overlanders Finca), we decide to grab an AirBnB and stay right in the city.  We explore the restaurants, shops, do a "free" walking tour of the city which was fabulous, and even manage to catch a soccer game with our Canadian friend Kix.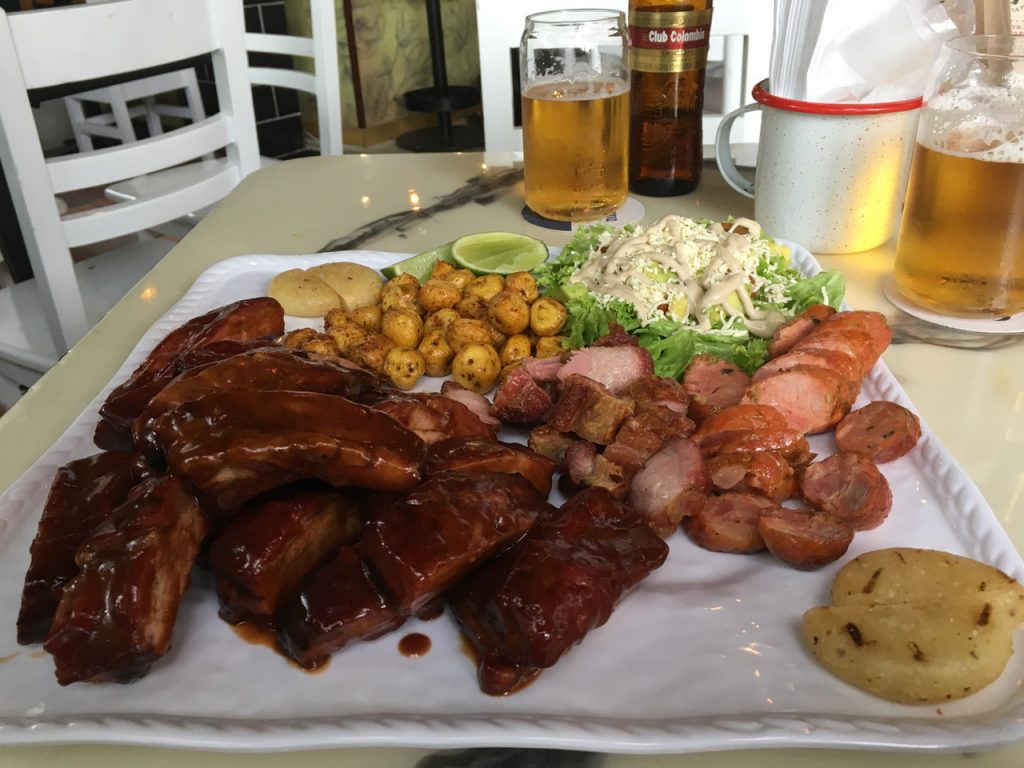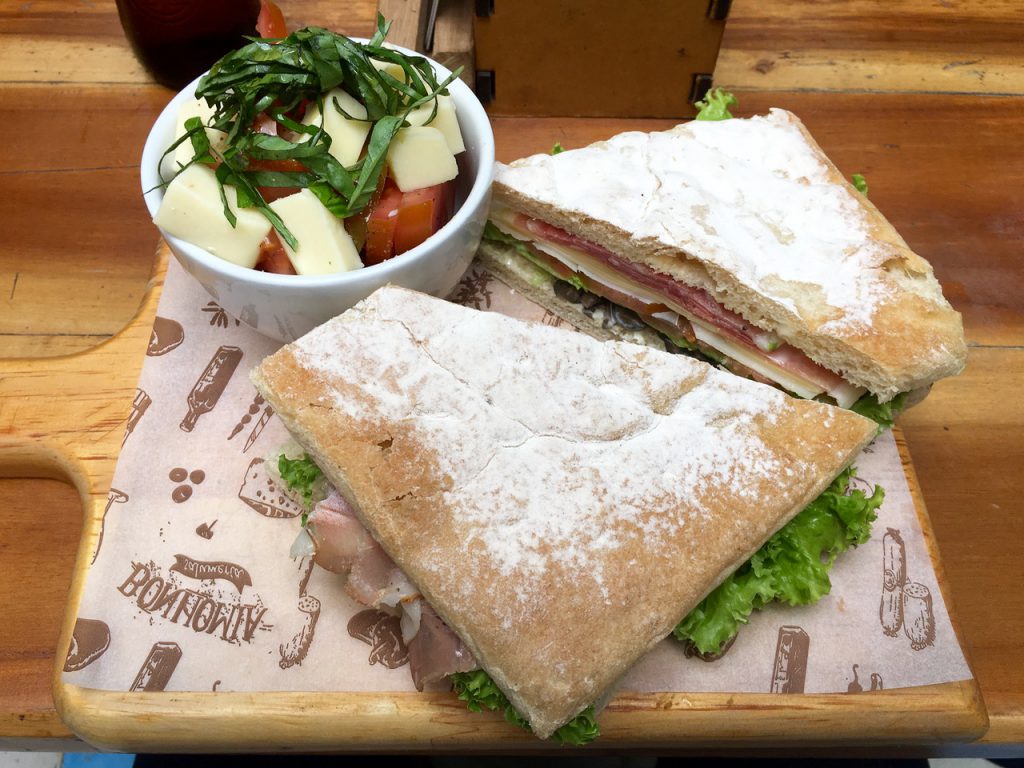 We picked up some scalped tickets to the Atletico Nacional home game.  Nacional is the most successful club in Colombia and the 2016 champion of the South American Copa Libertadores, the championship for professional teams in South America.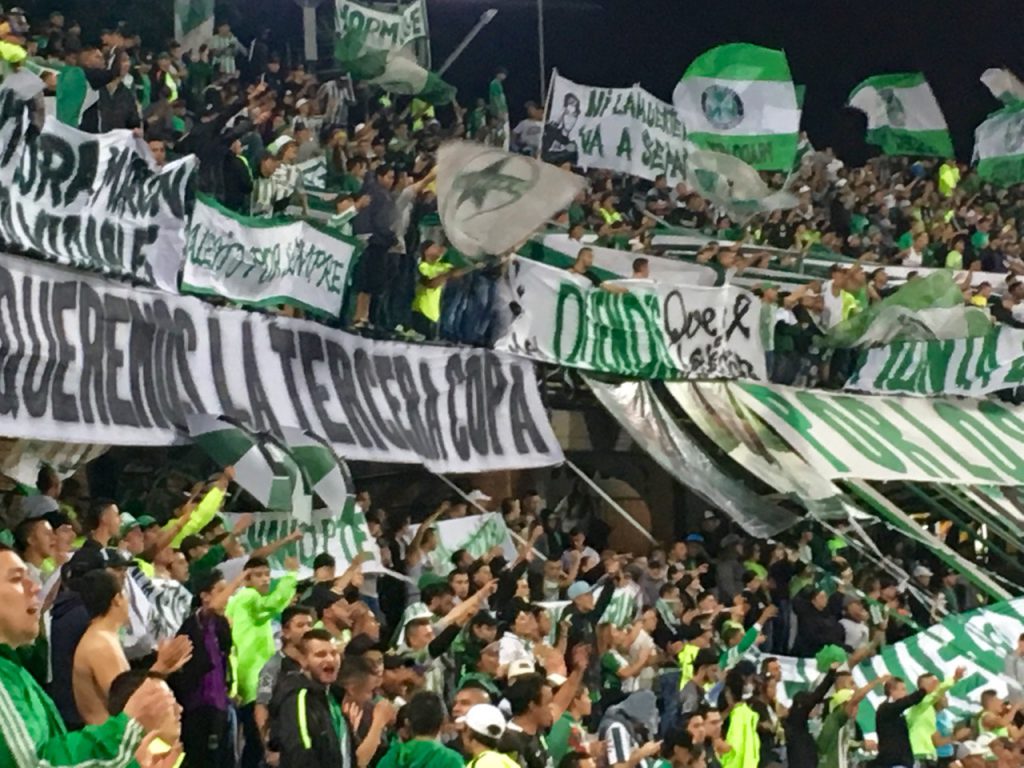 The energy and volume of the crowd in the home team section was outstanding…and even more entertaining than the game which Nacional won easily.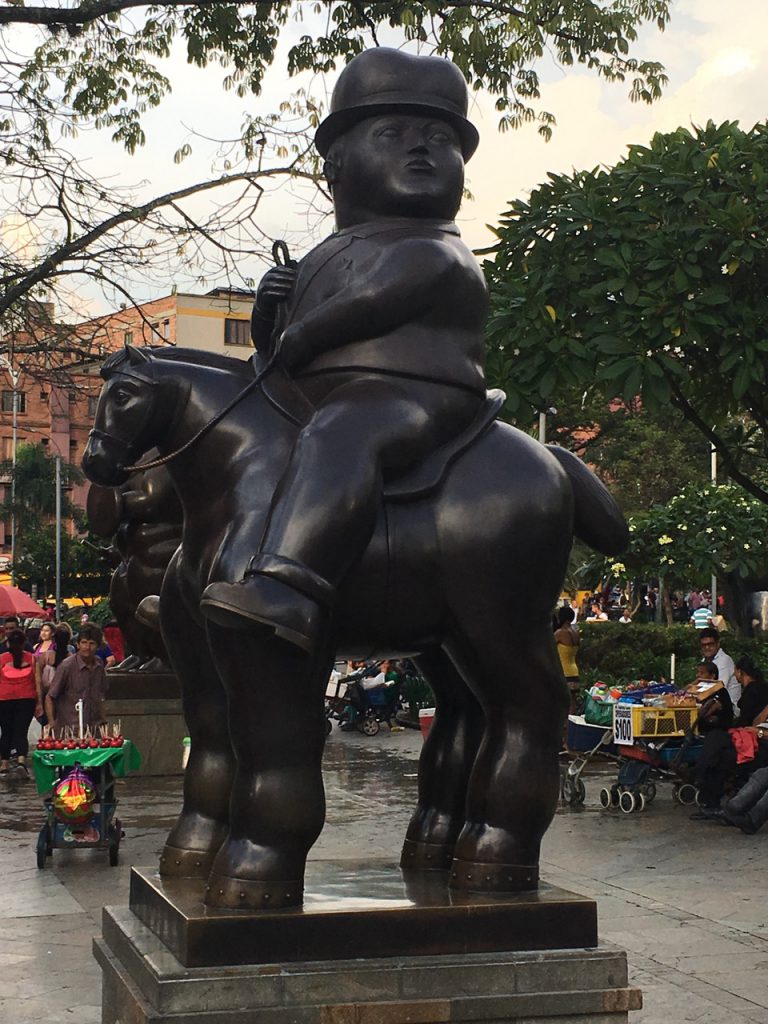 Botero Square in Medellin featuring the famous artist's sculptures.  A great square, not long ago was too dangerous to visit, now has a heavy police presence and feels perfectly safe.  A great spot for people watching.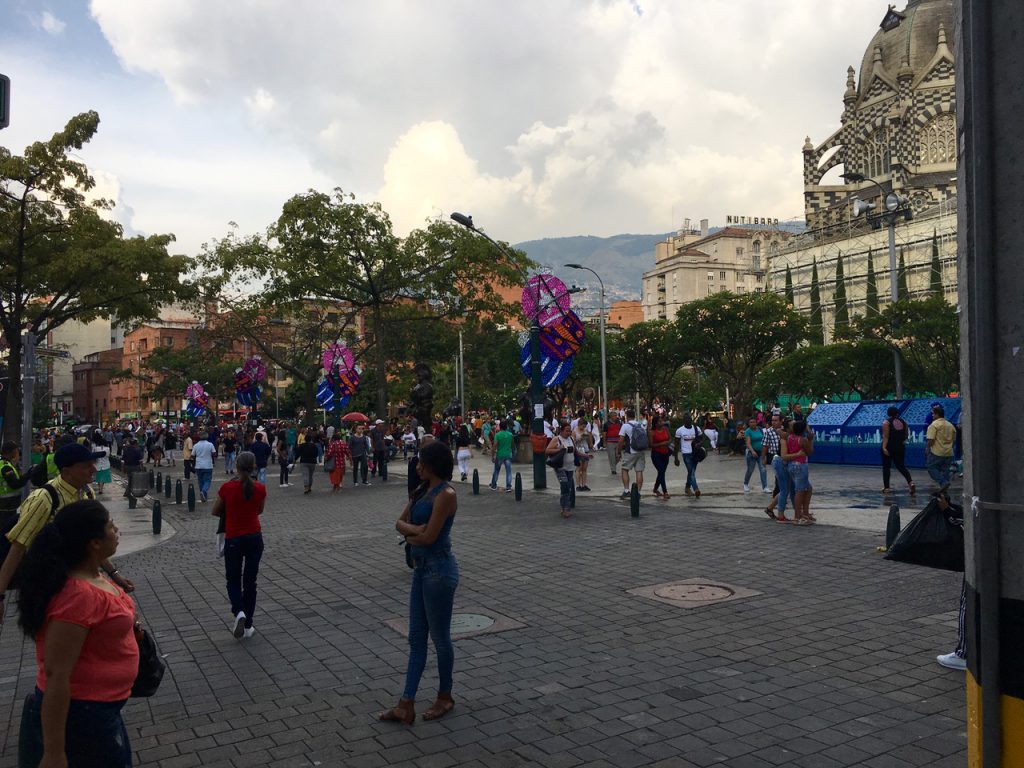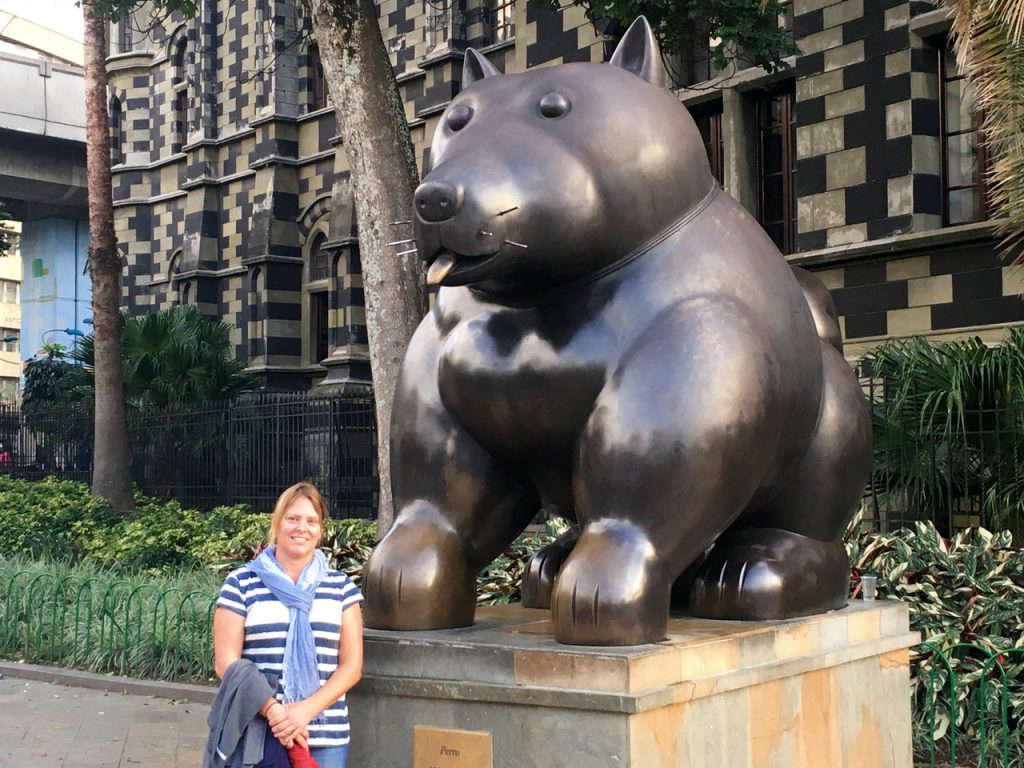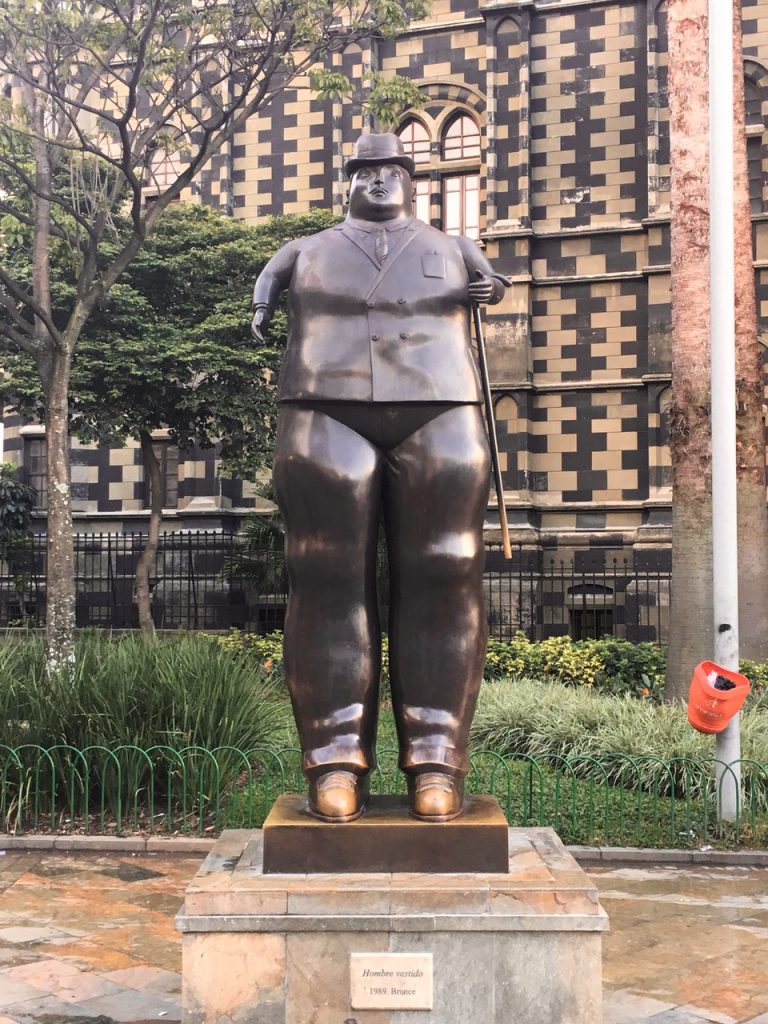 Medellin, 20 years ago known as the most dangerous city in the world has come a long way to reinventing itself.  Paisas (People of the region of Medellin) are anxious to welcome tourists and show how things have changed.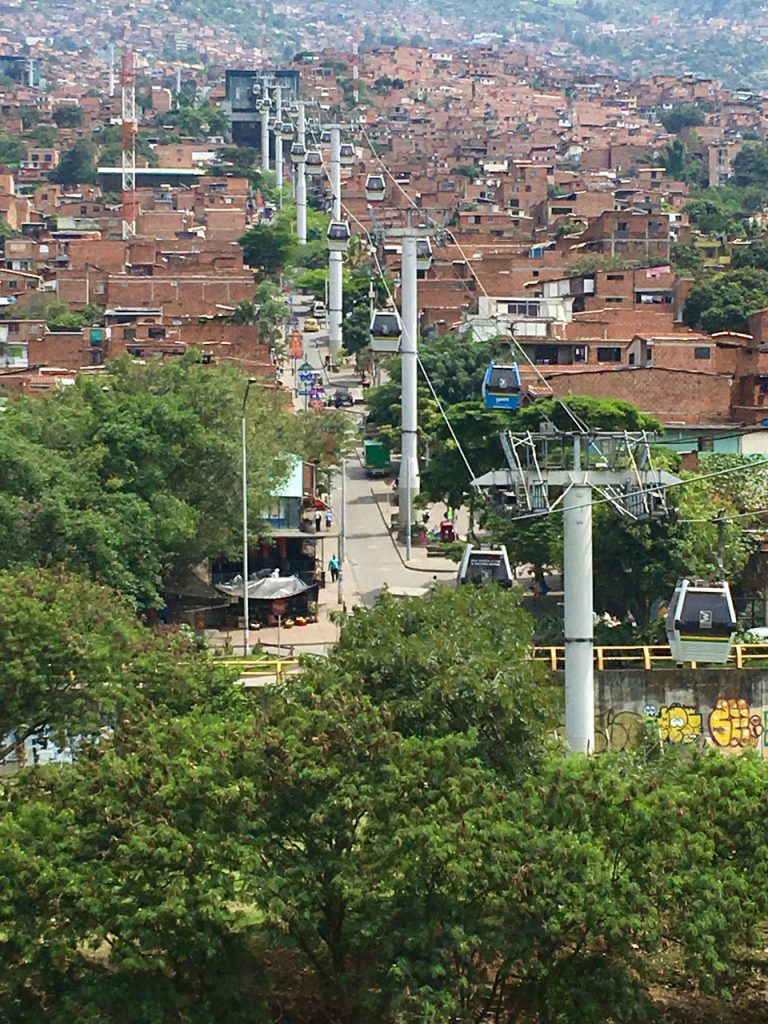 The people of Medellin take great pride in their public transportation system which is spotless and effective, carrying passengers through the city on metro cars and on trams to the hard to reach favelas on the mountain side. Now allowing residents of those communities access to city services, jobs and education.
This award winning transportation system has played a key role in transforming the city.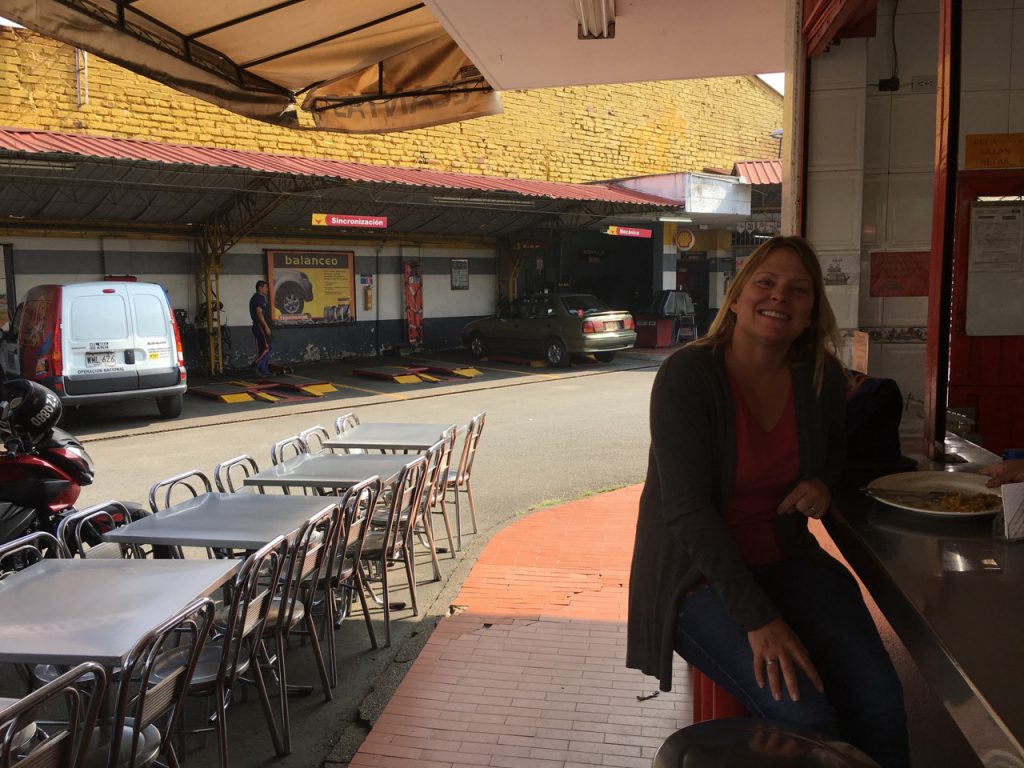 Before leaving Medellin, we have a little work done on the truck and are fortunate enough to find a mechanic with a delicious lunch counter on site.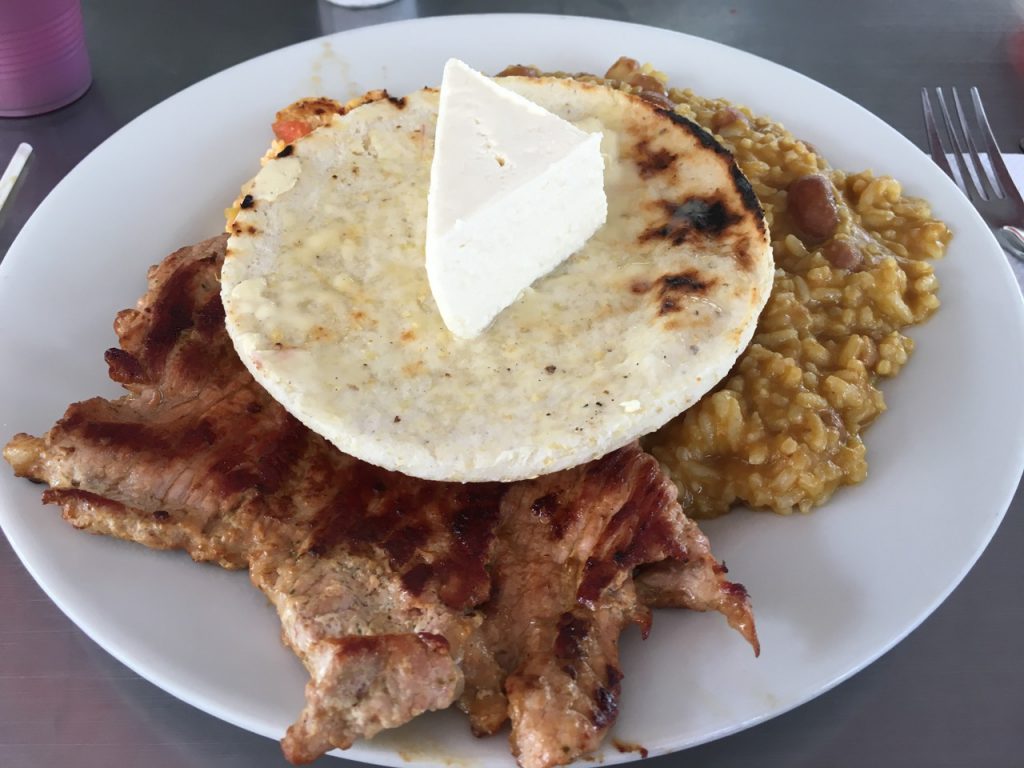 How much pork is too much?
With new brake pads installed it is time to move on from Medellin and head South into the Coffee Triangle and more wonderful small towns.
Our first stop, the quaint town of Jardin.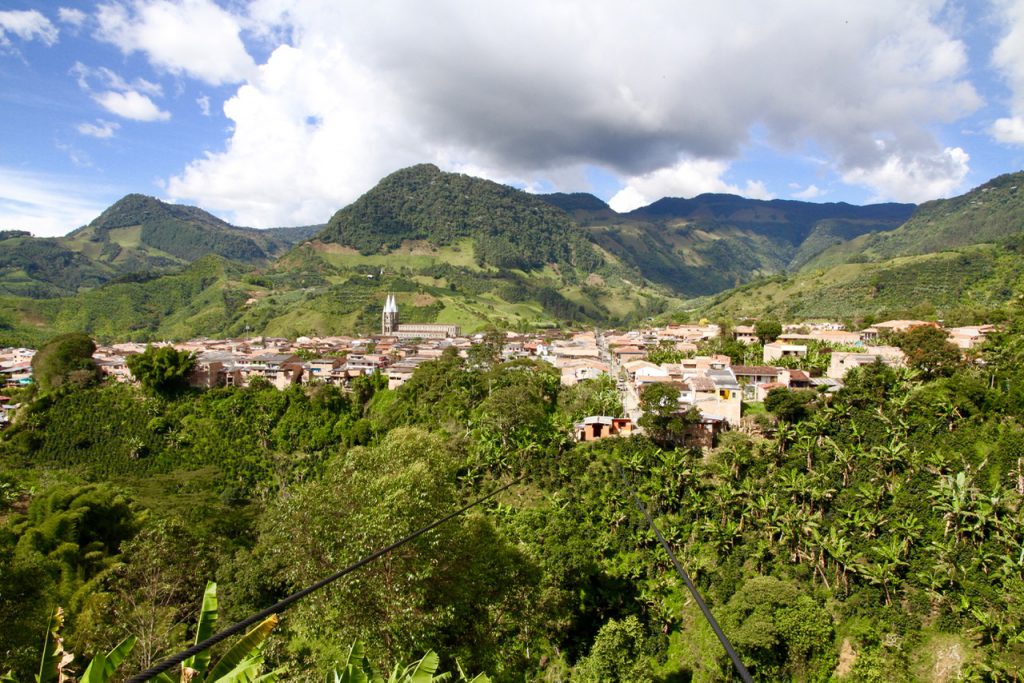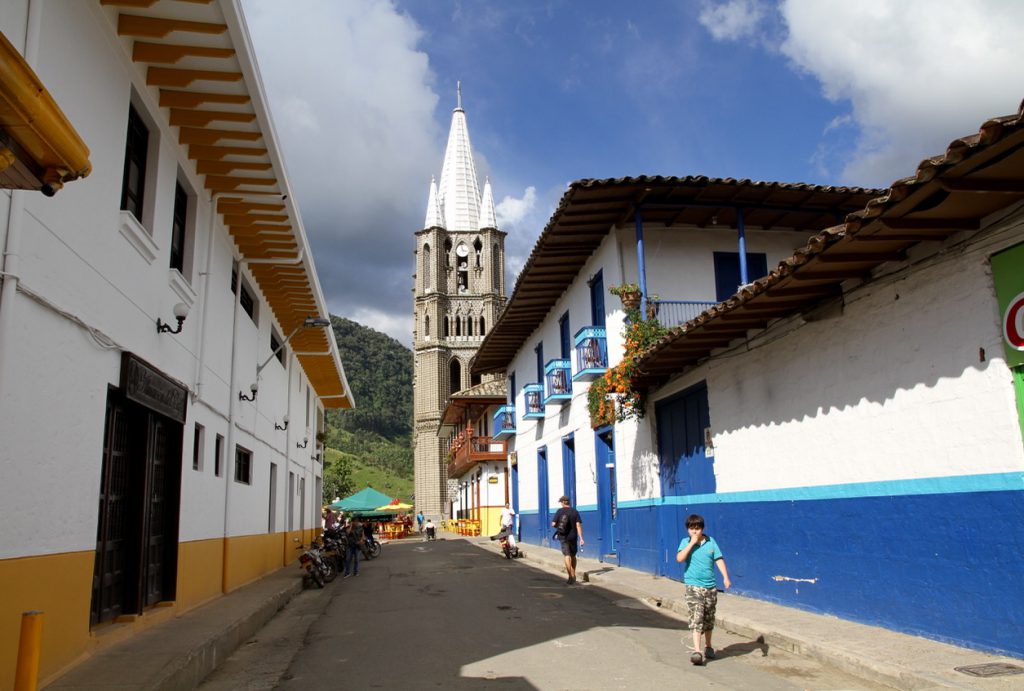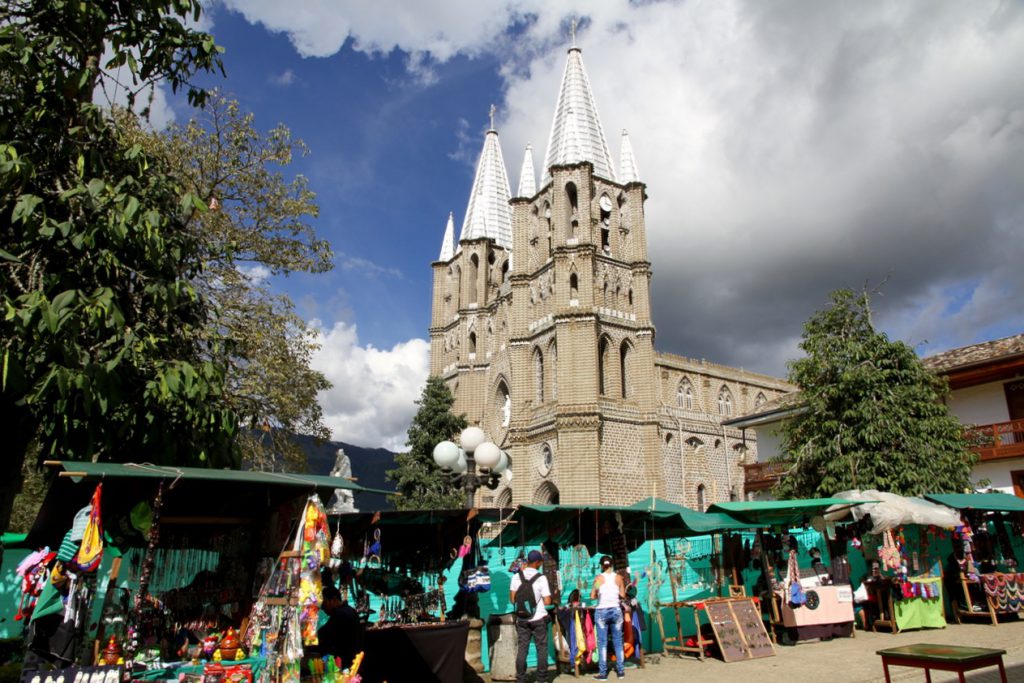 Jardin is another town perfect for hiking in the countryside, hanging out in the town square and taking a historic cable car ride.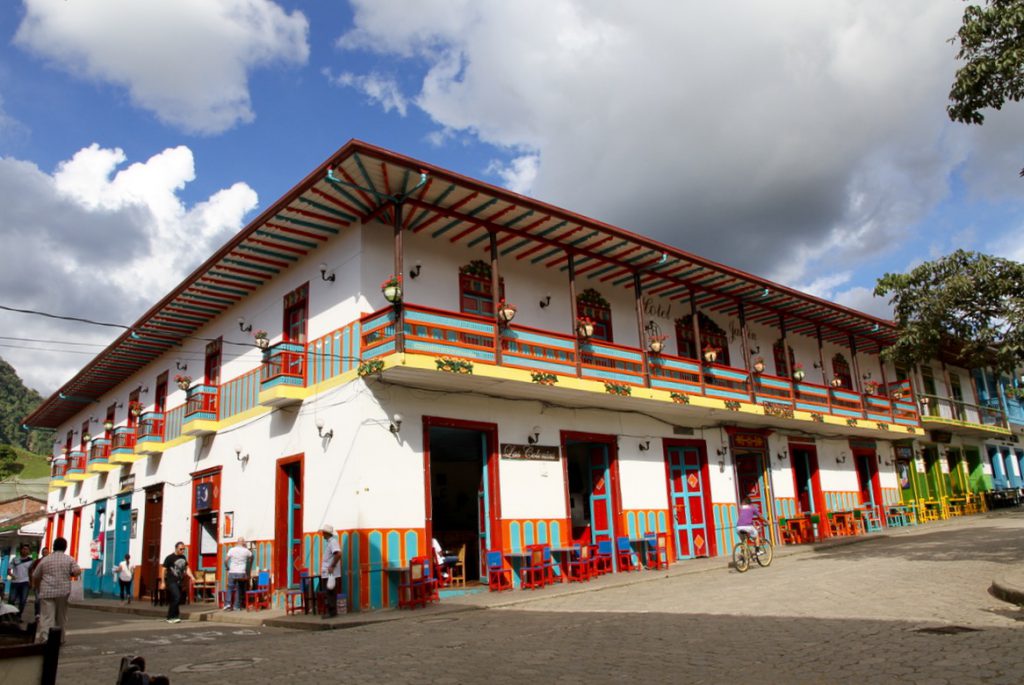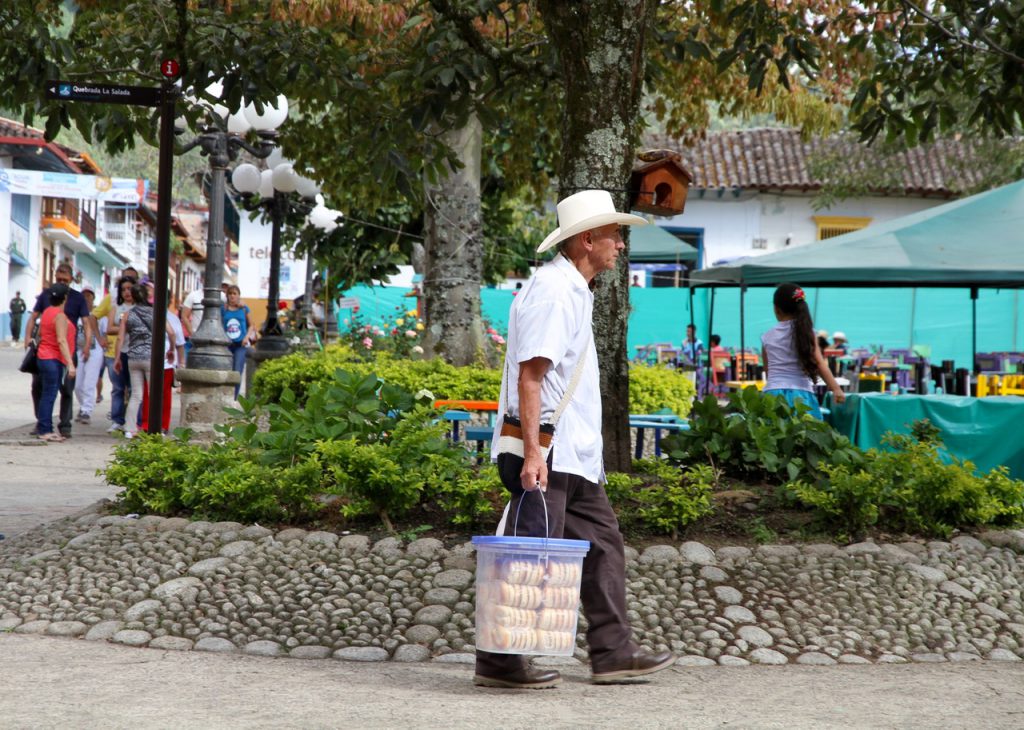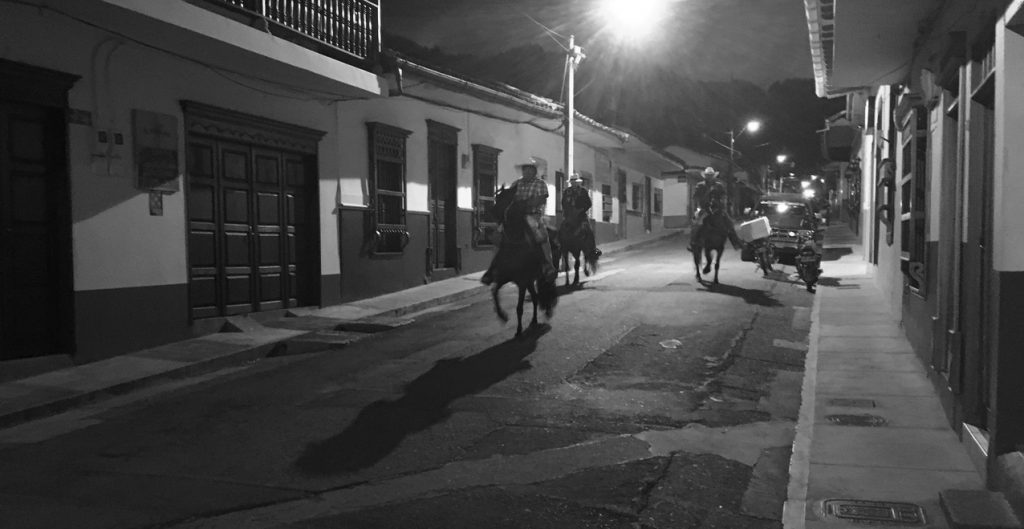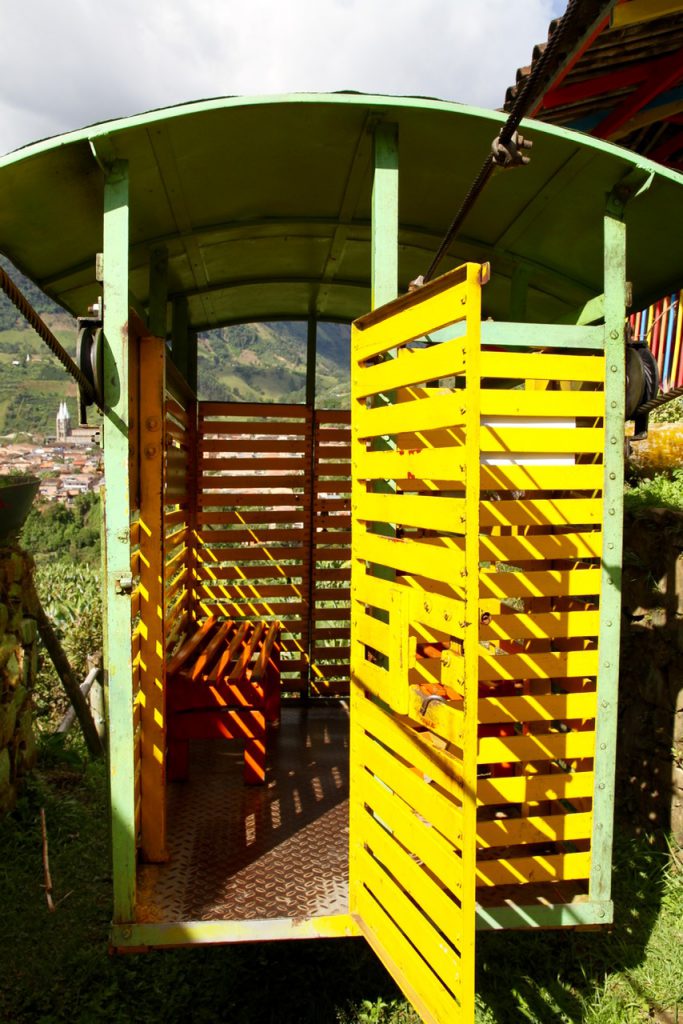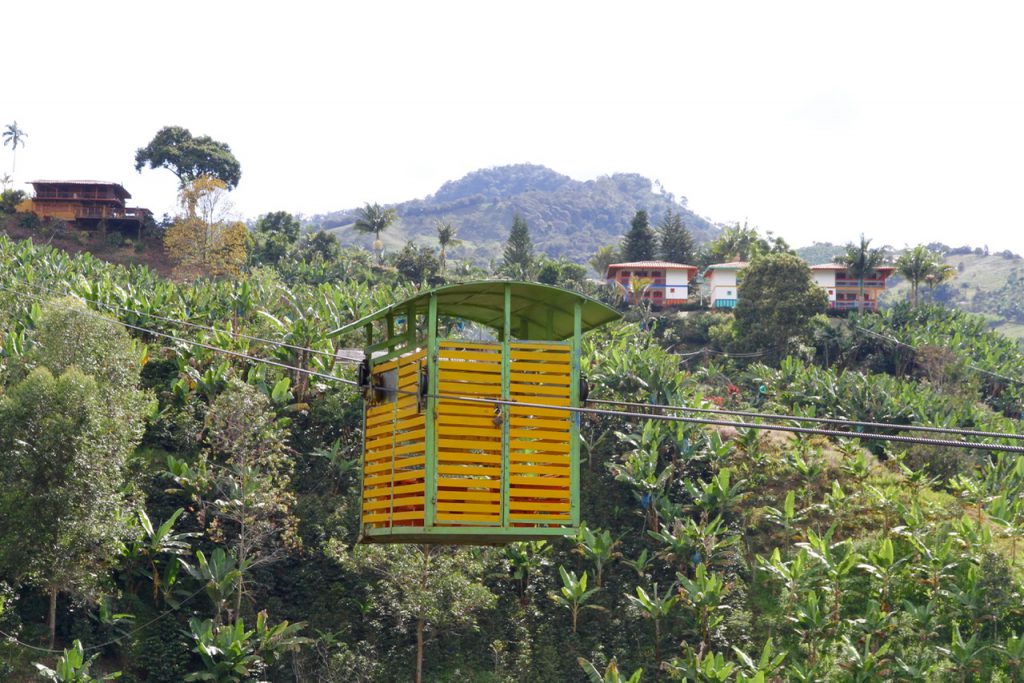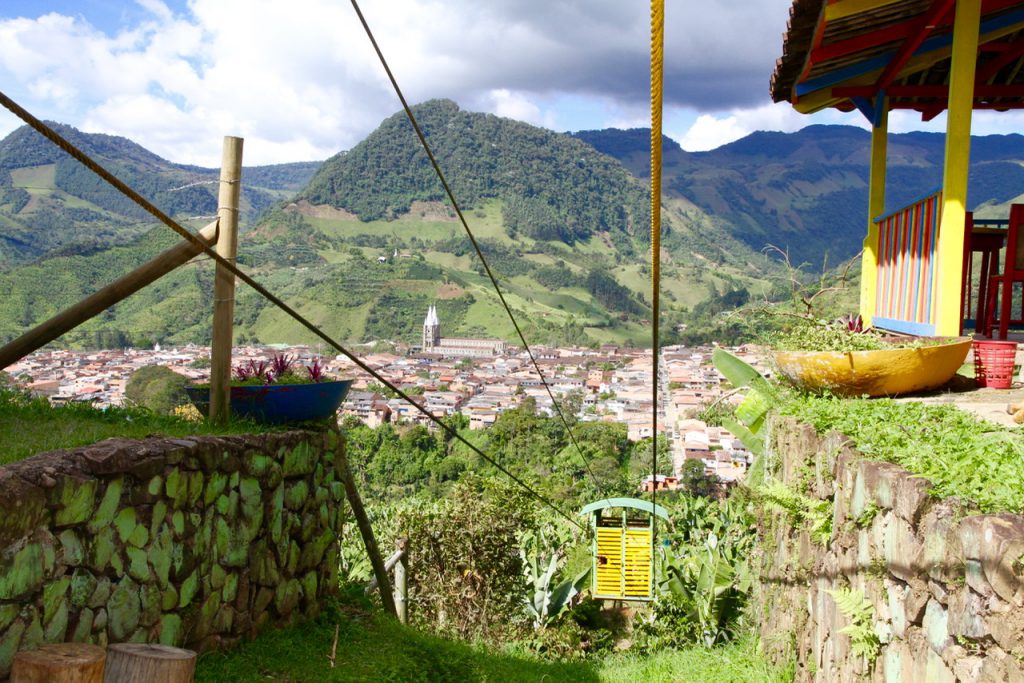 From Jardin, we are off to Filandia.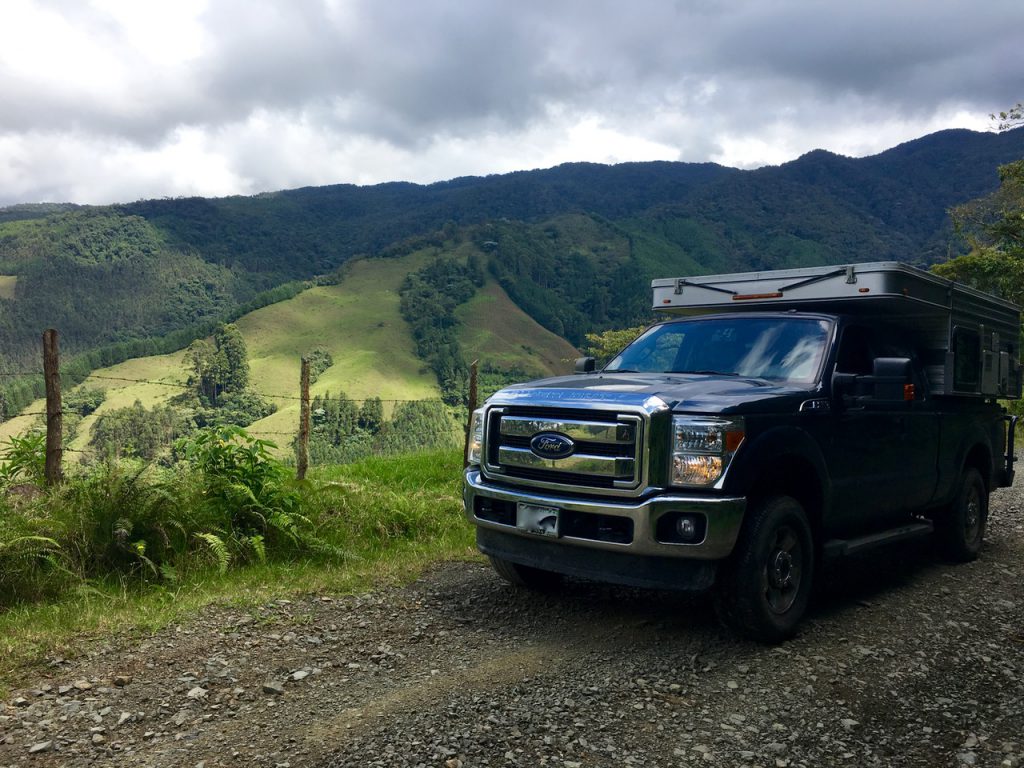 The drive to Filandia was beautiful and challenging as we hit some bad weather on the narrow mountain roads.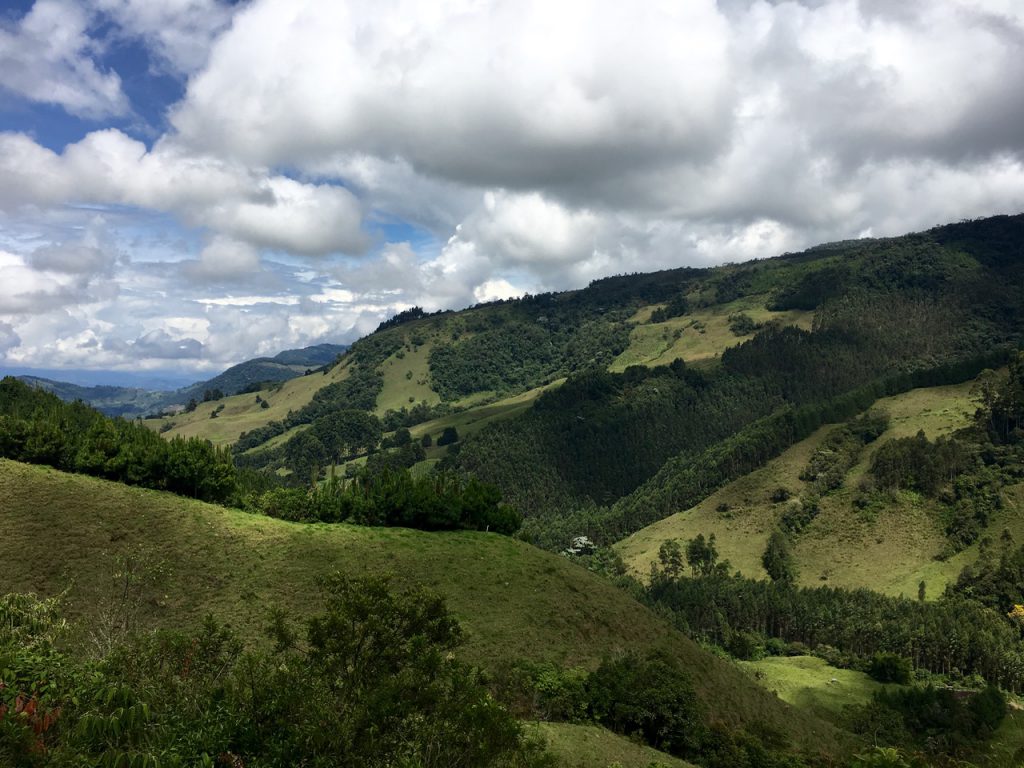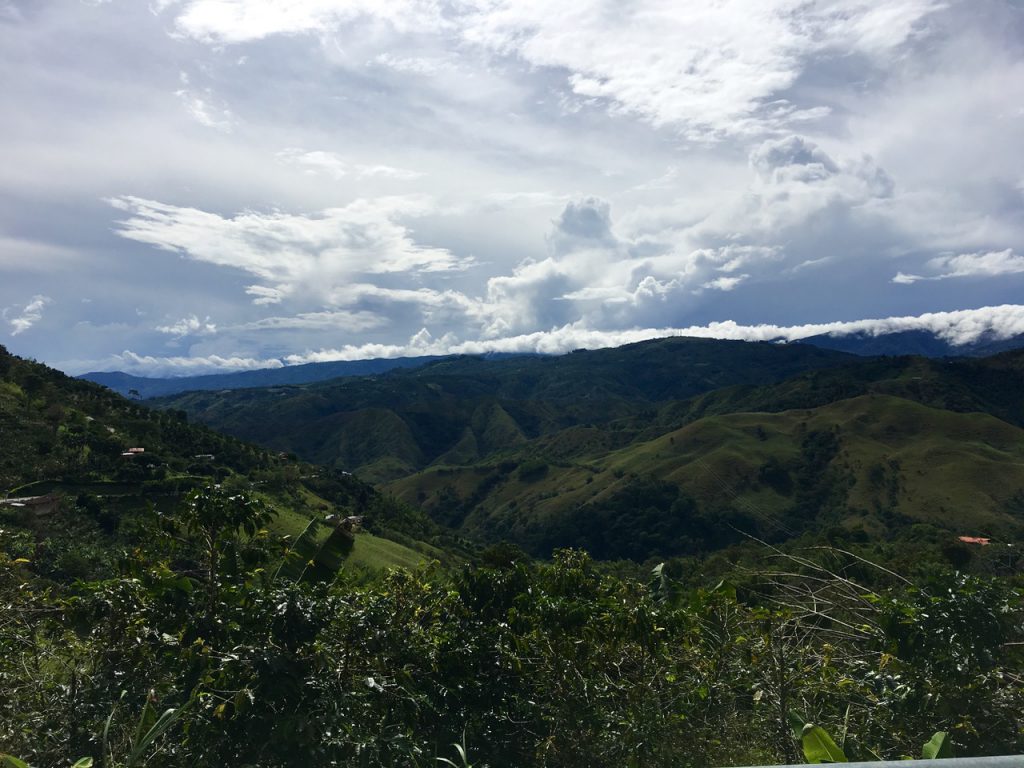 Filandia….such beautiful countryside.
Next stop….Salento.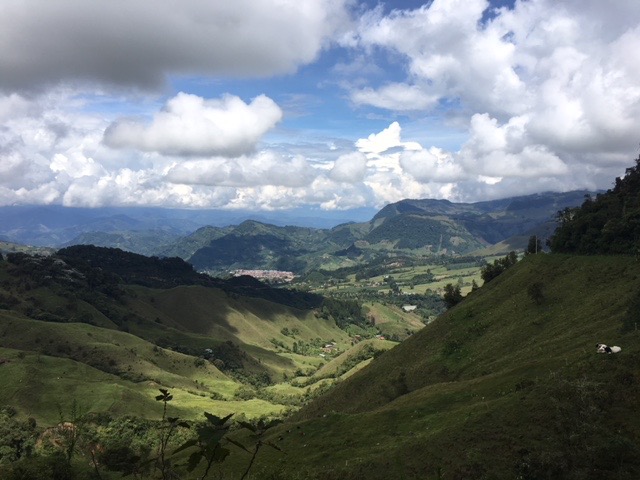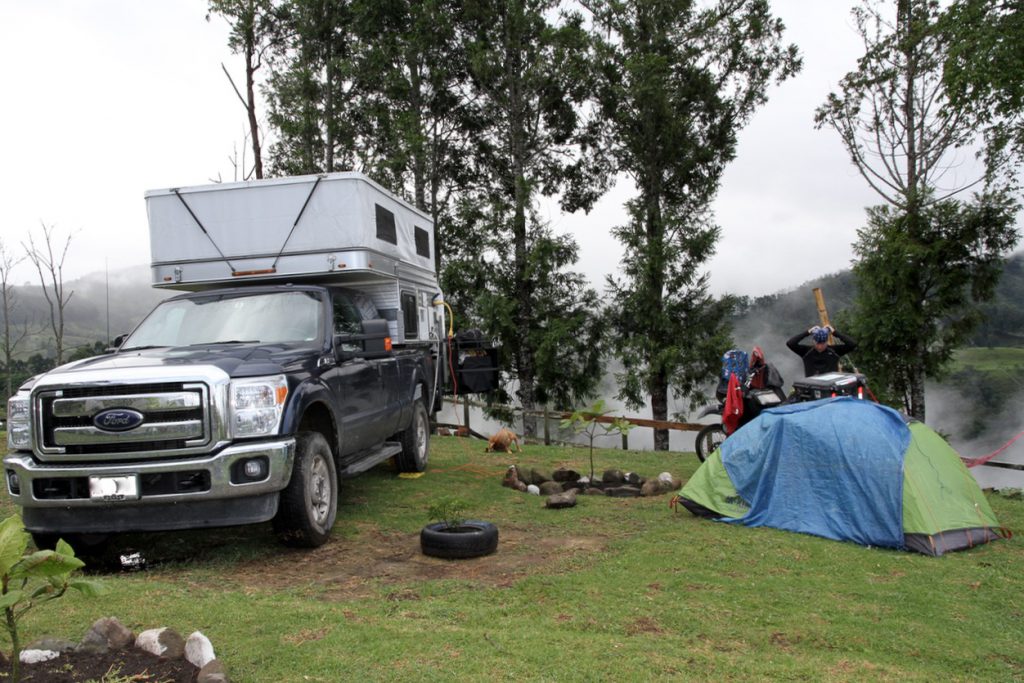 Another great campsite in Salento and some great hikes in the area had us park again for awhile.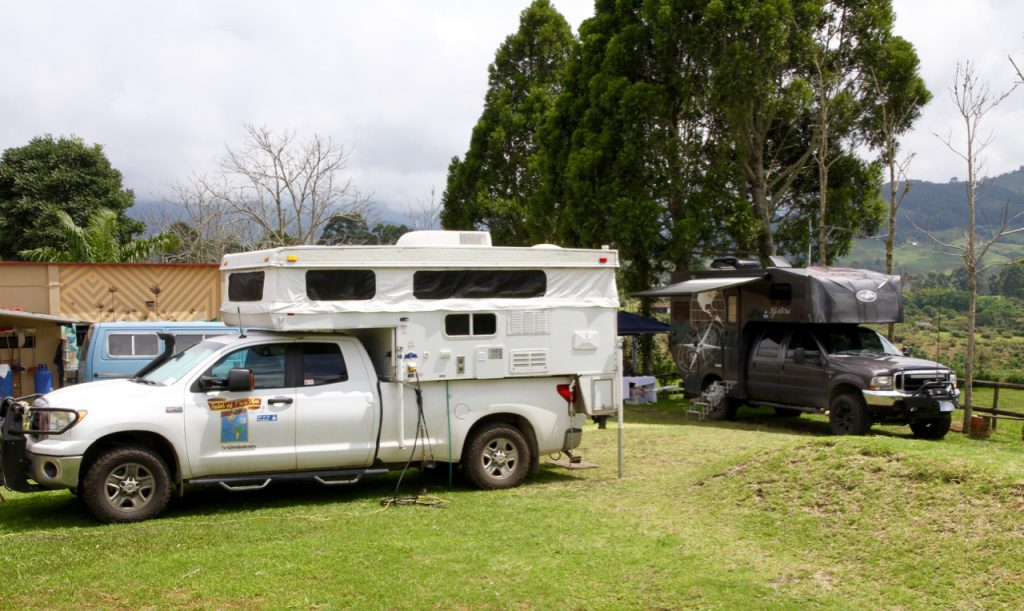 Other Overlanders, Bernard and Tammy, Scott and Angela pulled into the campground the same time we did so we were able to spend a couple days getting acquainted.
..and yip Kix showed up again.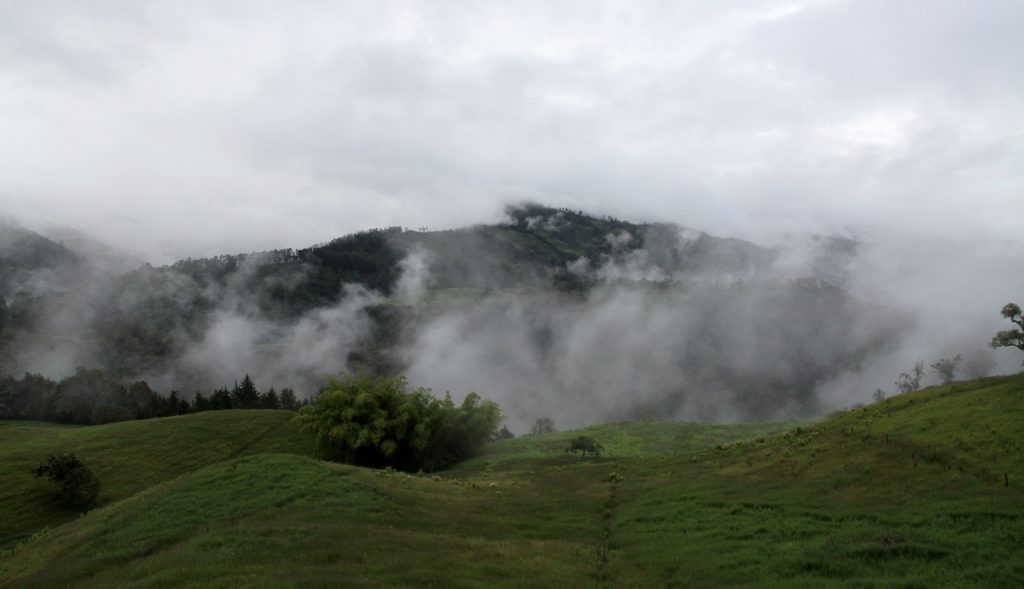 The beautiful mountain countryside around Salento is home to coffee farms, fruit plantations and cattle farms.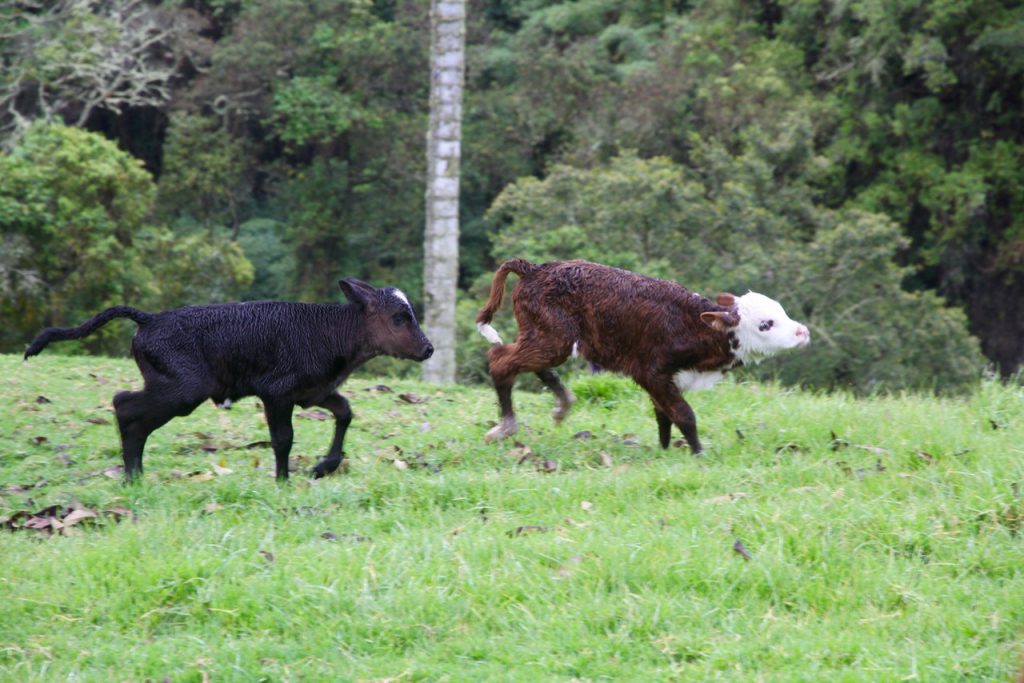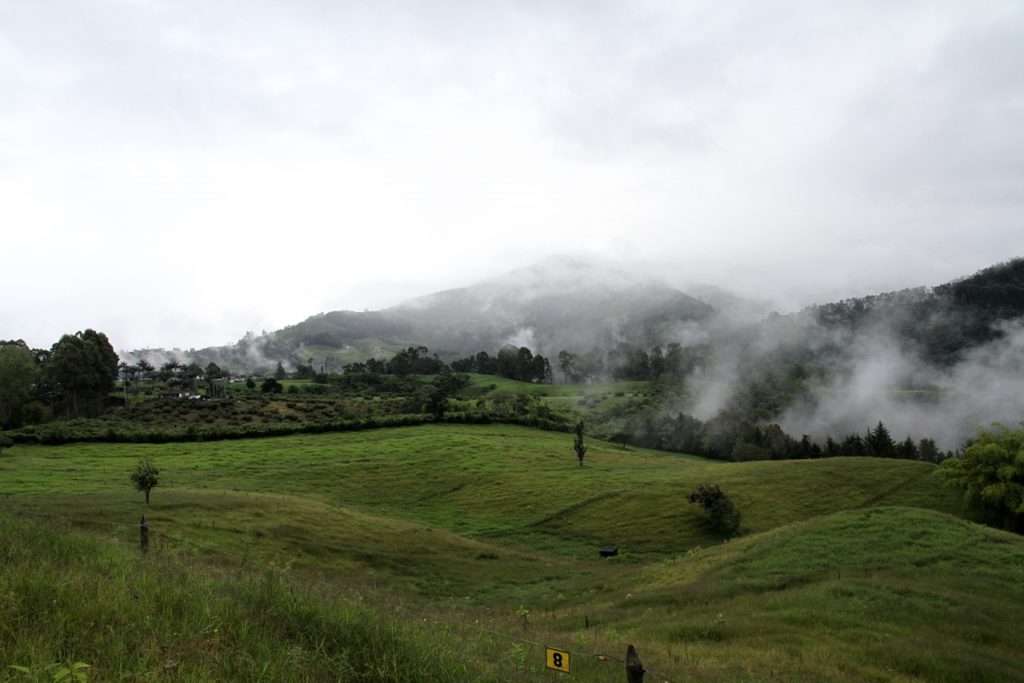 The Cocora Valley hike is the thing to do while in Salento.
So off we went on a rainy day to do the 5-6 hour mountain forest loop which would end in the valley filled with Colombia's famous 60 meter wax palms. The tallest palms in the world.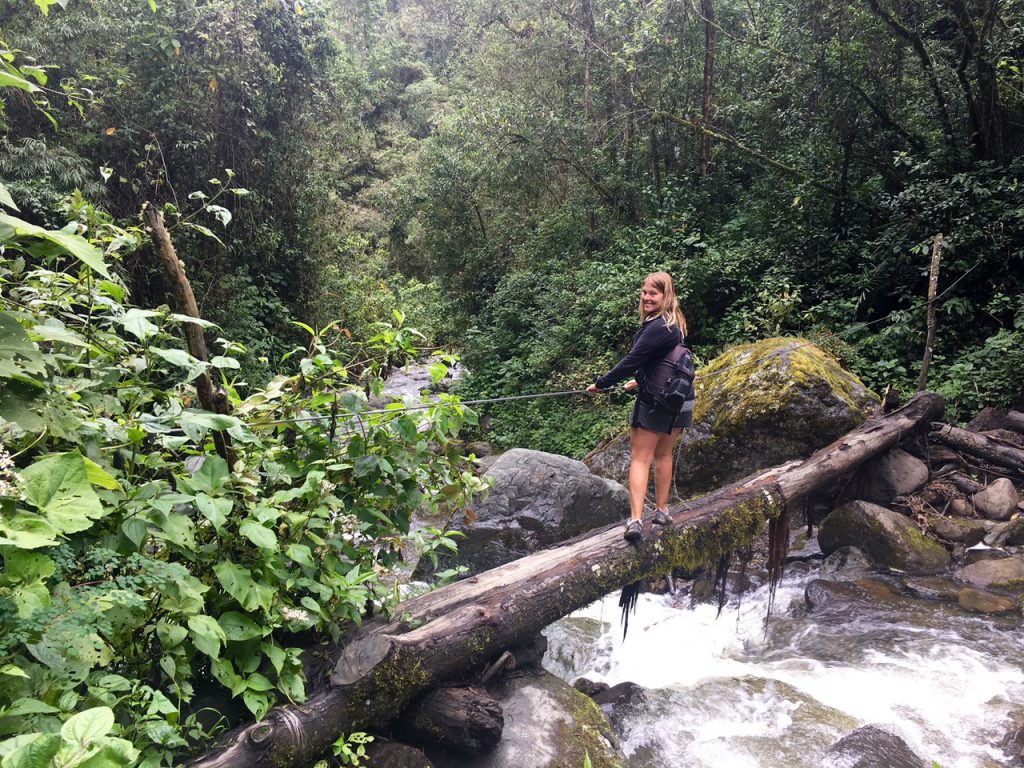 …Well, three hours in, soaking wet, no service on the cell phone map and getting a little grumpy, we declared we were lost.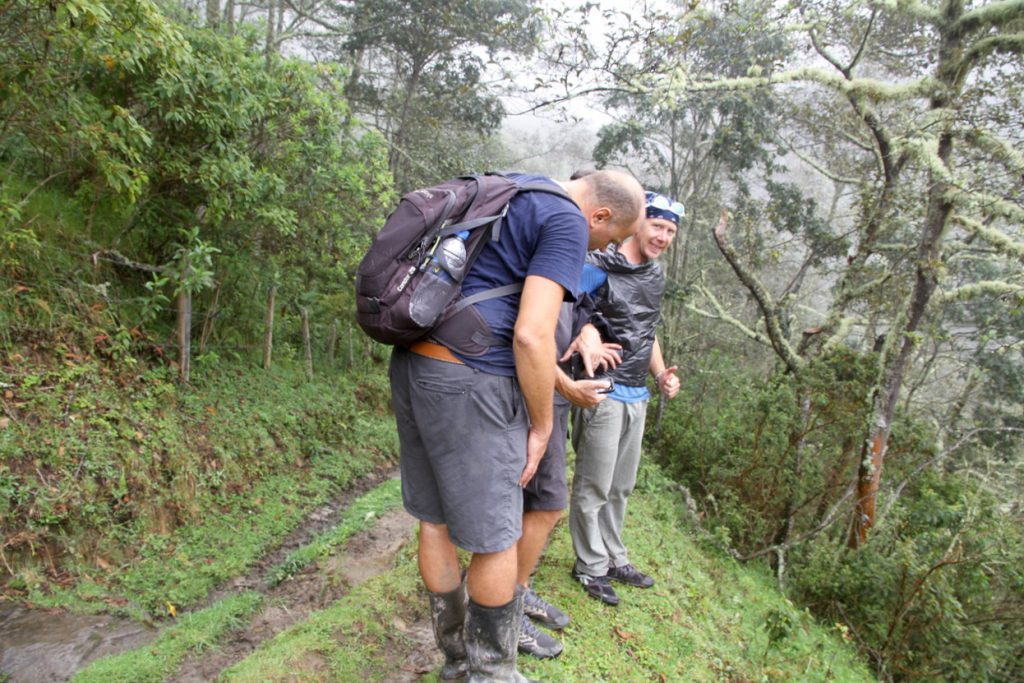 …So back we went and started over again in the opposite direction to reach the wax palms.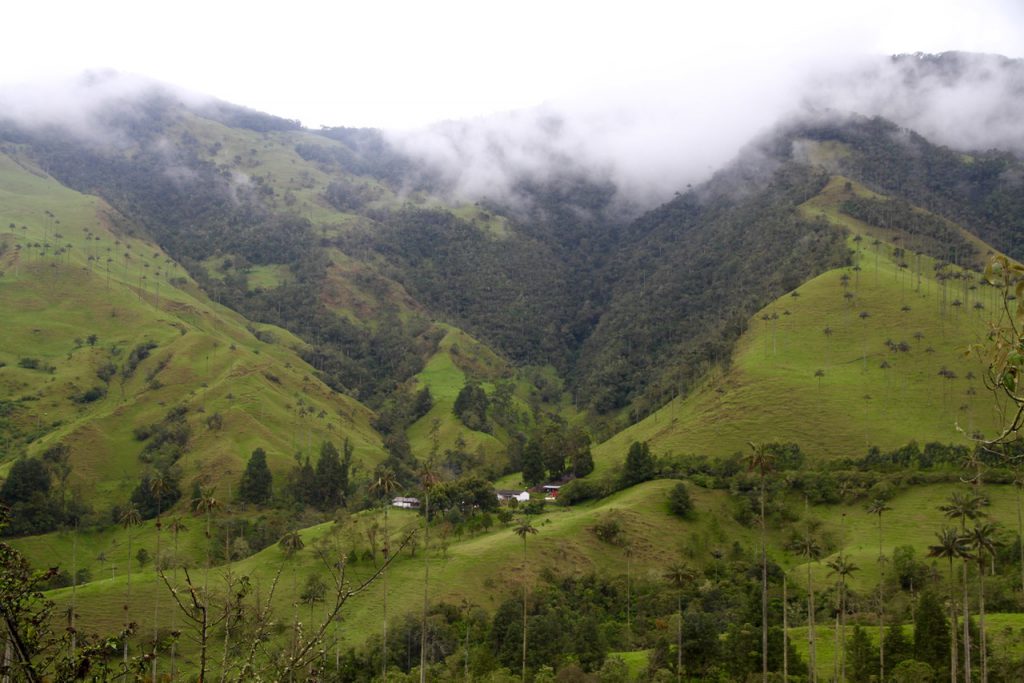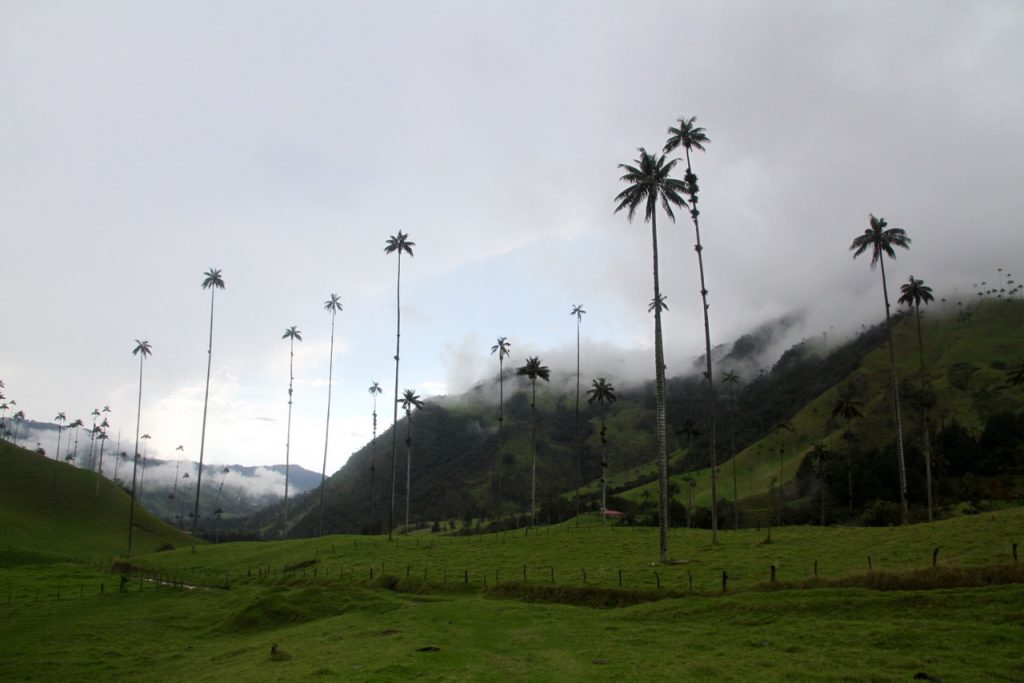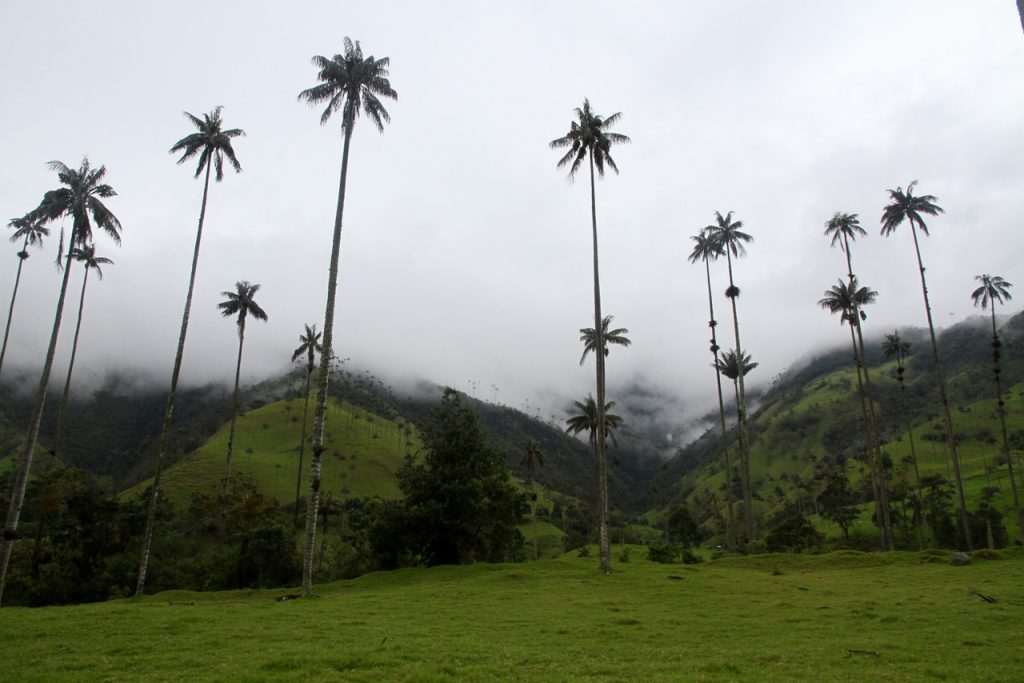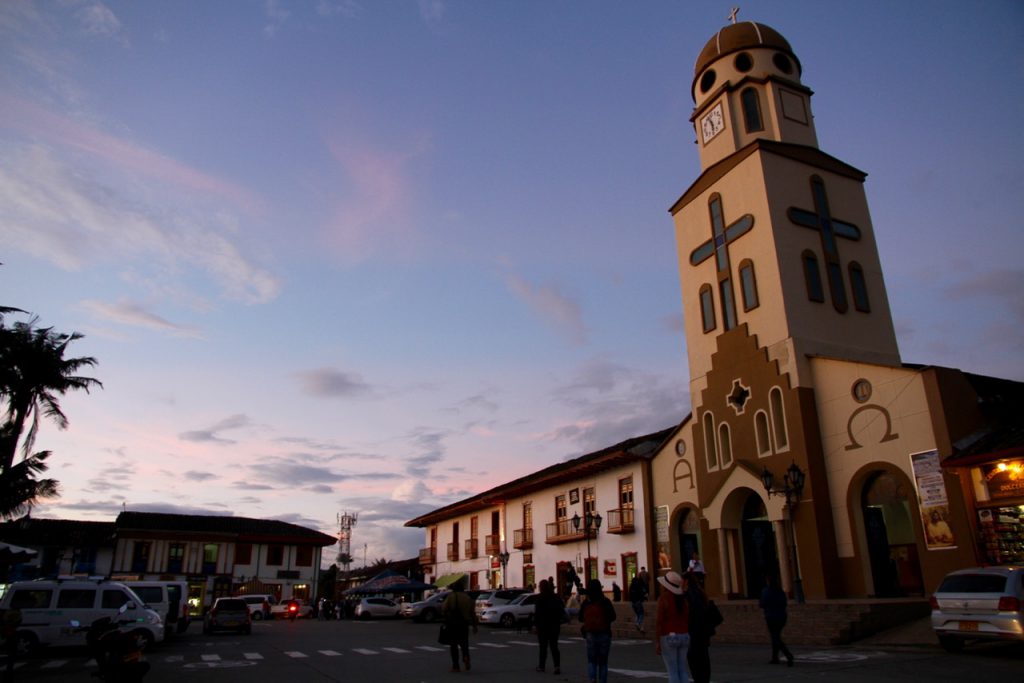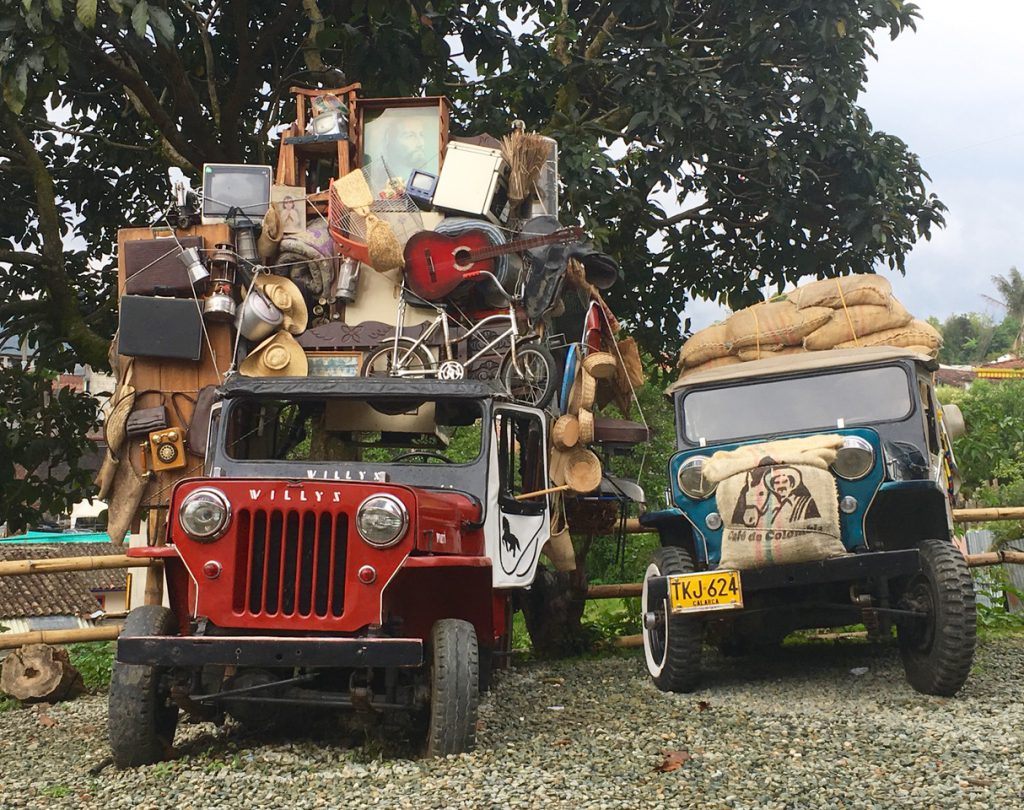 Classic Jeep Willys are in use all over Colombia.
By the time we left Salento we were approaching 3 wonderful months in Colombia and unfortunately our entry Visa was about to expire.
So with close to 700km to go to the Ecuadorian border it was time to get moving!
A few days stop in the Salsa capital, Cali, and we are on to a couple nights in the town of Popoyan.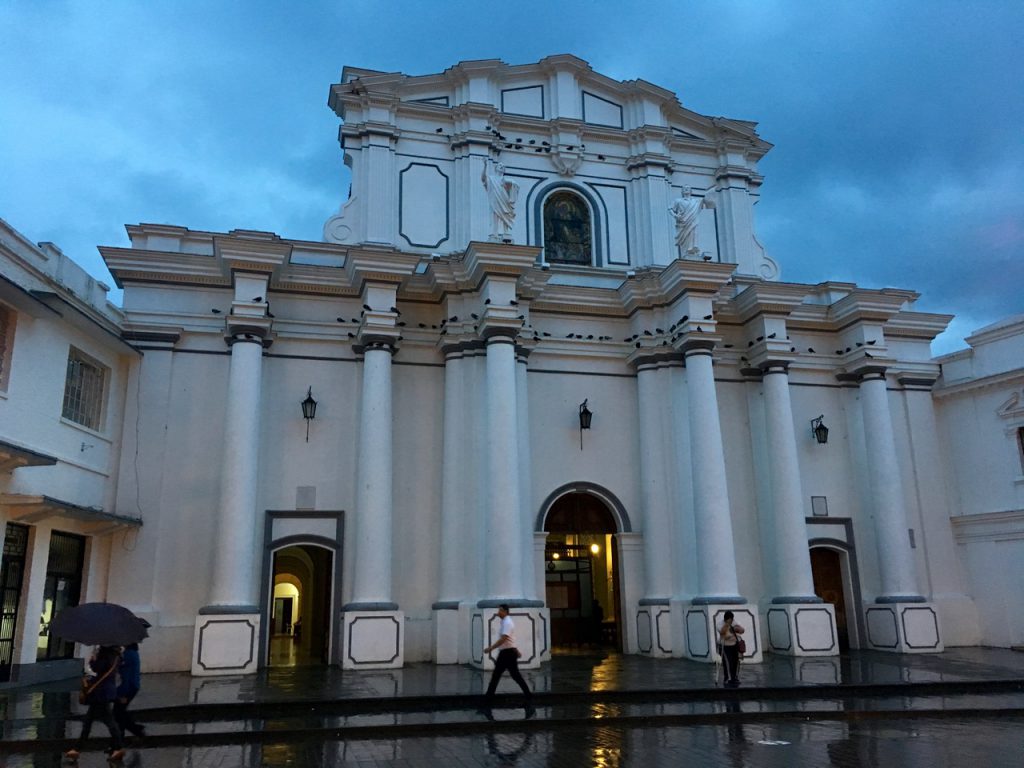 From Popoyan we made a visit to the Cathedral, Las Lajas Sanctuary, built into a canyon in Ipiales, Colombia.
The spectacular Las Lajas Sanctuary Cathedral hanging over the canyon and the Guitara River.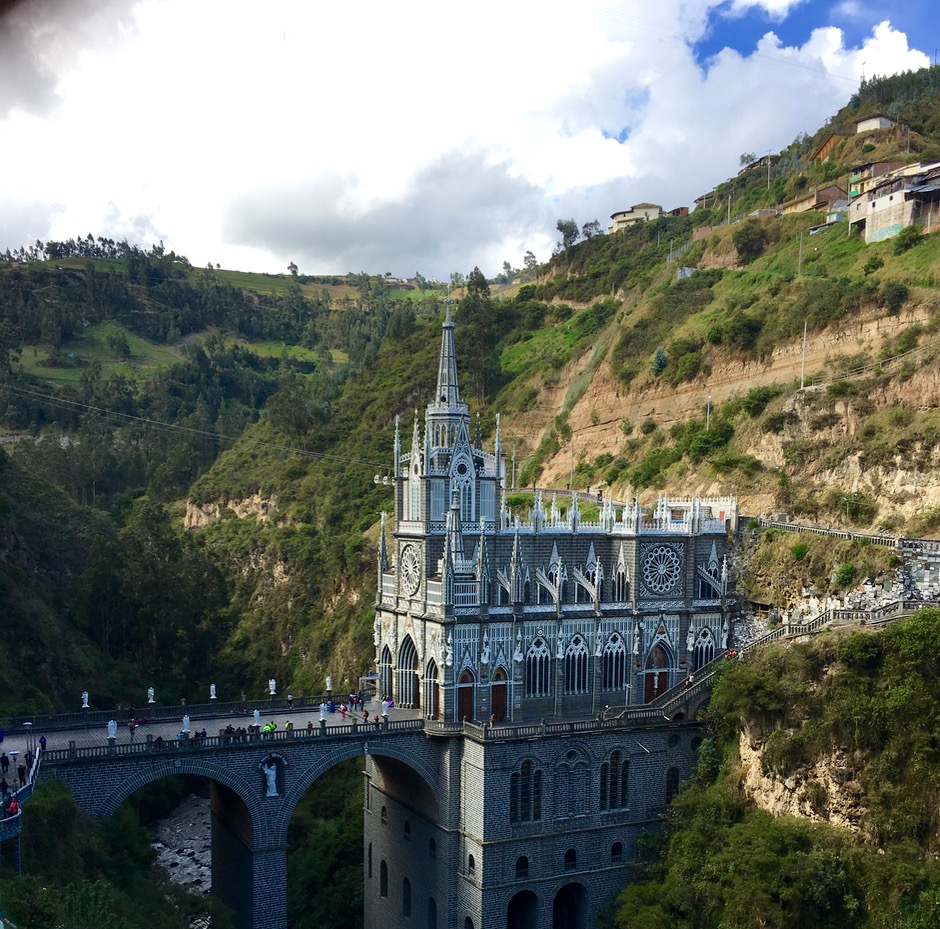 ..… and sadly it was time to say good-bye to the 11th and maybe our favourite country of the trip.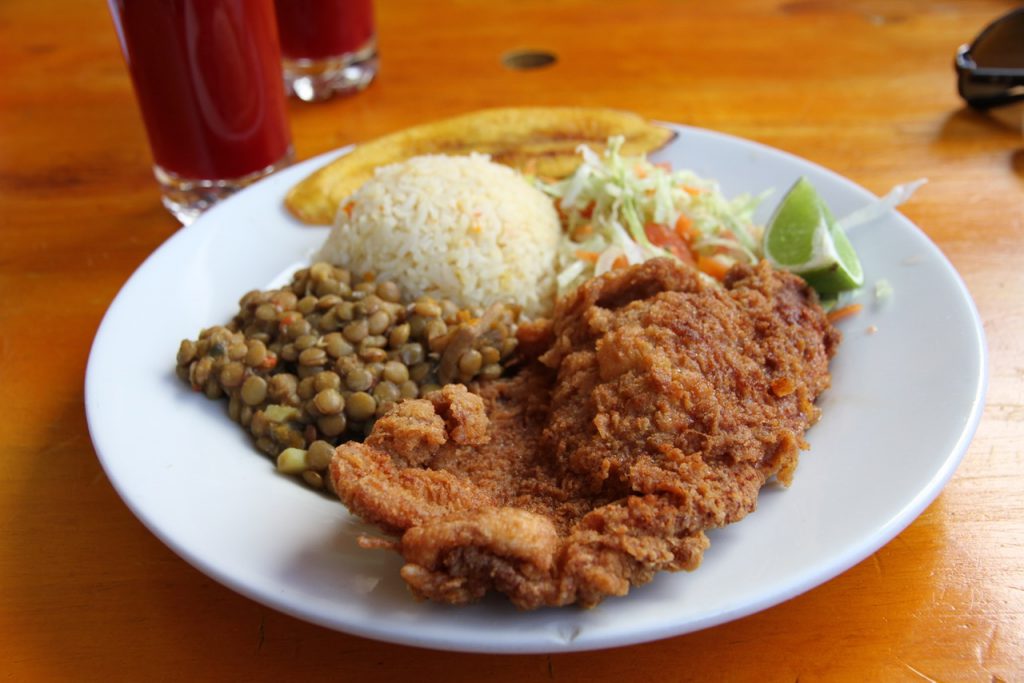 …OK, one more fried pork chop before we bid farewell to Colombia.