On the move again.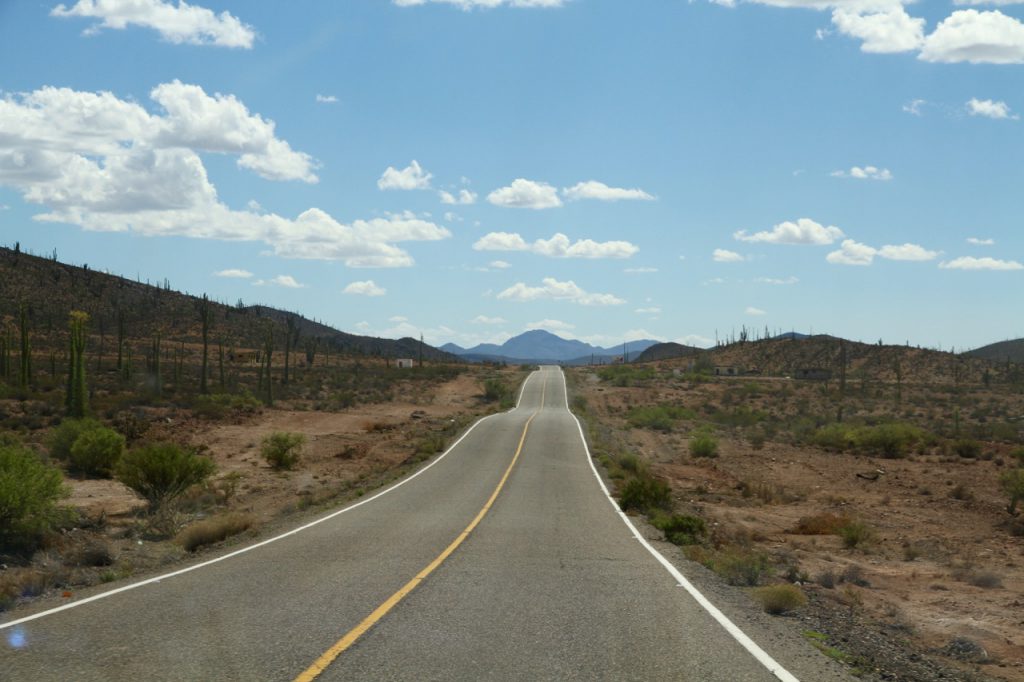 It was difficult to pull ourselves away from Bahia De Los Angeles but on day 5 we again hit the road.  This time heading for Mulege and the Bahia de Concepcion.
The drive went well and even included a stop in the desert for a delicious bowl of ceviche like seafood stew. (what could go wrong?)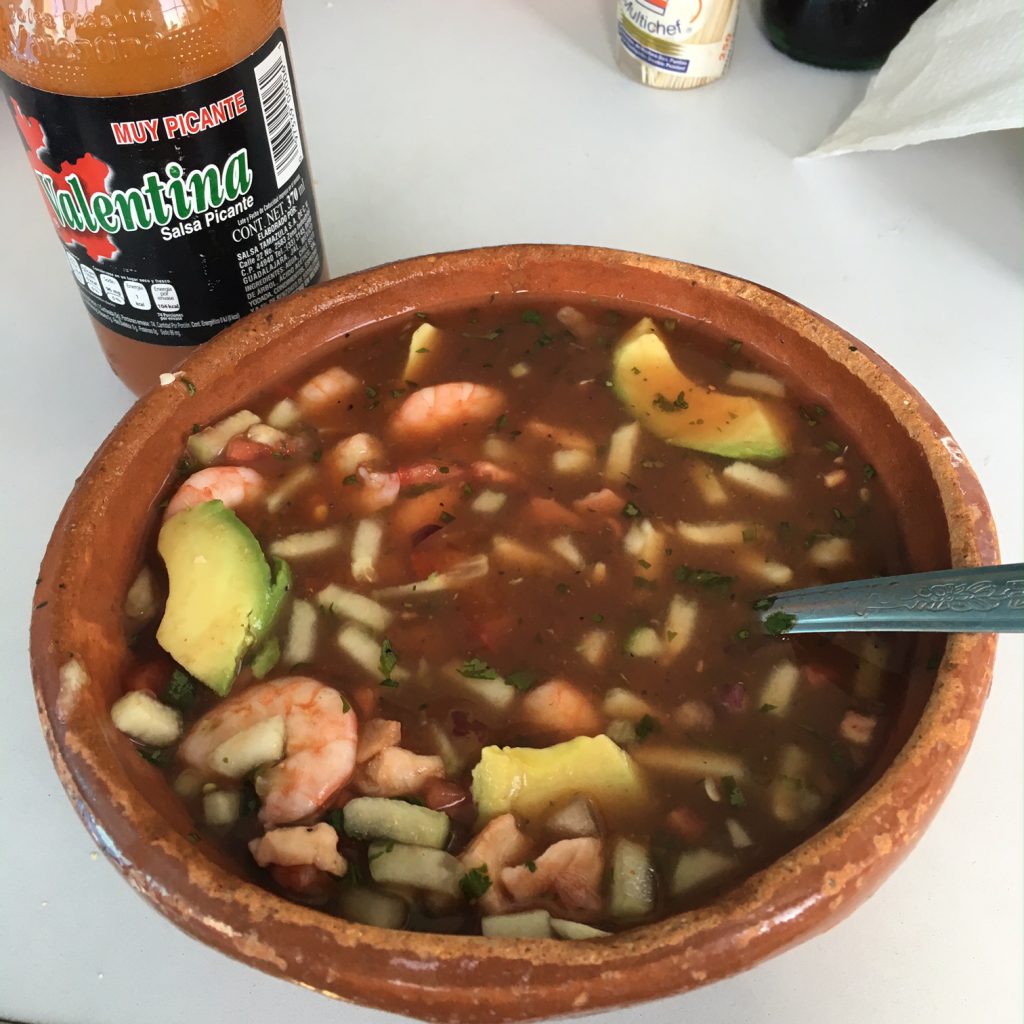 We had some laughs for a night in the small town of Mulege where we were able to catch the Jays beat the Os in the local pub on ESPN Deportes. The few Mexican folks in the pub were huge Roberto Osuna fans so it was a very pro Jays crowd.
The next day we headed for the beach.
Our research told us (for better or worse) we would encounter American and Canadian snowbirds and permanent RV residents on the beaches of the Bahia de Concepcion.
So we bounced our way down the rocky road to Playa Coyote … only to once again find ourselves alone!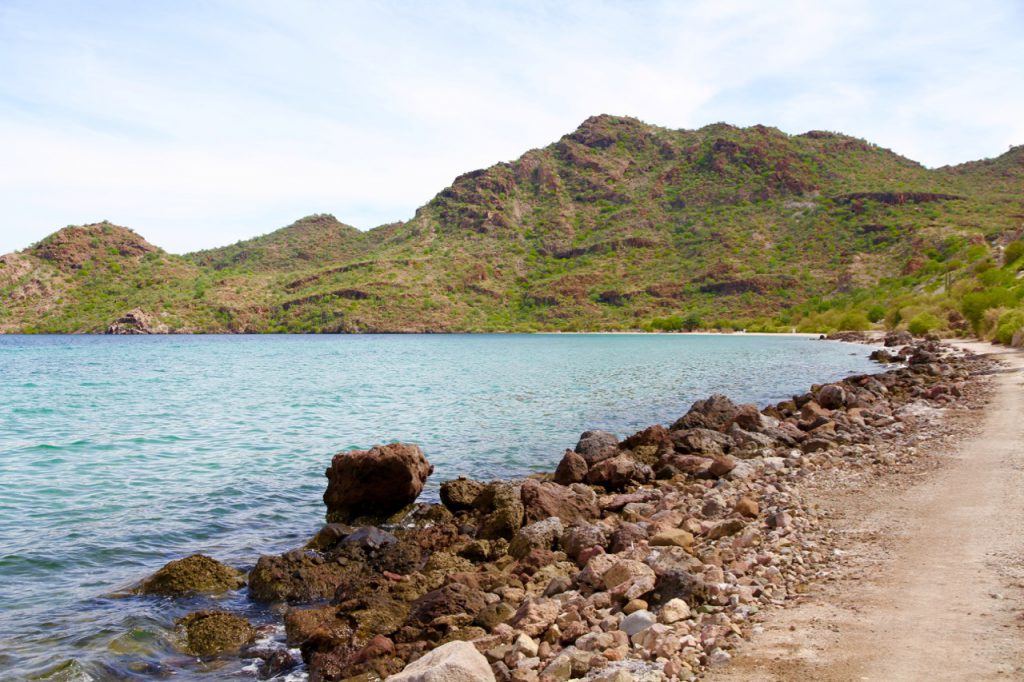 Just an empty idyllic beach, warm water and a couple more whale sharks hanging out in the bay.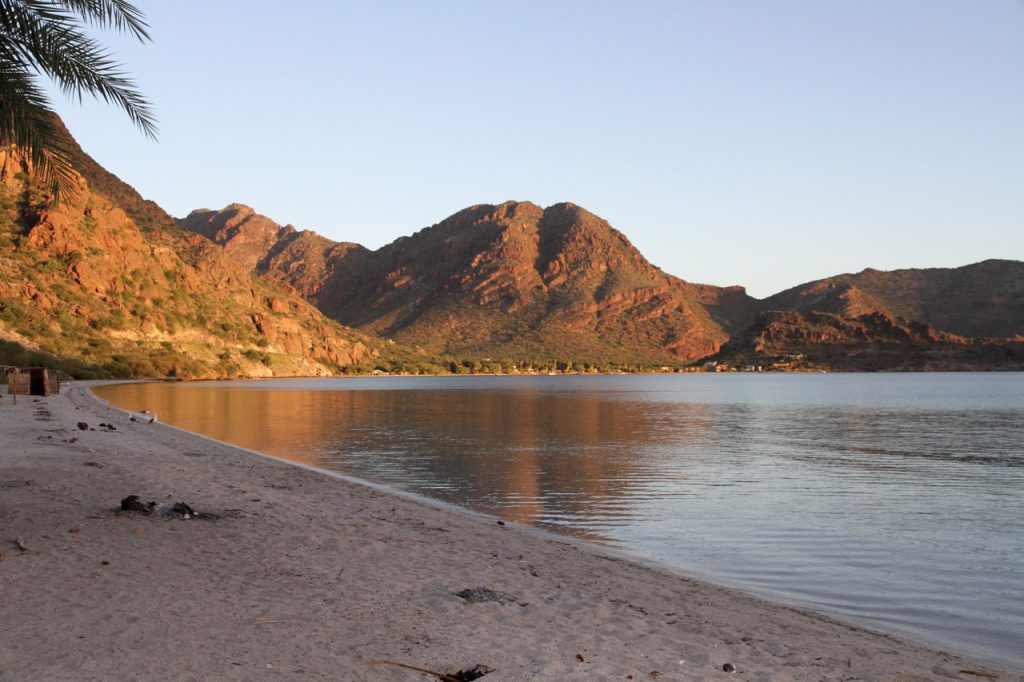 Over the next few days exactly one RV pulled in.
Dave, his wife and two dogs who spend four months down here each year did confirm that within a month the snowbird invasion would begin.
We are so happy to be here right now!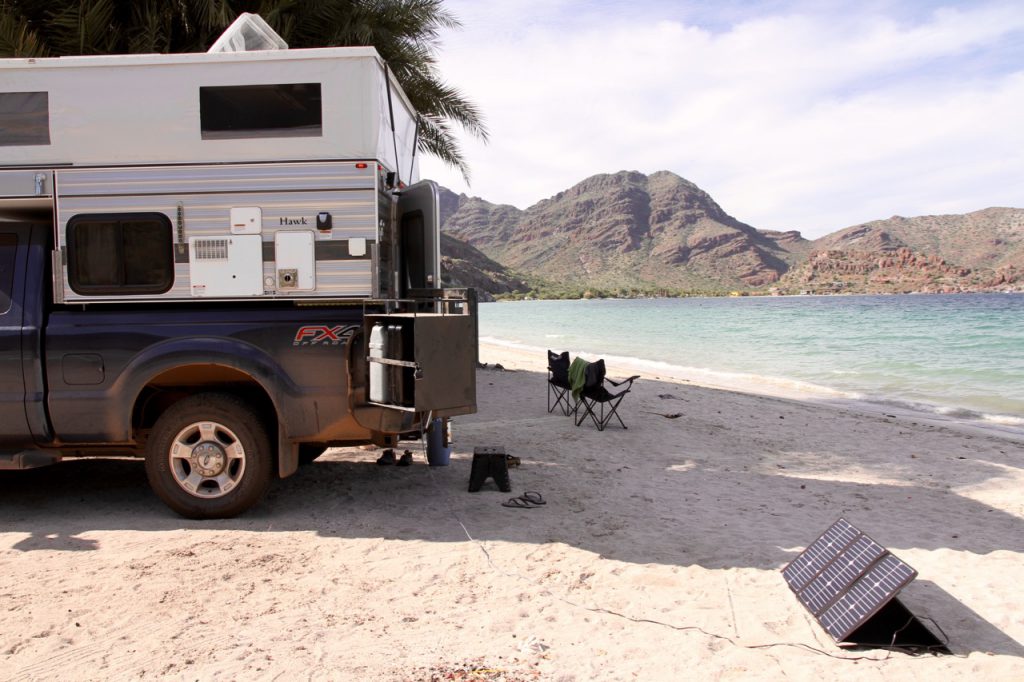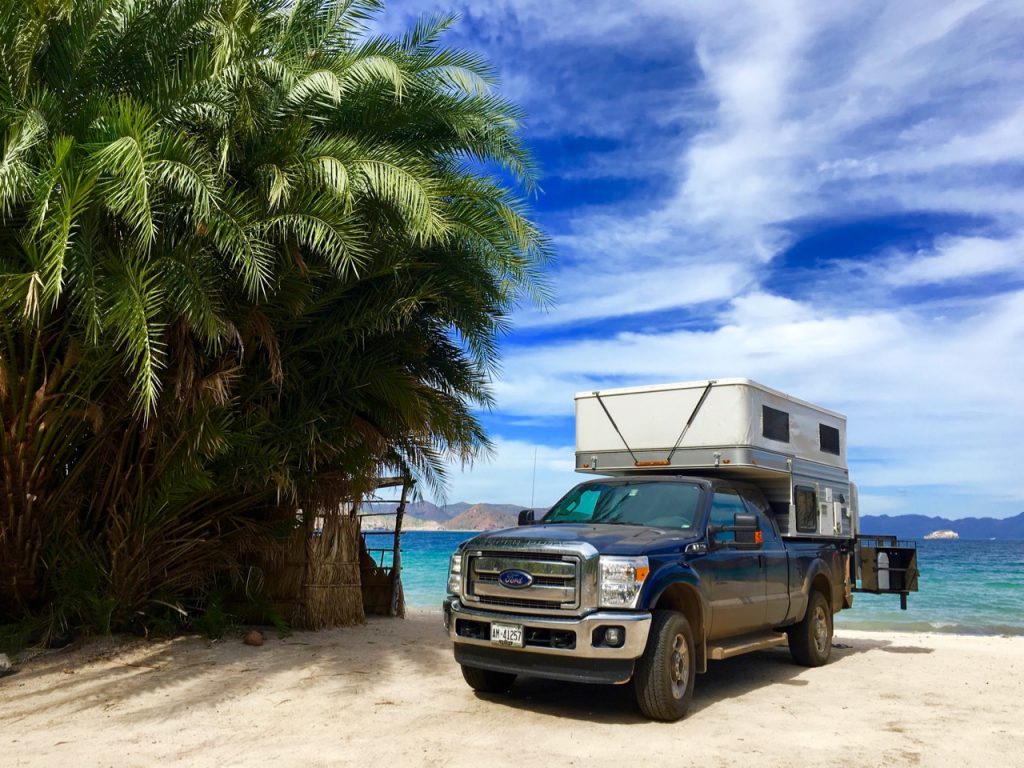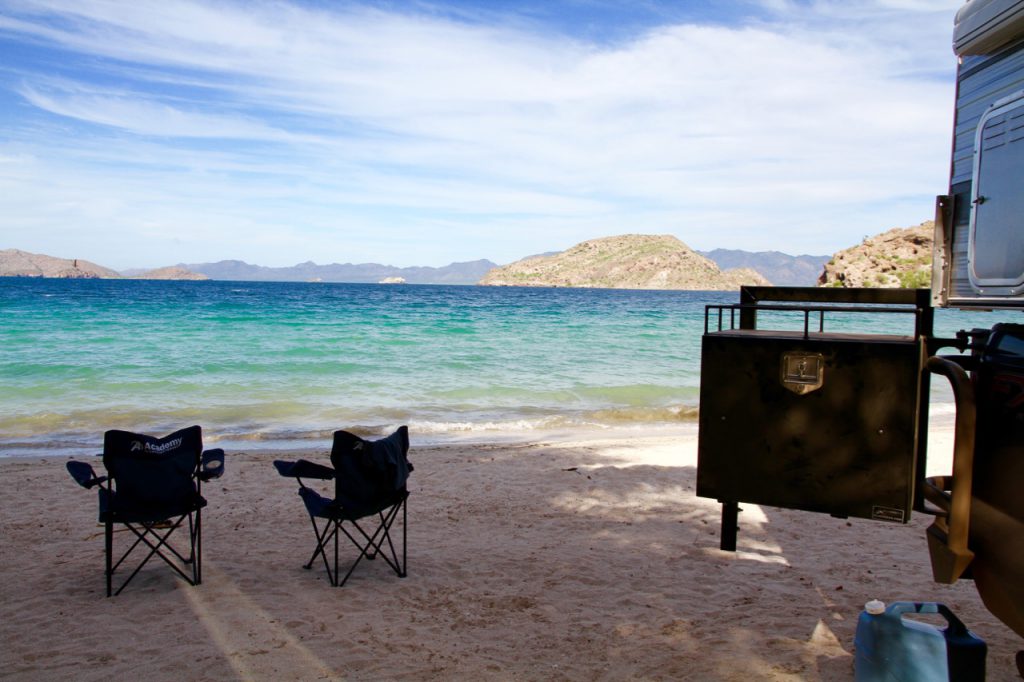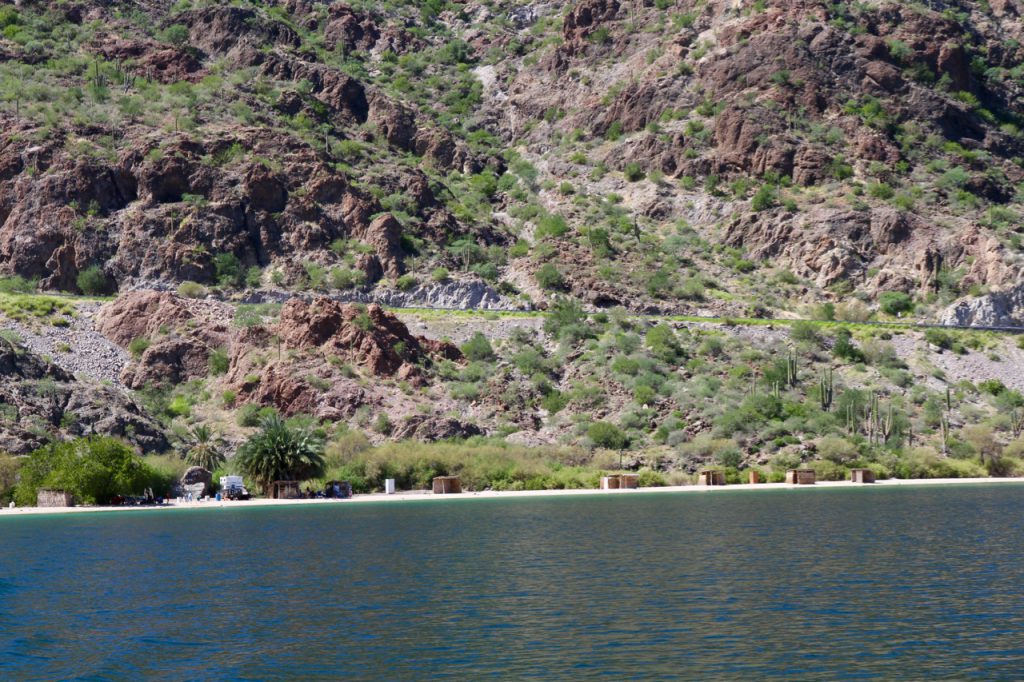 Several rustic palapas line Playa Coyote providing shade to campers and beachgoers.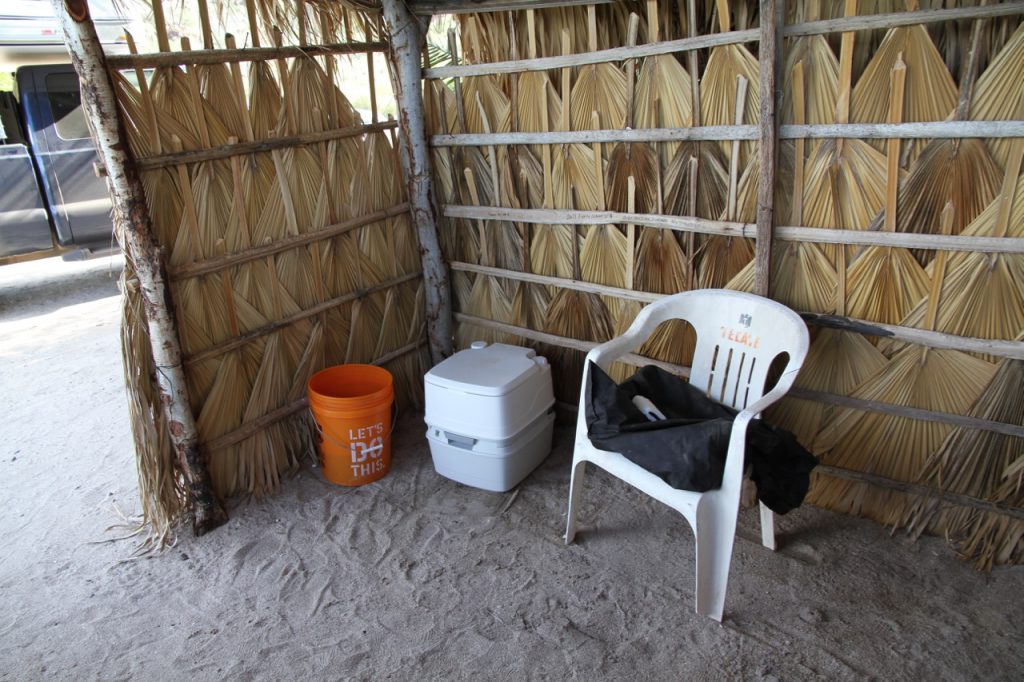 So we moved right in and set up shop.
At one point we were asked if we brought a photocopier / fax machine with us.
…not a photocopier.
…and then some "Overlander" types started to arrive.
First, Warrick from Oz and Iwona de Polonia.
They are on a similar journey heading for South America in their Mitsubishi Montero.
With pop up tent on the roof.
(They are a bit more hard core than we are)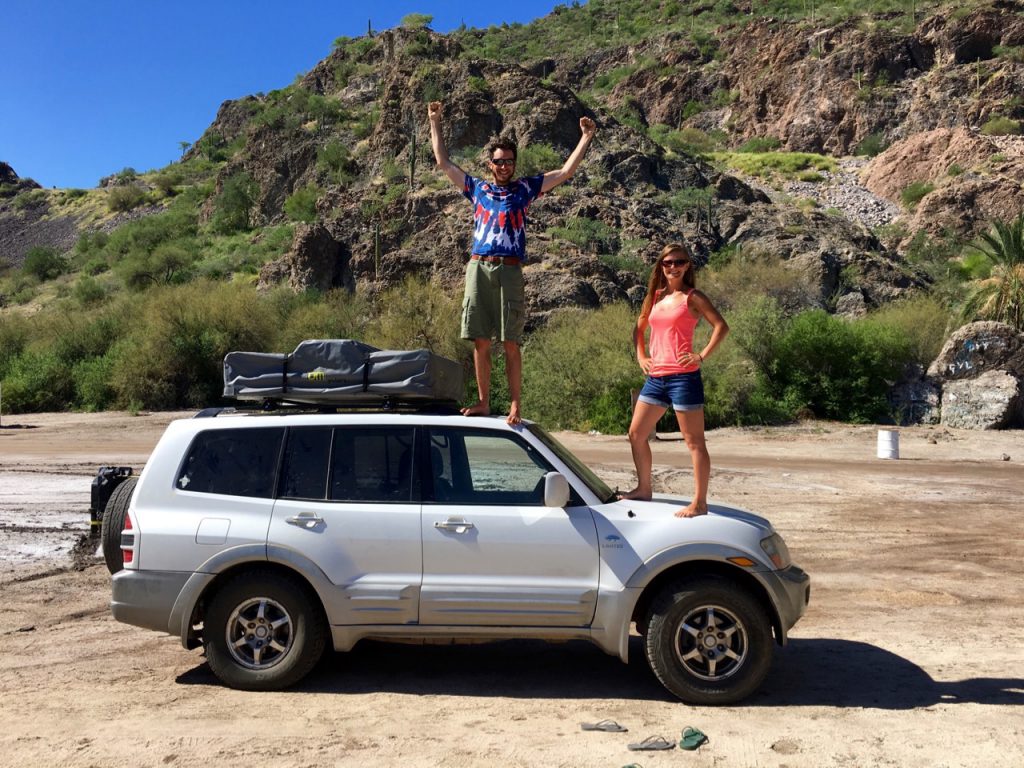 These guys proved to be great fun.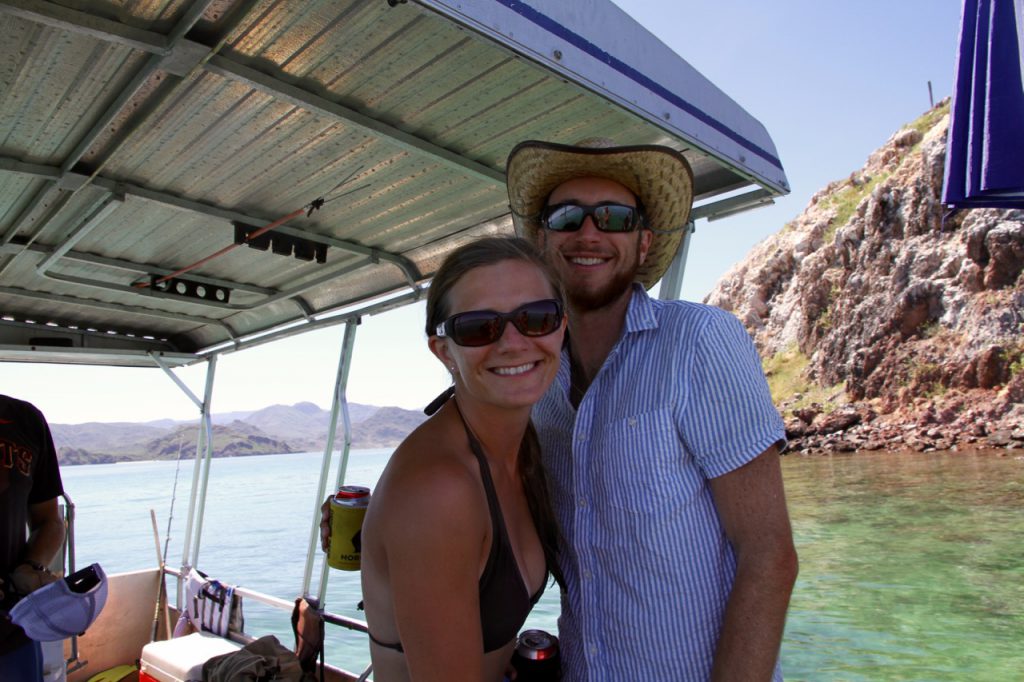 We are definitely looking forward to hooking up with them again further down the Pan American Hwy.
At some point three guys on bicycles arrived on the beach.
These characters (no photo…they moved too fast) are heading for Central and South America by bike.
They are a bit more hard core than Warrick and Iwona.
I guess we could say we are a bit more hard core than some of the RVers in the Flying Flags RV park back in Buellton…maybe.
We bumped into Baja Road trippers Jay and Craig on the Hwy while we were trying to coordinate an afternoon out on a boat with local entrepreneur Juan Carlos.
Six of us had a great day out in the Bahia with Juan Carlos and his son who collected clams and scallops, caught fish and prepared lunch while we swam around chasing whale sharks and lounging in the shallow water.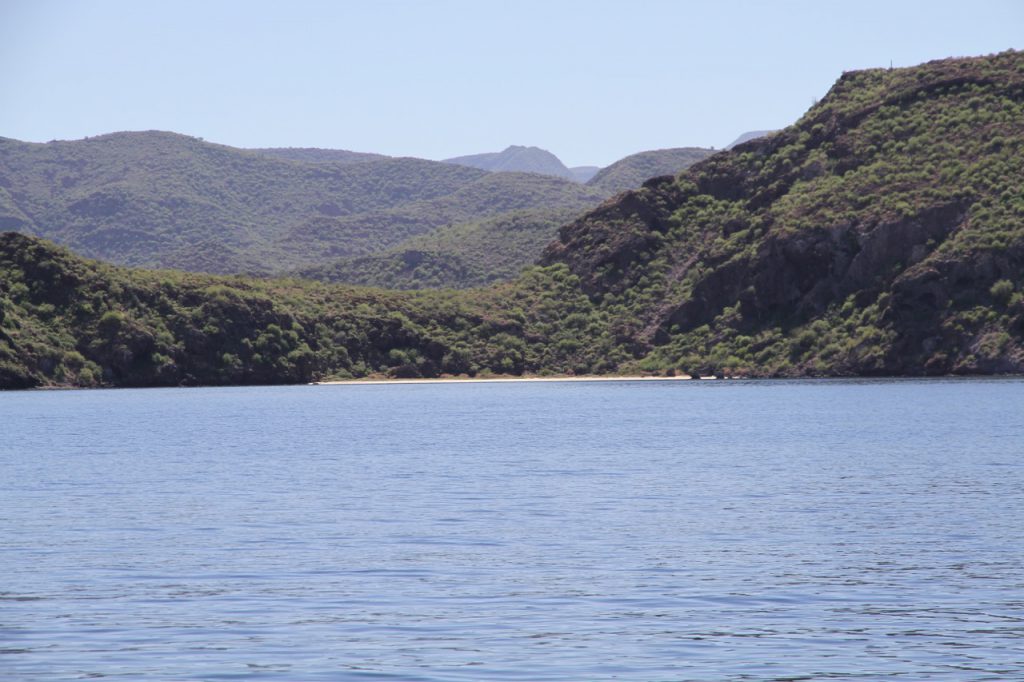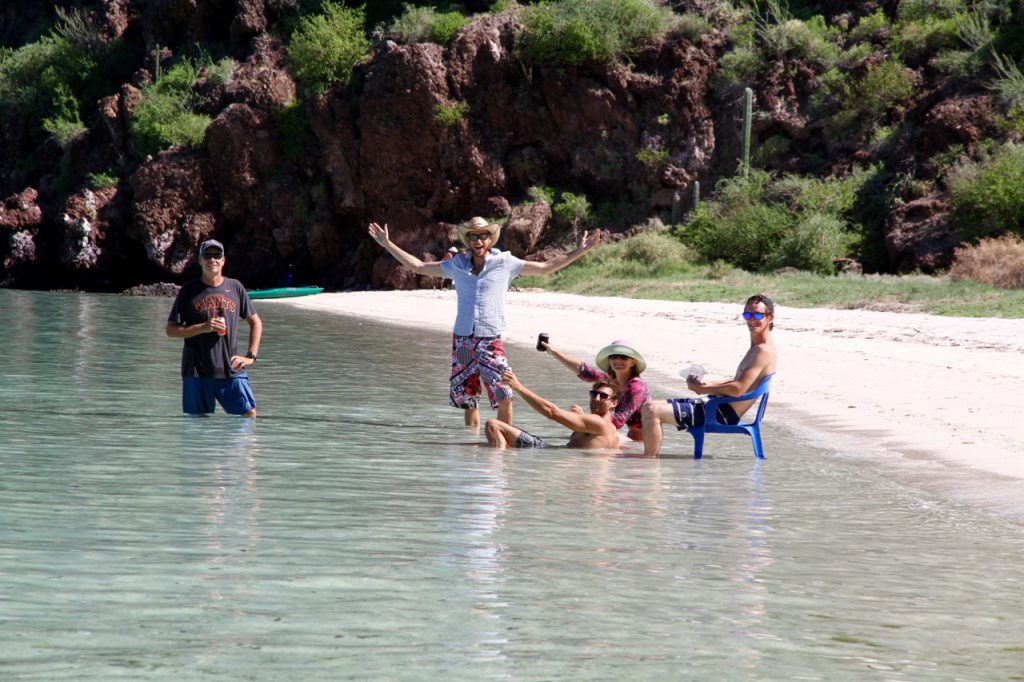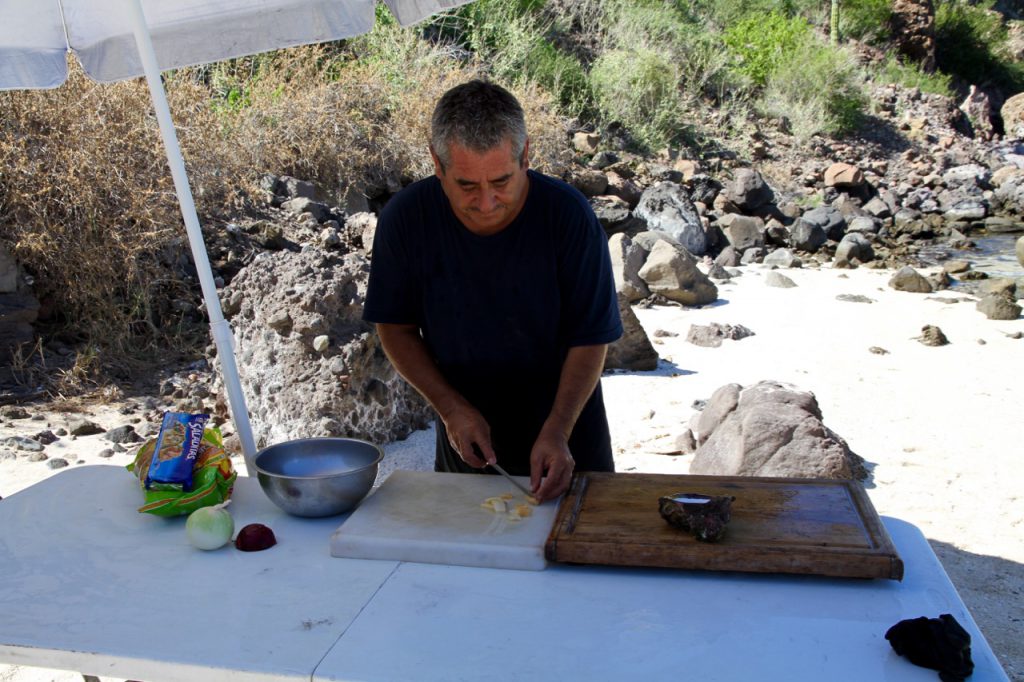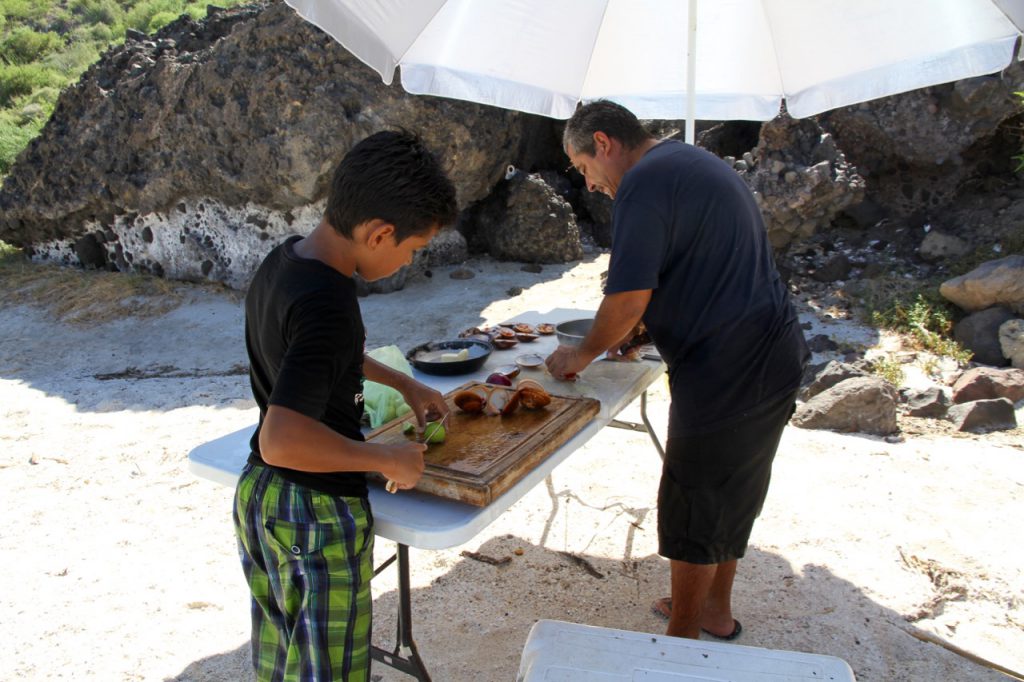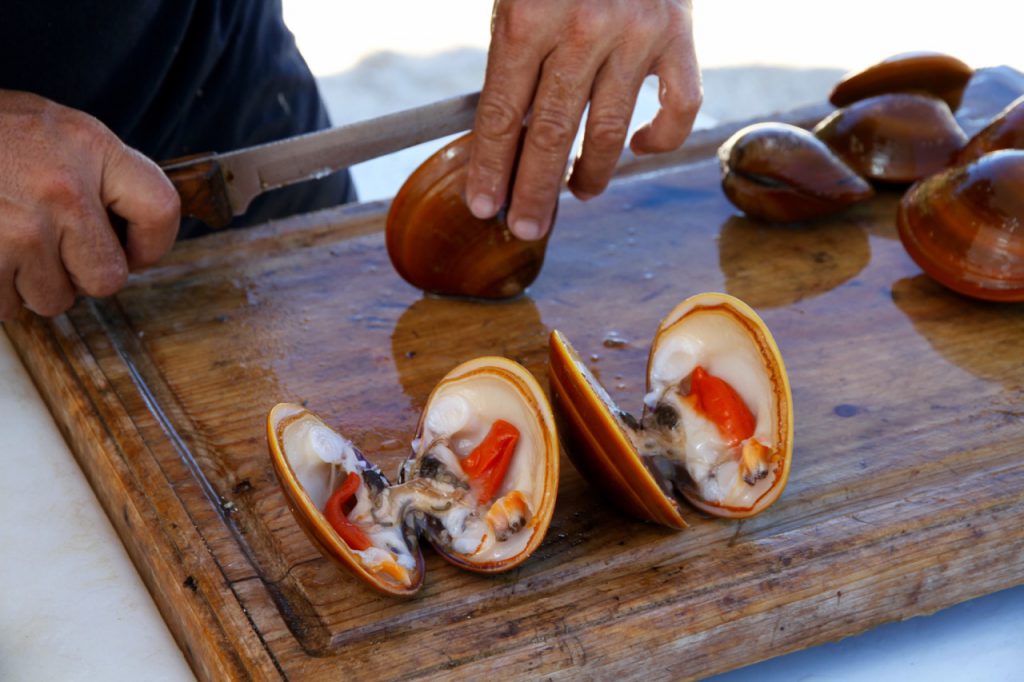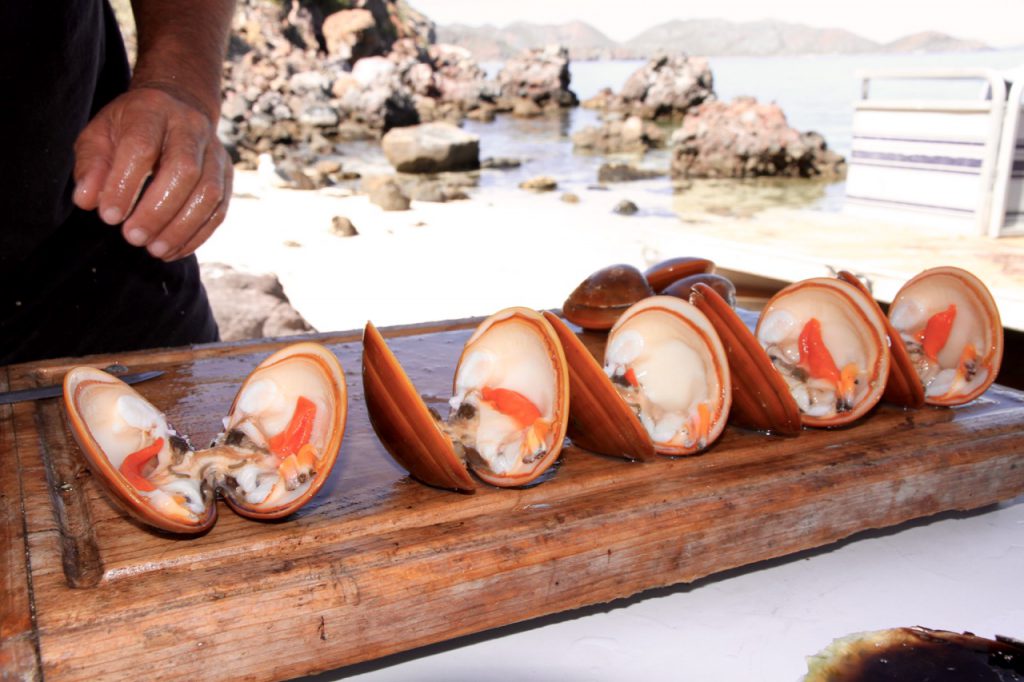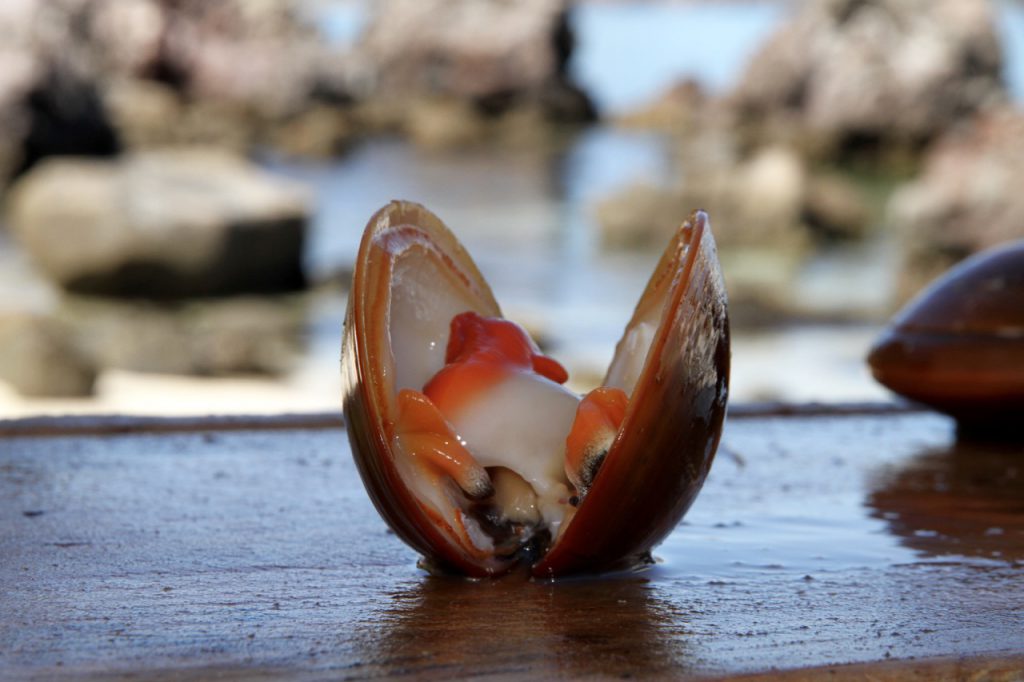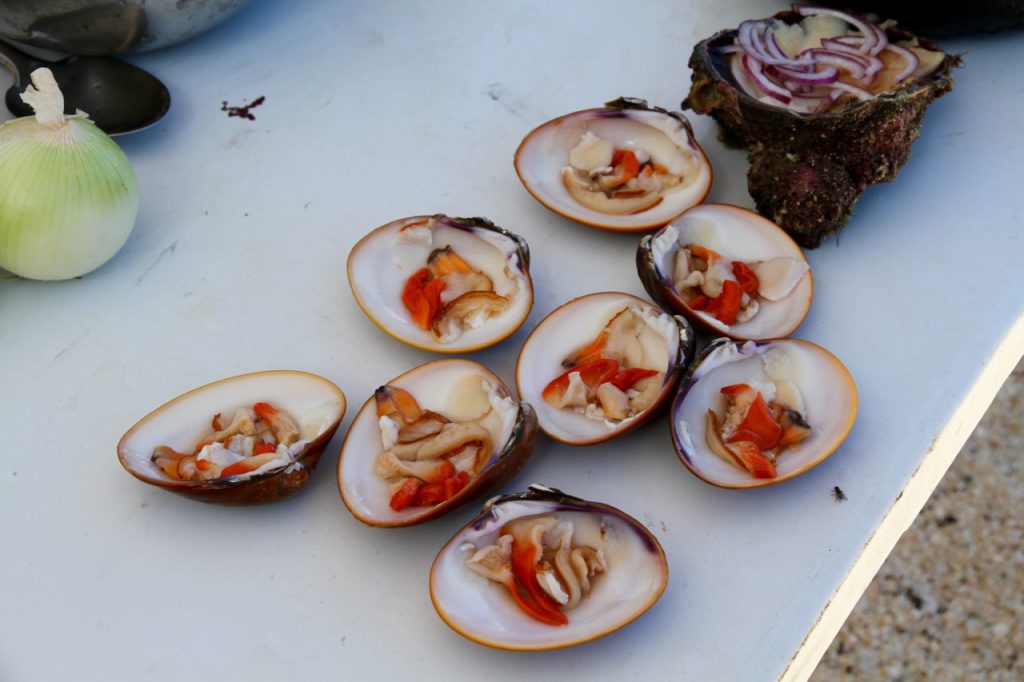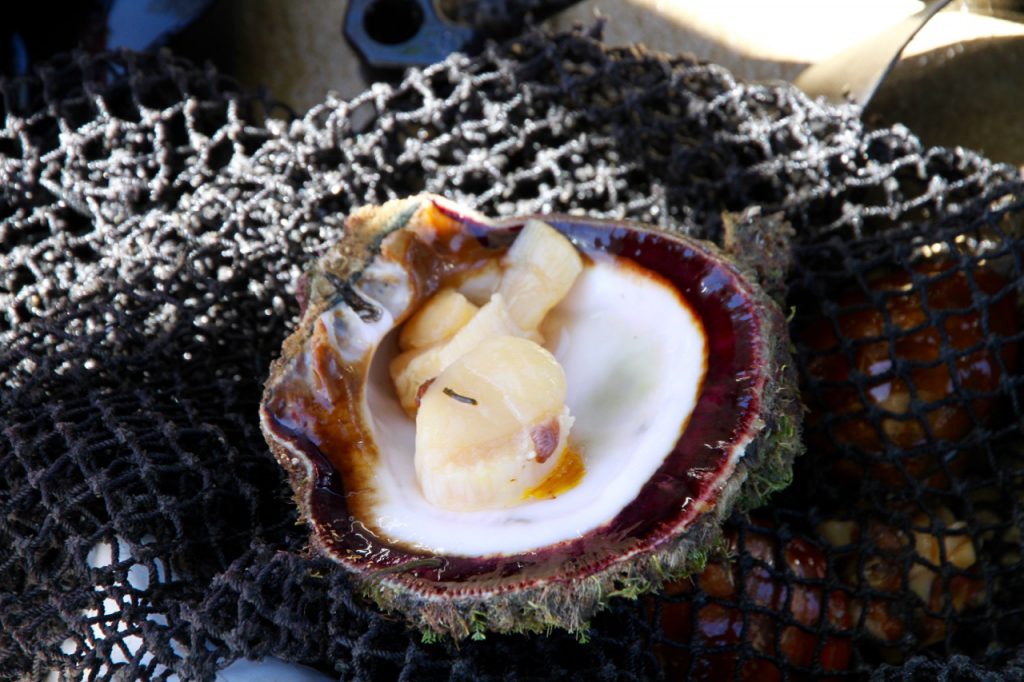 After the 4 hour tour we were returned safely back to JC's beach bar for an evening of Margaritas.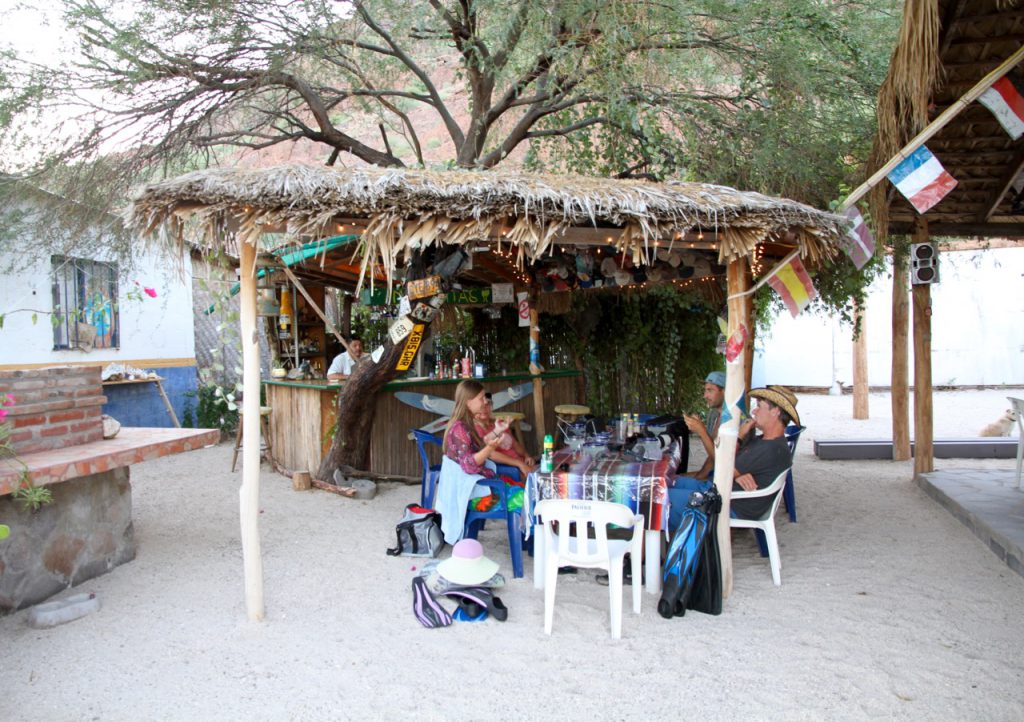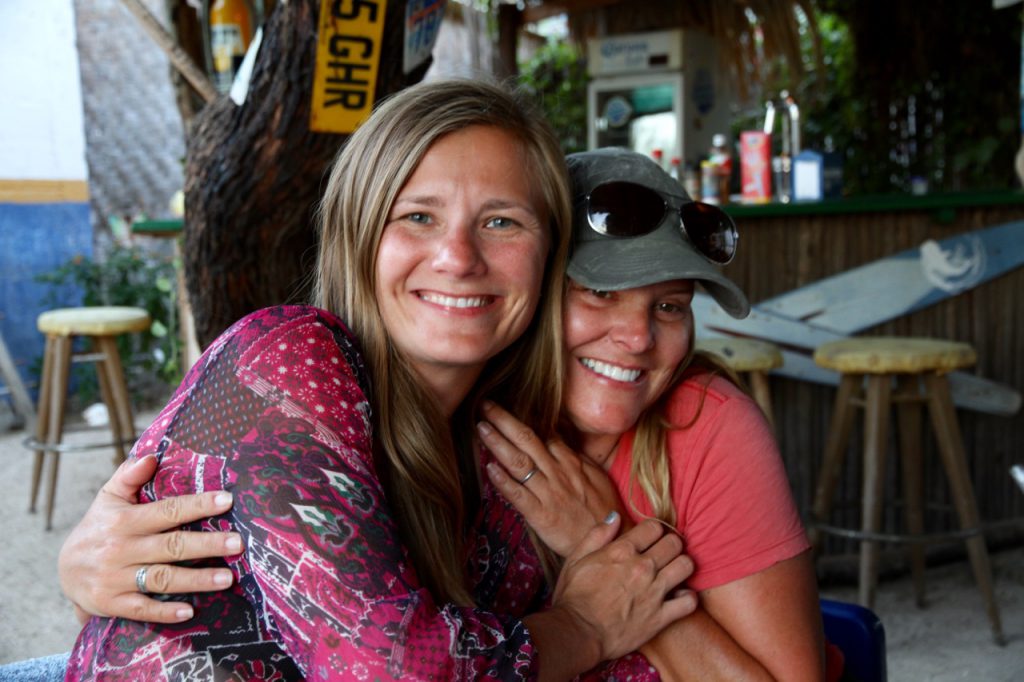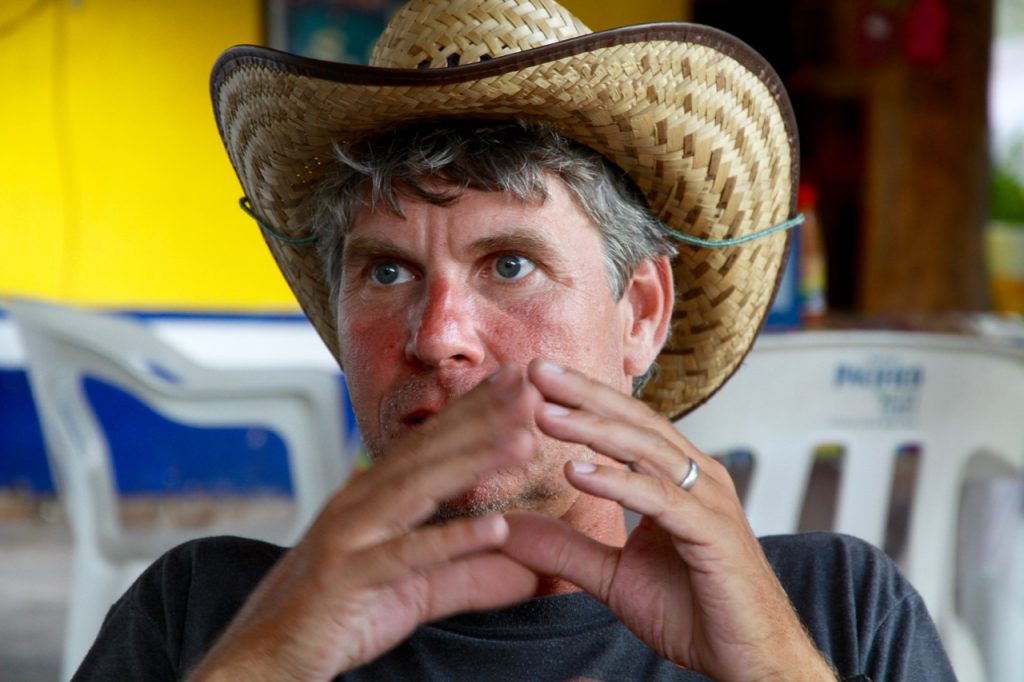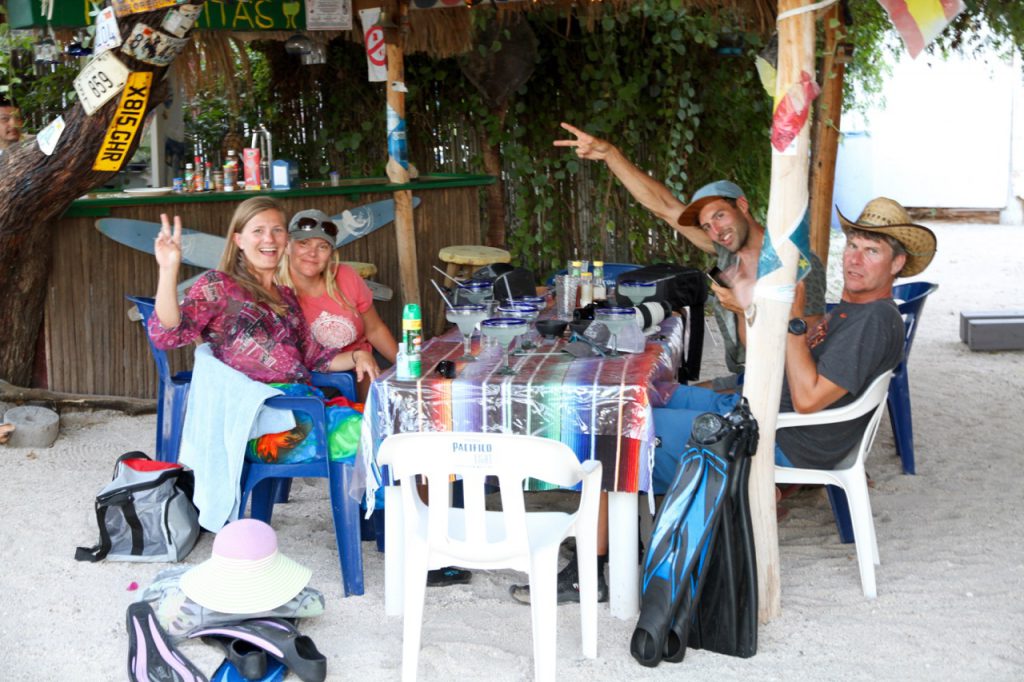 …the next day was very quiet.
I did get invited for a ceviche lunch by a nice Mexican family who were spending their Sunday on the beach.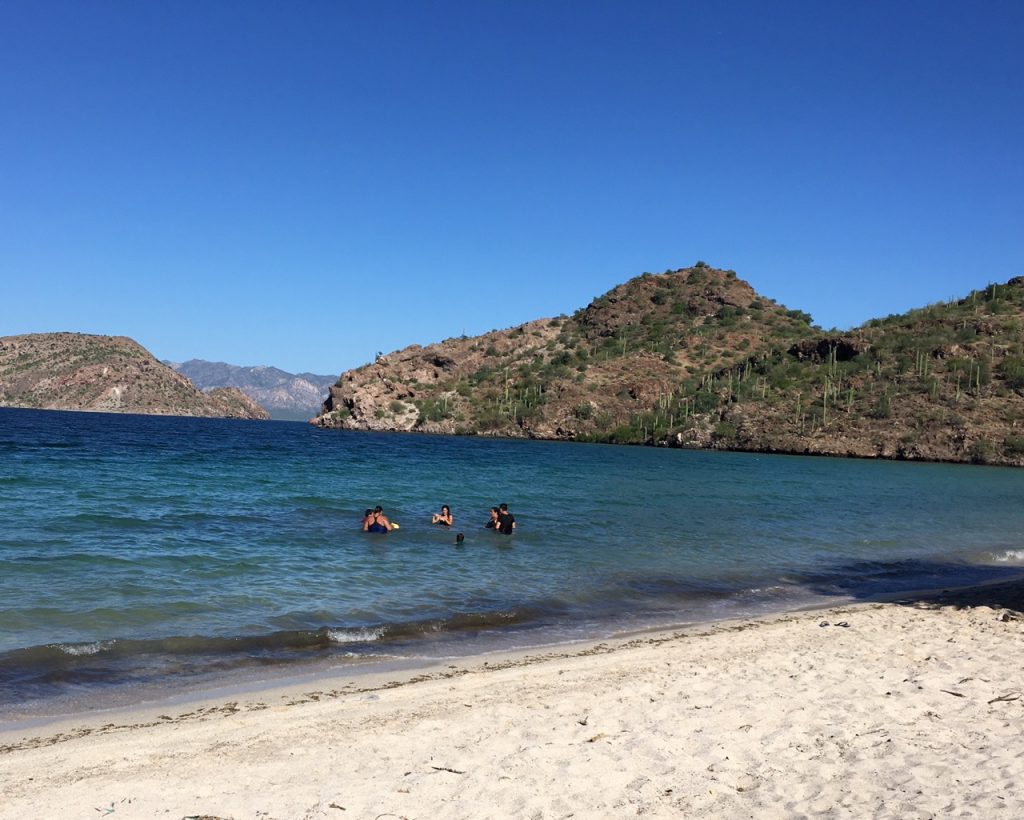 …Sam stayed in bed…until the ice cream truck showed up….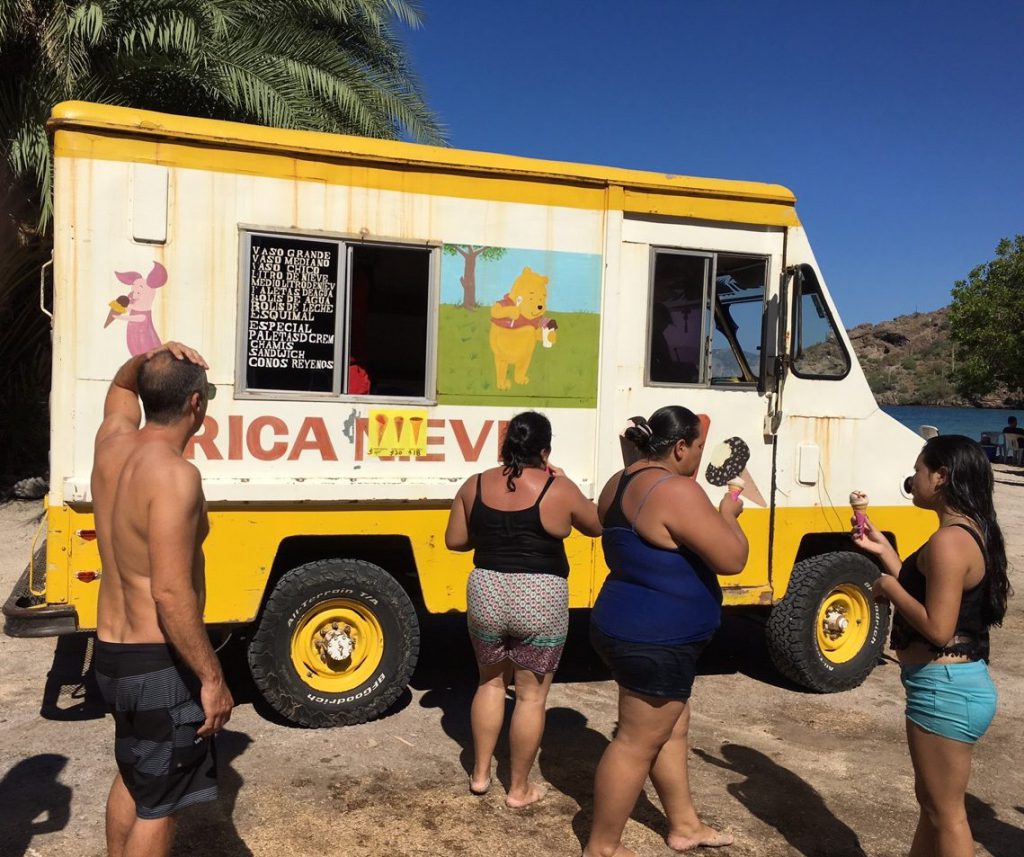 We got the sense that days could easily turn into weeks on Playa Coyote if we didn't get moving so the next day we packed up and hit the hwy again.
We're bound for Loreto and a taste of small Baja city life and some diving.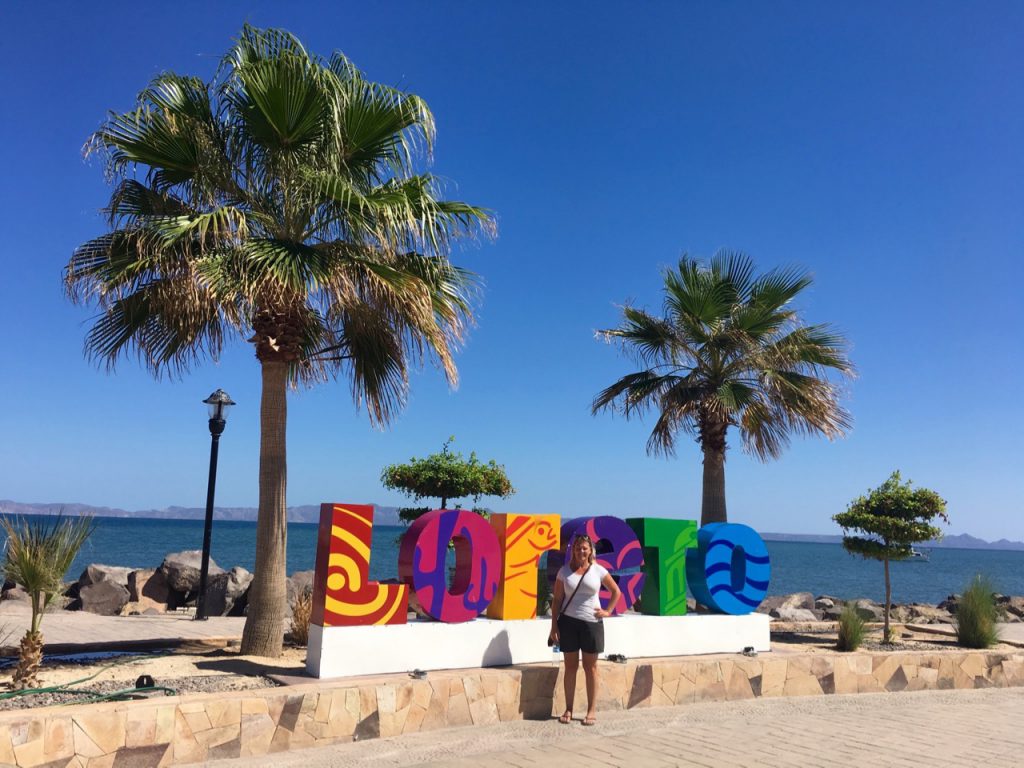 Loreto is a picturesque town of about 15,000 people, with a 17th Century Church and the Bahia de Loreto National Marine Park.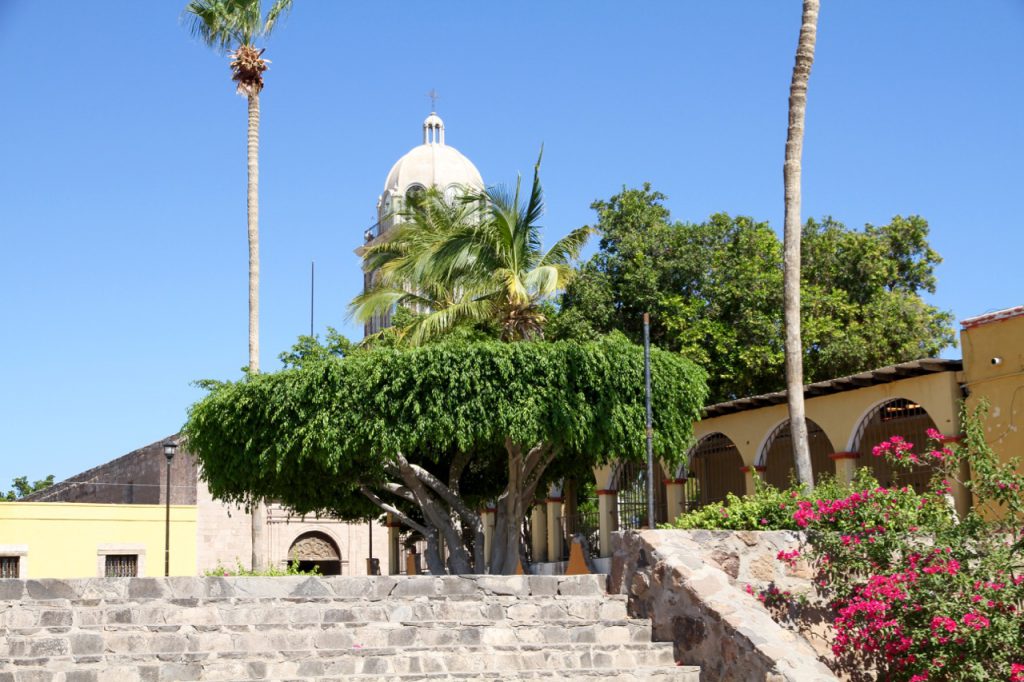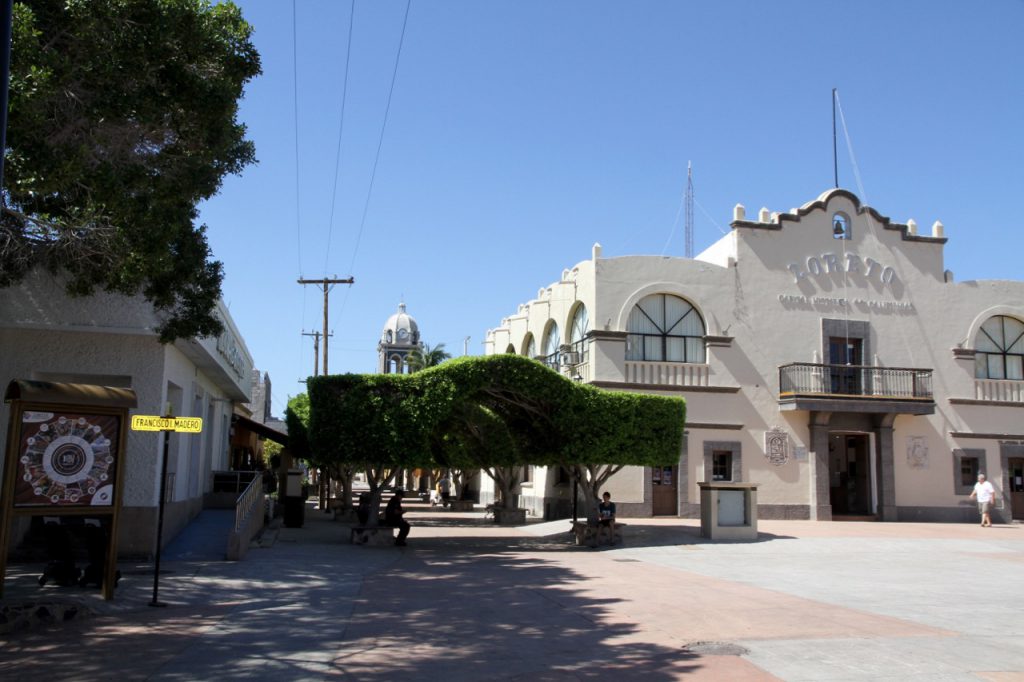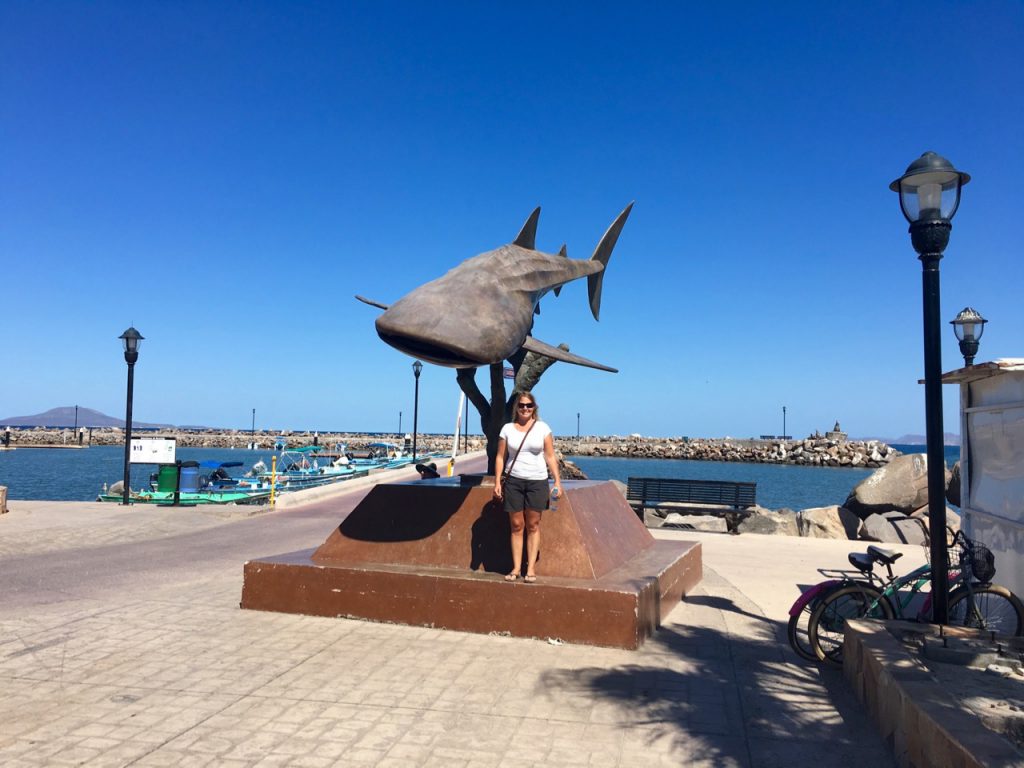 Diving was great fun and included a dive with a sea lion colony.
Click here to watch Don's seal dive video.
The baby sea lions and their adolescent brothers and sisters joined us for the entire dive.
Probably a good thing the 2500 lb seniors stayed up at the surface only keeping a watchful eye.
More great food was consumed in Loreto. El Ray Del Taco has the BEST Baja tacos in the entire Baja (thanks Warrick and Iwona!)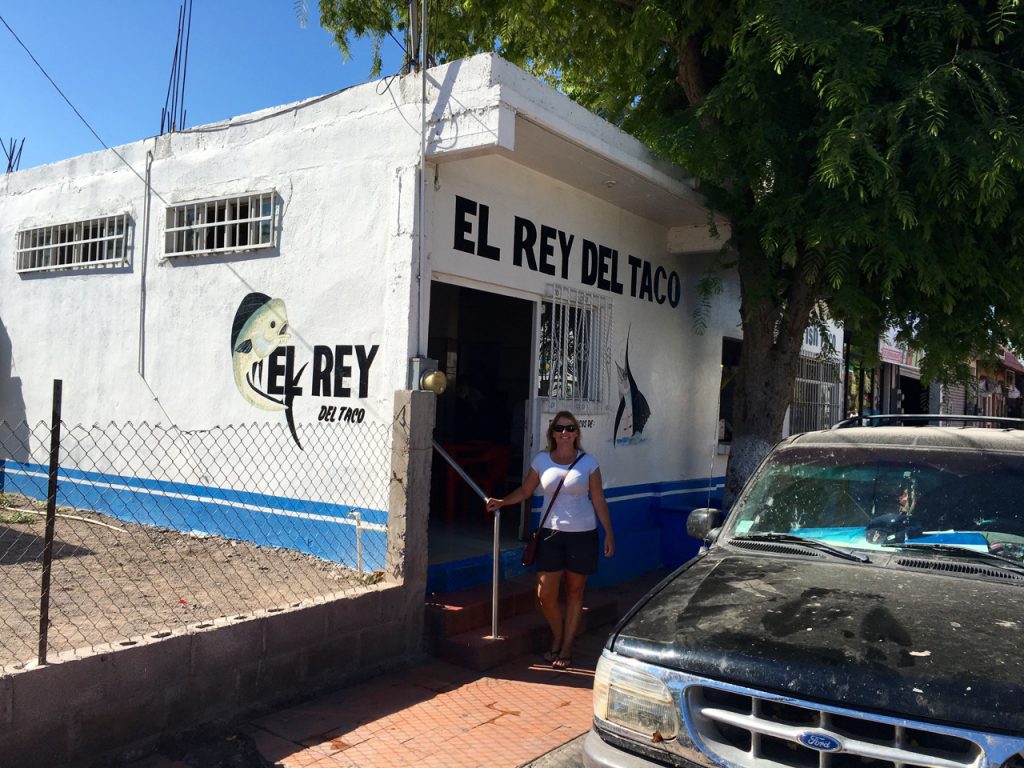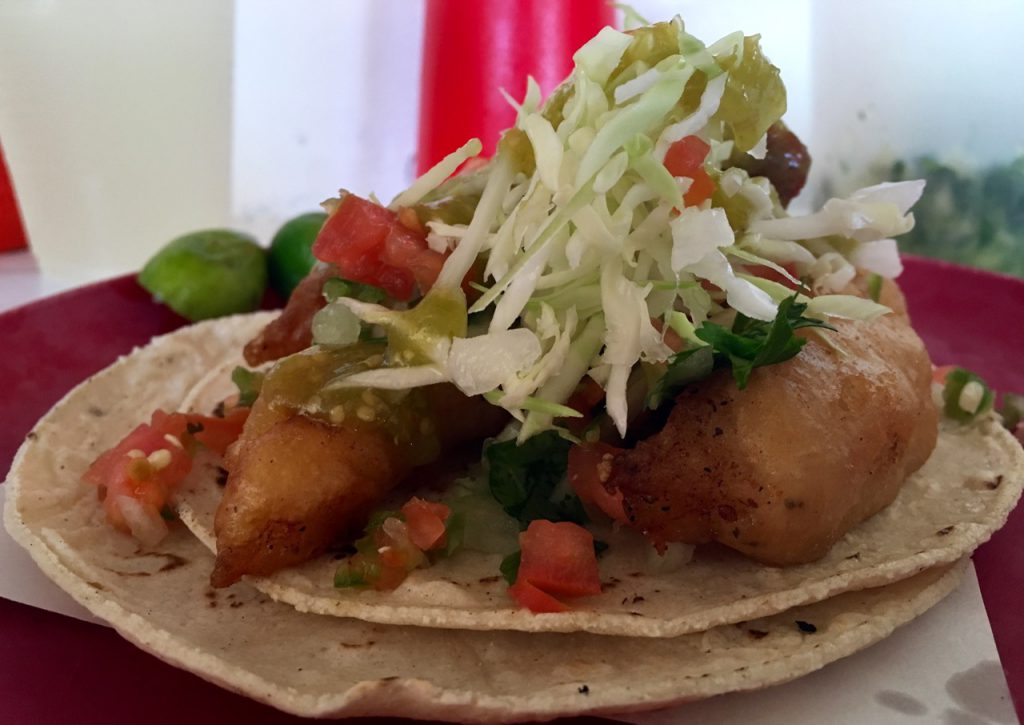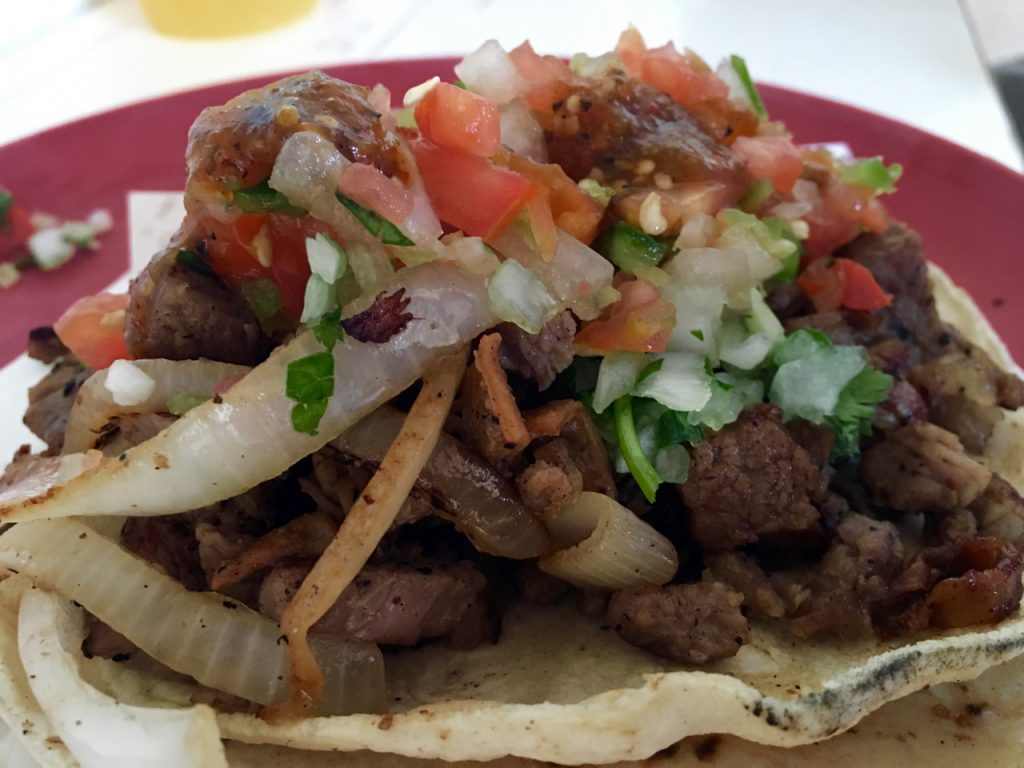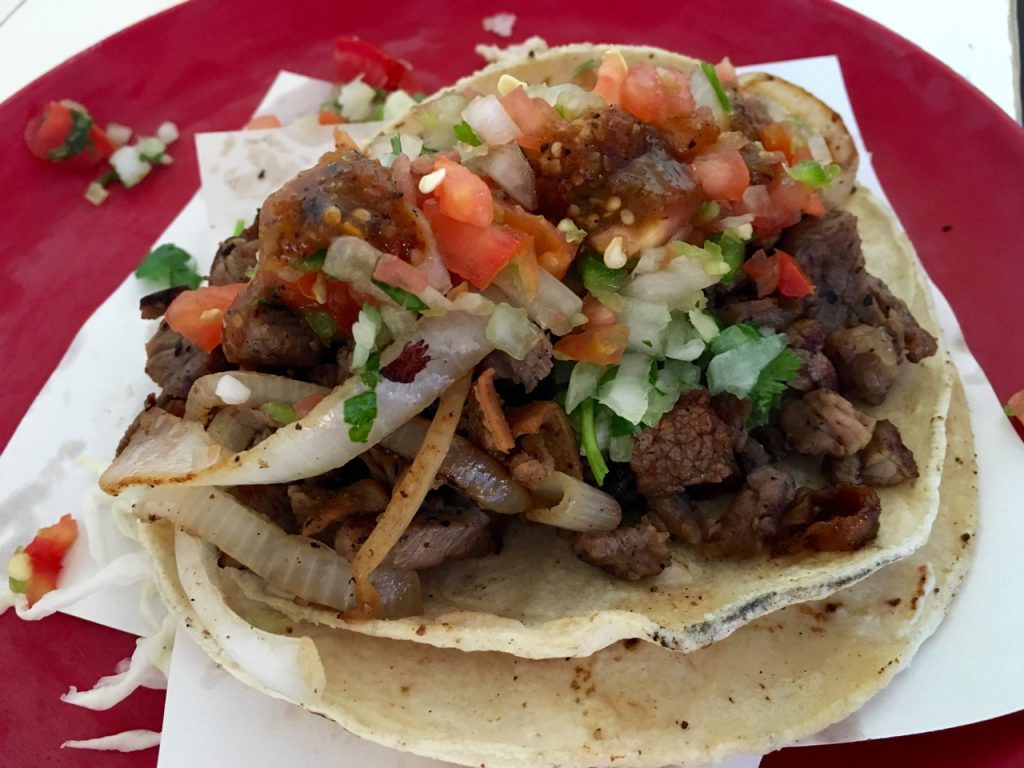 Including the first Tacos Cabeza de Rez (cow's head) of the trip……Muy Sabrosa!
A quick stop in La Paz was next to get some Ferry info for the trip to the mainland planned for the end of October and then on to the East Cape and the Cabo Pulmo National Marine Park.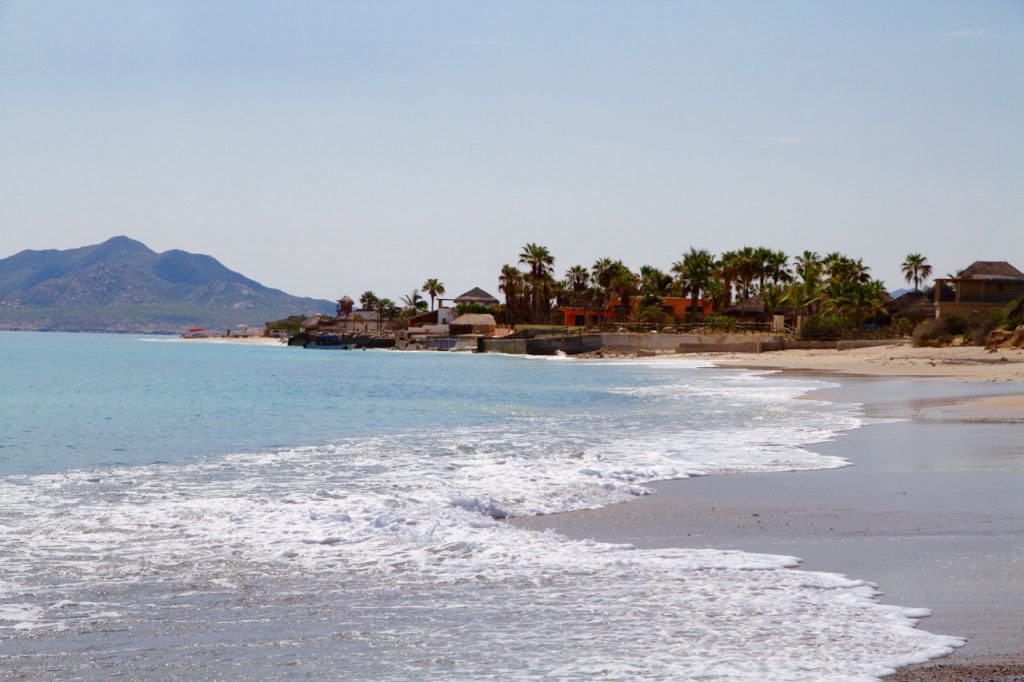 Finally in Cabo Pulmo ….beautiful!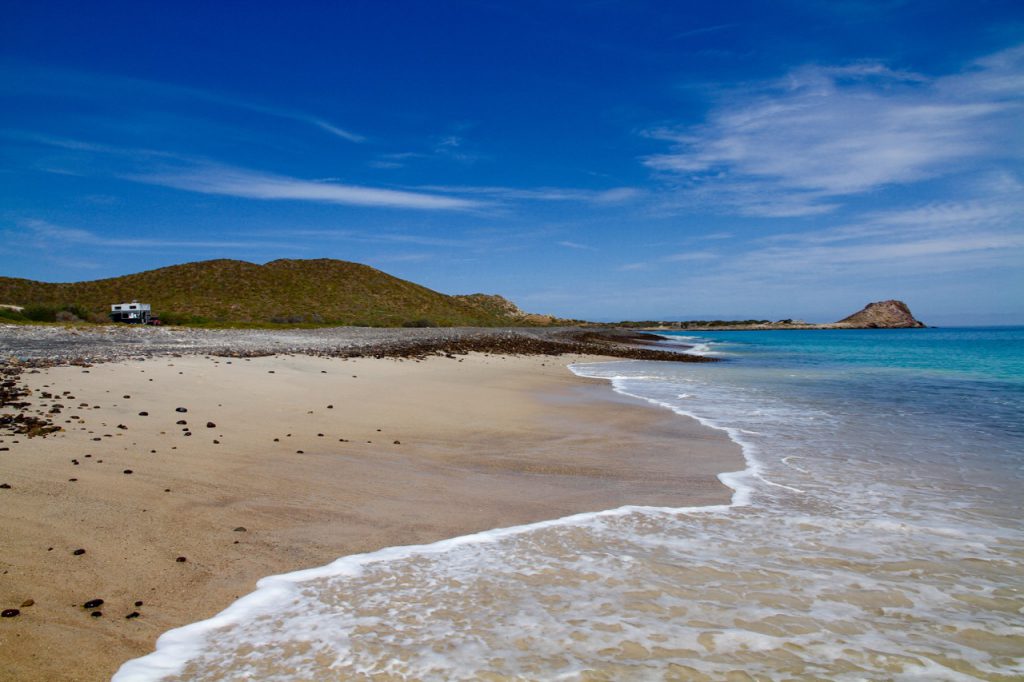 A great camp spot…again all to ourselves.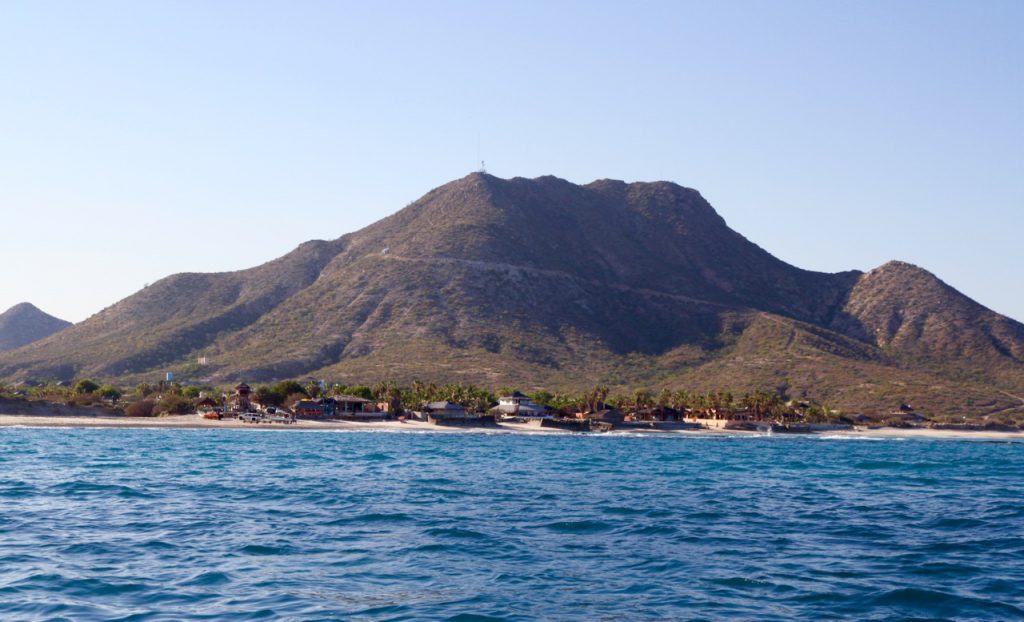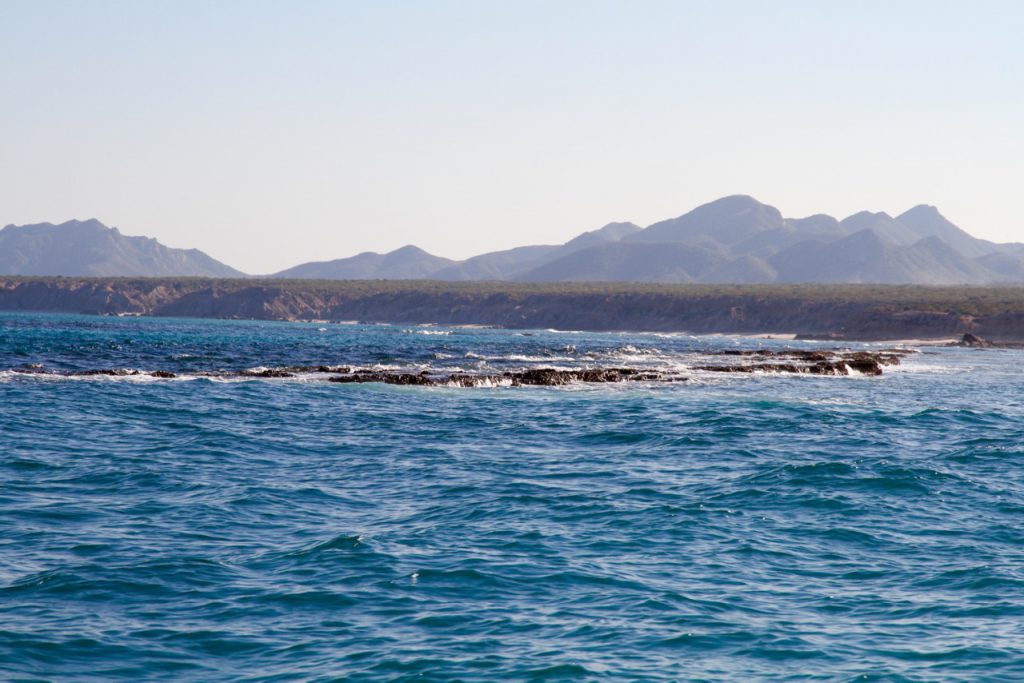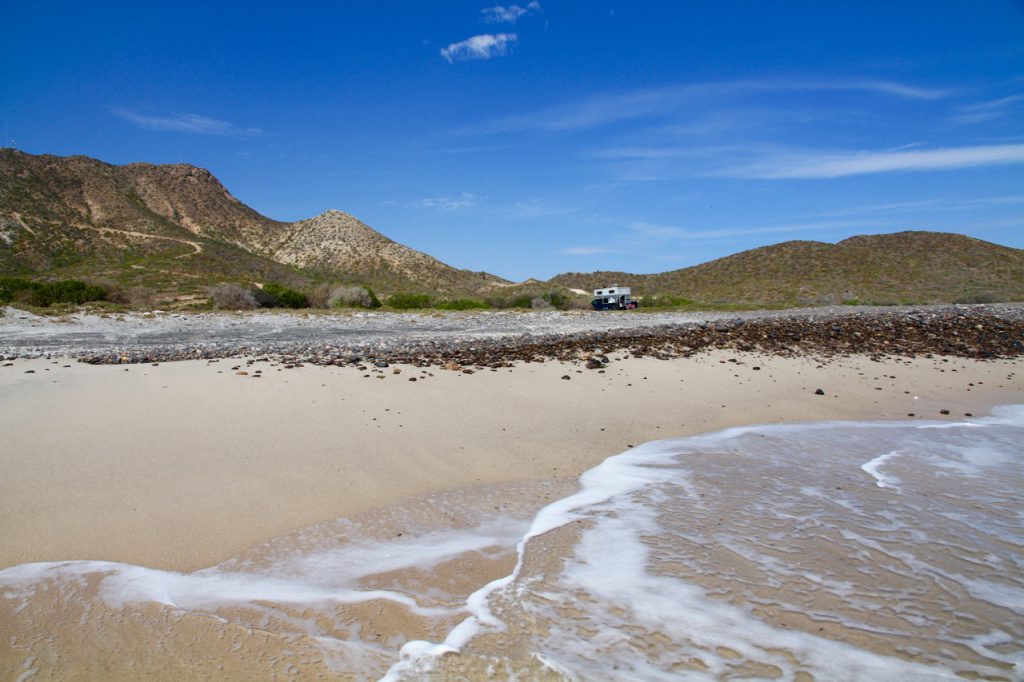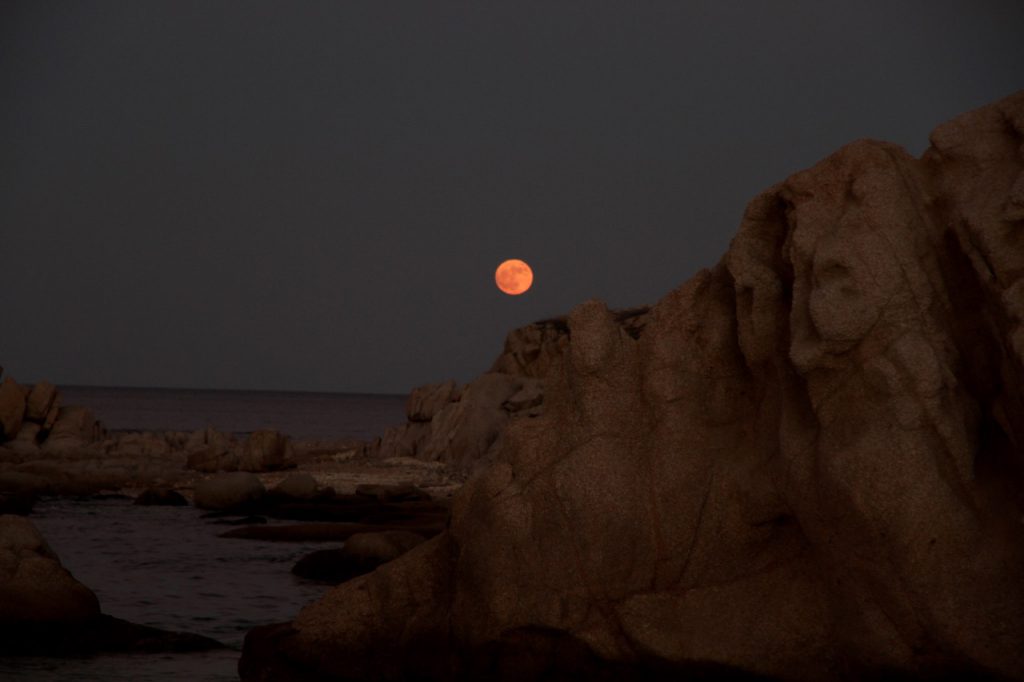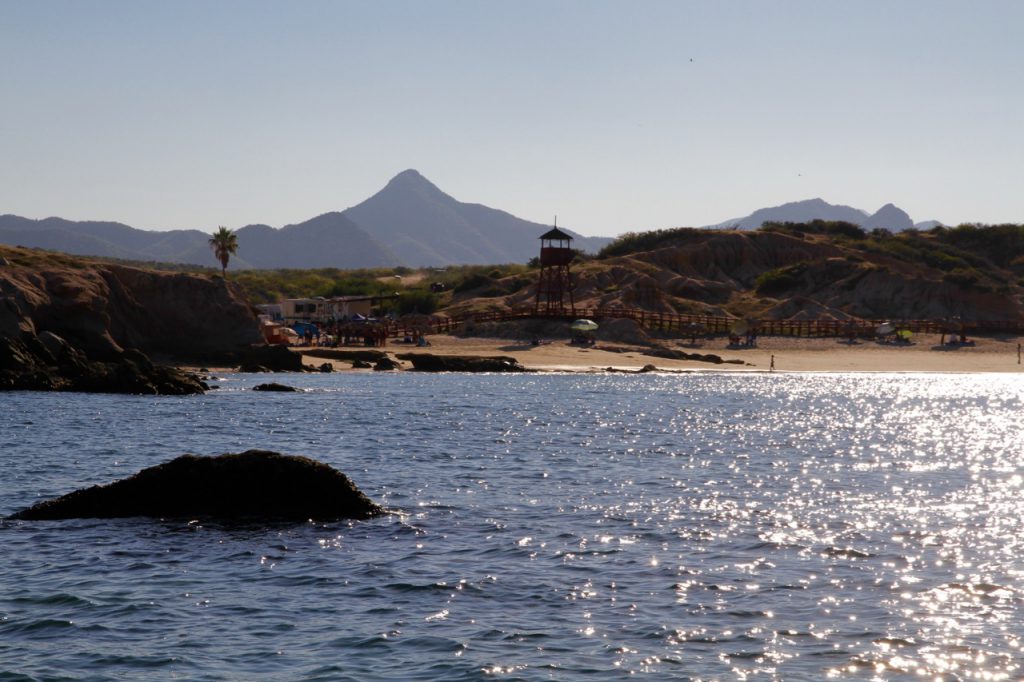 The Diving in Cabo Pulmo was some of the best we have seen in 15 years.
Huge baitballs of Jacks, schools of Mobula rays and tons of fish, all with no fear of divers.
It was getting time for Mom to come to town for a visit so we made our last push south to the bottom of the Baja and San Jose del Cabo.
Elaine rolled in to town and we had a great time, lounging around the pool at the hacienda style Hotel Tropicana, road trips to Todos Santos and Playa Santa Maria and simply eating our way around town.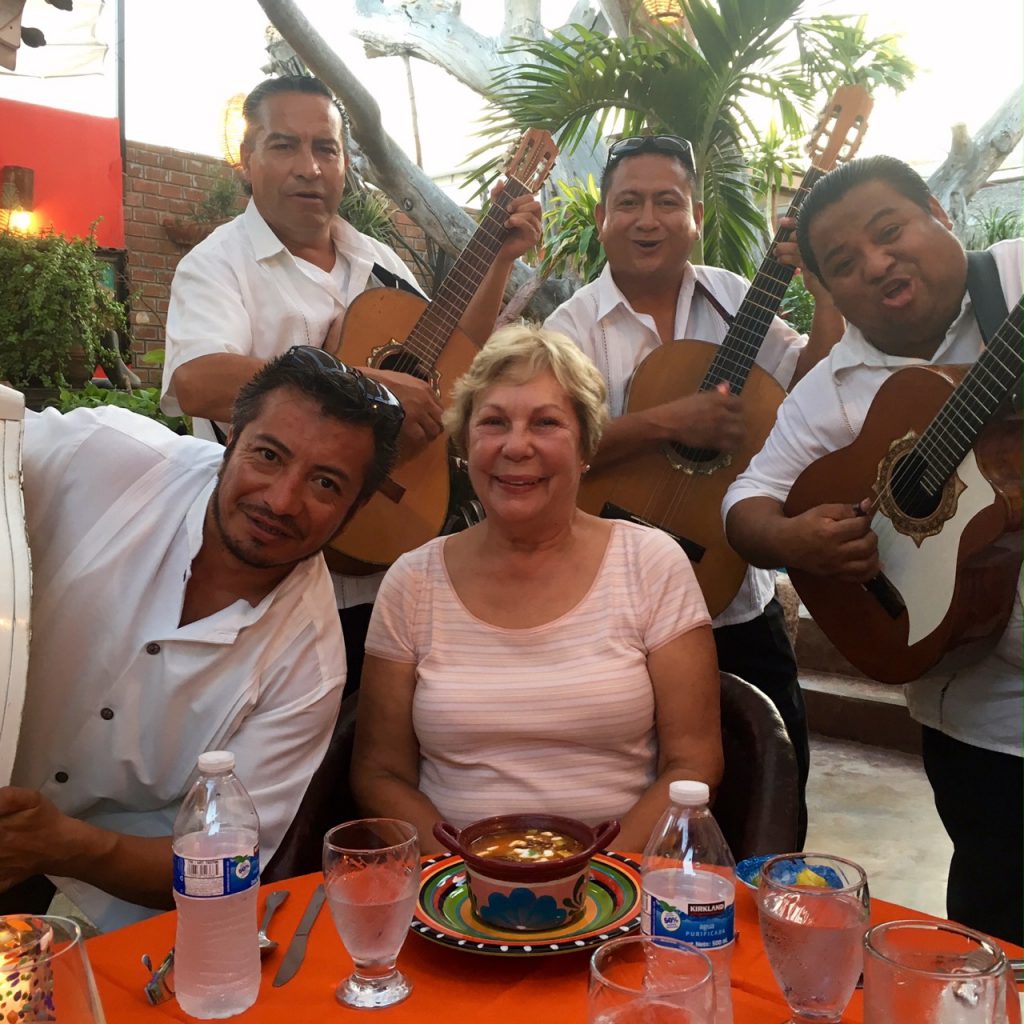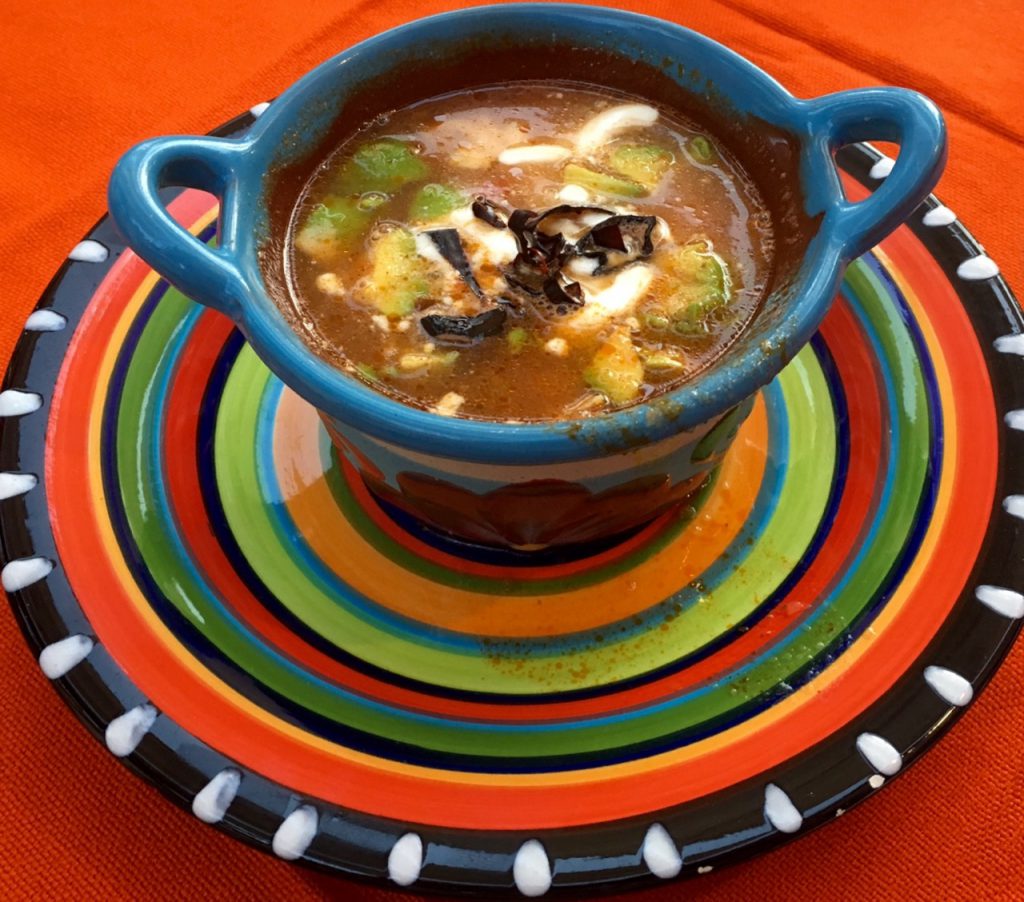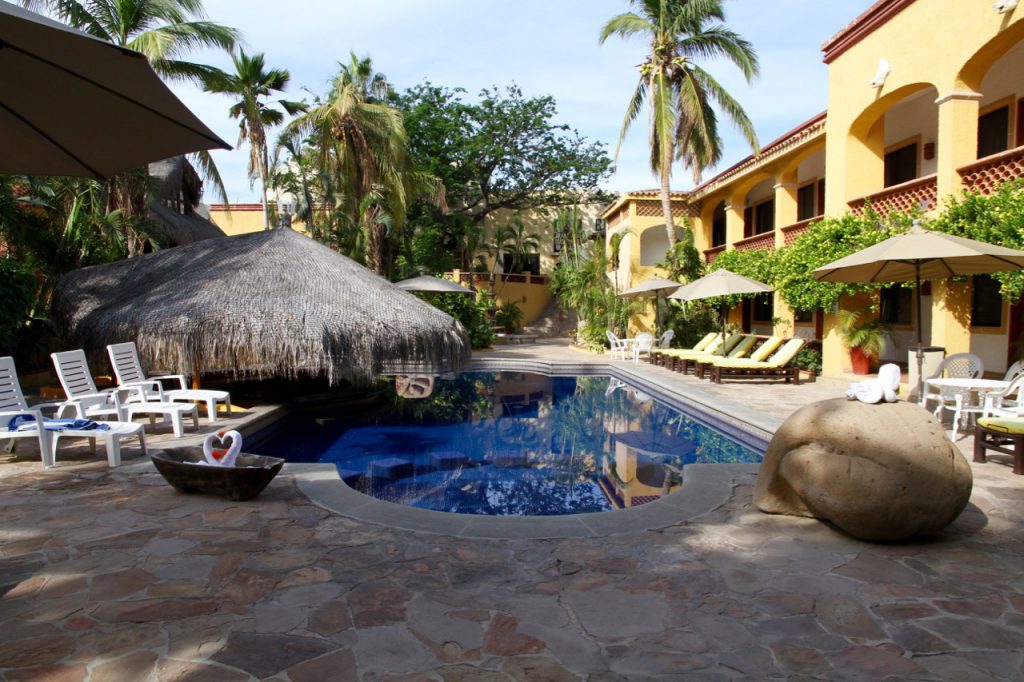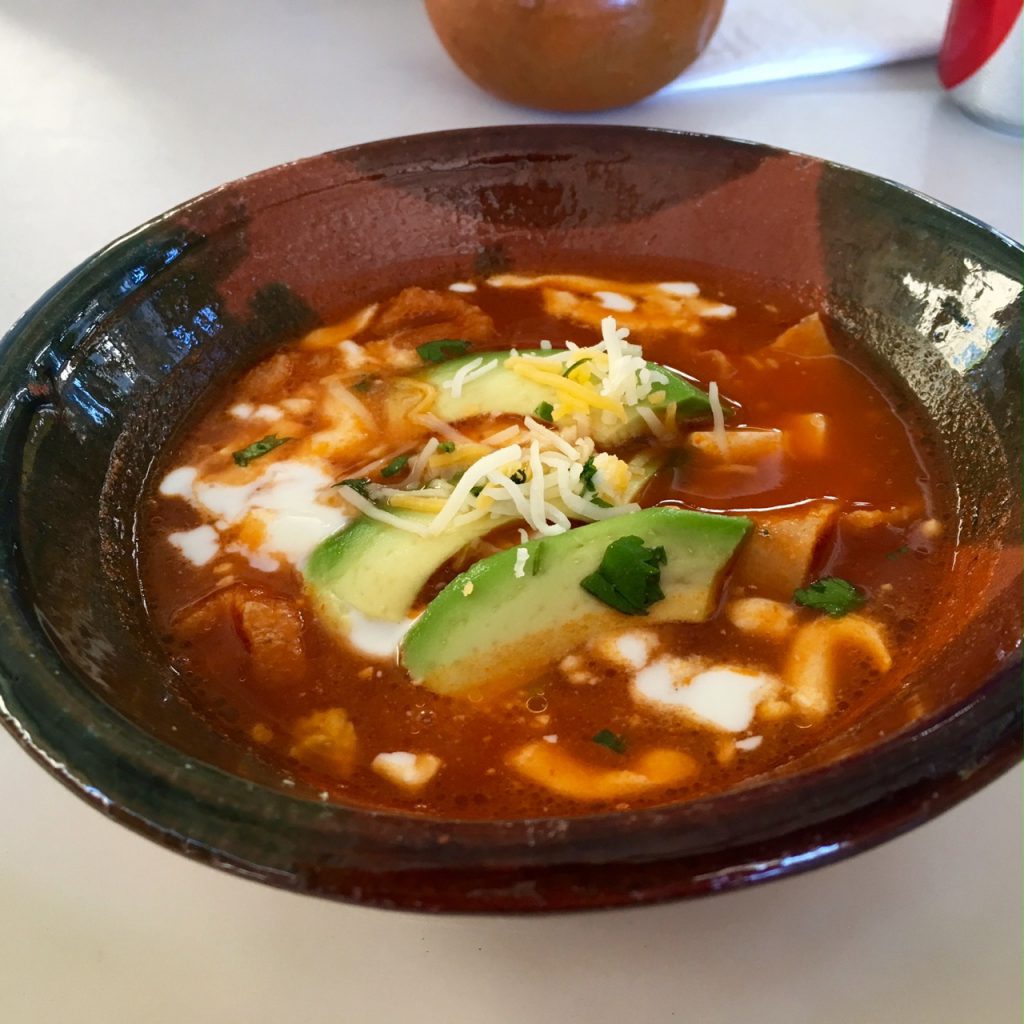 Can never get enough Sopa de Tortilla.
Below are the "Anger" Torta and the "Anger" Quezuelada tacos from Las Cazuelas Del Don  in San Jose Del Cabo.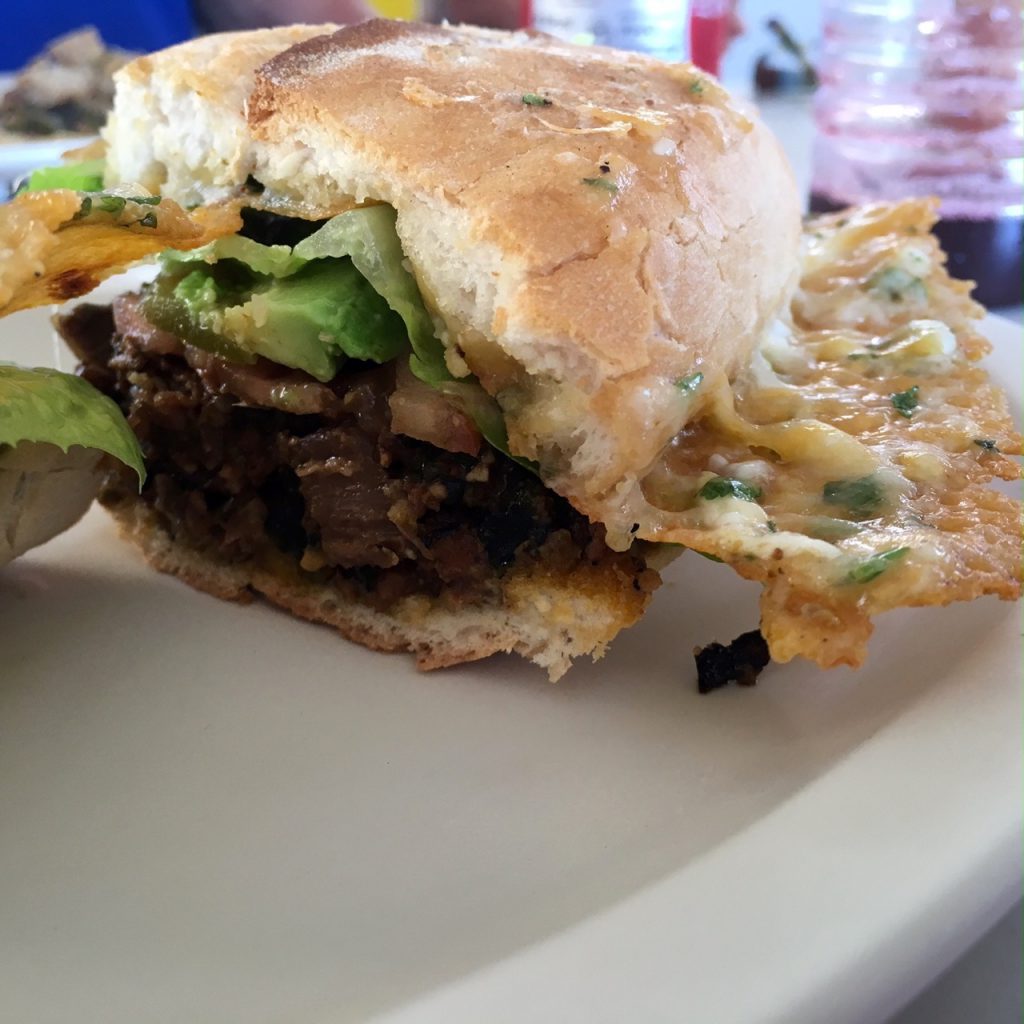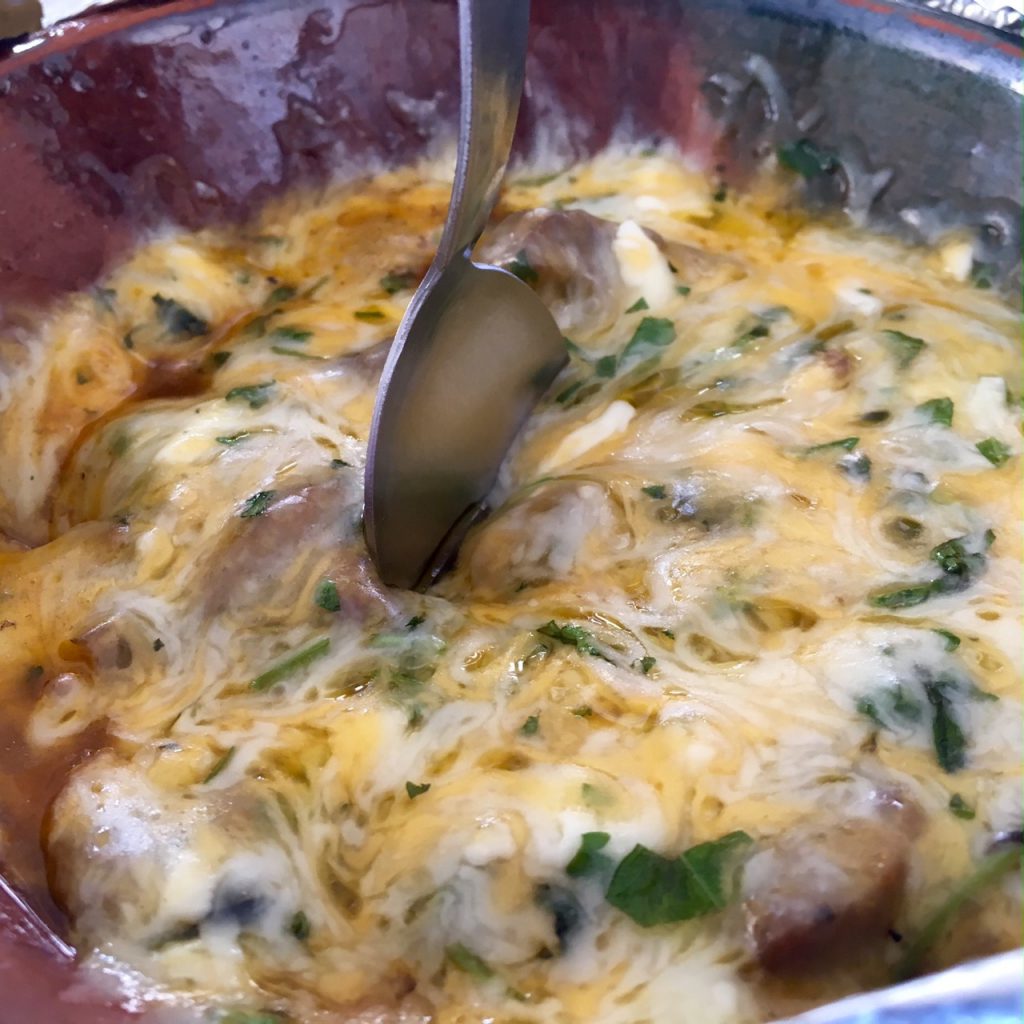 So after being spoiled with sit down restaurant meals, hot showers and flush toilets for a week we dropped Mom back off the airport and headed back North to catch the ferry in La Paz and our next chapter on the Mexican mainland beginning in Mazatlan.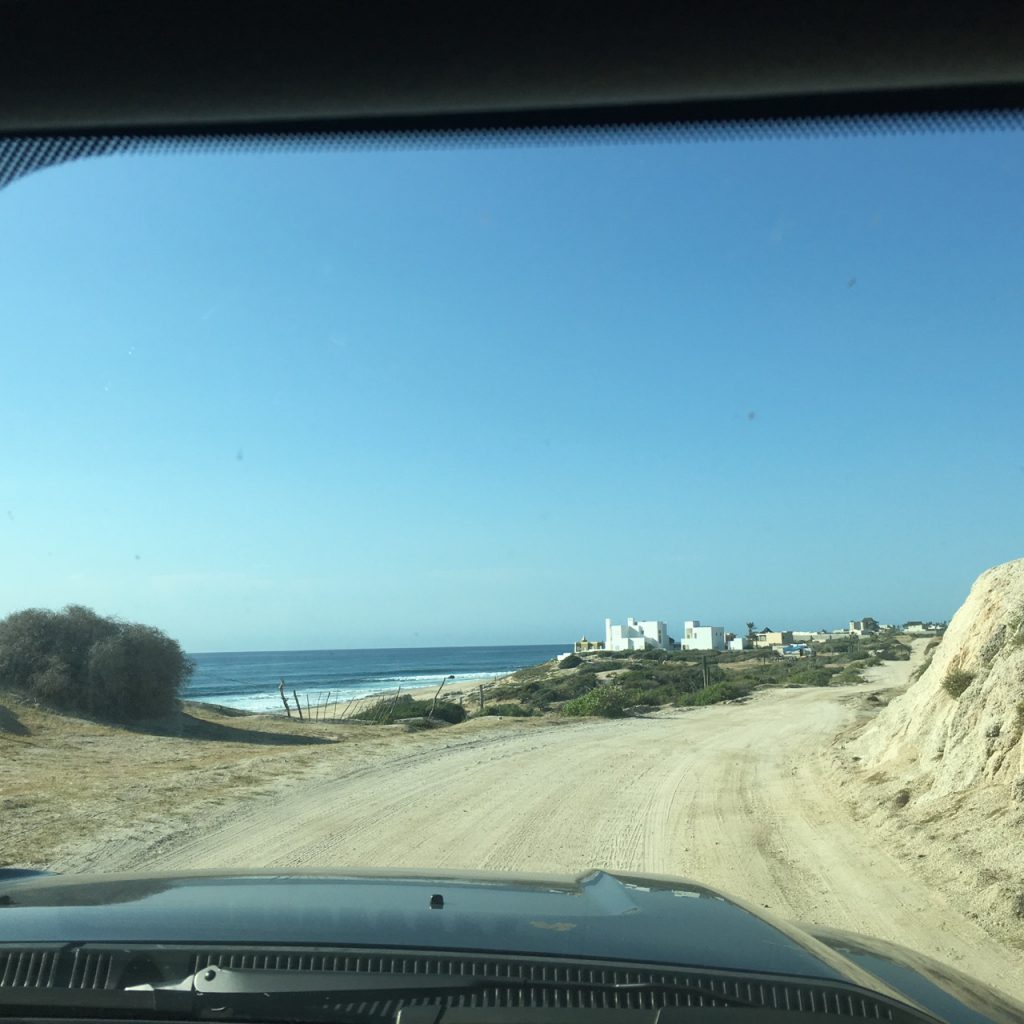 …and we needed to stock up on flour tortillas as we will be switching to corn once on the mainland.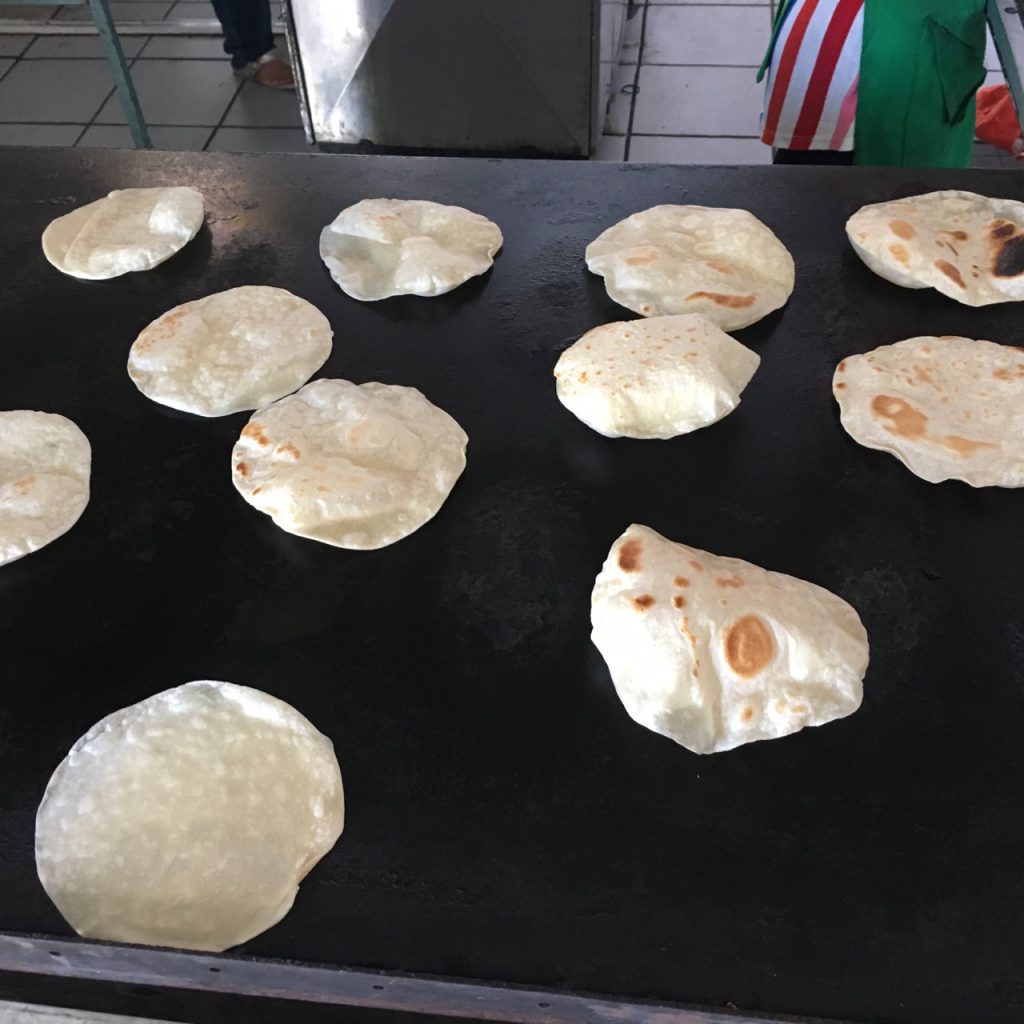 Then we had to stop for a beef Torta for lunch.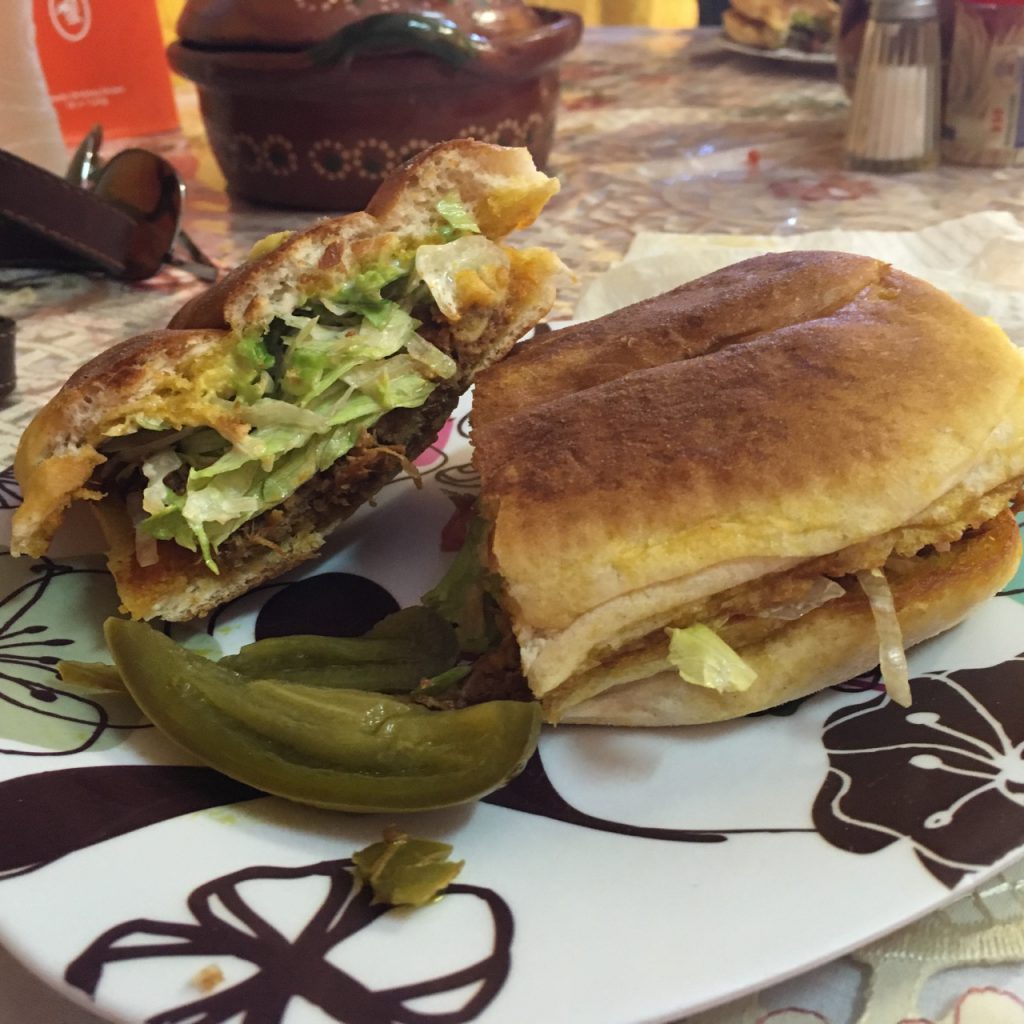 We took a stroll on the Malecon lined with beautiful sculptures.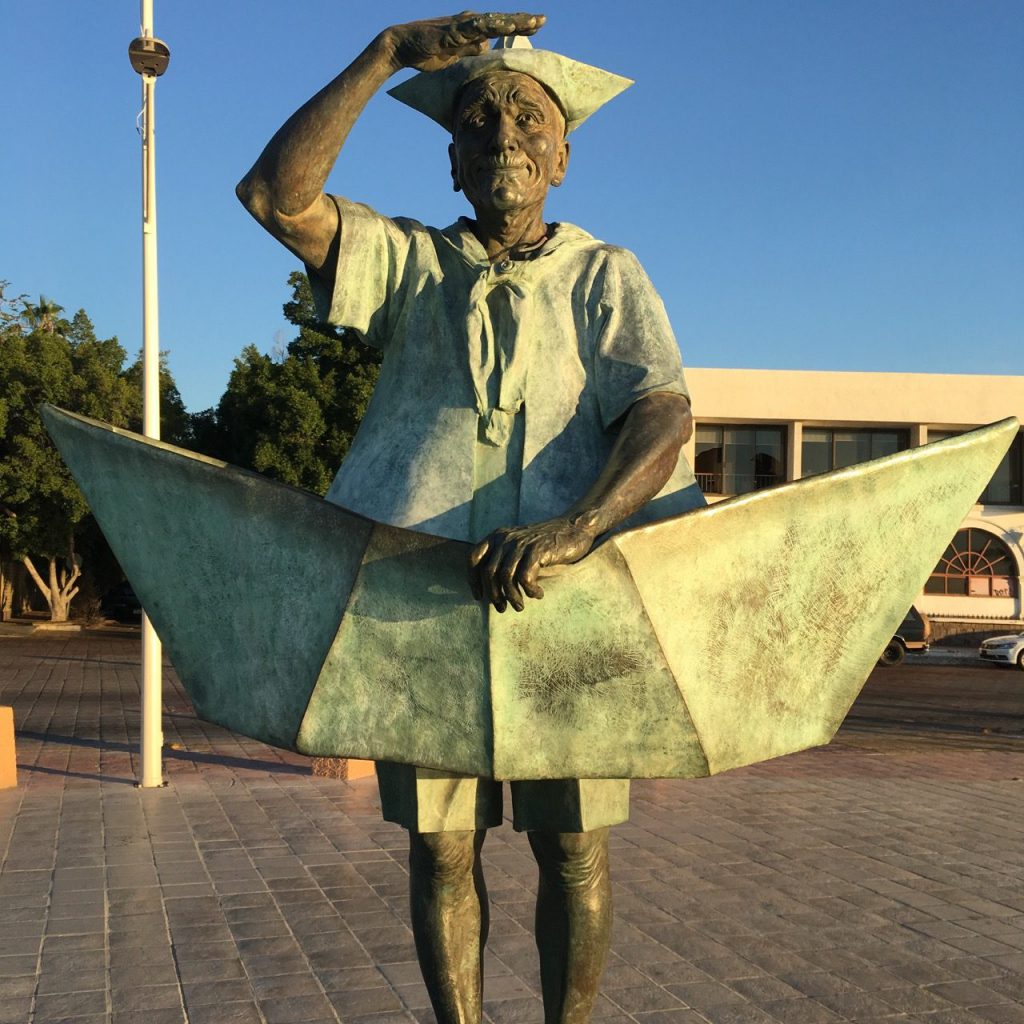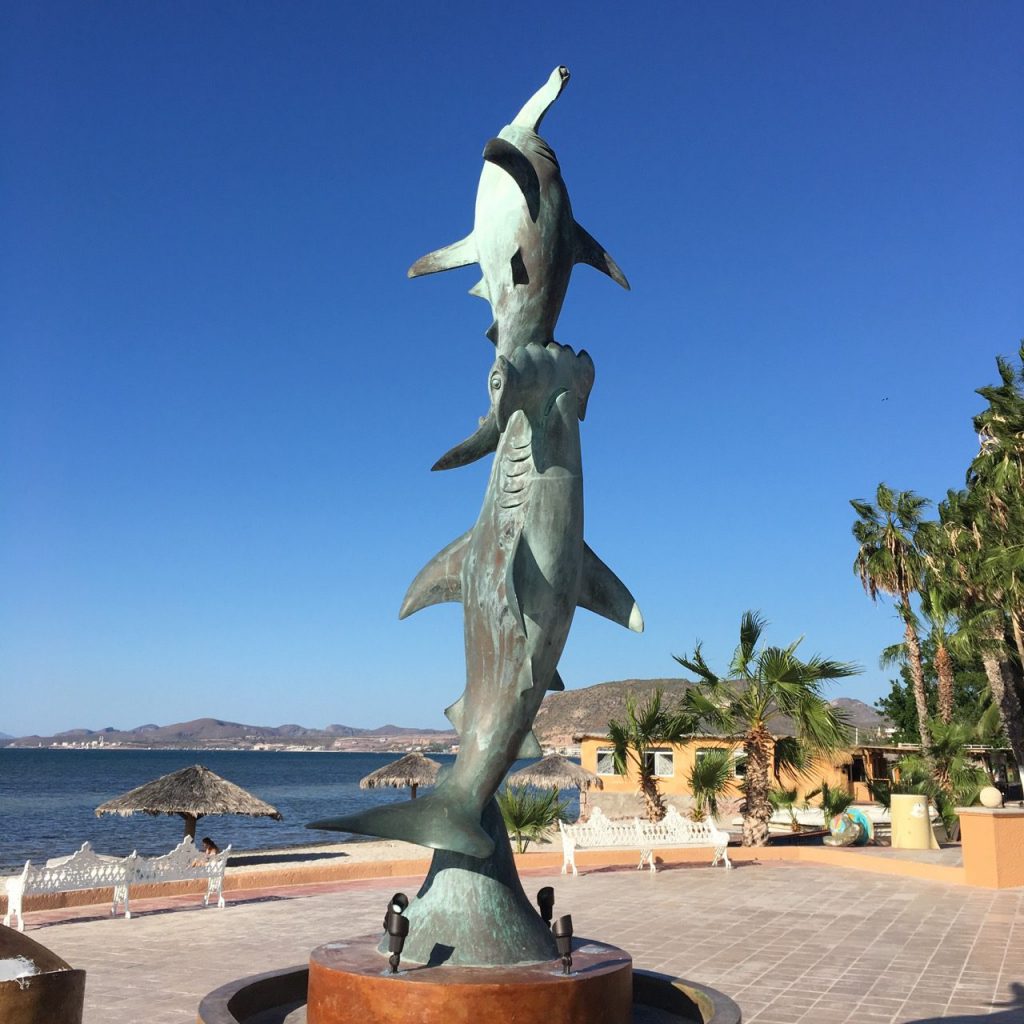 Sam needs a cup of esquites…corn kernels, salt, chilli, butter, mayo, cheese, crema, and lime juice.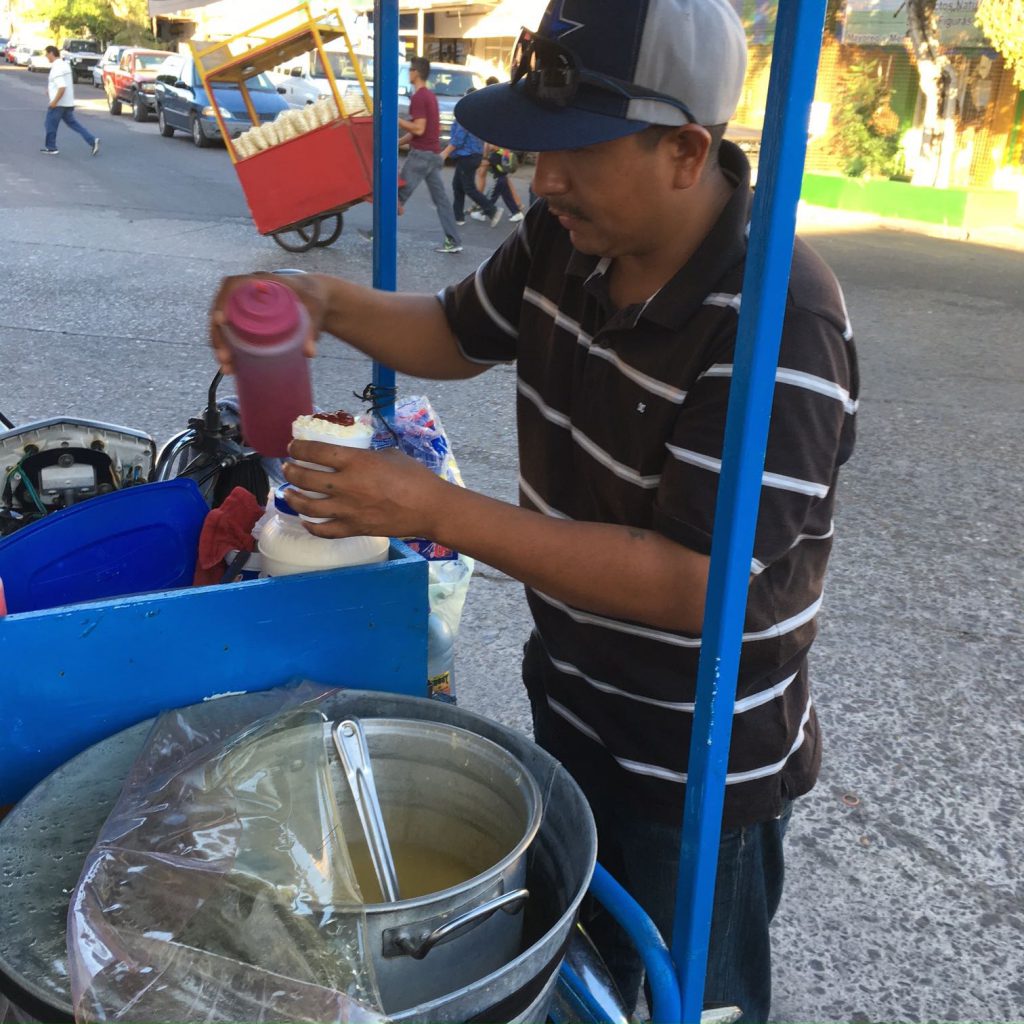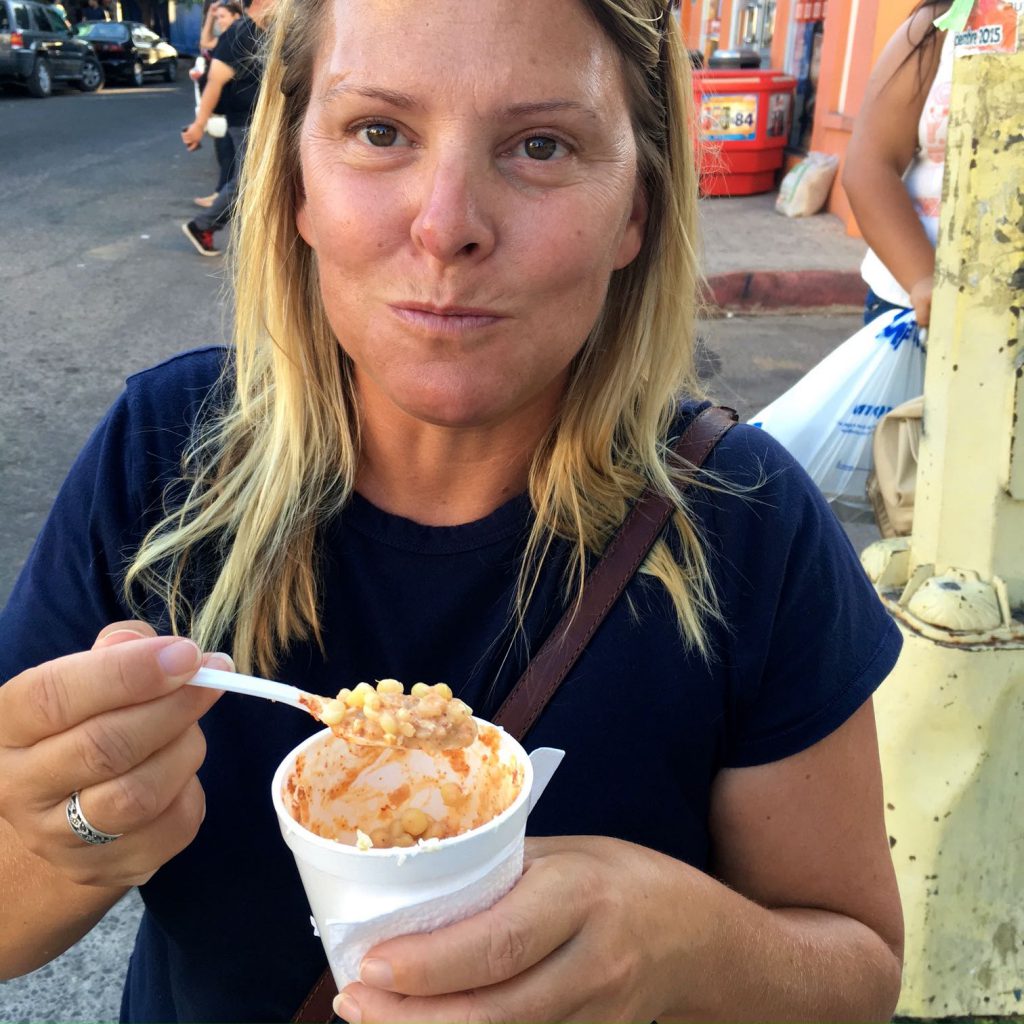 As Dia de Los Muertos (Day of the Dead) approaches, we see lots of great art.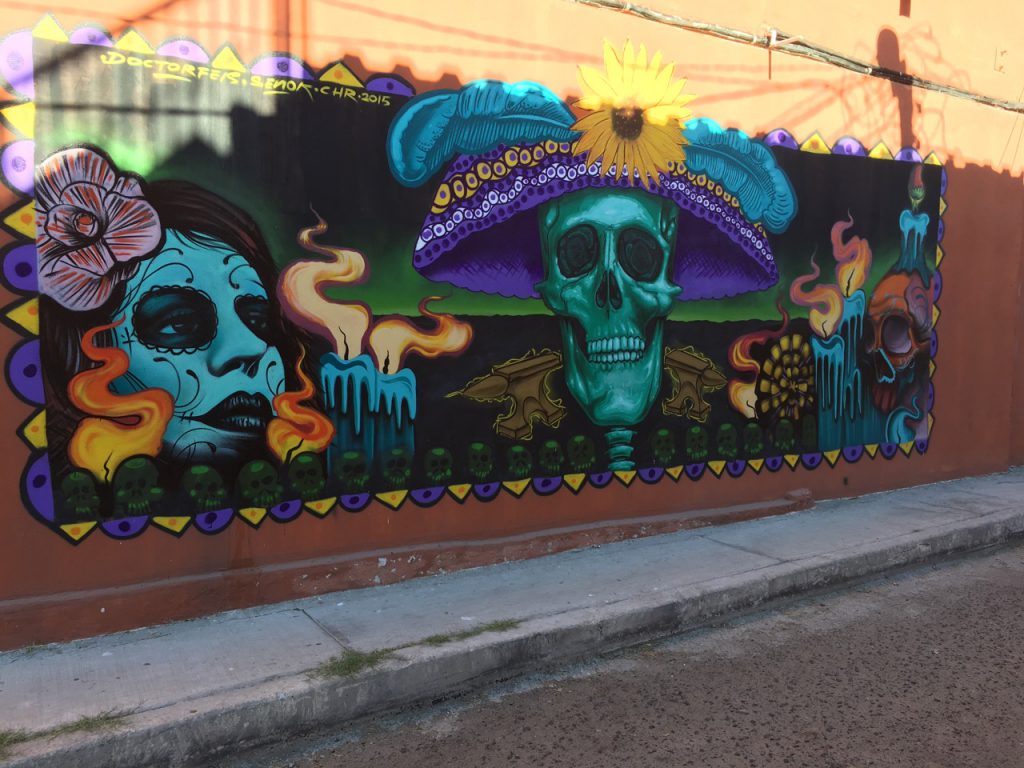 Now its time to board the Baja ferry for the mainland.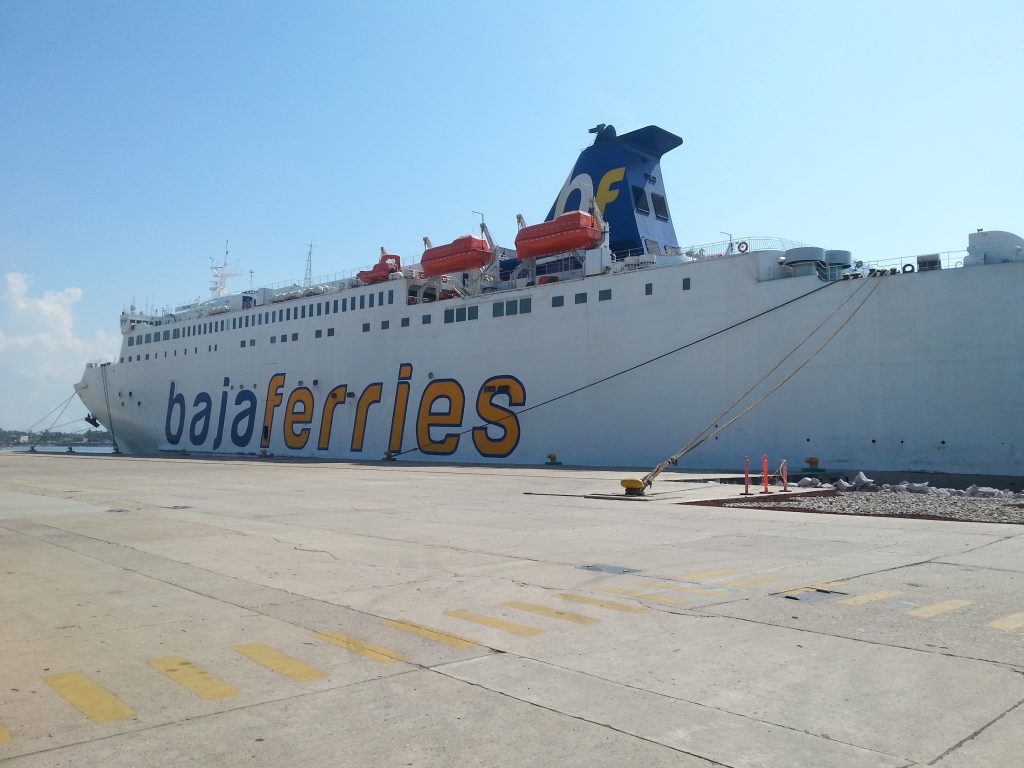 Don driving the cruiser onto the ferry…Sam needs to go with the other passengers and check in.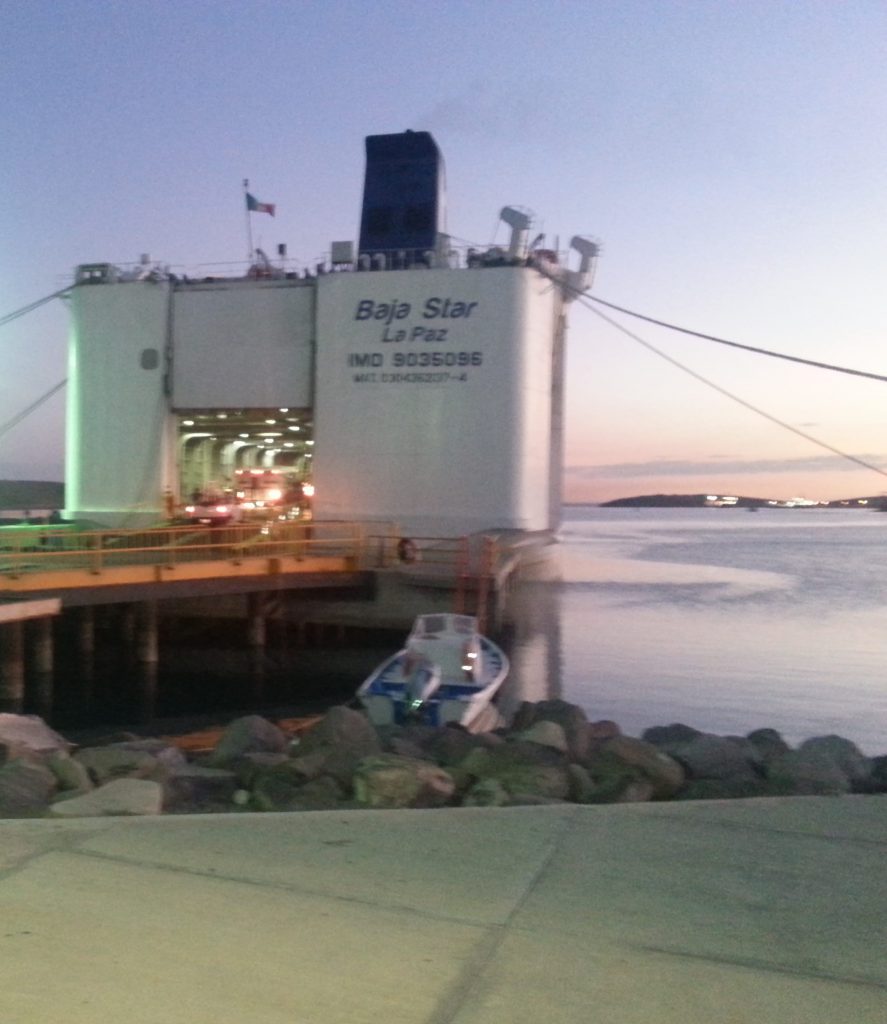 This Tecate rig has some trouble getting onto the ferry.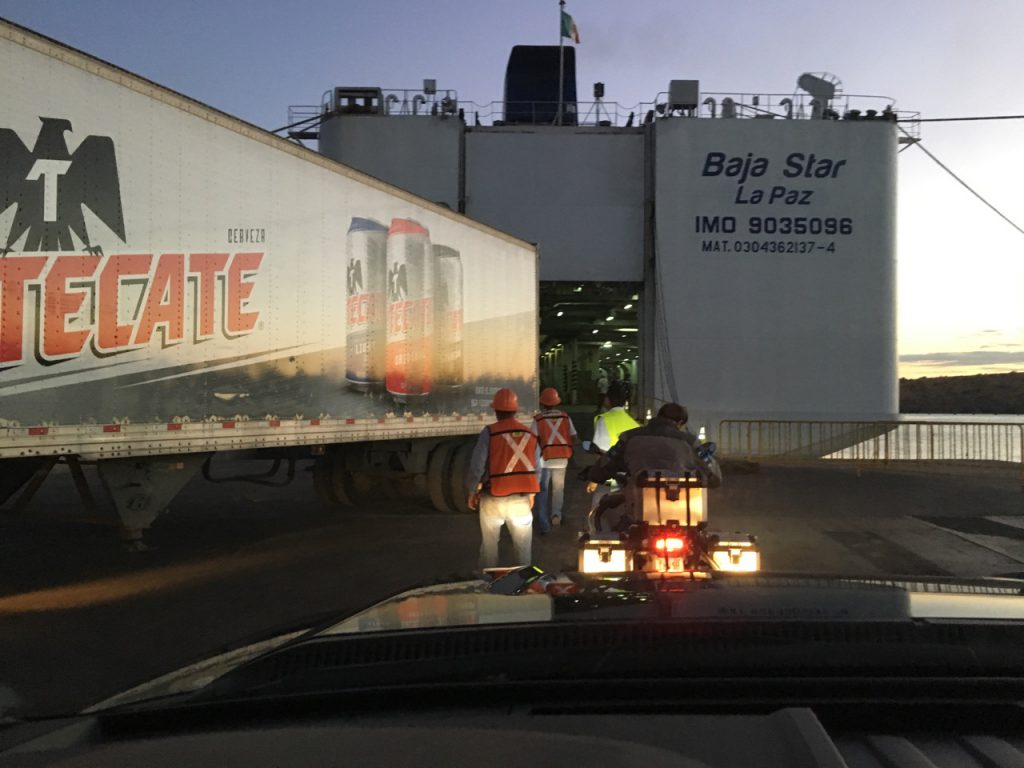 We are pleasantly surprised by the ferry amenities …including the dance floor.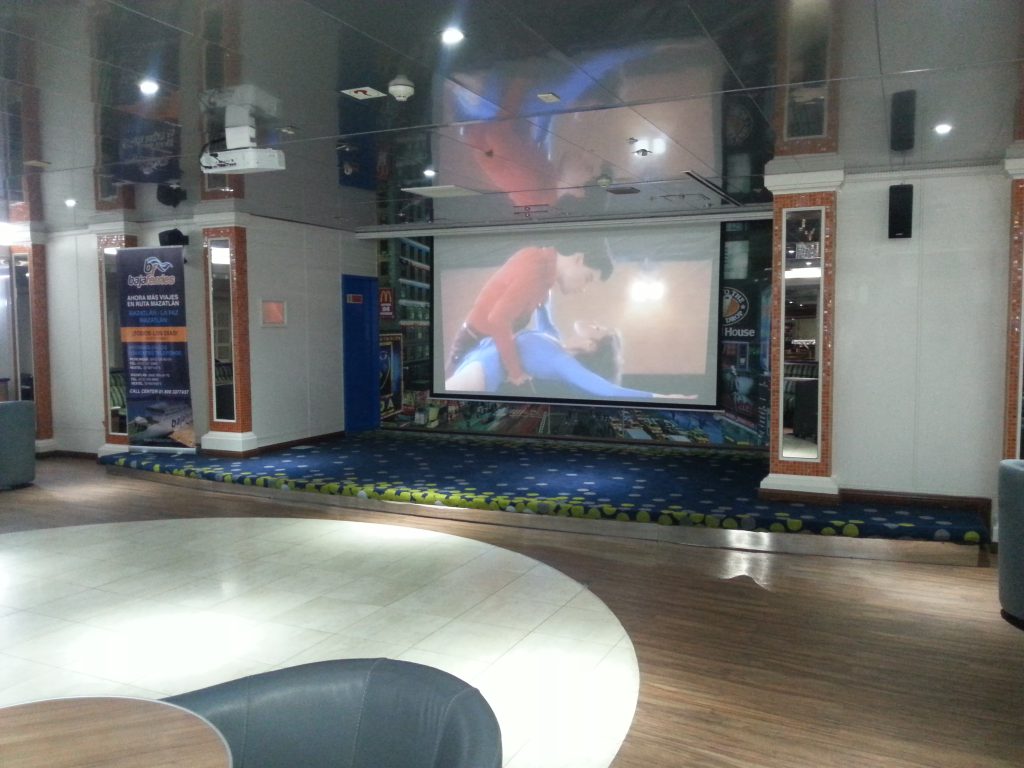 Our cabin, complete with private bathroom and shower WITH hot water! It was quite comfortable and welcome for the 15 hour crossing.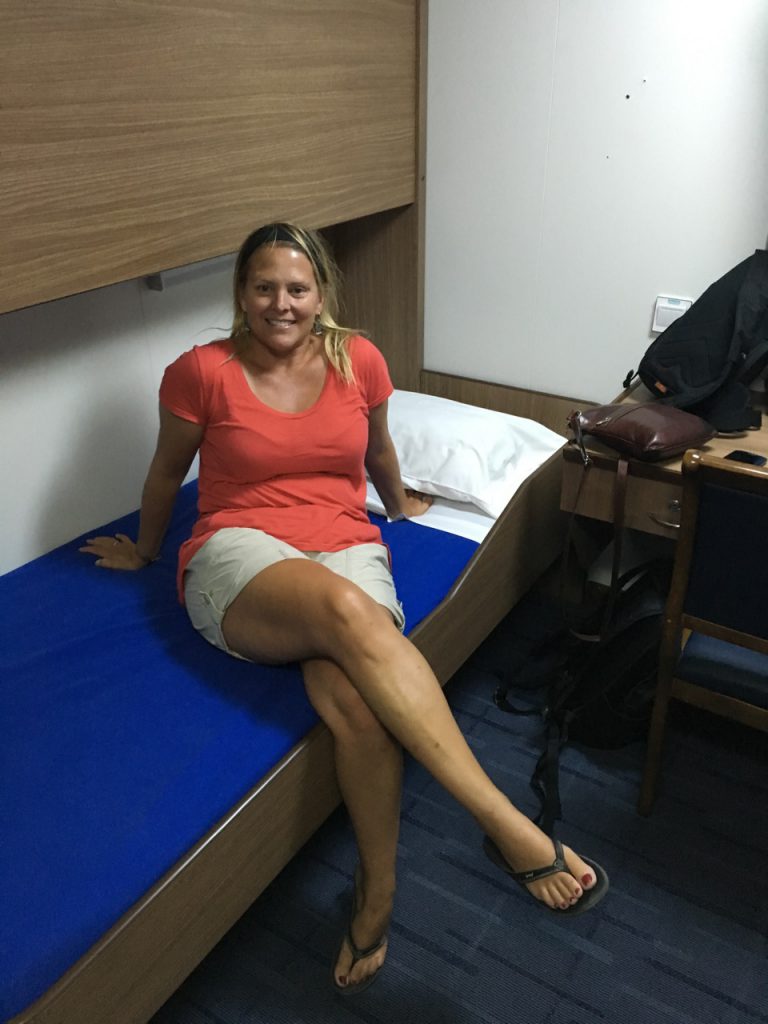 Once off the ferry in Mazatlan, Don has to pick me up from the passenger section…I have an urge to pet this drug-sniffing dog but think better of it.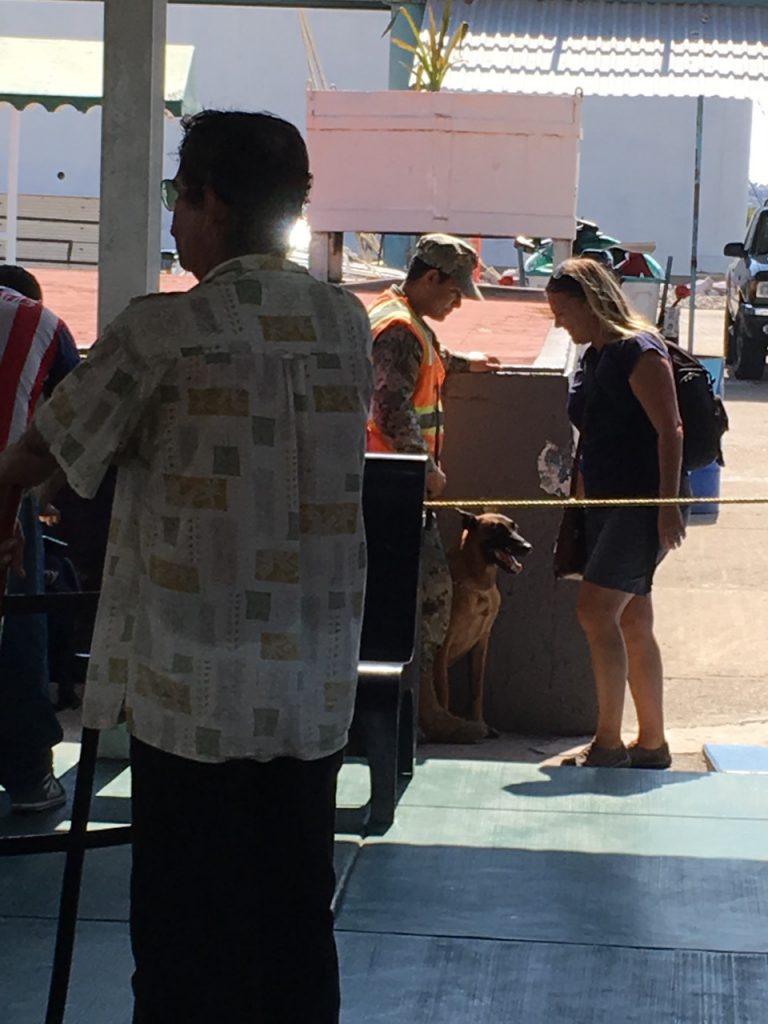 Next stop, mainland Mexico!
[/mp_span]
[/mp_row]
[mp_row]
[mp_span col="12″]
[/mp_span]
[/mp_row]